The Security and Exchange Board of India recruits Officers in Grade 'A' every year. This year, in the SEBI Grade A 2022 notification 120 vacancies were released. So, if you are also looking to join SEBI as a Grade A Officer, you need to begin your SEBI Grade A preparation right away!
In this article, we will walk you through all the details concerning the SEBI exam 2022 and the life of a SEBI Grade A Officer in general. You must read all the details carefully as you do your background research so that you can understand if this job would be the right fit for you and vice-versa.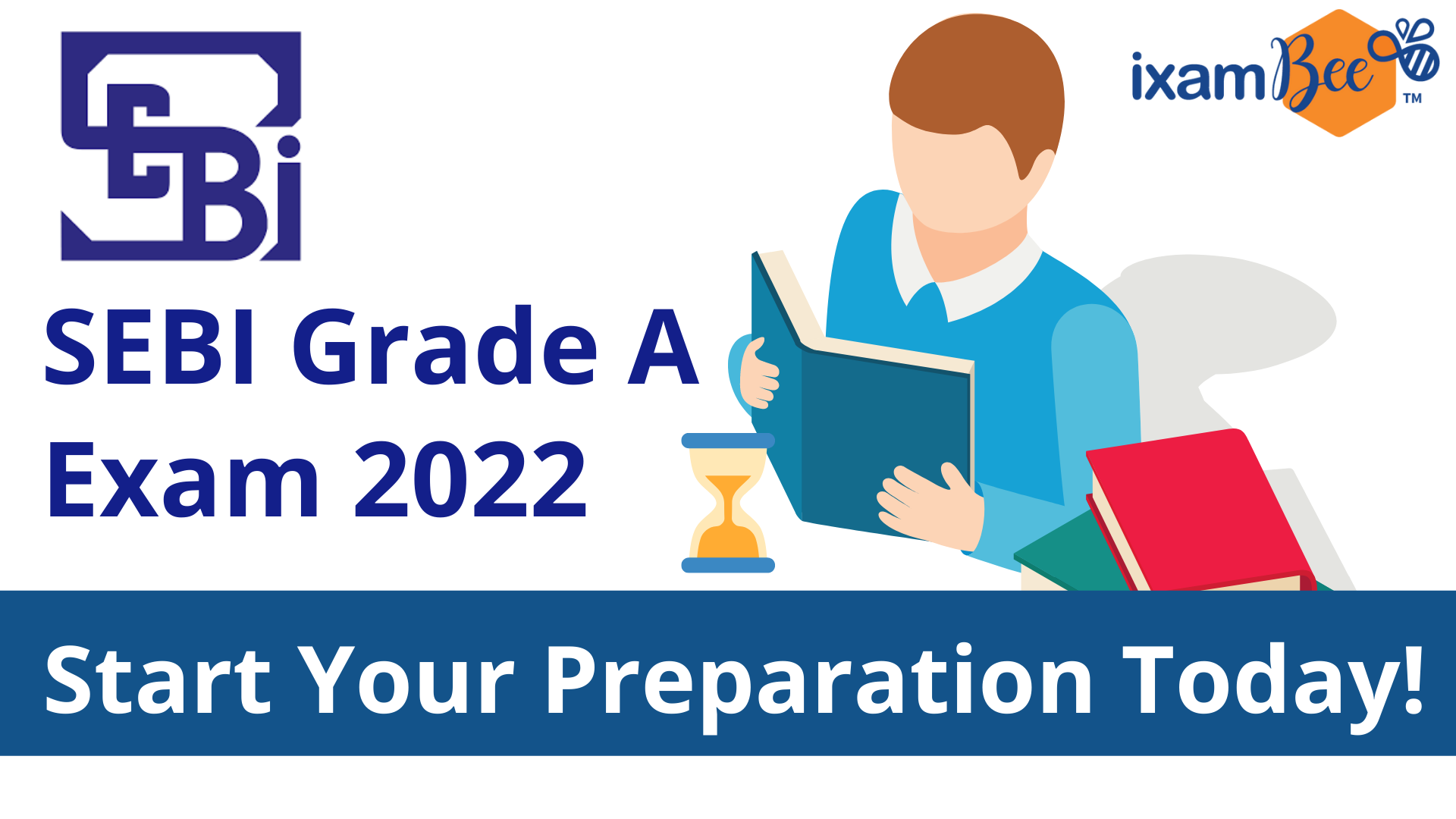 SEBI Exam Date 2022
The SEBI Grade A Phase 1 exam will be held on February 20, 2022.
Functions of SEBI
It is always a good idea to read up on the organization that you want to work with to better understand if it would be the right fit for you or not and vice-versa. You should understand the Role and Functions of SEBI as an organization and its objectives. This will permit you a better sense of whether you're taking the correct steps towards achieving your professional goals or not.
Learn more about the Full Form of SEBI and Related Details.
SEBI Posting
Generally, Grade A officers are posted in Mumbai, which is the headquarters of SEBI. They may also be posted at any of the regional/local SEBI offices.
Job Profile of SEBI Grade A Officer
If you are planning to work with SEBI, you should have a fair idea of what the job profile of SEBI Grade A Officer entails. Selected candidates are also kept on a probation period of 2 years. Some of the functions of a Grade A Officer at SEBI have been provided for you below.
Passing and amending by-laws for stock exchange.
Overseeing stock exchange accounts.
Determining and examining any professional misconduct in the securities market.
Allowing and retracting the recognition of a stock exchange.
The Legal Officer looks after the legal affairs of and at SEBI.
SEBI Grade A Salary
If working at an organization as prestigious as SEBI was not rewarding on its own, SEBI reimburses its employees with a very handsome salary indeed. The lump sum salary of a SEBI Grade A Officer is approximately Rs. 1,35,000 per month.
Before we move on, kindly take a look what the SEBI Grade A Salary structure is like.
₹ 44500-2500(4)-54500-2850(7)-74450-EB*-2850(4)-85850-3300(1)-89150(17 years)
SEBI Grade A Officer Allowances
The allowances offered to SEBI Grade A Officers are:
Special Pay
Special Functional Pay
Dearness Allowance
Local Allowance
City Compensatory Allowance
Family Allowance
Special Compensatory Allowance
Grade Allowance
Learning Allowance
Personal Fixed Allowance
Learn more about the SEBI Grade A salary & allowances in detail.
SEBI Grade A 2022 Exam Pattern
The SEBI Grade A recruitment process is conducted over 3 phases:
Prelims
Mains
Interview
Please note
Both Phase 1 and Phase 2 comprise 2 papers each.
Paper 1 of both phases is common for all the streams. Paper 2 for both phases assess the knowledge of relevant discipline.
You can apply to more than one stream in a given recruitment cycle.
Only Paper 2 in Phase 2 is descriptive. The rest are all objective-type papers.
Take a look at the complete SEBI Grade A 2022 syllabus.
SEBI Grade A Resources
How to prepare for SEBI Grade A?
When you are preparing for an exam as competitive as the SEBI Grade A exam 2022, to work with an organization as prestigious as this, you have to mentally prepare yourself to put in twice as much time and hard work as you thought would be necessary for the SEBI Grade A exam.
If you want to truly stand out and work with a pioneer institution like SEBI, you have to give it your all. You can leave no room for excuses or dawdling. The good news is, ixamBee is here for you.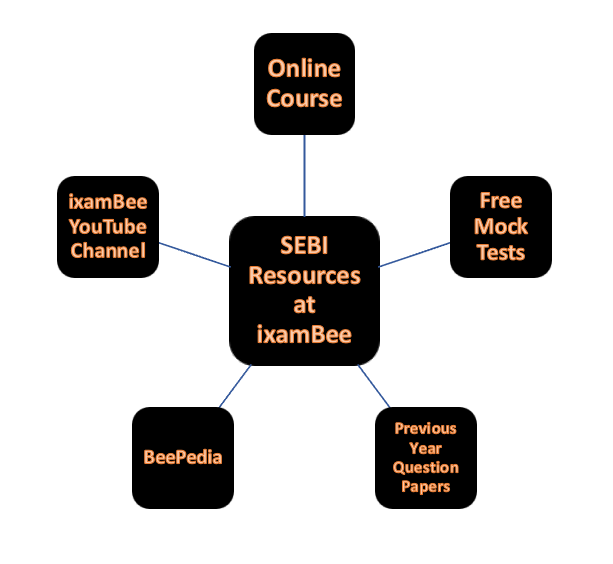 So, before you begin your study, you should gather your materials and resources that will come handy in your preparation. It is understandable that you will be turning to newer resources from time to time but some of these will prove to be your constant companions in your preparation journey.
The first is a test series. It is imperative that you take SEBI Grade A mock tests from time to time and review your overall performance. For your convenience, ixamBee provides separate series for the two phases of the SEBI Grade A exam.
SEBI Grade A 2022 Phase 1 Mock Test
SEBI Grade A 2022 Phase 2 Mock Test
Similarly, you simply cannot prepare for the exam without looking at the SEBI Grade A previous years' papers. We implore you to look at them before you begin your preparation.
SEBI Grade A Phase I Previous Year Papers
SEBI Grade A Officer Phase II Paper 2 Previous Year Paper
SEBI Grade A Exclusive Course
ixamBee's SEBI Grade A Exclusive Course is a holistic resource that covers everything that aspirants need for their preparation. Our courses are curated by subject experts and are revised from time to time to accommodate the latest syllabus and exam trends. Moreover, our courses are repeatedly modeled and remodeled according to the feedback we receive from our previous batches. The exclusive course includes a personalized study plan.
Aside from video lessons, PDF notes, mock tests and such, the most important feature offered by the exclusive course is the opportunity from students to interact with a faculty of their choice one-on-one.
So, in case you were worried about receiving adequate attention from your mentor, you can put those worries to bed.
If you are applying for any of the Specialist Officer posts, such as IT or Legal, we have separate online courses for the same as well.
General Awareness for SEBI Grade A
Please refer to ixamBee's BeePedia capsules to stay abreast with the latest current affairs. These capsules are available both in Hindi and English.
We hope this article will inspire you to take to your books right away. Irrespective of when the notification is released for the next recruitment cycle, you should begin your preparation right away. There is never "too much" time.
If there's anything else you'd like to know about the exam, or our online course and such, please reach out to us.
Team ixamBee wishes you the very best.
Also Read
SEBI GRADE 'A' PHASE II English Descriptive Paper
Can You Prepare for RBI Grade B and SEBI Grade A together?
SEBI Grade A Preparation Strategy for Phase 1 (Paper 1 and Paper 2)
SEBI Grade A Legal 2020-21: Suman Meena's Success Story