MONTH END DHAMAKA SALE IS Here
SEBI Grade A Salary 2023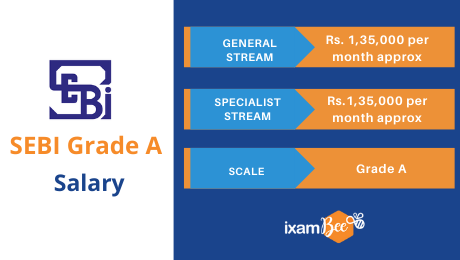 SEBI offers an attractive salary to those who are selected for the post of Assistant Manager under Grade 'A'. Furthermore, SEBI Grade A salary structure 2023 has been changed with effect from November 1, 2017. The basic pay of a SEBI Grade A Officer has been increased from Rs 28,150 to Rs 44,500 / month. Further details on SEBI Officer Grade A salary is given below.
Post
Existing Salary
Revised Salary
Grade A Officer (Assistant Manager)

Pay Scale -

Rs. 28150-1550(4)-34350-1750(7)-46600-EB1750(4)-53600-2000(1)-55600 (17 years).

Salary -

Rs. 1,15,000 per month (without accommodation) and Rs. 80,500 monthly (with accommodation)

Benefits -

Leave Fare Concession, Medical Expenses, Eye Refraction, Education Allowance, Financial Dailies, Book Grant, Briefcase, Conveyance Expenses, House Cleaning Allowance, Staff Furnishing Scheme, Scheme for Purchasing Computers, Subsidized Lunch Facility

Pay Scale -

Rs. 44500-2500(4)-54500-2850(7)-74450-EB-2850(4)-85850—3300(1)-89150 (17 years)

Salary -

Rs. 1,35,000 per month (Approx.)

Benefits -

Special Pay, Special Functional Pay, Dearness Allowance, Local Allowance, City Compensatory Allowance, Family Allowance, Special Compensatory Allowance, Grade Allowance, Learning Allowance, Personal Fixed Allowance
SEBI Grade A Allowances
Besides the basic salary, a SEBI Grade A Officer is also entitled to various allowances like DA, family allowance, city compensatory allowance, grade allowance and many more as mentioned below. However, residential accommodation will depend on availability.
Grade A Officer (Assistant Manager) Allowance
Amount (per month)
Special Pay
Rs. 3,300/-
Special Functional Allowance
Rs. 4000/-
Local Allowance
Rs. 3,450/-
City Compensatory Allowance
Rs. 2,500/-
Family Allowance
Rs. 2,850/-
Special Compensatory Allowance

Up to Rs. 1,20,850/- - Rs. 500/-
Above Rs. 1,20,850/- - Rs. 625/-

Grade Allowance
14% of basic pay, subject to a minimum of Rs. 10,400/-
Special Allowance
16.4% of basic pay, subject to a minimum of Rs. 11,000/-
Learning Allowance
Rs. 2,500/-
Personal Fixed Allowance
Rs. 3,850/-
SEBI Grade A Job Profile
Upon selection, you will be appointed as an Assistant Manager in Grade A, and will be on probation for a period of 2 years. As there are various streams, therefore, your SEBI Grade A job profile will depend on the stream you choose while filling the application form. With every single stream you choose, you will be assigned different departments in SEBI.
SEBI Grade A posting will be in its headquarter located in Mumbai during the training period. But you can be posted and transferred to any location in India where SEBI has its Offices and to any department, irrespective of your stream.
SEBI Grade A Roles and Responsibilities
As a SEBI Grade A Officer, you will be required to perform the following duties.
Approving and amending stock exchanges by-laws.
Inspecting accounts of stock exchanges and various players.
Identifying and investigating any malpractices within the securities market.
Taking steps for increasing investors' knowledge of the securities market.
Suspending security trading of a stock exchange.
Granting and withdrawing recognition of a stock exchange.
Looking after the legal issues of SEBI.
SEBI Grade A Scope and Promotion
SEBI Grade A Officer promotion to Grade B will take place through a promotion test. Also, you must have undergone a service period of minimum 3 years to become eligible for the promotion to Grade B. However, the time required for the promotion from Grade A to Grade B also depends on SEBI's internal policies and vacancies available at the Grade B level. Generally, the procedure that is followed for promoting SEBI Assistant Managers to Grade B is given below-
Junior Assistant → Grade A → Grade B → Grade C → Grade D → Grade E → Grade F → Executive Director.
You will also receive a Grade allowance as per your hierarchy mentioned below
| Grade | % of Basic Pay (rounded to the nearest rupee) |
| --- | --- |
| Grade F | 24% of basic pay |
| Grade E | 22% of basic pay |
| Grade D | 18% of basic pay |
| Grade C | 16.5% of basic pay, subject to a minimum of Rs. 14,500/- |
| Grade B | 14% of basic pay, subject to a minimum of Rs. 11,500/- |
| Grade A | 14% of basic pay, subject to a minimum of Rs. 10,400/- |
| Junior Assistant | 10% of basic pay, subject to a minimum of Rs. 3,500/- |