SEBI Grade A Exam Syllabus
Syllabus 2021
Before you actually start your preparation for SEBI Grade A exam, make sure that you are well aware of what you need to study in each subject. For that, you need to go through the expected SEBI Grade A 2021 syllabus that has been provided in detail here. Once you are well-versed with the complete syllabus, it is necessary to also find the relevant study material. You should keep a list of SEBI Grade A books with you before you start your preparation for the exam.
Phase 1: Paper 1 Syllabus
To qualify for each stage it is necessary that you are aware of the syllabus for the SEBI Grade A exam. As there were some sudden changes in the SEBI Grade A exam pattern 2020, you need to know the changed syllabus thoroughly. The syllabus for Phase 1-Paper 2 and Phase 2-Paper 2 is the same and is detailed in the sections below.
For details of the syllabus for SEBI Grade A Phase 1, Paper 1 please refer to the table given below.
| Section | Topics |
| --- | --- |
| Quantitative Aptitude | Simplification and approximation, Number Series, Quadratic Equation, Number System / HCF & LCM, Ratio and Proportion, Average, Partnership, Ages, Percentage, Profit & Loss, Time, Speed & Distance, Problems on Trains, Boat and Stream, Time & Work / Pipes and Cisterns, Simple and Compound Interest, Mixture & Allegations, Permutation and Combination, Probability, Data Interpretation (DI), Caselet DI and Data Sufficiency |
| English | Grammar, Vocabulary, Reading Comprehension, Passage Making, Error Spotting, Jumble Words, Sentence Framing, Fill in the blanks |
| General Awareness | Monetary Policies, Banking and Financial Awareness, Economic Terms, Current Affairs, Static GK, Financial and Economic News, Government Schemes. Agreement & Deals, Banking Terms- rates & processes, National Institutions |
| Reasoning | Puzzles, Seating Arrangement- Circular, Square & Linear, Data Sufficiency, Directions and Distance, Coding Decoding, Blood relations, Inequality, Syllogism, Machine input and output, Verbal Reasoning, Ordering and Ranking, Arrangement and Pattern, Scheduling, Distance and Direction, Ranking |
Books 2021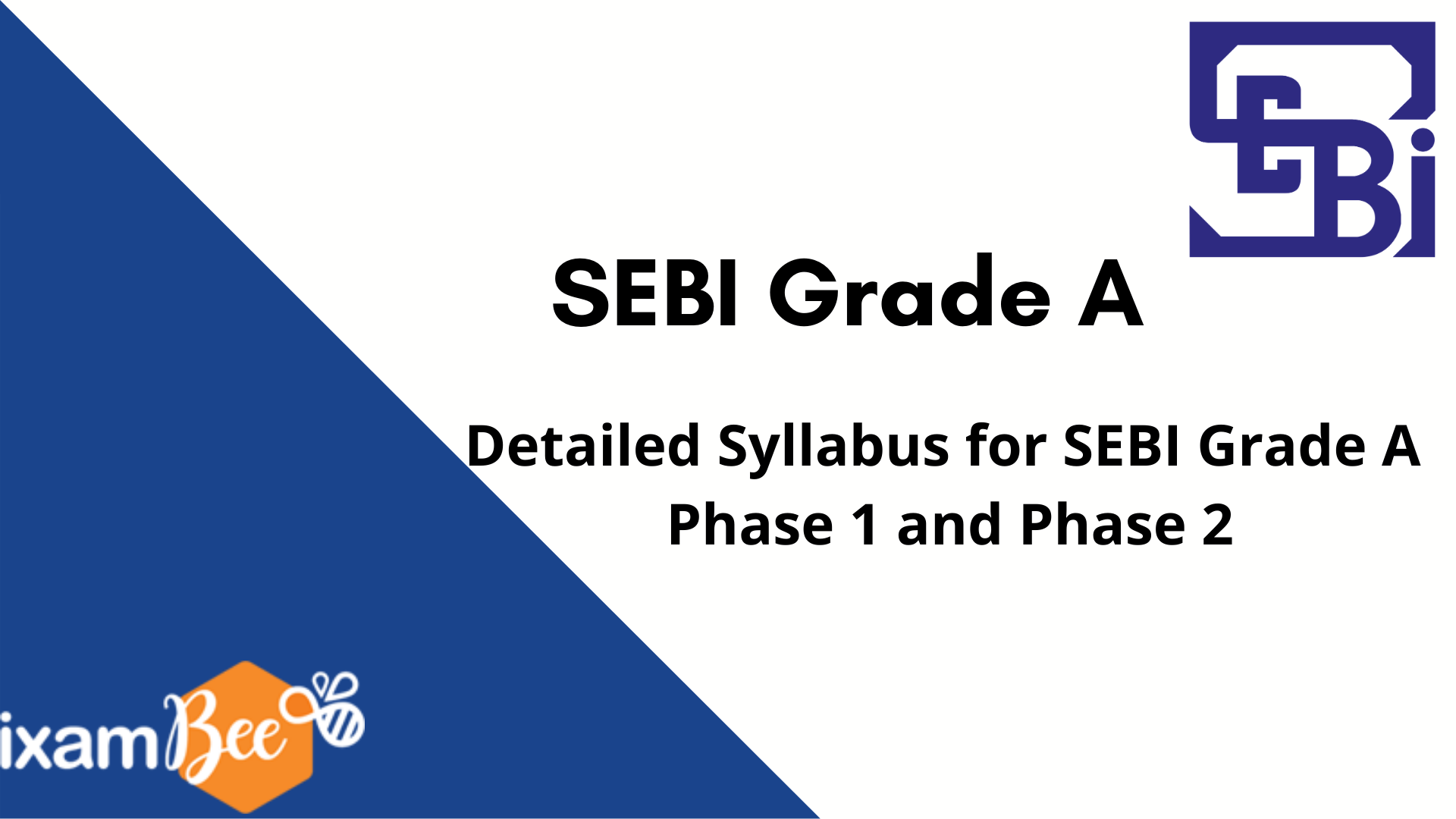 Books are man's best friend. While preparing for any examination, please make sure that you are referring to useful books/study material. Before starting your preparation, give a subsequent amount of time in researching and finalizing the books. This may be looking like a time taking process but trust me it will save a lot of your precious time which you are going to waste in reading wrong or irrelevant books. To help you with the preparation, we are providing some books which can be useful for the SEBI Grade A 2021 exam.
Paper
Books
Author/Publisher

Securities Markets

Capital Markets & Securities Laws
N.S.Zad

Economic and Social Issues

Indian Economy
Uma Kapila or Mishra Puri
Indian Economy
Ramesh Singh
Sociology
CN Shankar Rao

Finance & Management

Financial Management
Prasanna Chandra or IM Pandey
Indian Financial System
Bharti Pathak
Principles & Practise of Management
LM Prasad / Sultan Chand & Sons
Organisational Behaviour
SP Robins
Principles of Management
Harold Kootz & Cyril J.O'Donnell / McGraw Hills

Quantitative Aptitude

Quicker Mathematics
BSC Publications
Quantitative Aptitude
RS Agarwal
Class Notes
SS Bharti

Reasoning Ability

A modern approach to verbal & Non-verbal reasoning
R.S. Agarwal
Verbal & Non-Verbal Reasoning
S.Chand
Verbal & Non-Verbal Reasoning
Arihant Publication

English Language

English Grammar
Wren & Martin
Word power made easy
Norman Lewis
Descriptive General English
SP Bakshi

General Awareness

Lucent GK Knowledge
Lucent Publication
BeePedia
ixamBee

English Descriptive

Descriptive English
S.P. BAKSHI
151 Essays
S.C Gupta
Letter writing
S.C Gupta
Indian Economic Since Independence
Uma Kapila
Academic Foundation
Business Law Including Company Law
SS Gulshan
New Age International Publishers
SEBI Grade A Exam Syllabus Related Quick Links
---
Recommended Course for you
---
Boost your preparation with Beepedia
---
High Quality Mock Test for you
---
Free Important Video Lectures
Frequently Asked Questions
Q1:
How many papers are there in the SEBI Grade A exam?
A:
There are two papers for all streams in SEBI Grade A Phase 1 & Phase 2 exam.
Q2:
Does SEBI provide the detailed syllabus for all the subjects/sections appearing in the SEBI Grade A exam?
A:
Yes. SEBI provides the complete syllabus for all the subjects in Phase 1 & Phase 2 in its official notification.
Q3:
Are there any good books available for SEBI Grade A exam preparation?
A:
Yes, you can find the complete list of books for SEBI Grade A exam preparation here at ixamBee.
Q4:
How can I get proper guidance with respect to the SEBI Grade A exam preparation?
A:
To assist you with the exam preparation, ixamBee is offering
SEBI Grade A Online Course
which has been prepared carefully keeping in mind all your needs. You can interact with our experienced teachers and clear your doubts along with receiving valuable guidance and feedback.
Q5:
Are there any mock tests available for SEBI Grade A exam preparation?
A:
Yes. You can practice SEBI Grade A free mock tests at ixamBee and improve your performance in the exam.
Would you like to rate us 5 star.
Search