On September 11, 2021, the Reserve Bank of India announced the names of candidates who have been selected in this year's recruitment cycle. Team ixamBee extends their heartiest congratulations to all the successful candidates who have made it through.
List of Selected Candidates
You can find the list of shortlisted candidates for this year's recruitment cycle. A total of 322 candidates have been selected.
RBI Grade 'B' (General) Final Result Out [PDF}
RBI Grade 'B' (DSIM) Final Result Out [PDF}
RBI Grade 'B' (DEPR) Final Result Out [PDF}
We are proud to announce that 126 of the selected candidates are from ixamBee.
In today's article, we will learn about Sethu's experience, who has successfully cleared the exam and landed his dream job. Sethu prepared for the exam with ixamBee and we're glad to have been a part of his journey. Now, it is time to hear from Sethu.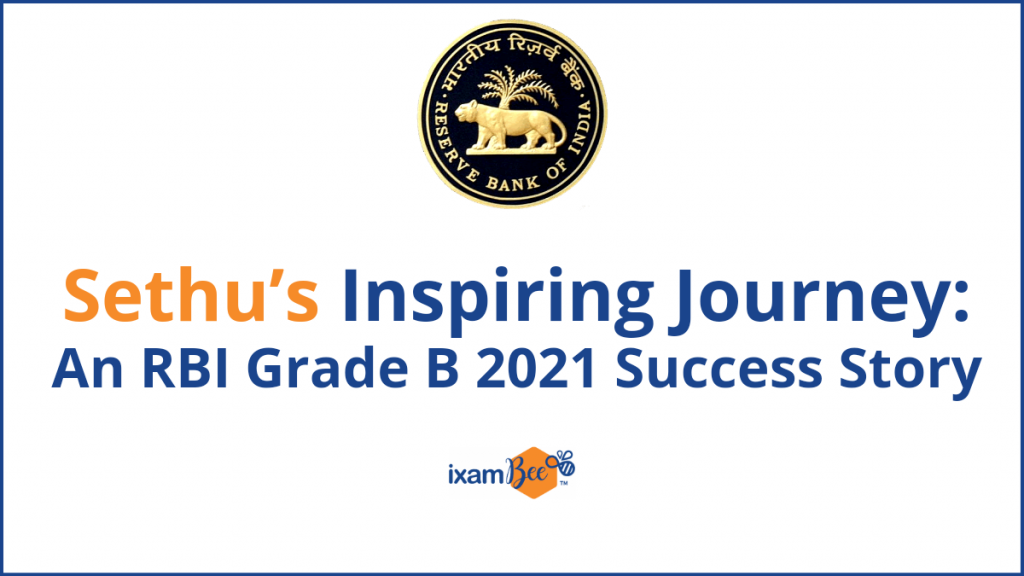 Meet Sethu
Sethu graduated with a degree in Mechanical Engineering in 2014.
He has also been preparing for other exams such as NABARD, SEBI, civil services and Railway exams along with RBI Grade B.
He cleared the SBI Clerk exam in 2019.
He was preparing for the exams while working a full-time job.
He cleared the RBI Grade B 2021 exam in his second attempt.
Sethu's Inspiring Story
In his previous attempt, Sethu made it up until the Interview round. However, he did not lose hope. Sethu carried on his preparation with increased fervour and this year, his efforts have borne fruit.
What Can We Learn from Sethu's Journey?
Prepare for more than one exam at a time.
RBI Grade B + SEBI Grade A + NABARD Grade A Combo Course
Do not neglect or underestimate the importance of interviews in your overall selection.
Every successful person starts from zero at one point or another.
Sethu did not expect to actually clear the RBI Grade B exam, but he did!! Believe in your hard work and perseverance.
Practice RBI Grade B mock tests as often as you can.
All the preparation helps build character and personality also. It makes us resilient, patient, industrious and discerning.
I need more answers!!
Aspirants who want to clear the RBI Grade B come from various academic backgrounds. Therefore, the challenges faced by them are also different. Sethu's story will click with those aspirants who are from the engineering background or are working full/part-time as they prepare. Some questions that may arise are:
How did Sethu practice Quantitative Aptitude and Reasoning?
How can I cover Finance & Management if I have never studied it before?
How should I approach the Current Affairs section?
How is Current Affairs in Banking exams different from the UPSC exam?
How can I prepare while I also work?
What study materials did Sethu use for his preparation?
To answer these questions and more, watch Sethu's complete interview to understand what you can learn from his strategies and his experience.
Importance of Mock Interviews
As we have learnt from Sethu's journey, he could not make it through to the end despite having been selected for the Interview round. He came so close to his destination yet he could not completely reach it. Sethu's experience teaches us about the importance of mock interviews.
ixamBee's RBI Grade B Interview Course helps aspirants to prepare specifically for the interview round. We offer live classes and mock interviews for aspirants. Moreover, candidates also get a one-on-one session with Mr. Susheel Ragade, ex-Manager, RBI.
RBI Grade B Exclusive Online Course
Along with interview preparation, you obviously need overall preparation as well. You need to firstly clear the first two phases of the written exam to get you through to the interview round. Our RBI Grade B Exclusive Course does just that! Moreover, the exclusive course also includes interview preparation. Our course includes:
More than 700 video lessons covering the entire syllabus for both phases of the written examination
350 study notes in PDF format
More than 17,000 practice questions for you to check your preparation at every step.
20 mock tests for Phase 1
15 mock tests for Phase 2
5 Descriptive English mock tests
Live classes (online)
Personalized study plan
All-time/anytime access to your mentor
One-on-one meetings with faculty: This is a unique program started by ixamBee where you get to speak to faculty of your choice one-on-one and get all your queries answered by them personally
We hope that the results serve as a testimony to the hard-work and dedication put in by our faculty members who leave no stone unturned in helping students prepare for the exam that can change their lives.
We also hope you will give ixamBee a chance to help you land your dream job.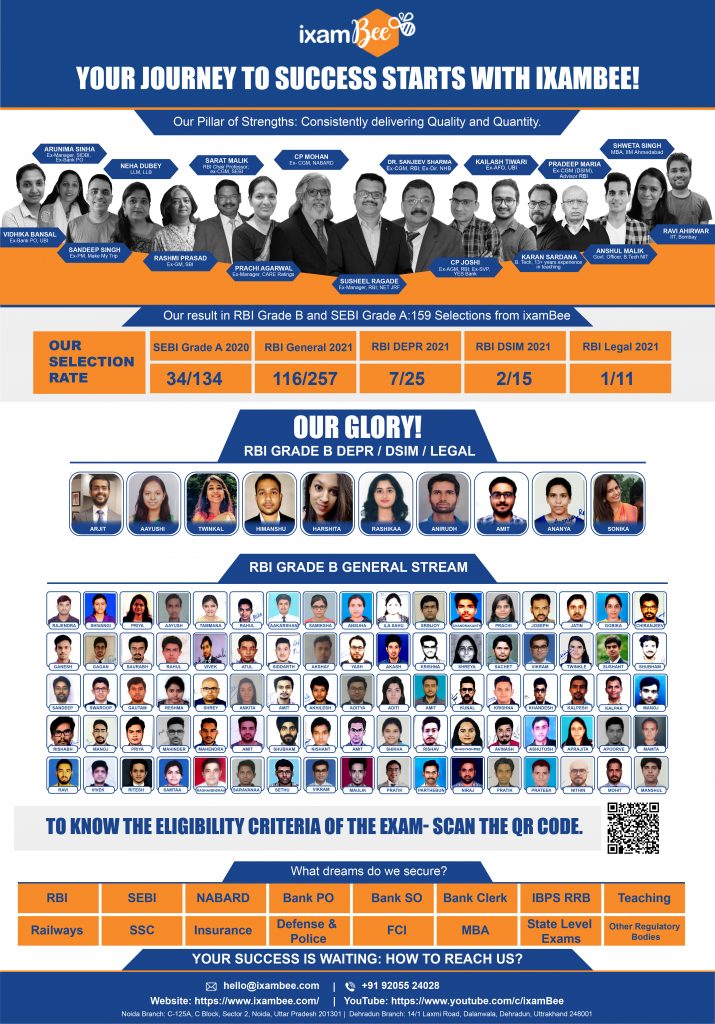 At ixamBee, you can find a number of Online Test Series, GK updates in the form of BeePedia, as well as latest updates for Bank PO, Bank Clerk, SSC, RBI, NABARD and Other Government Jobs.
Also read
RBI Grade B 2021 Success Stories: Read Manoj's Inspiring Journey to Success
RBI Grade B 2021 Success Stories: Niraj Patil Reaches for the Stars!
RBI Grade B 2021: An Insight into RBI Grade B Salary and Perks
LIFE OF AN RBI GRADE B OFFICER!