The final results for RBI Grade B 2021 brought smiles to the faces of many aspirants. Finally, the hard work and perseverance of many candidates got answered. This journey becomes more unique if someone clear the RBI Grade B exam in his maiden attempt. Yes, meet Vinit, an Engineer by profession, who achieved this feat in his first attempt.
Meet Vinit
The diversity of work scenario that one gets as an RBI Grade B officer attracted him towards the central bank. During his work in some NGO, he realises there are various lacunae in the public services that can be rectified only when one can get into the public sector i.e. government jobs. He is an engineer from IIT- Bombay. He has some experience of working in a startup in Silicon Valley in Bangalore. He has cleared IBPS PO, NET JRF, CAT exam and recently gave UPSC CSE 2020 interview. RBI Grade B exam 2021 was his maiden attempt.
Tips from Vinit for RBI Grade B exam
Though we all are different individuals and have our own weak and strong points, it's never too late to learn and imbibe certain habits in our preparation plan that can help us to achieve our goals. His journey teaches us various important lessons that one should include in his/her study curriculum.
Focus on both the conceptual and factual knowledge for written exam
Strategize, prioritise and work hard
Go through your biodata details, maximum questions can be asked from here
Read one financial newspaper daily to keep yourself updated in financial news
Be focused and disciplined
Focus on the syllabus and cover everything mentioned in the RBI Grade B syllabus
Work on accuracy and speed
Do not hesitate from taking guidance from an experienced person
Prepare self notes along with jotting down important things that you come across so that before the exam you can revise them
Be honest while answering questions. The interview panel includes highly qualified and experienced persons that can catch your lie within a fraction of few seconds
Be true to your dreams and goals without being distracted
At moments when you feel a bit low, just look at your surroundings and you will find a reason to work harder towards your goal
Be ambitious and have a defined approach towards your goals. There is no reason you cannot achieve them. Luck can delay your success but cannot halt it.
Lastly, enjoy every process of your preparation no matter what odds are against you
Vinit's story to RBI Grade B Officer is a journey of his grit, determination and hard work. His attitude towards rising every time he falls is commendable. Though he has achieved the feat which remains a dream for many banking aspirants, he is still on a hunt to achieve higher laurels in his life. His detailed interaction with one of the ixamBee faculty Mr. C.P. Joshi can be seen from the video given below.
RBI Grade B Online Course Details
If RBI Grade B 2022 is your target then you are on the right platform to give shape to your dreams. Our recent success rate in RBI Grade B speaks about the quality of study material and guidance we provide to the students.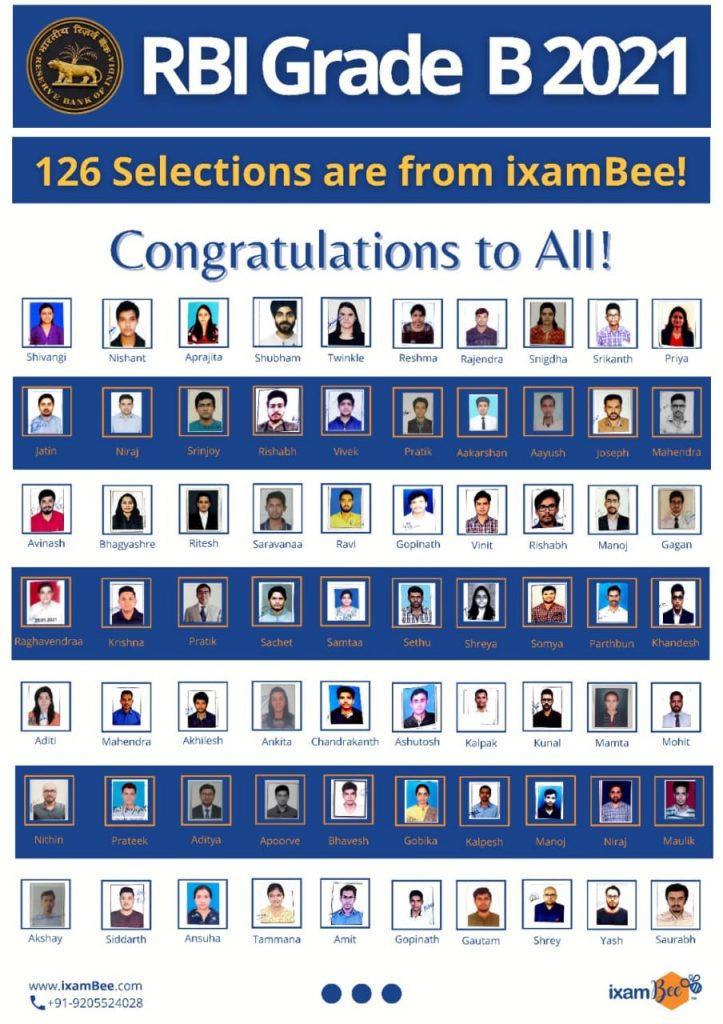 Some features of RBI Grade B course are –
Short and crisp videos covering all important topics for all the subjects of Phase 1 and Phase 2
Detailed notes for RBI Grade B Phase 1 and Phase 2
17000+ questions to check your level of preparedness
20 Full-length Mock tests for Phase 1 and 15 full-length Mock Tests (15 Tests for FM and 15 MTs for ESI) for the Phase 2 exam
Descriptive English video lessons and study notes on writing skills
Online Live Classes from experts who have cleared RBI Grade B, Bank PO, SIDBI and other competitive exams
Interview Guidance
One-on-One Meetings with Faculty
Besides this, you can attempt RBI Grade B mock test to get aware of the question level. Also, you must go through the previous year papers of RBI Grade B to get an idea of what type of questions hold maximum weightage.
If you are not able to achieve success in RBI Grade B this year, then the video below will work as a booster for you.
So get up, do not wait, RBI Grade B 2022 is your destination.