FLASH SALE! Flat 65% Off!
Course highlights
Exclusive Mock Tests
Mock Test Analysis by Experts
Personalized Study Plan
Descriptive Papers
One-on-One Interaction with faculty
Interview Preparation and Guidance
RBI Grade B Exclusive Online Course
It is not a mystery that RBI Grade B is considered one of the toughest exams. The preparation stage is very important for success in any exam and when it comes to the RBI Grade B exam right guidance from a well-qualified mentor will be the X factor in your preparation.
ixamBee has launched RBI Grade B Exclusive Online Course to make your RBI Grade B exam preparation a top-notch one.
*** RBI Grade B Exclusive Online Course is curated as per the NEW exam pattern announced by RBI in its 2023 notification for Grade B officers. Our experts have covered descriptive papers thoroughly for ESI and FM in the course content.
RBI Grade B Exclusive Online Course Consists of
Video Lessons: Short & crisp videos for concepts, covering all important topics for all the subjects of Phase 1 and Phase 2. There are approximately

480+ video lessons

for phase 1 and

220+ video lessons

for phase 2 preparation.
Study Notes: Detailed notes as PDFs for the ease of learning and building fundamentals. There are

340+ Study notes

for RBI Grade B Phase 1 and RBI Grade B Phase 2.

Practice Questions:

Get access to

17000+ questions

for learning reinforcement at various stages of learning:

Concept Checking Questions:

To check your learning after each concept in videos.

Chapter Tests:

To check your understanding of a chapter.

Sections Tests:

To check your level of preparedness.

Mock Tests:

To help you practice full-length practice tests just like the real exam.

Mock Tests:

Get 20 Full-length Mock tests for Phase 1 and 15 full-length Mock Tests (15 Tests for FM and 15 MTs for ESI) for the Phase 2 exam. Please note that out of 15 tests each for ESI and FM, only 5 FM tests and 5 ESI tests will be evaluated. Rest 10 tests each for ESI and FM would be for practice and no evaluation will be provided for the same.
Descriptive English: This can be a real game-changer. Get access to video lessons and study notes on writing skills, sample essays, suggested topics and

5 Descriptive English Mock Tests

with individual Performance Feedback.

Online Live Classes:

Study at your own pace and time and get your doubts clarified by the experts through these live sessions. These experts have cleared RBI Grade B, Bank PO, SIDBI and other competitive exams.
Interview Guidance: Our experts will provide interview guidance in the form of Mock Interviews and personal feedback on your performance.

Study plan:

To guide you on how to go forward in your preparation.

One-on-One Meetings with Faculty:

This is a unique program started by ixamBee where you get to speak to the faculty of your choice one-on-one and get all your queries answered by them personally.
Why RBI Grade B EXCLUSIVE Online Course?
You might be thinking all the above are available in the Comprehensive RBI Grade B course as well, why do I need to go for RBI Grade B Exclusive.
With RBI Grade B Exclusive Online Course, you just have to do one thing which is to follow what we say. Whether you are a student or a working professional, we have proven strategies that will help you clear the RBI Grade B Exam. We will provide you with all the study material, a personalized study plan to follow, Exclusive Mock Tests, Regular mentoring and all that is left for you is to study as we guide you to success. Here are the reasons why you should not miss this exclusive opportunity:
| Course Offerings | RBI Grade B Comprehensive Course | RBI Grade B Exclusive Course |
| --- | --- | --- |
| Video Lessons | ✓ | ✓ |
| Study Notes | ✓ | ✓ |
| Practice Questions | ✓ | ✓ |
| Online Live Classes | ✓ | ✓ |
| Descriptive English: Classes & Mock Test | ✓ | ✓ |
| Mock Interviewv | ✓ | ✓ |
| Mock Tests | ✓ | ✓ |
| Interview Preparation Guidance & Classes | ✓ | ✓ |
| Personalized Study Plan | --- | ✓ |
| Exclusive Mock Tests | --- | ✓ |
| Exclusive Mock Tests Analysis by ixamBee Experts | --- | ✓ |
| One-on-One Sessions with Faculty | --- | ✓ |
| Descriptive Papers: Special classes & Evaluation | Limited | ✓ |
| Regular Mentorship & Guidance | --- | ✓ |
Faculty Quality
Your faculty is your mentor, 50% of your success will depend on how good your mentor is as he/she will be the one to guide you throughout your preparations. For an examination like RBI, it is always recommended to have a faculty who has a relevant background such as someone who has already worked in banks/someone who has already coached many students. Such faculties can share their own experiences, they will well understand the problems you are facing and can give you instant solutions. Our faculties' vast and past experience speaks for itself.
One-on-One Interaction with faculty
You can connect one on one with ixamBee Experts and get guidance from them at each step of your RBI Grade B Exam Preparation. Through one - on - one sessions you get personalized attention from faculty and get guided by them to reach your goal.
Exclusive Mock Tests
Exclusive Mock Tests assess your current level of preparation and identify your weak and strong areas by a thorough analysis of your performance in the tests These tests are exclusively designed by ixamBee experts to gauge the level of preparation so that further guidance can be provided in the most effective way
Mock Test Analysis by ixamBee Experts
ixamBee expert faculty will analyze your performance in the RBI Grade B Exclusive Mock Tests in detail. This will help you identify the areas which you need to focus on to give pace to your RBI Grade B Exam Preparation. ixamBee mentor/faculty will analyze your performance and discuss it with you. Your personalized study plan will be based on your exclusive mock test performance and analysis.
Personalized Study Plan
We have the exact customized solution for you in the form of a Personalized Study Plan. As part of the ixamBee Exclusive Online Course, a day wise personalized study plan is provided
Descriptive Papers: Special classes & Evaluation
Learn the skill of answering Descriptive questions and also get your answers corrected and analyzed by ixamBee Experts. This will prepare you to answer descriptive questions from any subject or topic. ixamBee experts help you prepare for both subjective & descriptive exams.
Interview Preparation guidance & classes
Interview preparation is not something that can be done in a few days. The knowledge and skills required for acing any interview need to be acquired regularly. Regular classes on interview preparation will be conducted on how you can start preparing for interviews from the beginning by providing guidance & effective tips for interview preparation.
Regular Mentorship & Guidance
Mentor will keep a close eye on your performance by regularly monitoring progress, performance in Mock Tests and live class attendance. Appropriate guidance for improvement at each stage will be provided.
Expert Bee: Ask Your Doubt Directly!
Now ask your queries directly to our subject matter experts anytime. You can go to your dashboard and use this feature to clear your doubts without waiting for the live classes or interaction with the faculty.
Friends are always there to listen to you when you are in a difficult situation, this feature is your friend and it has answers to all your doubts.
RBI Grade B Exclusive Online Course is also a One-Point Source for Coverage of
When subscribed to RBI Grade B Exclusive Online Course, you need not access various other websites and publications as this course provides crisp and exam relevant summaries of all such reports and circulars.
Government Schemes - Crisp and comprehensive coverage of all important present and past schemes, at both central and state level
Important committees formed by RBI, SEBI, Govt.- Summaries of various committees formed over the years. Crisp and comprehensive summaries of reports and Indices published by various National and International bodies.
Budget & Economic Survey - Summary notes and important MCQs in both video and PDF format. Other important government documents' summaries such as National Education Policy, Aatmanirbhar Package 3.0, with important MCQs
Summary of important RBI publications - RBI's Annual report, Financial Stability Report, important FAQ are covered in easy to remember formats
Monthly review of Kurukshetra & Yojana Magazine - Highlighting relevant points important for the RBI Grade B Exam in MCQ format
Monthly Quiz for General Awareness - in the form of MCQs with detailed answers. Summary of key news, reports, schemes for revision purposes separately.
Other important summaries for RBI Grade B Exam like important indices, key projections by various organizations, etc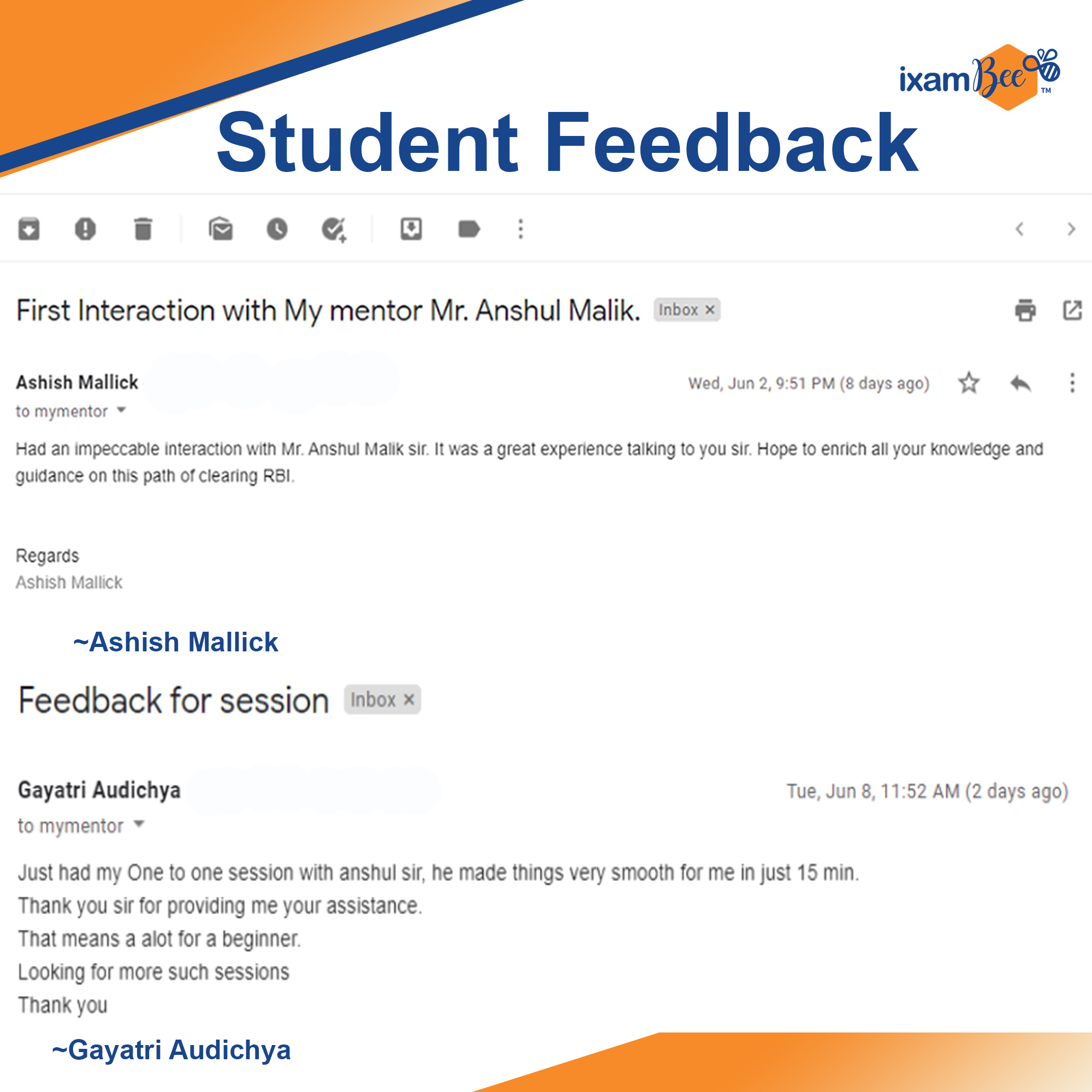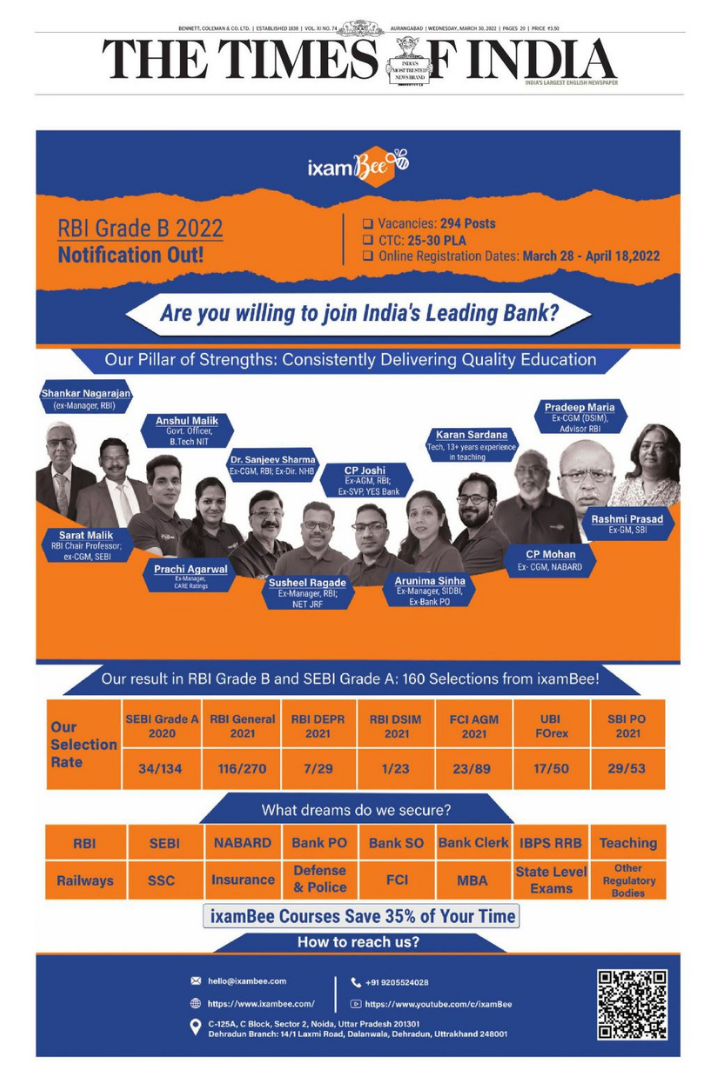 Faculty and Course Coordinator

Tushar Saha Tushar is an ESI and a GA Expert at ixamBee
Tushar is an ESI and a GA Expert at ixamBee. He has over a decade of experience including corporate and teaching experience. He is an expert in Economics and Current Affairs for competitive exams. He holds a BBA with specialization in Finance. He has done a certificate course in NSE Certified Capital Market Professional from St.Xavier Kolkata.
---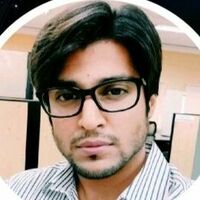 Master of Science (MS), Engineering Management from Northeastern University.
---

Susheel Ragade ​Ex. Manager​ ​RBI, is an Engineer​ ​-​ MBA turned Banker​
​Ex. Manager​ ​RBI, is an Engineer​ ​-​ MBA turned Banker​ ​-​ ​​ Central Banker turned Edupreneur working in ​the ​Digital Education Domain since 2010. ​He has cleared exams like CAT, IBPS, SBI, RBI, SSC, NET-JRF. ​Is an expert in various subjects like Mathematics, Economics, Finance, Educational Psychology, EdTech, Career Counseling, etc.
---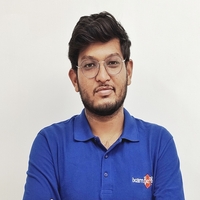 Yaman Kansal Reasoning coach
Yaman is a Reasoning coach who has cleared SBI PO/ Clerk, IBPS PO, IBPS RRB PO and LIC ADO exams to name a few. Yaman is an M.Sc. and B.Ed. by education.
---
Dr. Sanjeev Sharma Ex CGM RBI, English Expert
Dr. Sanjeev Sharma Ex CGM RBI, ​​Ex Ex. Dir.NHB (on deputation from RBI), ​Ex Resident Director Kisetsu Saison. He holds a PhD in English from IIT Kanpur. He has obtained a Master's degree in English from Hindu College, D​U, and B.A. (Hons) English
---

Prachi Agarwal Finance & Management Coach
Ex-Manager Care Ratings, a management professional with over a decade of experience in risk analysis, credit management, investment banking, and equity research. She is an MBA (Finance) from BIMTECH, Noida, and B.Com (Hons) from Hansraj College, Delhi University.
---

Arunima Sinha Ex-Grade B SIDBI and Bank PO
Ms. Arunima is an Ex- Grade B SIDBI Officer and an Ex- Bank PO. Since 2010, she has been teaching for competitive exams and has successfully coached more than thousands of students. She is a Bachelor in Arts (Hons.)- English. She is an expert faculty for English Language, English Writing, Reasoning and also preparation guidance.
---

Amit Parhi General Awareness Expert
Mr. Amit has 4 year plus experience in Banking, Media, Content and Journalism. He has earlier worked with DKODING Media, HDFC Bank and VAP Group. He is expert faculty for General Awareness and ESI.
---

Neha Arora(Maths) Quants and Reasoning Expert
Neha Arora has 10+ years of teaching experience in Quantitative Aptitude and Reasoning for many Government Exams. She has also taught in many Reputed Institutes in New Delhi and Dehradun. She has helped many job aspirants in clearing their exams and also helped them in achieving their career goals. She has done B Tech and MBA from Rajasthan Technical University.
---

Karan Sardana Quantitative Aptitude Expert
Mr.Karan is an expert for Quantitative Aptitude for Banking and SSC exams. He is a B.Tech. and has 13+ years experience in teaching advanced Quants. He has taught thousands of govt job exam aspirants and helped them with fundamentals, short cuts tricks, and time-saving techniques.
---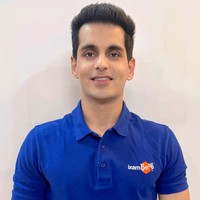 Anshul Malik Reasoning Expert
Anshul Malik has 5+ years experience in coaching for various government exams. He has done B.Tech (IT) from NIT. Has also cleared exams like SBI, IBPS, SSC. He is expert faculty for Reasoning.
---
experence was great .clear all concepts at very less time

The 75 days plan is really helping in the preparation. Short tricks and MCQs make it easy to understand the topic.

Learnt newer approaches to solving classic problems which help in saving time. Great class

Sir most of the syllogism concept is clear means basic level syllogism

had a great class all my dought regarding this topic is cristal clear now

MMT a good initiative will try to give as many mmts as possible and share it with friends to compete. Thanks for this unique feature.

the ESI descriptive class taken by ravi sir is very informative and knowledgeable. the type of answers and the questions taken by sir prove to be very helpful in preparation. I hope this class continues for our regular revisions and practice.

it was a very helpful session.

Good, it would have been better if there would have been an app as well.

Content of the course is very good. But it will be helpful if the teachers share with us the PDF of the questions they make us solve during Live classes so that it becomes easy for us to practice it again next time. Please do consider this.
Study Materials Information
FAQs
Click Here
to subscribe to RBI Grade B Exclusive Online Course. In case any more clarification/assistance is required, please call at 92055 24028 or send an email to hello@ixamBee.com.
The Video Lessons are available for viewing on ixamBee Website/Dashboard. You need to login to
www.ixamBee.com
> Dashboard> Online Class Material >RBI Grade B Online Course>Select the subject and click on the Video Lesson you want to watch from the list.
We encourage all participants to attend RBI Grade B Live Online Classes. Even if they don't have any doubt themselves, the discussion that happens over doubts of others' is also very enriching and helpful in exam preparation. Sometimes very important points are discussed as part of these discussions. However, in case of genuine reasons for not being able to attend a class, we may decide to share the recording of the class, on case to case basis.