Download RBI Grade B 60 + 30 Days Study Plan by Susheel Ragade (Ex-Manager, RBI)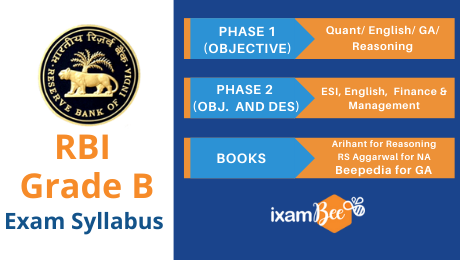 RBI Grade B Officer syllabus is primarily divided into two phases. RBI Grade B Phase 1 syllabus has four subjects while RBI Grade B Phase 2 syllabus has three papers; Economic and Social Issues, Finance and Management and Descriptive English.
You should keep yourself abreast of the RBI Grade B Officer syllabus and try to cover as many topics as possible to keep your RBI Grade B preparation top notch.
After checking out the syllabus, it is advised to check the RBI Grade B 2021 Cut off so that you have a fair idea of the competition.
RBI Grade B Phase 1 Syllabus
RBI Grade B Prelims Syllabus has four tests - General Awareness, English Language, Reasoning, and Numerical Ability. You should note down the complete RBI Grade B syllabus of all four subjects for Phase 1. General awareness plays a vital role in scoring good in the exam. You can refer to our BeePedia for that. BeePedia is a one-stop source for all general awareness content requirements for exams conducted by regulatory bodies like RBI, NABARD and SEBI exams and ends the need to refer to multiple sources for content. Refer to the expected RBI Grade B Phase 1 syllabus 2023 here.
| Section | Topics |
| --- | --- |
| Quantitative Aptitude | Simplification and approximation, Number Series, Quadratic Equation, Number System / HCF & LCM, Ratio and Proportion, Average, Partnership, Ages, Percentage, Profit & Loss, Time, Speed & Distance, Problems on Trains, Boat and Stream, Time & Work / Pipes and Cisterns, Simple and Compound Interest, Mixture & Allegations, Permutation and Combination, Probability, Data Interpretation (DI), Caselet DI and Data Sufficiency |
| English | Grammar, Vocabulary, Reading Comprehension, Passage Making, Error Spotting, Jumble Words, Sentence Framing, Fill in the blanks |
| General Awareness | Monetary Policies, Banking and Financial Awareness, Economic Terms, Current Affairs (BeePedia), Static GK, Financial and Economic News, Government Schemes. Agreement & Deals, Banking Terms- rates & processes, National Institutions |
| Reasoning | Puzzles, Seating Arrangement- Circular, Square & Linear, Data Sufficiency, Directions and Distance, Coding-Decoding, Blood relations, Inequality, Syllogism, Machine input and output, Verbal Reasoning, Ordering and Ranking, Arrangement and Pattern, Scheduling, Distance and Direction, Ranking |
Practice RBI Grade B Mock tests for free here
RBI Grade B Phase 2 Syllabus: Paper 1
RBI Grade B Mains Syllabus for Paper 1 consists of Economic and Social issues. Though the syllabus remains the same, a few topics like - Priorities and recommendations of Economic Survey and Union Budget, Indian Money and Financial Markets, Role of Indian Banks and Reserve Bank in the development process, and many more have been added in the 2021 notification. For more details on the expected RBI Grade B Phase 2 syllabus Paper-1, check the table below.
RBI Grade B Economic and Social Issues (ESI) Syllabus
Topics
Sub-Topics

Growth and Development

Measurement of growth: National Income and per capita income – Poverty Alleviation and Employment Generation in India – Sustainable Development and Environmental issues.

Indian Economy

Economic History of India - Changes in Industrial and Labour Policy, Monetary and Fiscal Policy since reforms of 1991 – Priorities and recommendations of Economic Survey and Union Budget – Indian Money and Financial Markets: Linkages with the economy – Role of Indian banks and Reserve Bank in the development process - Public Finance - Political Economy - Industrial Developments in India- Indian Agriculture - Services sector in India.

Globalization

Opening up of the Indian Economy – Balance of Payments, Export-Import Policy – International Economic Institutions – IMF and World Bank – WTO – Regional Economic Cooperation; International Economic Issues.

Social Structure in India

Multiculturalism – Demographic Trends – Urbanisation and Migration – Gender Issues – Social Justice: Positive Discrimination in favour of the under privileged – Social Movements – Indian Political System – Human Development – Social Sectors in India, Health and Education.
RBI Grade B Phase 2 Syllabus: Paper 2
RBI Grade B syllabus for Paper 2 consists of English Language (Descriptive). In this paper, you will be judged on the basis of your writing skills. RBI Grade B expected syllabus for Mains (Paper 2) has been provided below.
| Section | Topics |
| --- | --- |
| English (Writing Skills) | The paper on English is designed in a manner to check the writing skills of the candidate including the power of expression and understanding of the topic. |
Know More about Comprehensive Online Learning Course for the preparation of RBI Grade B 2023 Exam
RBI Grade B Phase 2 Syllabus: Paper 3
RBI Grade B exam for Mains Paper 3 comprises Finance and Management. RBI has added some topics in Finance and Management like- Impact of the Global Financial Crisis of 2007-08 and the Indian response, Global financial markets and International Banking broad trends and latest developments, FinTech, Alderfer's ERG theory, McClelland's theory of needs, Herzberg's two-factor theory &, Process theories (Adams equity theory, Vroom's expectancy theory) in the last year notification. The expected syllabus for RBI Grade B Phase 2 Paper 3 exam is given below.
RBI Grade B Finance and Management Syllabus
Topics
Sub-Topics

Financial System

Regulators of Banks and Financial Institutions, Reserve Bank of India- functions and conduct of monetary policy, Banking System in India –,Structure and concerns Financial Institutions – SIDBI, EXIM, NABARD, NHB, etc,Changing landscape of banking sector,Impact of the Global Financial Crisis of 2007-08 and the Indian response.

Financial Markets

Primary and Secondary Markets (Forex, Money, Bond, Equity,etc.), functions, instruments, recent developments.

General Topics

Risk Management in Banking Sector, Basics of Derivatives: Financial Inclusion, Alternate source of finance, private and social cost-benefit, Public-Private Partnership, Corporate Governance in Banking Sector, the role of e-governance in addressing the issues of corruption and inefficiency in the government sector, The Union Budget –Concepts, approach and broad trends, Inflation Definition, trends, estimates, consequences, and remedies (control): WPI, CPI - components and trends; striking a balance between inflation and growth through monetary and fiscal policies, FinTech.

Management

Fundamentals of Management & Organizational Behaviour: Introduction to management; Evolution of management thought: Scientific, Administrative, Human Relations and Systems approach to management; Management functions and Managerial roles; Nudge theory Meaning & concept of organizational behaviour; Personality: meaning, factors affecting personality, Big five model of personality; concept of reinforcement; Perception: concept, perceptual errors.

Motivation

Concept, importance, Content theories (Maslow's need theory, Alderfers' ERG theory, McCllelands' theory of needs, Herzberg's two factor theory) & Process theories (Adams equity theory, Vrooms expectancy theory).

Leadership

Concept, Theories (Trait, Behavioural, Contingency, Charismatic, Transactional and Transformational Leadership.

Emotional Intelligence

Concept, Importance, Dimensions. Analysis of Interpersonal Relationship: Transactional Analysis, Johari Window; Conflict: Concept, Sources,Types, Management of Conflict; Organizational Change: Concept, Kurt Lewin Theory of Change; Organizational Development (OD): Organisational Change, Strategies for Change, Theories of Planned Change (Lewin's change model, Action research model, Positive model).

Ethics at the Workplace and Corporate Governance

Meaning of ethics, why ethical problems occur in business. Theories of ethics: Utilitarianism: weighing social cost and benefits, Rights and duties, Justice and fairness, ethics of care, integrating utility, rights, justice and caring, An alternative to moral principles: virtue ethics, teleological theories, egoism theory, relativism theory.

Moral issues in business

Ethics in Compliance, Finance, Human Resources, Marketing, etc. Ethical Principles in Business: introduction, Organization Structure and Ethics, Role of Board of Directors, Best Practices in Ethics Programme, Code of Ethics, Code of Conduct, etc.

Corporate Governance

Factors affecting Corporate Governance.

Mechanisms of Corporate Governance Communication

Steps in the Communication Process; Communication Channels; Oral versus Written Communication; Verbal versus non-verbal Communication; upward, downward and lateral communication; Barriers to Communication, Role of Information Technology.
RBI Grade B Books
Books form an integral part of RBI Grade B preparation. RBI Grade B study material should include books, study notes and pdfs. There are a number of good quality books for RBI Grade B, which you can refer to up your game for the RBI Grade B exam. Reading the following books for RBI Grade B exam will give you the conceptual knowledge and the required depth in the topics relevant to the exam. For detailed RBI Grade B books, please refer to the table below.
Paper
Book
Author/Publisher
Economic and Social Issues
Indian Economy (latest edition)
Uma Kapila or S.K. Misra & V.k. Puri
Growth and Development
Devraj Ray
Sociology
C.N. Shankar Rao
Public Finance
K K Andley and Sundaram
Newspapers including Mint, Business Line, Magazines/Periodicals/ Bulletins including RBI Bulletins, EPW, India Today
-
Reports: 1. World Development Report 2. Economic Survey of India 3. RBI Annual Report 4. Report on Trend and Progress of Banking in India. 5. IMF: World Economic Outlook
Devraj Ray
Finance
Monetary Theory and Public Policy
Kenneth Kurihara
Economic Growth and Development
Mayer and Baldwin
Financial Management
Prasanna Chandra
International Business
Hill and Jain
Major financial newspapers, RBI Annual Report, Report on Trend and Progress of Banking in India, Economic Survey
-
Management
Management
Stephen P. Robbins & Mary Coulter
Organisational Behaviour
Robbins Stephen P and Judge T.A. Vohra
Human Resource Management
Dessler Gary, Warkkey Biju
Fundamentals of Human Resource Management
Decenzo and Robbins
Business Ethics- Concepts and Cases
Velasquez Manuel G
Business Ethics – An Indian Perspective
Fernando A.C.
Business Ethics
Crane Andrew & Matten Dirk
Business Ethics & Corporate Governance
Ghosh B N
Quantitative Aptitude
Fast Track Objective Arithmetic
Rajesh Verma
Quantitative Aptitude for Competitive Exams
R.S. Agarwal
How to prepare for Quantitative Aptitude for CAT
Arun Sharma
Reasoning Ability
A Modern Approach to Verbal & Non-verbal Reasoning
R.S. Agarwal
Analytical Reasoning
M.K.Pandey
How to Prepare for Logical Reasoning
Arun Sharma
English Language
High School Grammar and Composition
Wren & Martin
Word Power Made Easy
Norman Lewis
Objective English
SP Bakshi
General Awareness
Banking Awareness
Arihant Experts
Banking Awareness for SBI and IBPS Bank Clerk/PO/RBI Exams/RRB
Disha Experts
Current Affairs (BeePedia)
-