E-Seminar on RBI Grade B 2023: Which Stage is Important in preparation by Susheel Ragade (Ex-Manager, RBI)
RBI Grade B 2022 Updated Pay Scale and Job Profile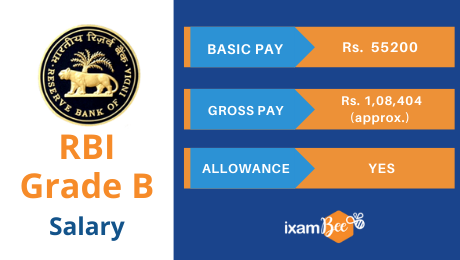 RBI recently revised the RBI Grade B salary of its officers holding Grade B posts. The job of an RBI Grade B Officer can be considered as an excellent opportunity towards making a bright career for oneself which would give enough respect, dignity, and status along with a lucrative career. As per the recently released notification, RBI Manager salary initial monthly gross emoluments excluding other perks and allowances.is Rs. 1,08,404 (approx.).
One of the reasons behind the popularity of the RBI Grade B 2022 exam is the job profile, the opportunities it presents, and perks and allowances that come along with the RBI Grade B officer salary. After the selection, you will be on probation for a period of two years. The RBI Grade B probation period may be extended up to a maximum period of four years at the Bank's discretion.
RBI Grade B Officer Salary Increments: A Job that Pays over One Lakh per Month
Once you become an RBI Grade B Officer, you will be entitled to receive the salary under the pay scale of Rs. 55200-2850(9)-80850-EB-2850 (2) - 86550-3300(4)-99750 (16 years). This clearly shows that an RBI Grade B Officer basic salary will be Rs 55,200 / month which will include an RBI Grade B salary increment of Rs 2850 which you may go on to receive up to 9 years of the service. An increment of Rs 3300 will be received after completing further 4 years of service. After the increment, your total basic pay will be Rs 86550. The highest basic pay you will get in case you receive no promotion is Rs 99750. Presently, the RBI Grade B Salary is Rs 1,08,404/- (approx), and the House Allowance of 15% of Basic Pay is paid if accommodation is not provided by the RBI.
The RBI Grade B in hand salary for the year 2022 is mentioned below.
Post
Salary

RBI Grade B Officer

Basic Pay

- Rs. 55,200/-p.m.

Pay Scale

- Rs. 55200-2850(9)-80850-EB-2850 (2) - 86550-3300(4)-99750 (16 years)

Initial Monthly Gross Emoluments

- Rs. 1,08,404/- (approximately)
Know More about RBI Grade B Online Coaching for the preparation of RBI Grade B 2022 Exam.
Note: If you possess very high academic or professional qualification/experience that is of significant value to the Bank, the Bank may consider granting up to four advance increments to you. In such a case, the Board may consider requests for higher emoluments at the interview stage only. Such information needs to be furnished in the Bio-data form. Any request received after the interview, will not entertain.
RBI Grade B Officer Salary Slip
Pay and Allowances
RS.
Deductions
RS.
Basic Pay
55200.00
EE NPS Contribution Amount
9968.00
Grade Allowance
11500
Prof Tax-split period
200.00
Dearness Allowance
23986.00
BF EE NPS Monthly Contribution
-
House Allowance
60,000.00
House Rent Recovery
-
COPS Incentive
2720.00
Meal Coupon Deduction
400.00
Spl Perquisite Allowance
4102.00
MAF
300.00
Spl Allow-Direct Recruit
9750.00
RBI Officers Association Contribution-Mumbai
1000
Local Compensatory Allows
3664.00
Meal Allowance
5468.00
Income Tax
-
Gross Pay
172,506
Total Deductions
-
Please Note Candidates selected from recruitment for the post of Officer in Gr. B (DR) GENERAL stream will join the General Cadre and candidates selected from recruitment for the post of Grade B DR DEPR/DSIM stream will join DEPR/DSIM Cadre.
RBI Grade B Officer Perks and Allowances:
The RBI Grade B Officer is also entitled to receive some extra benefits in the form of certain emoluments/allowances as a part of the salary such as
Dearness Allowance(D.A)
House Rent Allowance(H.R.A)
Conveyance Allowance(C.A)
Medical Allowance (M.A)
Education Allowance
Leave Fare Concession & Leave Travel Concession
. Here are some RBI Grade B Perks and allowances you will get apart from RBI Grade B Salary after selection.
Loan and Advances facility at concessional rates of interest for Housing, Vehicle, Education, Consumer Articles, Personal computers and others.
Fuel Allowance
Maid allowance
Sodexo coupons
Mobile Allowance
Briefcase Allowance
Spectacles Allowance
Selected candidates will be governed by 'the defined contribution New Pension Scheme (NPS)', in addition to the benefit of Gratuity.
RBI Grade B Promotion
An RBI Grade B Officer receives enough opportunities of getting promoted and reaches higher levels in the hierarchy quite fast. RBI gives this opportunity to have RBI Grade B Career Growth through various promotional examinations and fast-track promotion schemes. An Officer in RBI can reach up to CGM level post if one continues to work in the Reserve Bank of India. Very few RBI Grade B officers also manage to reach the Executive Director (ED) and Deputy Governors (DG) post. Detailed RBI Grade B Promotion Hierarchy has been provided below.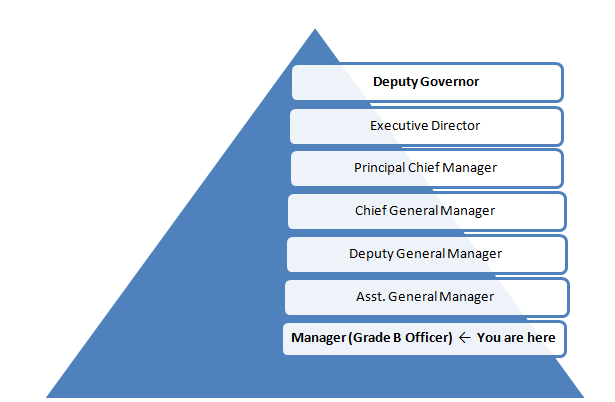 Know about the RBI Grade B Study Plan
RBI Grade B Job Profile
RBI is counted among the biggest and prestigious organizations and is famously called the 'bankers' bank'. Being the central bank of India, it is automatically entrusted with the responsibilities and duties of higher order. Thus, whosoever gets an opportunity to enter this organization, is responsible for various tasks and duties depending on the job position. After getting selected as an RBI Grade B Officer, you will be on a probation period of 2 years, which includes 15 weeks of training. The job profile of an RBI Grade B Officer is quite multifaceted. The job of an RBI Manager cannot be limited to certain fixed tasks, but there are certain responsibilities that an RBI Grade B Manager is expected to fulfill. Detailed information regarding RBI Grade B job profile is as follows:
Issuing and Circulating the Currency
Supervising the assigned regional office
Managing the Government's accounts
Keeping track of inflation - managing liquidity - maintaining financial stability
These are a few of the important responsibilities of an RBI Grade B Officer. RBI plays a major role in maintaining the financial balance of the country. It chalks out a proper monetary policy and is thus responsible for all the money-related planning and activities.
Know in detail about RBI Grade B Eligibility Criteria
Subscribe to 'RBI Grade B' Exclusive Online Course for the Preparation of Phase 1 and Phase 2