General Awareness For RBI Grade B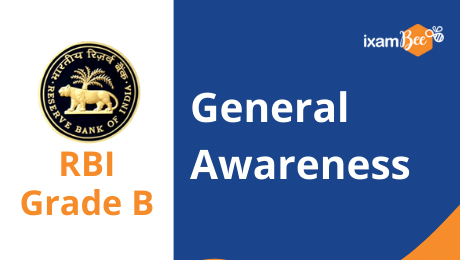 General awareness has the maximum weightage in RBI Grade B Prelims Exam. For ESI and FM also, you need to be well aware of the schemes and economic issues happening in the world. Therefore, having an authentic source is vital for the preparation of this section.
As the syllabus is very vast, you must do multiple revisions. Don't try to gather more than one material or source, try to do multiple revisions instead.
Through this page, your entire search for useful RBI Grade B General Awareness material will come to an end. We have covered every aspect in which you will be able to score maximum in this section.
Importance of RBI Grade B 2023 General Awareness
In RBI Grade B, General Awareness plays a crucial role in clearing the exam because of the:-
Weightage in the exam - General Awareness constitutes 40% (80 questions of 80 marks out of the total 200 questions of 200 marks) of the Phase 1 exam.
Return on the time invested - General Awareness questions take very little time to answer. Here you can attempt maximum questions in a short span of time. A higher score in General Awareness can maximize your chances to be successful in RBI Grade B Phase 2.
Help in Phase 2 score - Study of factual information about Economics, Banking and Finance for General Awareness helps you to score more in ESI (Economics and Social Issues) and FM (Finance and Management) papers of the Phase 2 exam.
Practice RBI Grade B Mock tests for Free here
Topic Wise Weightage of General Awareness Questions asked in RBI Grade B 2021 exam
Before starting the preparation, one should have a brief look at the questions asked in previous year exams. This not only gives a clear understating of what type of questions are being asked in the exam but also helps you in prioritizing the same. We have provided a detailed graph on the General Awareness Section Analysis of RBI Grade B below.
How to prepare for RBI Grade B General Awareness 2023?
RBI Grade B General Awareness preparation becomes easy if you follow a systematic approach as detailed below.
Daily Newspaper
There is nothing better than reading a newspaper daily and preferably a business newspaper (like Business Standard, Economic Times, Financial Express, Mint). Before you start your preparation you shall attempt some

RBI Grade B mock tests

or go through the RBI Grade B previous years papers.
This will help you in understanding the types of questions asked in the exam and their difficulty level. While reading the newspaper you should focus more on the news related to banking, economics, finance, government schemes, and important social data and study such news in detail.
If you are very particular about making notes from the newspaper then make very short notes by jotting down the numbers, names, places, and any other relevant information.
Weekly/Monthly General Knowledge Bulletins
While preparing for RBI Grade B, your special attention shall be on points related to policy, banking and finance, government, economic data, schemes for development etc. Please go through Weekly/ Monthly general knowledge (or current affairs) summary bulletins. These are very useful sources for you to get all the important news in one place.
It is advised to download our Weekly/Monthly Capsules i.e.

BeePedia

which is completely free of cost. BeePedia is a one-stop source for all general awareness content requirements for exams conducted by regulatory bodies like RBI, NABARD and SEBI and Bank exams. These bulletins will help you in learning and revising.
Your experience of practicing

RBI Grade B General Awareness

will help you in segregating the more important news for the exam. You may prepare short notes about the data, facts and figures, dates, names of people and places so that you can revise them before the exam.
Other Publications
There are important publications like Economic Survey of India, Union Budget, Census report, Kurukshetra, Yojna, Government Schemes, RBI Bulletin, Annual Report of RBI, Trend and Progress in Banking. You need to study the Economic Survey of India and Union Budget in detail (not line to line, but major items) and for other documents, you can study the summary.
GK Quizzes and Mock Tests
It is necessary that you attempt GK quizzes and practice tests. Learning the General Awareness for RBI Grade B 2023 by attempting questions helps in reinforcing if you have already read the news and this will improve your score in the exam. You shall also attempt practice tests and exam-specific mock tests for General Awareness. The more mock tests you practice the more you learn. RBI Grade B Free mock Tests at ixamBee will help in your learning.
Static GK For RBI Grade B
You will find some questions on:
Headquarters of national institutions and organizations. For example banks like SBI, HDFC Bank, ICICI Bank, Indian Bank, etc. and regulators like RBI, SEBI, IDRA, PFRA, etc.
Heads and Head Quarter of International organizations like IMF, World Bank, Bank of International Settlement, Asian Development Bank, New Development Bank, etc.
Currencies, capitals, national parks, census reports, nuclear stations, stadiums, thermal plants, regional festivals, and others.
Know More about Comprehensive Online Learning Course for the preparation of RBI Grade B 2023 Exam
These questions in the RBI Grade B General Awareness paper look like static GK but most of these questions are based on current affairs, as these are covered in news due to some important events like some dignitaries from these institutions visiting India or some Indian dignitary visiting some other country as such. You can read currencies, capitals, national parks, important festivals of states, important days from any GK book or yearbook, but pay more attention to the recent news.
RBI Grade B General Awareness Preparation with ESI and FM
While preparing for ESI (Economics and Social Issues) and FM (Finance and Management), you will learn about general awareness topics such as the importance of the banking sector, functions of RBI, international organizations, economic growth, inflation, monetary policy and others. This will also help you in answering questions of RBI Grade B Phase 1 General Awareness.
Don'ts for RBI Grade B General Awareness preparation
Don't just cram the names and numbers; you need to understand the news in detail as the answer options create confusion. See the sample questions below.
Don't waste time reading notifications on the RBI website. All important RBI notifications are covered in financial newspapers. On the RBI website, there are a lot many notifications which are hundreds of pages.
Don't start GA preparation just before the exam, rather read newspapers on a daily basis and practice GA questions regularly.
Don't read general awareness only for the exam but study it to get knowledge.
Don't rely on only one summary capsule or weekly/monthly bulletin for your preparation of general awareness.