RBI Grade B Study Material with Study Plan 2021
RBI Grade B Preparation Strategy 2021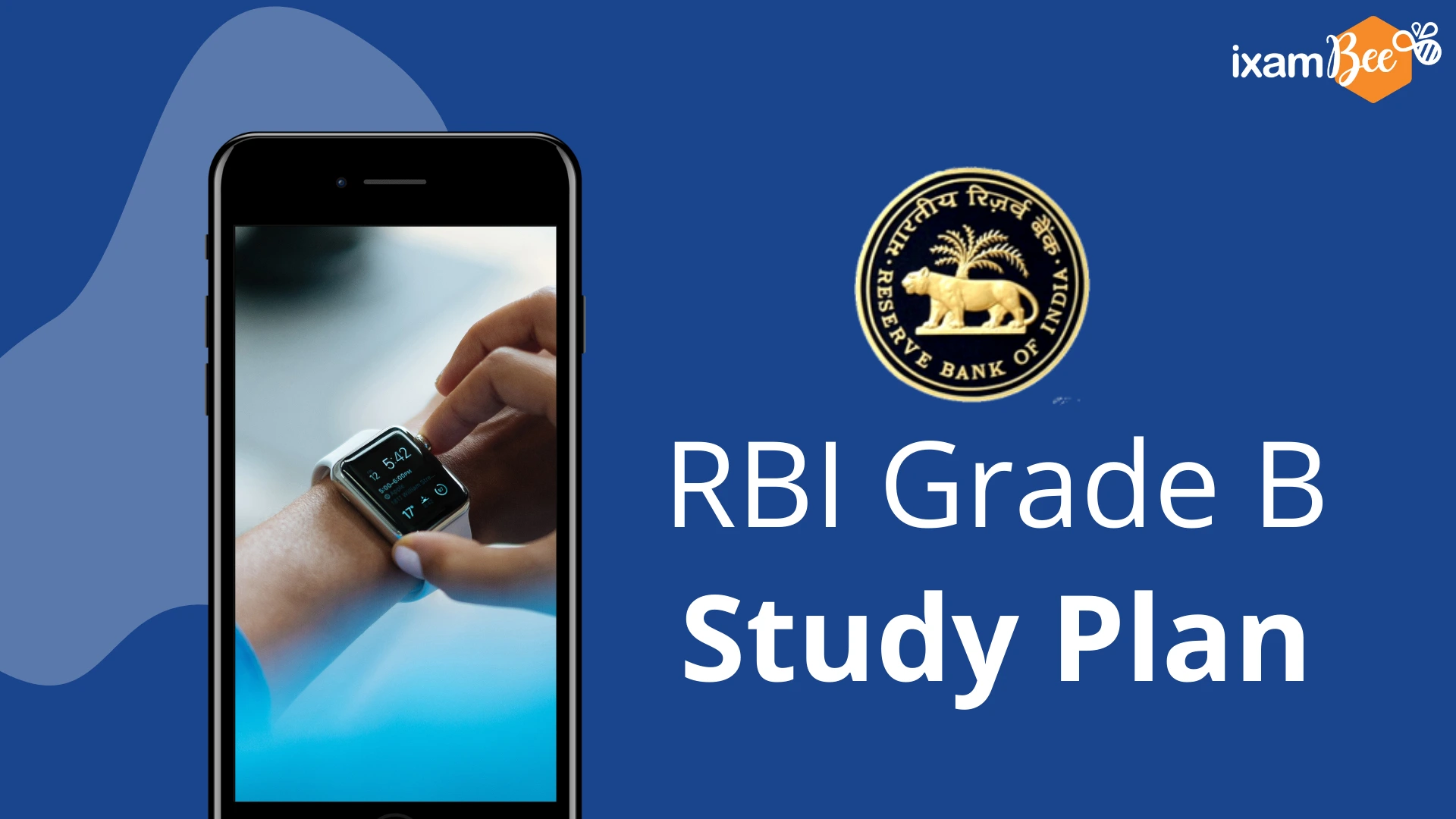 RBI Grade B 2021 official notification ​has been released ​​with major changes in the exam pattern. ​​​​ RBI Grade B Phase 1 Exam pattern is same but in phase 2 there are changes in pattern as well as a few additional topics have been added to the syllabus. Descriptive papers ​have been​ introduced ​for ESI & FM (Economics & Social Issues and Finance & Management) sections ​in the Phase 2 of RBI Grade B exam 2021. ​This means that the preparation strategy for RBI Grade B Phase 2 needs to revised and accordingly the time available to you till Phase 1 & 2 shall be utilized.
RBI Grade B 2021 Study Plan (New Pattern)
To prepare for descriptive papers of ESI and FM you need an effective study plan. A study plan based on the latest RBI Grade B exam pattern will help you in your preparation and outlining what and when you need to study. You can refer to the RBI Grade B Study Plan prepared below by our experts based on RBI Grade B new exam pattern & syllabus. It covers the syllabus based on the latest exam pattern and how to study for descriptive papers of RBI Grade B 2021.
Date
Day No.
Phase 1 topic
Time (hr)
Phase 2 Topic
Time (hr)
Time for Day (Hr)
25-Jan-21
1
Quant (Shortcut Tricks)
2
Measurement of Growth, National Income, Inflation
1.5
4.5
GA (monthly BeePedia Nov 2020)
1
26-Jan-21
2
Quant (Simplification)
1.5
Measurement of Growth, National Income, Inflation Chapter test
1
5
English (Tenses)
1.5
GA (monthly BeePedia Dec 2020)
1
27-Jan-21
3
Quant (Approximation + Surds & Indices)
1.5
BoP, Exim Policy, Fiscal policy
2
5.5
Reasoning(Direction)
1
GA (static GA)
1
28-Jan-21
4
Quant (Series)
2
Financial Statements and Ratios
1.5
6
English (Parts of Speech)
1.5
GA (weekly BeePedia Jan 1-15, 2021)
1
29-Jan-21
5
Quant (Quadratic Equations)
1.5
Ratios: Numericals
1.5
5
Reasoning(Alphanumeric Series)
1
GA (weekly BeePedia Jan 16-22, 2021)
1
30-Jan-21
6
Quant (Percentage)
2
Capital Budgeting
1
5.5
English (Direct Indirect + Active passive Voice)
1.5
GA (static GA)
1
31-Jan-21
7
Quant (Profit & Loss)
2
Bond valuation
1
5.5
Reasoning(Alphabet Test)
1.5
GA (monthly Quiz Dec + Jan)
1
1-Feb-21
8
Quant (Time and Distance + Train+Boat)
2.5
Bond valuation
1
6
English (SV Aggrement)
1.5
2-Feb-21
9
Govt Schemes
1
Indian Economy and Economic Reforms
1
5.5
Quant (Time & work + Pipes & Cistern)
2
Reasoning(Order & Ranking)
1.5
GA Committees and Reports (Sep - Dec 2020)
1
3-Feb-21
10
Quant (Partnership+Ages)
2
Banking System in Indian and reforms
1
5.5
English (Sentence Rearrangement)
1.5
GA - economic Survey 2020-21
1
4-Feb-21
11
Quant (Ratio & Proportion)
1.5
NBFCs
1
5
Reasoning(Coding Decoding)
1.5
GA Budget 2021-22
1
5-Feb-21
12
Quant (Average)
1.5
RBI functions and monetary policy
1
5
English (Spotting Errors)
1.5
GA monthly BeePedia Jan 2021
1
6-Feb-21
13
Quant (SI & CI)
2
Budget
1
5.5
Reasoning(Coded Inequality)
1.5
GA static
1
7-Feb-21
14
Quant (Number System + HCF LCM)
2
Economic Survey
1
5.5
English (Homonyms + Vocabulary)
1.5
Govt Schemes
1
8-Feb-21
15
Quant (Alligation)
2
Financial and Capital Markets
1.5
6
Reasoning(Syllogism)
1.5
Govt Schemes
1
RBI Grade B Study Material with Study Plan 2021 Related Quick Links
---
Recommended Course for you
---
Boost your preparation with Beepedia
---
High Quality Mock Test for you
---
Free Important Video Lectures
Frequently Asked Questions
Q1:
Can those students who are appearing in Final year of Graduation apply for any post in RBI Grade B?
A:
No, a candidate must have completed his/her graduation. If he/she is in the final year of graduation then they cannot apply.
Q2:
Is there any NEGATIVE MARKING in RBI Grade B Exam?
A:
Yes, negative marking for wrong answers in CBTs is 1/4th of the marks for that question.
Q3:
In RBI Grade B Exam, Can I choose Hindi language as the exam language?
A:
Yes, RBI Grade B Exam is bilingual (i.e, Hindi & English) exam. You can choose your preferred language either Hindi or English.
Q4:
Do RBI Grade B Officers get a pension?
A:
No, under the ambit of NPS currently there is no pension scheme for RBI employees.
Q5:
RBI Grade B 2021 Exam is in ONLINE OR OFFLINE mode?
A:
RBI Grade B 2021 Exam will be in online mode.
Q6:
Is there SECTIONAL CUT-OFF in RBI GRADE B Exam?
A:
Yes. RBI Grade B Exam has sectional and overall cut-off .
Q7:
Is RBI Grade B Officer job transferable?
A:
Yes, but only after completing the initial 5 years of posting.
Q8:
How many attempts are there in RBI Grade B?
A:
Candidates belonging to the general category can attempt the examination only 6 times. Whereas, there is no restriction to the SC/ST/OBC/PWD categories.
Q9:
What is the age limit for the RBI Grade B posts?
A:
The minimum age limit for the candidates is 21 years & the maximum age should not be more than 30 years.
Q10:
Will there be any interview after the written result ?
A:
Yes. There will be a final phase of Interview after RBI Grade B Phase I & Phase II.
Q11:
Is it possible to crack this exam in first attempt ?
A:
To crack any exam, one needs a complete preparation strategy,along with the complete exam information. If you are dedicated towards your goal, you would surely be able to crack the exam in first attempt.
Q12:
Is the exam Bilingual ?
A:
Yes. The exam is bilingual. You can attempt all the sections in English or Hindi except the test of English Language.
Q13:
What would be the word limit for ESI and FM Descriptive paper?
A:
For Paper 1 (ESI) and Paper 3 (FM) Descriptive Type Paper, the word limit prescribed is - 600 words for 15 marks questions, 400 words for 10 marks questions.