Aazadi ka Amrit Mahotsav: Experience free courses from Aug 8 to Aug 15
Preparation Strategy 2022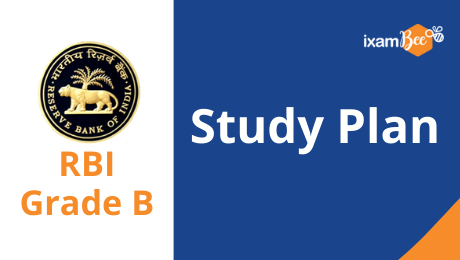 RBI Grade B 2022 official notification has been released with no changes in the exam pattern. RBI Grade B Prelims Exam Pattern is an objective type test while the RBI Grade B phase 2 exam pattern has both objective and descriptive paper format.
Since Descriptive papers have been introduced in ESI & FM (Economics & Social Issues and Finance & Management) sections in Phase 2 of the RBI Grade B exam 2022, so the RBI Grade B preparation strategy should be consistent from an early stage. Please check the video of the RBI Grade B preparation strategy by Mr C.P Joshi Sir (Ex- RBI) provided below.
RBI Grade B Study Plan 2022
To prepare for descriptive papers on ESI and FM you need an effective study plan. A study plan based on the latest RBI Grade B exam pattern will help you in your preparation and outline what and when you need to study. You can refer to the RBI Grade B Study Plan prepared by our experts based on RBI Grade B's latest exam pattern & syllabus. It covers the syllabus based on the latest exam pattern and how to study for descriptive papers of RBI Grade B 2022. Have you started your preparation for Phase 2 already? If not, you still have chance to refer to the RBI Grade B Phase 2 25 Days Study Plan and ensure success in the exam.
| Day | Date | Class Time | Requirement - attempt test by | Topic | Faculty |
| --- | --- | --- | --- | --- | --- |
| Monday | 6th June | 8:15 PM | 5:00 PM | Mock Test No.2 ESI (Objective+ Descriptive) Discussion | Susheel Ragade |
| Tuesday | 7th June | 8:15 PM | 5:00 PM | Mock Test No.2 FM (Objective+ Descriptive) Discussion | Prachi Agarwal |
| Wednesday | 8th June | 8:15 PM | 5:00 PM | Mock Test No.1 English Descriptive - Discussion | Dr Sharma |
| Thursday | 9th June | 8:15 PM | 5:00 PM | Mock Test No.3 ESI (Objective+ Descriptive) Discussion | Susheel Ragade |
| Friday | 10th June | 8:15 PM | 5:00 PM | Mock Test No.3 FM (Objective+ Descriptive) Discussion | Shikha Malhotra |
| Saturday | 11th June | 8:15 PM | 5:00 PM | Mock Test No.2 English Descriptive - Discussion | Arunima Sinha |
| Sunday | 12th June | 8:15 PM | 5:00 PM | Mock Test No.4 ESI (Objective+ Descriptive) Discussion | Susheel Ragade |
| Monday | 13th June | 8:15 PM | 5:00 PM | Mock Test No.4 FM (Objective+ Descriptive) Discussion | Prachi Agarwal |
| Tuesday | 14th June | 8:15 PM | 5:00 PM | Mock Test No.3 English Descriptive - Discussion | Dr Sharma |
| Wednesday | 15th June | 8:15 PM | 5:00 PM | Mock Test No.5 ESI (Objective+ Descriptive) Discussion | Susheel Ragade |
| Thursday | 16th June | 8:15 PM | 5:00 PM | Mock Test No.5 FM (Objective+ Descriptive) Discussion | Prachi Agarwal |
| Friday | 17th June | 8:15 PM | 5:00 PM | Mock Test No.4 English Descriptive - Discussion | Arunima Sinha |
| Saturday | 18th June | 8:15 PM | 5:00 PM | Mock Test No.6 ESI (Objective+ Descriptive) Discussion | Susheel Ragade |
| Sunday | 19th June | 8:15 PM | 5:00 PM | Mock Test No.6 FM (Objective+ Descriptive) Discussion | Shikha Malhotra |
| Monday | 20th June | 8:15 PM | 5:00 PM | Mock Test No.5 English Descriptive - Discussion | Dr Sharma |
| Tuesday | 21st June | 8:15 PM | - | ESI Final Doubt Clearing Session and Strategy | Susheel Ragade |
| Wednesday | 22nd June | 8:15 PM | - | FM Final Doubt Clearing Session and Strategy | Prachi Agarwal |
| Thursday | 23rd June | 8:15 PM | - | English Final Doubt Clearing Session and Strategy | Arunima Sinha |
| Friday | 24th June | 8:15 PM | - | Last Minute Tips | Susheel Ragade |