Get the Best Strategy to Prepare for RBI Grade B, NABARD Grade A, and SEBI Grade A Together at ixamBee
How to Prepare for RBI, NABARD and SEBI Together?
As the recruitment cycle for RBI Grade B Officer 2023 and NABARD Grade A 2023 nears its end, anticipation is building for the imminent release of the SEBI Grade A notification. For those aspiring to secure a position as an officer in a prestigious Indian organization this year, it's prudent to adopt a SMART approach and broaden the focus beyond RBI Grade B and NABARD Grade A.
Beyond RBI and NABARD, SEBI also conducts Direct Recruitment for Grade A positions. While the idea of preparing for all three might seem time-consuming, here's a surprising fact: 60% of the syllabus is common to RBI Grade B, SEBI Grade A, and NABARD Grade A exams. This revelation underscores the feasibility of a comprehensive study plan that simultaneously addresses the shared elements, offering a more efficient and effective preparation strategy.
If this seems interesting to you, you should stick around because, in the following article, we are going to unravel how you can prepare for RBI Grade B, NABARD Grade A, and SEBI Grade A simultaneously. We will also discuss all the key points like exam pattern, eligibility, work profile, salary, perks and benefits, career prospects, and more.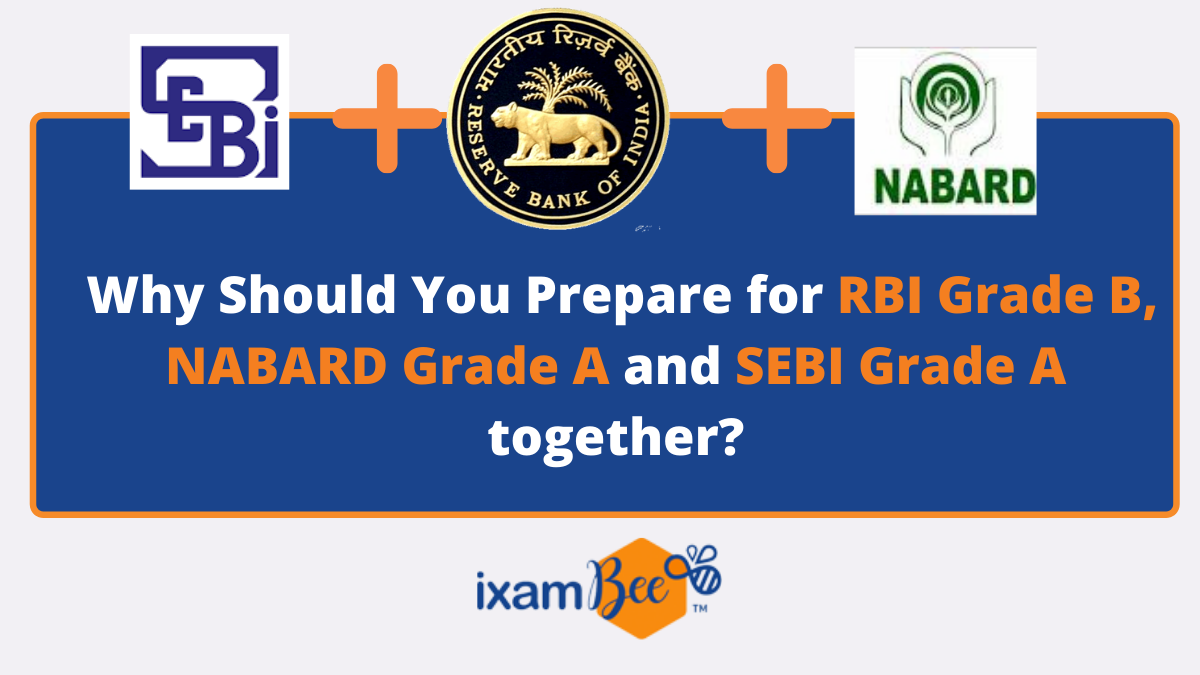 What is Better: RBI/ NABARD/ SEBI?
The Reserve Bank of India (RBI), the Securities and Exchange Board of India (SEBI), and the National Bank for Agriculture and Rural Development (NABARD) play crucial roles in shaping and regulating different facets of India's financial landscape.
RBI, as the central banking institution, holds the responsibility of monetary policy formulation and implementation, currency issuance, and overall financial stability. It regulates and supervises various financial institutions to ensure the soundness of the banking system.
SEBI, on the other hand, is primarily focused on the securities market. It regulates capital markets, ensuring fair and transparent dealings, protecting the interests of investors, and promoting the development of the securities market. SEBI's scope extends to overseeing stock exchanges, brokers, and other market intermediaries.
NABARD, as a specialized development bank, has a distinct mission—to foster rural and agricultural development. It provides credit and financial services to institutions involved in rural development and agriculture, supporting initiatives that uplift the rural economy. NABARD plays a pivotal role in channeling funds towards projects and programs that aim to improve agricultural productivity, enhance rural infrastructure, and alleviate poverty in rural areas.
In short, while RBI and SEBI contribute to the broader financial stability and market integrity, NABARD stands as a key player in the targeted development of India's agriculture and rural sectors, collectively contributing to the nation's overall economic growth and well-being.
RBI Grade B, NABARD Grade A, and SEBI Grade A Eligibility Criteria
If you are eligible for one of the exams, it is very likely that you are eligible for the other two as well because the eligibility is exactly the same. The potential hurdle lies in the minimum percentile requirement. Both RBI and NABARD mandate a minimum of 60% marks in graduation, serving as a stringent benchmark. However, SEBI distinguishes itself by not imposing such restrictions, offering a more flexible approach for candidates. Therefore, while your qualifications might open doors to multiple opportunities, it's crucial to be mindful of specific percentile prerequisites to navigate the unique requirements of each regulatory body.
To check eligibility for specialized posts, we encourage you to visit our exam page of NABARD Grade A Eligibility criteria, SEBI Grade A Eligibility criteria, and RBI Grade B Eligibility criteria to read about it in detail.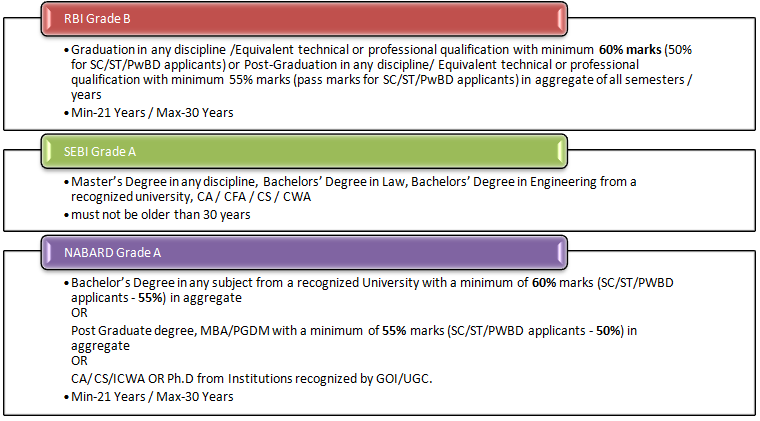 RBI Grade B, NABARD Grade A, and SEBI Grade A Exam Pattern
The commonalities include foundational topics such as Quantitative Aptitude, Reasoning Ability, and English Language. These sections serve as the backbone for assessing general aptitude and analytical skills. Additionally, all three exams often feature sections related to Economic and Social Issues, Finance and Management, and Agriculture and Rural Development. A cumulative study approach for these shared sections can enhance your grasp of fundamental concepts and reduce redundant efforts. It's essential to delve into each exam's unique sections as well, tailoring your preparation to address specific nuances. By strategically leveraging the common ground, you can build a robust foundation while catering to each regulatory examination's distinctive requirements.
For further details, you can visit the NABARD Grade A Exam Pattern, SEBI Grade A Exam Pattern, and RBI Grade B Exam Pattern sections on our website.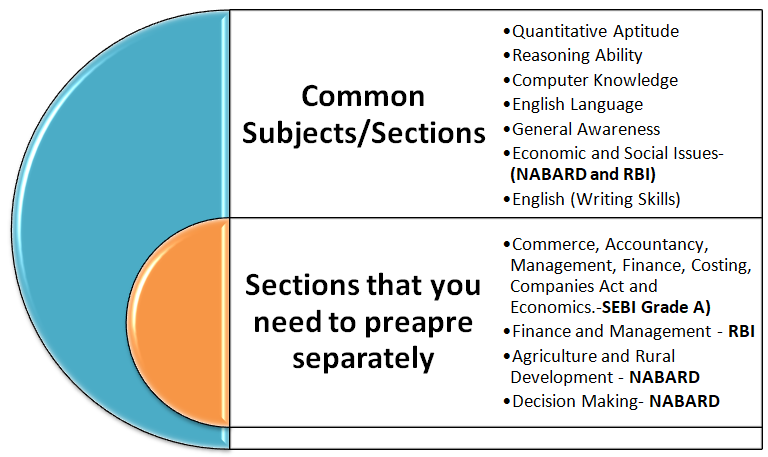 RBI Grade B, NABARD Grade A, and SEBI Grade A Job Profile and Salary Comparison.
One of the key reasons why aspirants are inclined towards high-end exams like RBI Grade B, NABARD Grade A, and SEBI Grade A is because, along with a big brand name, it also provides a handsome salary and brilliant work profile. These positions not only offer financial stability but also provide challenging and rewarding roles in the financial/banking sector. The prospect of being stationed in prominent locations like Mumbai or state capitals adds to the appeal, alleviating concerns about rural postings. This factor contributes to the overall desirability of these exams among aspirants, creating a pathway to a promising career with esteemed organizations and favorable working conditions. To give you a clear idea about the RBI Grade B, SEBI Grade A, and NABARD Grade A salary, perks, and career prospects, a detailed table is provided below.
Parameters
RBI Grade B
SEBI Grade A
NABARD Grade A
Salary
Basic Rs. 55,200 (revised), Rs. 1,16,914 lakh (approx.)
Basic Rs. 44,500 (revised), Rs. 1,35,000 per month (approx.)
Basic Rs, 44,500 (revised), Rs. 1,00,000 per month (approx.)
Perks and allowances
Dearness Allowance (DA),
House Rent Allowance (HRA),
Medical Allowance,
Education Allowance,
Conveyance Allowance,
Leave Fare Concession & Leave Travel Concession
Special Pay,
Special Functional Pay,
Dearness Allowance,
Local Allowance,
City Compensatory Allowance,
Family Allowance,
Special Compensatory Allowance,
Grade Allowance,
Learning Allowance,
Personal Fixed Allowance
Dearness Allowance
Local Compensatory Allowance
House Rent Allowance,
Family Allowance,
Accommodation Allowance, Furniture Allowance,
Dispensary Facilities, Reimbursement of Medical Expenses,
Telephone, Newspaper & Maid Allowance and,
Grade Allowance as per the rules in force from time to time.
Posting
Mumbai, State Capitals
Mumbai, State Capitals
Mumbai, State Capitals
Work profile
Central Banking and regulatory & supervisory
Regulatory & supervisory
To deal with the matters related to policies of various central and state government programs related to Agriculture & Rural Development.
Career Prospects
The hierarchy of each institution is provided below: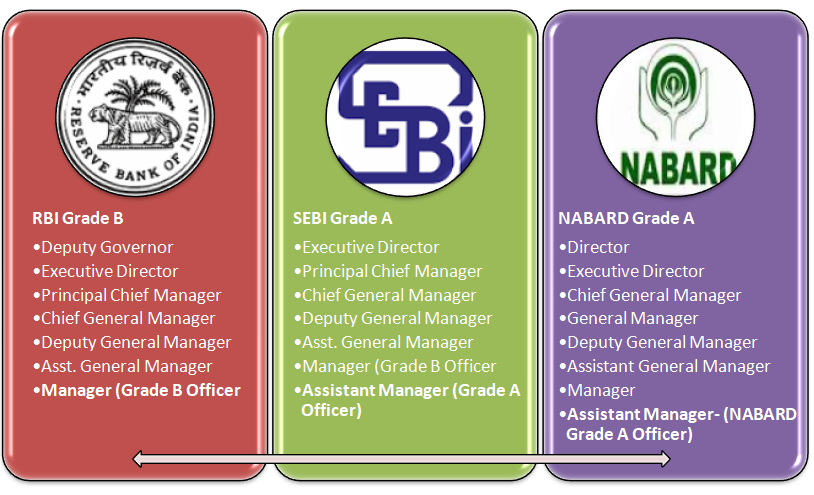 How you can prepare for RBI Grade B, NABARD Grade A and SEBI Grade A together?
More than 50% of the RBI Grade B syllabus is relevant for SEBI Grade A Phase 2, so while preparing for the RBI Grade B, most of your syllabus for SEBI Grade A Phase 2 will be covered automatically.
Also, your Descriptive English will be taken care of simultaneously for SEBI Grade A while preparing for the NABARD Grade A and RBI Grade B exams.
NABARD Grade A Phase 1 aptitude section is also common to RBI Grade B and SEBI Grade A, we recommend you to visit the NABARD Grade A syllabus to check out it in detail. You will only need to work on ARD separately for NABARD; the rest is the same.
You can also read our blog on RBI, SEBI, and NABARD: All in One Preparation Strategy!, where we have discussed the preparation strategy of all three exams in detail.
Lastly, we would like to reiterate that having so much in common, it will be a mistake not to apply for the SEBI Grade A exam if you are writing the RBI Grade B and NABARD Grade A exams. A 160-day Study Plan for RBI Grade 2024 has been explained in the video by Mr. Susheel Ragade. You can check out other videos related to RBI and NABARD preparation provided on our YouTube channel.
If you aspire to prepare for all three but are overwhelmed, ixamBee can give you that competitive edge. You can take a look at our RBI Grade B + SEBI Grade A + NABARD Grade A Online Course. However, before you make a decision of purchasing this course, you can check out the RBI Grade B + NABARD Grade A + SEBI Grade A Comprehensive Demo course, which is absolutely free of cost. Through the demo course, you would be able to check the quality of the content provided to you. Make sure you log in with a valid email Id.
You will be able to decide whether you want to go further with the enrollment or not. This course has been curated to help you with the RBI Grade B and NABARD Grade A alongside the SEBI Grade A exam. You are advised to visit our website for further information.
In addition, to evaluate your exam readiness, it's essential to engage in mock tests for RBI Grade B, SEBI Grade A, and NABARD Grade A. Furthermore, gaining insights into the patterns of previous exams conducted by RBI, SEBI, and NABARD can be achieved by reviewing the respective RBI Grade B, NABARD Grade A and SEBI Grade A previous year question papers.
All the best!!
To help you prepare 50% faster for competitive exams, ixamBee provides a free Mock Test Series and all the Current Affairs in English and Current Affairs in Hindi in the BeePedia capsules for GA Preparation. You can also get the latest updates for Bank PO, Bank Clerk, SSC, RBI Grade B, NABARD, and Other Government Jobs.
Also Read
Important Facts about RBI: History, Role & Responsibilities and Functions
Interesting Facts About SEBI: Full form of SEBI & Other Details
Current Affairs Preparation for the RBI Grade B Exam: A Comprehensive Guide
How to start RBI Grade B Exam preparation from scratch?
The Complete Guide to NABARD Grade A Mains Analysis 2023
займ с залогомбезпроцентный займ онлайноформить кредит займ