Details

Popular Courses

Ask Us?
NABARD Grade A Salary 2023
Candidates often express curiosity about the NABARD Grade A salary and perks for 2023. This post aims to provide insights into the NABARD Grade A salary and job profile. Understanding whether the role aligns with their abilities is crucial for candidates. Accurate comprehension of the job profile, salary structure, and associated perks is vital. The alluring salary package and prestigious job profile serve as motivating factors for applicants.
This article delves into the NABARD Grade A job profile, work environment, take-home salary, and perks. It addresses doubts surrounding the exam and enhances your understanding. The National Bank for Agriculture and Rural Development (NABARD) has released the notification for the recruitment of Assistant Managers (Grade A) in various disciplines within Rural Development Banking Services (RDBS). Aspiring candidates for the NABARD Grade A 2023 exam should familiarize themselves with the NABARD Grade A salary 2023 details, as well as career growth and promotional opportunities.
NABARD Grade A Salary 2023: An Overview
Before 1982, NABARD was a part of RBI, contributing to a shared work culture and fixed salary structures for officer grades.
As a result, NABARD Grade A officers are entitled to a fixed salary, perks, and allowances.
Being one of the highest-paying government jobs, here's a simplified breakdown of the pay scale:
In 2022, NABARD announced a significant increase in Grade A officer salaries.
A comprehensive salary breakdown will be provided in an attached salary slip.
Estimating from various components, a NABARD Grade A officer's gross monthly salary is around ₹ 1,00,000/-.
The initial basic NABARD Grade A salary is ₹ 44,500/- per month
NABARD Grade A Salary Details 2023
Among aspiring individuals seeking a career as a Grade A officer across various streams within NABARD, salary stands out as a frequently searched topic. Regardless of the specific stream one has applied for, the initial and overall NABARD Grade A salary structure remains consistent. Disparities in grade pay become evident as individuals progress up the organizational hierarchy.
The details on NABARD Grade A salary 2023 can be devised from the table below.
Post
Salary
NABARD Grade A

Basic salary - Rs. 44, 500/-
Scale of Rs. 44500 – 2500 (4) – 54500 – 2850 (7) – 74450 – EB – 2850 (4)– 85850 – 3300 (1) – 89150 (17 Years)
Initial monthly gross emoluments - Rs. 1,00,000/- approximately
NABARD Grade A In-Hand Salary 2023
Candidates who successfully secure the position of NABARD Grade "A" officers can get an In-Hand Salary of INR 62,600/- per month. This remuneration package reflects the tangible benefits and rewards associated with this esteemed role within the organization.
NABARD Grade A Gross Monthly Emoluments 2023
Upon successful selection in the NABARD Grade A 2023 examination, candidates will commence with a basic pay of ₹ 44,500, in line with the revised pay scale. The pay scale for this designation ranges from ₹ 44,500 to ₹ 1,00,000. Notably, the in-hand salary for an entry-level NABARD Grade A officer showcases initial monthly gross emoluments of approximately ₹ 1,00,000/-. Furthermore, the annual package for this role spans from ₹ 5,34,000 to ₹ 18,00,000, providing a comprehensive overview of the financial benefits associated with this prestigious position.
Increment Table for NABARD Grade A Officer
As previously discussed the initial salary for a NABARD Grade A Officer is ₹ 44,500 per month. An increment of ₹ 2,500 will be granted for the first four years of service. Subsequently, after four years, the increment will increase to ₹ 2,850, applicable for the subsequent seven years. This will lead to basic pay of ₹ 74,450. The final increment will amount to ₹ 3,300, culminating in a maximum basic pay of ₹ 89,150.
Refer to the table below for a comprehensive breakdown of the incremental progression for a NABARD Grade A Officer:
| Years of Service | Basic Pay |
| --- | --- |
| Initial | ₹ 44,500 |
| After 1 year | ₹ 47,000 |
| After 2 years | ₹ 49,500 |
| After 3 years | ₹ 52,000 |
| After 4 years | ₹ 54,500 |
| After 5 years | ₹ 57,350 |
| After 6 years | ₹ 60,200 |
| After 7 years | ₹ 63,050 |
| After 8 years | ₹ 65,900 |
| After 9 years | ₹ 68,750 |
| After 10 years | ₹ 71,600 |
| After 11 years | ₹ 74,450 (max) |
Perks & Additional Benefits of NABARD Grade A Officer
The salary for a NABARD Assistant Manager is notably attractive. In addition to the competitive pay, a Grade A Officer enjoys a range of allowances and benefits. Upon selection as a NABARD Grade A Officer, you become eligible for the following perks:
Dearness Allowance:

The Dearness Allowance is a component of the salary that is revised periodically to offset inflation and maintain the purchasing power of employees.

House Rent Allowance:

House Rent Allowance is provided to assist officers in covering their rental expenses, particularly when they are posted in locations without official accommodation.

Local Allowance:

The Local Allowance is meant to address the higher cost of living in metropolitan areas, ensuring that officers can comfortably manage their expenses.

Family Allowance:

The Family Allowance acknowledges the additional financial responsibilities officers may have, thereby providing support for their family-related needs.

Grade Allowance:

The Grade Allowance is a fixed sum provided to officers in recognition of their specific grade and responsibilities within the organization.

Accommodation Facilities:

Officers are offered accommodation facilities across various locations in India, promoting convenience and ease of relocation for official duties.

Telephone, Newspaper, and Maid Allowance:

This allowance contributes to the expenses associated with maintaining communication, staying informed through newspapers, and hiring domestic help.

Reimbursement of Medical Expenses:

NABARD ensures that officers' health-related costs are covered by providing reimbursements for medical expenses incurred by them and their dependents.

Furniture Allowance:

Officers are granted a furniture allowance to facilitate the establishment and maintenance of a comfortable living environment.

Dispensary Facilities:

The availability of dispensary facilities guarantees that officers have access to medical care and support within the organization.

Interest-free Festival Advance:

This advance aids officers in celebrating festivals and special occasions without straining their finances, as it doesn't accumulate interest.

Leave Fare Concessions:

Officers are granted concessions to help cover the costs of travel when they avail leave to visit their hometown or other specified destinations.

Loans at Concessional Rates:

Officers have the opportunity to secure loans for various purposes like housing, car purchase, education, and personal needs, with the advantage of lower interest rates.

New Pension Scheme:

In addition to Gratuity, the New Pension Scheme ensures that officers have a secure and well-planned retirement savings arrangement.

Optional Group Term Insurance Plan Benefits:

This plan offers officers the choice to avail of additional insurance coverage for themselves and their families, ensuring financial security in unforeseen circumstances.
These comprehensive allowances and benefits enhance the overall job package for NABARD Grade A Officers, making it an appealing career option.
NABARD Grade A Probation Period
Upon your selection as a NABARD Grade A Officer, you will enter a probationary period lasting two years, with the possibility of an extension for an additional year if required. Following the successful completion of this probationary period, you will attain the official designation of Assistant Manager (AM) within the organization. This period serves as an opportunity for you to showcase your capabilities and familiarize yourself with the role's responsibilities, culminating in the recognition of your managerial position upon meeting the stipulated requirements.
| Post | Probation Period |
| --- | --- |
| NABARD Grade A | 2 years |
NABARD Grade A Job Profile 2023
Upon successfully navigating all phases of the NABARD Grade A 2023 selection process, you will be assigned to a specific branch of NABARD for your posting.
The nature of your duties and responsibilities will vary depending on the stream for which you have been selected. While each stream comes with its distinct focus, the initial stages of your role will encompass a range of fundamental tasks to familiarize you with the job's intricacies.
In the beginning, you will engage in diverse basic job roles, gaining a comprehensive understanding of the tasks and responsibilities inherent to your designated post. This hands-on approach will provide you with a foundational grasp of your role's nuances. As you progress, managerial duties and other responsibilities delegated by senior personnel will be integrated into your role.
Furthermore, you may find yourself engaged in clerical functions, ensuring a holistic understanding of the organization's operations.
A pivotal facet of your responsibilities may involve overseeing matters related to the policies of central and state government programs concerning Agriculture & Rural Development. Your role will necessitate a keen awareness of these policies and their implications, as you contribute to the effective implementation of vital initiatives.
In essence, your tenure as a NABARD Grade A Officer will encompass a dynamic range of tasks, with a primary emphasis on understanding, executing, and contributing to the core functions of the organization within your chosen stream.
NABARD Grade A Career Growth
As a NABARD Grade A Officer, your journey within the organization opens doors to numerous career advancement prospects. A structured career progression pathway awaits, ensuring your professional growth over time. Starting as an Assistant Manager in the Grade A role, you step into a managerial position right away upon clearing the NABARD Grade A exam. This immediate elevation places substantial responsibilities on your shoulders, as you embark on a managerial role from the outset. Your commitment and contributions will determine the trajectory of your career, allowing you to thrive and ascend within the organization's ranks.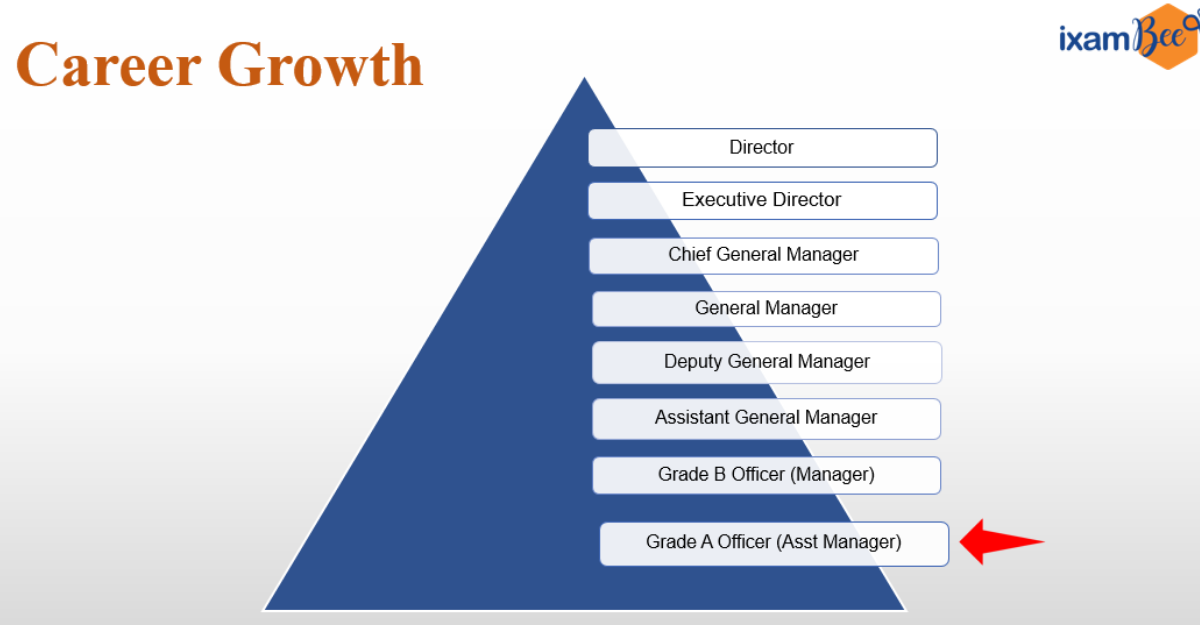 FAQs
The NABARD Grade A Officer's salary structure consists of a starting Basic Pay of ₹ 44,500 per month. The pay scale for this position is structured as follows: ₹ 44,500 - 2,500 (4) - 54,500 - 2,850 (7) - 74,450 - 2,850 (4) - 85,850 - 3,300 - (1) - 89,150 (17). This arrangement highlights a pattern of incremental increases in the Basic Pay over time, with adjustments occurring at specified intervals. As Grade A Officers accumulate experience and progress through the ranks, their salary gradually advances, reflecting their growing expertise and tenure within NABARD.
Absolutely, upon being selected as a NABARD Grade A Officer, your potential postings can span across various locations throughout India. This flexibility in posting locations allows for a diverse and dynamic work experience as you contribute to NABARD's mission in different regions of the country.
Upon commencing their tenure, NABARD Grade A officers undergo a probation period lasting 2 years. During this time, they may be assigned postings anywhere in India, except for their home state. Typically, postings are predominantly in state capitals, facilitating a well-defined work environment. This period allows officers to adapt, learn, and contribute effectively to the organization's goals.
Absolutely, a career as a NABARD Grade A Officer offers substantial prospects for advancement within the organizational hierarchy. Internal promotional exams present ample opportunities for you to climb higher grades and achieve greater responsibilities. This promotes professional growth and enables you to take on more significant roles within the organization.
Upon joining NABARD as a Grade A Officer, you gain access to a range of perks and allowances. As you progress to higher grades, these benefits and facilities expand, enhancing the overall value of your employment experience.
Working at NABARD comes with a plethora of significant advantages. The organization offers an enticing package that includes a high salary, substantial perks, and various allowances, ensuring financial stability and prosperity. Beyond financial benefits, NABARD provides a platform to make a meaningful difference in the lives of rural and underserved Indian citizens. In essence, a career at NABARD not only promises financial rewards but also offers the chance to create positive change, maintain equilibrium in life, and engage in continuous personal and professional growth.