NABARD Grade A Study Plan 2022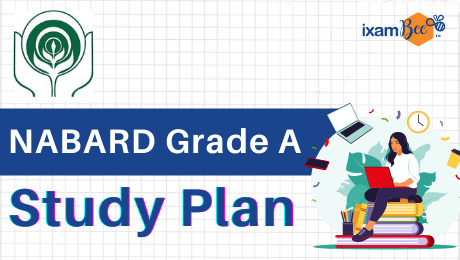 The NABARD Grade A exam is an extremely important one and the notification of it is finally out. Now is the time to plan your preparation and crack the exam with flying colours. NABARD Grade A recruitment is one of the most awaited recruitments among aspirants and therefore the competition can not be taken so lightly.
The best strategy is to stay prepared well in advance and the best time to do that is NOW. To begin with, to crack an exam like NABARD Grade A you need a proper and feasible plan which takes care of the complete NABARD Grade A syllabus and all the major topics from which the questions can be expected. Also, NABARD Grade A is going to be a mixture of Objective & Descriptive modes in Phase 1 & Phase 2.
The challenge has been increased by another level with Decision Making been included as a subject. If you are puzzled and muddled how to cover all the sections, you can just take a breath and have a look at the NABARD Grade A study plan being provided by ixamBee. The study plan will cover the entire syllabus topic-wise every week ensuring your selection in the NABARD Grade A recruitment process. Have a look at the NABARD Grade A study plan provided below and if you find it feasible enough, you can continue by downloading the NABARD Grade A study plan pdf.
Agriculture & Rural Development (ARD)
Economic & Social Issues (ESI)
General Awareness (GA)
Decision Making (DM)
Quants
Reasoning
English
Computer Awareness
Week 1
Introduction to Agriculture & Agronomy
Nature of Indian Economy - Structural and Institutional features Economic Underdevelopment
Weekly GA
DM - Meaning and Features
Percentag e, DI/Caselet DI -2
Introduction
Introduction -Questions
History of Computer
Classification of crops & Factors affecting
Opening up the Indian Economy - Globalization - Economic Reforms in India Privatization
Inequality Part 1
Types and Pattern
Week 2
Cropping Systems
Inflation - Trends in Inflation & their Impact on National Economy and Individual Income.
Weekly GA
Time and Work Part 1
Inequality Part 2
Reading Comprehension
Dryland Agriculture
Poverty Alleviation and Employment Generation in India - Rural and Urban - Measurement of Poverty - Poverty Alleviation Programmes of the Government.
Time and Work Part 2
Syllogism Part 1
Week 3
Seed Production
Population Trends - Population Growth and Economic Development Population Policy in India.
Weekly GA
DM - Process
Time and distance Part 1
Syllogism Part 2
Reading Comprehension
Hardware
Organic Farming
Agriculture - Characteristics / Status - Technical and Institutional changes in Indian Agriculture - Agricultural performance - Issues in Food Security in India
Time and distance Part 2
Coding-Decoding Part 1