RBI Assistant 2022 Prelims exam has been scheduled for March 26 & 27, 2022. With almost two weeks left for the exam you must be thinking about making the most of this time with practicing and giving mock tests. To crack this exam in the most efficient manner, it is important to take care of some important tips so that you do not succumb to the pressure at the time of examination.
In this blog, we will be discussing some important last minute tips that will help you during the RBI Assistant 2022 exam.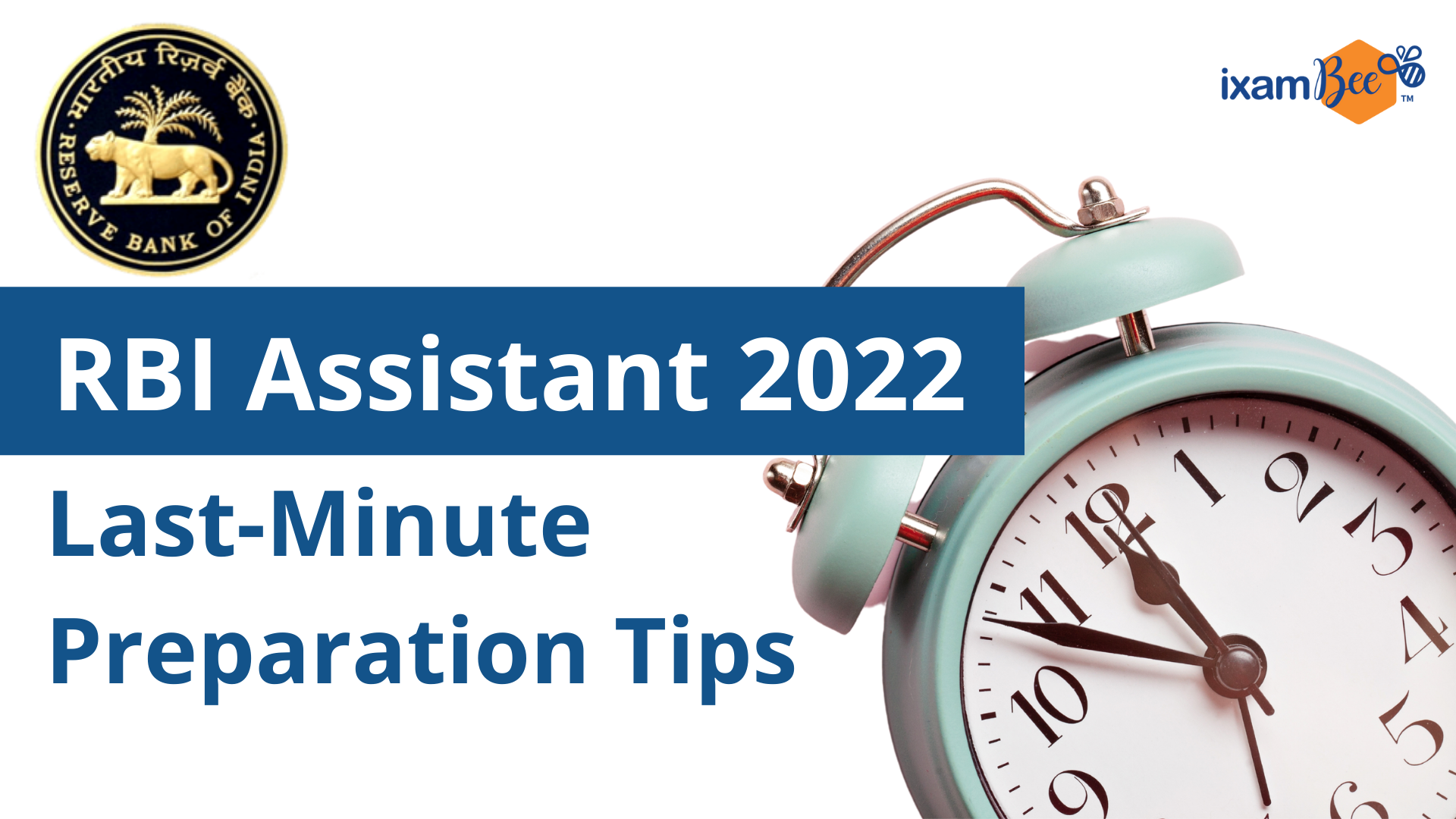 RBI Assistant Prelims Exam Pattern:
Before looking at those points let us have a quick look at the exam pattern which is quite straight forward.
| | | | |
| --- | --- | --- | --- |
| Test Name | Total Questions | Total Marks | Time Duration |
| Reasoning Ability | 35 | 35 | 20 min |
| Numerical Ability | 35 | 35 | 20 min |
| English Language | 30 | 30 | 20 min |
| Total | 100 | 100 | 60 min |
Give each section equal importance as each section will contribute in boosting the score. As we can see above, there are three sections, each section will have a sectional timing of 20 minutes. You will have to attempt maximum number of questions within these.
Do not take New Topics:
With merely eleven days left for the exam, the time that is left is not for learning new topics but to revise and get the command over the covered ones. Rather than reading new topics, it is advised to give mocks as much as you can. Try to attempt RBI Assistant Mock tests on a daily basis and analyse your performance after that. While revising you may counter some topics which you will think are essential to cover but do not let this feeling overwhelm you and remain focussed on the revision part.
Revision is the Key:
We are assuming that the entire syllabus must have been completed by now and all that is left is revision. Revision is essential because there is no point in reading or learning anything until and unless you have revised it at least three times. Focus on revision to get a command over your strong points. Make a short note for important formulas of Quantitative Aptitude or some short tricks for Reasoning or English. This will also help you to revise on the day of the exam.
Focus on Accuracy:
The examination has a negative marking of 0.25 marks which means for every wrong answer 0.25 marks will be deducted. Keeping this in mind, try to answer only those for which you are very sure about otherwise it is better to skip the question. Marking wrong answers will not only waste your precious time but also decrease your score by deducting marks from correctly answered ones. Do not mark just for the sake of increasing your number of attempted questions.
Make a Strategy for Attempting the Paper:
While attempting mock tests, make a strategy on how you are going to attempt the entire paper. While everyone makes their own strategy, it is advised to attempt your strong section/questions first and then gradually try to solve the rest of the sections/questions. This will boost your confidence and will help in increasing your score. Don't spend too much time on one question. Try to implicate your tested strategy in the real examination, do not change it at the last minute. Believe in yourself and do not lose your patience while giving the exam.
Expect the Unexpected
Keep yourself open to the possibility that RBI may throw some surprises your way. However, you must be confident in your preparation and strategy and tackle the questions with the best approach.
Focus on your Health & Well-being
An active and fresh mind is the key to attempting more number of questions on the day of the exam. Usually, in the midst of exam preparation, many candidates often forget to take care of their health and well-being. Therefore, we urge you to not study too much on the days leading upto the RBI Assistant 2022 exam. Moreover, a minimum of eight hours of sleep is a must. An unclear and tired mind can have a bad effect on your RBI Assistant 2022 exam preparation.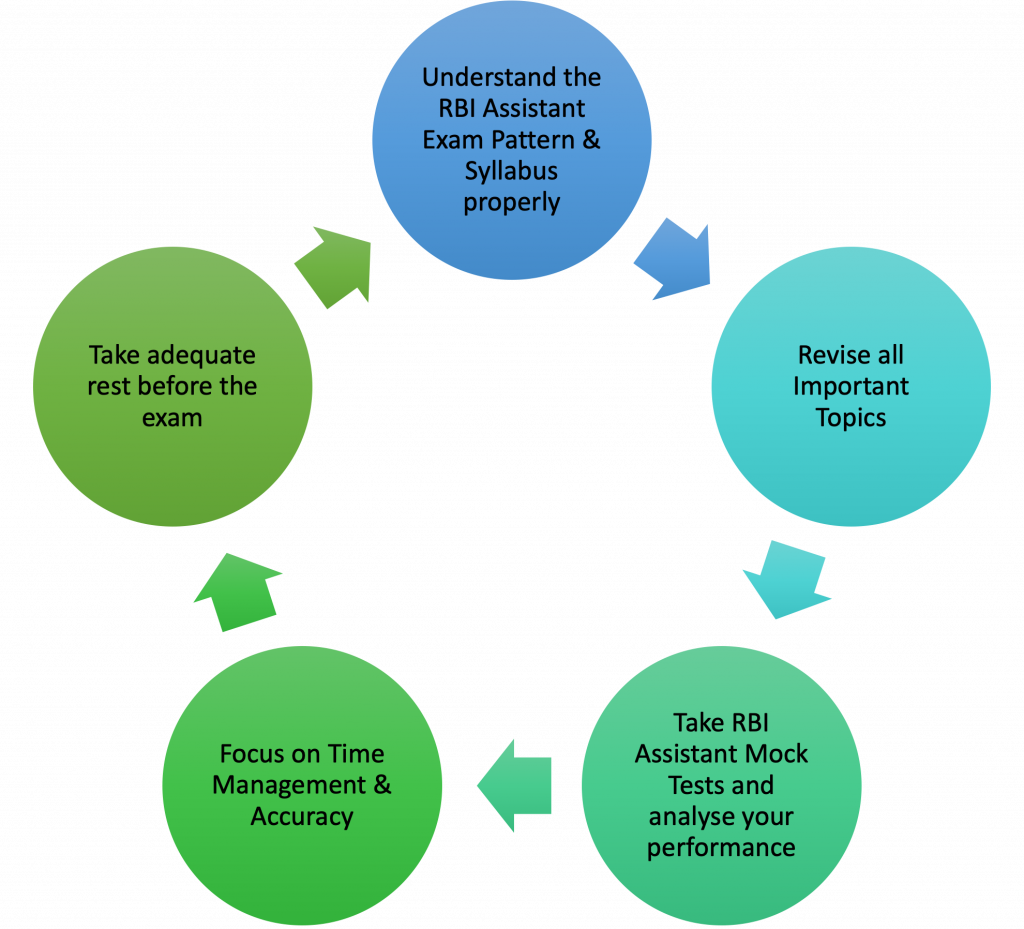 Keep your Documents Ready:
You must have prepared religiously for the exam, so make sure to take all the documents required, so that you dont miss the chance to appear in the examination. Keep all your documents ready the night before the examination. Write it somewhere so that you don't miss out on anything important. For your assistance, following is the list of documents that are required at the examination hall.
Admit card (call letter of RBI Assistant Prelims exam)
Valid ID Proof
Photocopy of Valid ID Proof
1 passport size photograph (preferably same as uploaded in the call latter)
Mask (WEARING A MASK is COMPULSORY)
Gloves
Personal transparent water bottle
Personal hand sanitizer (50 ml)
A ball point pen
You must have the Aarogya Setu App installed on your mobile phone.
Maintain social distancing at all times and follow all other COVID-19 safety protocols.
At the end, be calm and give your best. Don't let others preparation strategy affect your performance. We wish you all the best for the exam.
Also Read:
RBI Assistant 2022: Everything To Know About Previous Year Cut-off and Previous Year Papers
Important English Questions for RBI Assistant Prelims Exam
Reasoning Ability (Seating Arrangement) Questions for RBI Assistant and SBI Clerk 2022
Get Free Online Test Series, Daily GK Update, Beepedia as well as latest updates for Bank PO, Bank Clerk, SSC, RBI, NABARD and Other Government Jobs.
онлайн займ без загрузки документовгде реально получить займ на картузайм онлайн екатеринбург