Read here for tips on RBI 2023 Preparation with the Best RBI Grade B Strategy and RBI Grade B Study Plan 2023 to understand how to crack RBI Grade B on the first attempt.
RBI Grade B Recruitment 2023
The RBI Grade B notification 2023 is finally out. The RBI Grade B recruitment 2023 has announced a total of 291 vacancies for Grade B posts in the General, DEPR and DSIM streams. Therefore, Team ixamBee urges you to begin your preparation right away if you want to beat the competition and get ahead of your peers. To help you with your RBI Grade B Officer exam preparation, experts at ixamBee have designed a 50 + 20 days RBI Grade B Study Plan.
In this article, we will understand how to prepare for RBI Grade B with the help of the RBI Grade B strategy and the RBI Grade B Study Plan 2023.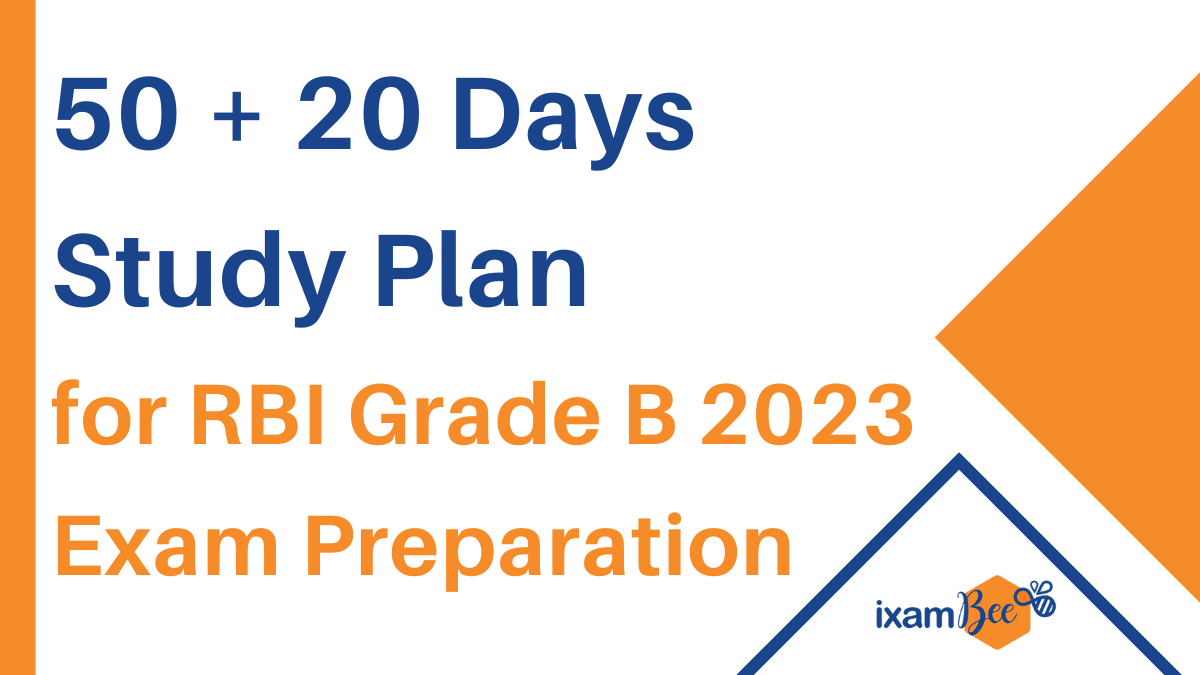 The RBI Grade B 2023 notification was released on May 09, 2023. Accordingly, the RBI Grade B Phase 1 exam is expected to be held on July 09, 2023. This leaves us with close to 2 months to prepare for the exam. If you haven't begun yet, now would be the ideal time to begin without any delay.
RBI Grade B Preparation Strategy
Your RBI Grade B preparation strategy should be a combination of 3 essential elements. They are;
Mock Tests:
Mock tests will form an essential part of your preparation. They help you become familiar with the exam pattern, improve your time management skills, and identify your strengths and weaknesses. Therefore, you must start attempting the RBI Grade B Mock Tests regularly and analyse your performance to identify areas that need improvement.
Previous Year Papers:
Solving the RBI Grade B Previous Year Question Papers is crucial for identifying important topics, and getting an idea of the difficulty level. Therefore, you should allocate time to solve past papers of RBI grade B exam under exam-like conditions. Thereafter, you can analyse your answers and learn from your mistakes.
Proper Study Plan + Mentorship:
A proper study plan combined with mentorship can immensely benefit RBI Grade B exam preparation. A well-structured study plan will ensure systematic coverage of the syllabus, optimal allocation of time, and regular revision, while mentorship will provide expert guidance, personalised strategies, and feedback. Together, they create a comprehensive framework that optimises your preparation, boosts confidence, and enhances your overall performance.
While the first two can be found for free on our website, in this article, we are going to discuss why you need an organised study plan.
Do I Need a Study Plan?
Simply put, yes. You cannot expect to clear an exam as competitive as RBI Grade B 2023 without a proper plan. For this, you need to organise your schedule in order to cover your syllabus completely and comfortably and save enough time for revision. ixamBee's RBI Grade B Study Plan 2023 has been designed to help aspirants organise their study schedule.
Also read: RBI Grade B 2023 Syllabus for all subjects
RBI Grade B 2023 Preparation: Study Plan
Do you want to understand how to prepare for RBI Grade B 2023? If yes, then go through the study plan below to understand what your RBI Grade B strategy should be.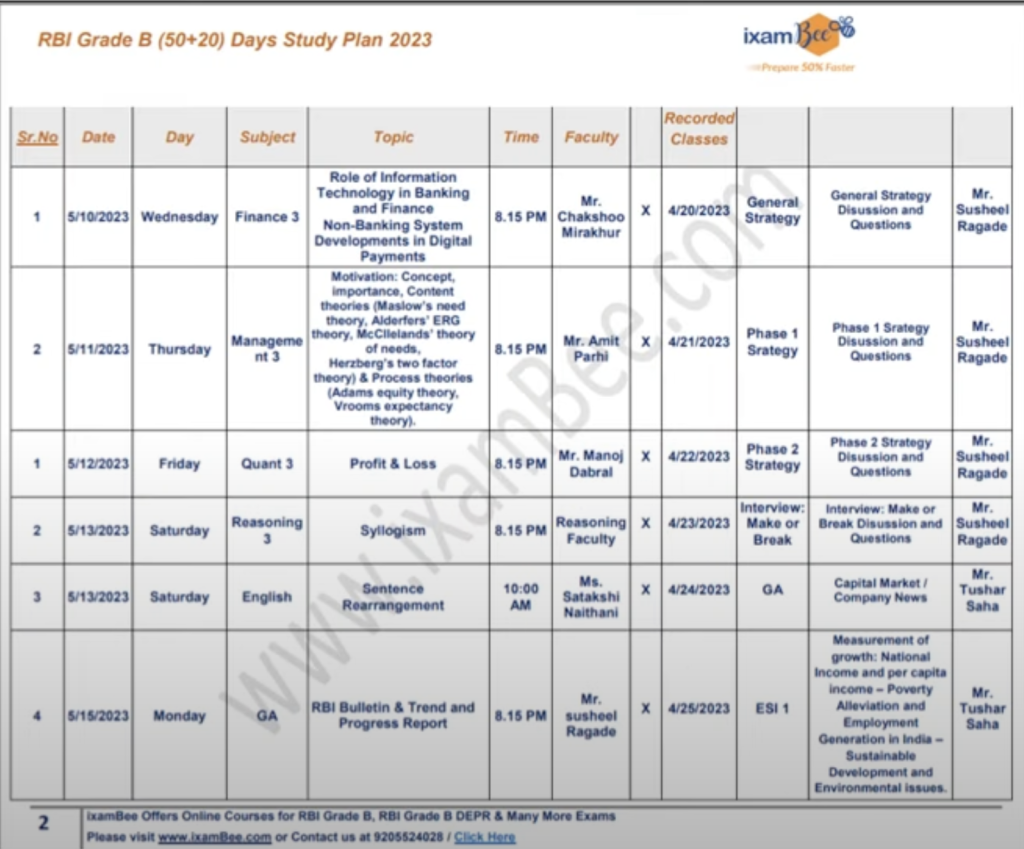 Would you like to read the rest of the RBI Grade B 2023 study plan? If your answer is yes, all you need to do is join hands with ixamBee! Follow this link to learn more!!
Study with ixamBee
RBI Grade B Books
Apart from the aforementioned resources, you can also take a look at ixamBee's RBI Grade B Phase 1 book to supplement your exam preparation. This book is designed specifically to cater to the needs of RBI Grade B aspirants, covering all the essential topics that are assessed in the RBI Grade B exam. The RBI Grade B book by ixamBee is a comprehensive resource which contains 3000 practice questions along with 8 previous year question papers, 7 mock tests and solved papers. Thus, with the support of this book, you can enhance your knowledge, improve problem-solving skills, and boost confidence to excel in the RBI Grade B exam.
Online Course
Additionally, you can also take the help of ixamBee's RBI Grade B Online Course. This course offers a comprehensive and structured curriculum designed specifically for RBI Grade B aspirants, covering all the essential subjects and topics. You will have access to video lessons, live classes, and study materials prepared by our experienced faculty members and industry experts, ensuring high-quality content and in-depth coverage of the RBI Grade B syllabus. Moreover, the course also offers personalised guidance, doubt-solving sessions, and mentorship to address individual learning needs and provide valuable insights into the exam pattern and strategies. With the help of ixamBee's RBI Grade B Online Course, you can effectively build exam-specific skills and confidence to perform exceptionally well in the RBI Grade B exam 2023.
We hope you will make the most of this opportunity that has come your way to ace your RBI Grade B 2023 preparation.
We wish you the best always.
To help you prepare 50% faster for competitive exams, ixamBee provides free Mock Test Series and all the Current Affairs in English and Current Affairs in Hindi in the BeePedia capsules for GA Preparation. You can also get the latest updates for Bank PO, Bank Clerk, SSC, RBI NABARD and Other Government Jobs
Also Read
Perks of being an RBI Grade B Officer
RBI Grade B Salary: RBI Grade B Salary After 7th Pay Commission
13 Mistakes to Avoid While Preparing for RBI Grade B Exam
Descriptive Writing Strategy and Tips for RBI Grade B Phase 2