Read the 13 biggest mistakes to avoid while preparing RBI Grade B exam 2022.
As promised we are back with the rest of 13 mistakes you need to avoid while preparing for RBI Grade B exam 2022. In our previous article, we have already shared that RBI Grade B exam is becoming tougher year after year and you need to be on toes when it comes to RBI Grade B exam preparation.
You have already read about 7 out of 13 mistakes to avoid while preparing for RBI Grade B exam. In this article, let us read the rest of the 6 mistakes you need to avoid while preparing for RBI Grade B 2022.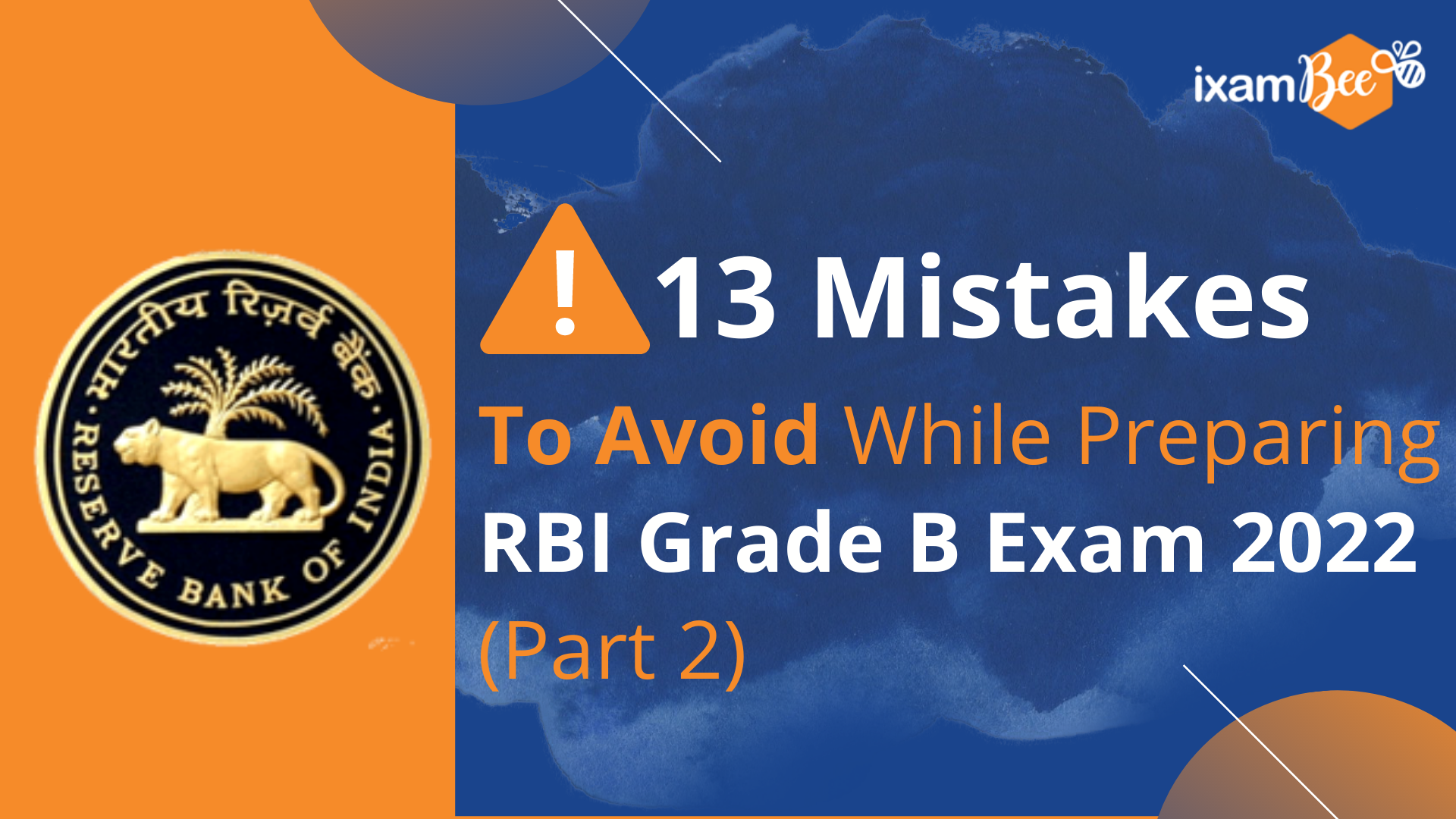 13 Mistakes to Avoid While Preparing for RBI Grade B exam
Let us now go over the mistakes to avoid while preparing RBI Grade B exam 2022.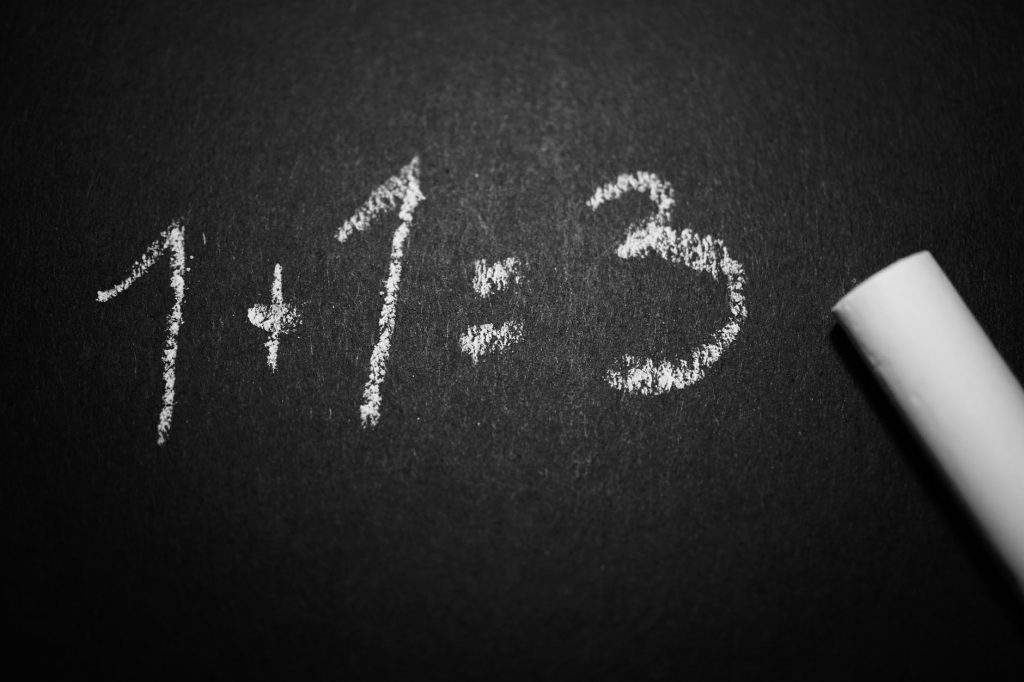 If you haven't already read the first 7 tips, it is advisable that you do so. Read the 13 Mistakes to Avoid for Becoming an RBI Grade B Officer (Part 1)
RBI Grade B Mistake #8
You Are Still Studying Theory Books for Economics, Finance, and Management
In theory there is no difference between theory and practice. But, in practice, there is. – Yogi Berra
Understand theory is necessary but not by reading bulky books on Economics, Finance & Management and others. Books help you in learning a concept in depth, however considering the number of books mentioned in the syllabus and then preparation time needed for Phase 1 it is not practical for anyone to clear the exam by reading so many theory books.
So, the question "Am I following the correct strategy??"
Symptoms you need to observe:
You are reading books page by page, word by word.
You have collected all required books as mentioned in the RBI syllabus.
Moreover, you have not gone through the previous years questions and have started studying books directly.
Also, you are preparing notes on one topic by reading it from 3-4 different books.
| | |
| --- | --- |
| Possible reason | What shall you do? |
| You have not studied the exam pattern of previous years. | It is very important that you study what is required for the exam. For this, the RBI previous year questions papers help you in understanding the types of questions asked in the exam. Study these questions well and go through these on a regular basis (every month) so that you know what to study and what not to. |
| You have not heard from successful candidates. | If everyone had kept on reinventing the wheel, who would have invented the car, clocks, and airplanes. So, what you need to do is, you need to learn from those who have cleared the exam and then do better than that. |
| You are not aware of other better learning materials available | You have outstanding learning material available online. You need to make some efforts in finding the content online. |
Knowledge is necessary for cracking any exam but in any competitive exam, it is also very important that you beat the competition. Those who get selected are not the most knowledgeable candidates but are those who have the right knowledge and have applied the right strategy required for the exam.
Reading books for building fundamentals is good but as the RBI Grade B 2022 exam will have a large number of questions from the topics of Economics, Finance, Social issues which are in discussion in recent times you need to understand the theory with respect to these topics. You may also make a strategy to build your fundamentals in parallel to the current topics.
RBI Grade B Mistake #9
You Getting Overwhelmed By the Vast Syllabus Of Phase 2
"A journey of thousand miles begins with a single step – Confucius
Do you think the Phase 2 syllabus of RBI Grade B exam is very vast? You are not sure how you are going to cover the syllabus of Banking, Finance, Economics, Management, and Social Issues. There are so many government schemes, management theories, a plethora of data and facts to remember. Are you not sure how you going to cover these well?
Symptoms you need to observe
You have not studied Economics, Finance, and Management ever so these topics are unfamiliar to you.
You read the topics but not able to understand and get bored very soon.
You need to refer to so many different books and other material to complete one topic. Referring to so many sources is taking your time.
You are not sure where to start as there is too much to study.
Possible reason
What shall you do?
You do not know how much to read under every topic mentioned in the syllabus.
Learn from the guidance given by the successful candidates. Study previous year question papers and attempt mock tests. Also, go through the RBI Grade B previous year cut-off as well to gain a sense of the kind of score you need to earn.
There are so many books mentioned in the syllabus and these are too much to read.
You need to understand that the book list mentioned by the RBI is an indicative list; doesn't mean that you need to study these books thoroughly. In the best case, you can read the relevant topic from any of the books.
Phase 1 and Phase 2 together make a huge study material.
Divide the study time for phase 1 and phase 2, depending on your score in Mock Tests. For Phase 2, you will get 18-20 days after the phase 1 exam, but success in Phase 1 exam is critical. Crisp learning material for Phase 2 and focus on practice for Phase 1 can help you.
Follow the RBI Study Plan 2022 designed by our experts.
Study the complete RBI Grade B syllabus 2022 in detail.
RBI Grade B Mistake #10
You Are Still Studying Only the Topics That You Like
Just assume that you like Finance a lot and topics such as Derivatives, Risk management, Bon Valuation, Capital Budgeting are your favourite. You also read a financial newspaper daily and are abreast with all the latest updates in the field of banking and finance.
Will you clear RBI Grade B?
The one word answer is "No".
First, let's observe are you the one who like only a few topics.
Symptoms you need to observe
You study one chapter and do questions on that topic and after a few days take that chapter again.
You like responding to queries of other students on various platform and answer questions of a few topics.
Your mock tests analysis reflects that you are scoring well in few topics and do not attempt questions of other topics or mark them incorrect. 
| | |
| --- | --- |
| Possible reason | What shall you do? |
| You have studied those topics in your school /college. | If you have already studied some courses/topics, you shall start your preparation with other topics so that you cover the syllabus well. |
| You found some interesting book, learning material or an expert teacher that ignited your interest in that topic | Find interesting teachers or books of other topics as well. Sometimes your friends who are experts in some other topics can help you. Someone can teach you Balance of Payment and you can teach them Derivatives. |
| You find other topics tough and lose interest in studying them. | Tough topics give you edge over the competition. Some topics are tough for most of the students and most questions asked in such topics are of a very basic level. For example, the numerical of bond valuation and financial ratios asked in the exams are actually easy questions of these topics. Make up your mind to learn and you will. |
Remember the key to crack competitive exam is –"Jack of all Master of some"
You can choose the chapters in which you want to be a master and others in which you can remain a learner.
You never know which chapters will have more questions in the exam. To pick the low hanging fruits you need to cover all topics. In Phase 1 you have to be very careful in skipping as time management is most critical in Phase 1. In phase 2 your knowledge is the deciding factor.
RBI Grade B Mistake #11
You Are Not Practicing Tough Level Questions For Phase 2
Do you know that in the RBI Grade B Phase 2 exam about 40-50% questions will be of easy to moderate difficulty level?
If you study the relevant books of Economics, Finance, Management and Current Financial news you will be able to answer these questions correctly. However, this will not ensure your selection. Irrespective of whether you miss the selection by 0.1 marks or by 20 marks, the outcome is the same, that you missed your chance of being an RBI Grade B officer.
Symptoms you need to observe
You are reading the same chapters from different books.
You are studying Finance & Economic topics for months and still not find them interesting.
You develop cold feet observing the Finance and Economics related discussion in students groups.
You find Finance numerical tough and your concepts are still not clear.
| | |
| --- | --- |
| Possible reason | What shall you do? |
| You are not studying the proper content | The syllabus mentioned in the notification is very broad. You need to focus your studies to match the level of questions asked in the exam. |
| Studying topics from so many books/sources is making it difficult for you | Studying the same topic from different sources will waste your time. Once you have completed a topic attempt more questions on the same to test your knowledge. |
| You do not find the high-level content engaging and there is no one with whom you can discuss these topics | Peer learning is an important aspect of learning. You get motivation when you are lagging behind and you get your queries resolved in chat. If you are not finding someone in your friend circle you may join online platforms/ chat groups. Additionally, you should seek professional guidance if you need it. |
You know that the competition for the RBI Grade B exam is increasing every year and one extra mark in the exam makes a difference in your selection. For Economics, Finance and Management, practicing high-level questions is must to check your progress and the answer explanations will help in reinforcing the concept when checked from a different angle.
RBI Grade B Mistake 12
You Are Undermining the Importance of General Awareness
If you think the study of General Awareness is important only for Phase 1, you are wrong.
You cannot get a final selection in the RBI Grade B exam if you have not studied well for General Awareness section. Preparation of RBI Grade B exam requires you to focus more on news related to Economy, Banking, Finance, and Development. About 40-50% of the questions in ESI and 20-30% questions in FM paper will come for this study.
You are going to score well in the RBI Grade B English Descriptive paper as well if you have a strong grip over important current affair topics. Therefore you cannot take general awareness preparation lightly.
Observe yourself for the following:
You are not reading news related to Banking, Finance, and Economics on a regular basis (preferably daily).
Your plan is to start preparing for General Awareness after the notification is out.
You feel that reading/covering so much news is wastage of time.
You don't find interest in reading news of Finance, Economics and Banking.
| | |
| --- | --- |
| Possible reason | What shall you do? |
| You do not have basic knowledge of Economics and Finance | Side by side build basics of Economics and Finance. Study some basic books or watch relevant videos. |
| No one is there to guide and discuss these topics | Make some study groups, join some relevant forums or make friends who have an understanding of these topics |
| You feel that General Awareness is important only for Phase 1 | Go to the previous years' question paper of the exam and observe the question pattern. |
In addition to the above regular preparation of General Awareness is a must for your performance in the interview. You cannot be a well-read person and carry the desired persona in the interview unless you are really well-prepared. Build yourself each day brick by brick so that you get the final selection.
Also read: How to Score 60+ Marks in RBI Grade B General Awareness Section?
RBI Grade B Mistake #13
You Don't Have a Time Management Strategy For Phase 1.
Generally, it has been observed that when anyone thinks of preparing for RBI Grade B, they start planning for the preparation of Economics, Finance, and Management. But the fact is that a large number of enthusiastic and able candidates miss clearing Phase 1 and they realize this mistake at the cost of 1 year of preparation.
Are you also among those who are preparing for Phase 1 exam like you do for Phase 2?
Symptoms you need to observe
You are studying hard for all chapters/topics of Phase 1.
You study one lesson for 3-4 days in Reasoning, English and Quantitative Aptitude.
You plan to clear Phase 1 exam by scoring very high in General Awareness and think Quantitative Aptitude, English and Reasoning are not important.
Possible reason
What shall you do?
You have not appeared in any IBPS exams or have not understood the level of competition
In the RBI Grade B exam, there are some 15-20 thousand candidates who have cleared IBPS exams like PO and others. Further, they have mastered to score high in Quantitative, Reasoning, English and General Awareness as well. If you want to check the reality, you must take free RBI Grade B Mock Tests and see your score and the all India rank as compared to other candidates.
You feel that Phase 1 syllabus can be completed once the notification comes
For Phase 1 preparation the key is practice. You need to practice a lot of questions and identify your strong and weak areas.
Your strategy for Phase 1 and Phase 2 preparation is the same
For Phase 2 preparation, your knowledge is the deciding factor. But for Phase 1 your skills matter. Practice how you can get your best ROTI (Returns On Time Invested) in Phase 1 by picking the questions that you can solve correctly by taking the least time.
To achieve this end, practice RBI Grade B Free Mock Tests as often as you can.
Study with ixamBee
Please remember that RBI Grade B Phase 1 exam is the first step that you have to climb to take the second step of Phase 2 exam. However, the good thing about Phase 1 preparation is that the RBI Grade B practice test score will be a good indicator of the actual score you can get. Therefore, if you are not practicing enough for Phase 1 you will not be able to manage time in the Phase 1 exam.
You need to avoid these mistakes if you are preparing for RBI Grade B 2022. Hope your RBI Grade B 2022 preparation goes smooth without any scope for any above-mentioned mistakes. Do not follow the herd and make your own preparation plan as you know your strengths and weakness. Prepare Hard; Prepare Smart.
Also read
13 mistakes to Avoid For RBI Grade B-Part 1
Life of an RBI Grade B Officer: RBI Grade B Career Growth, Work profile, Perks
What is it like to be an RBI Grade B officer?
RBI Grade B 2022 Preparation Tips
At ixamBee you can find a number of Online Courses, GK updates in the form of BeePedia, as well as latest updates for Bank PO, Bank Clerk, SSC, RBI, NABARD and Other Government Jobs.
получить займ на кивизайм 20000 на картуmoneyman займ