The Financial Awareness section forms an indispensable part of most of the banking competitive exams. If you are planning to make a career in the banking sector you must be aware of the financial terms, policies and other such important information. The financial awareness section covers a wide range of questions from the Indian Banking and Finance sector.
One of the best ways to prepare for Financial Awareness in the banking exams is to read the newspapers thoroughly or read some good standard books. Reading the finance news diligently will add to your advantage as it equips you with the knowledge and skills that the banking or financial institutes are looking for. You should also read financial news pertaining to different countries across the world if you are opting for higher-level bank exams like RBI Grade B, SEBI Grade A, NPS Grade B. So given below is a small compilation of some of the important financial terms.
Some Important Financial Terms
Repo Rate – Repo Rate refers to the rate at which commercial banks borrow money from RBI by selling their securities to meet short term liquidity. It is one of the tools of RBI to keep inflation under control.
Reverse Repo Rate – It is the reverse of repo rate, i.e., this is the rate at which the RBI borrows money from commercial banks. It is a monetary policy instrument used to control the money supply in the country.
Liquid Adjustment Facility– LAF as called, is a tool used by RBI in its monetary policy to allow banks to borrow money through repurchase agreements (repos) or for banks to make loans to the RBI through reverse repo agreements. In other words, LAF allows banks to quickly borrow money in case of any emergency or for adjustment in the bank's Statutory Liquidity Ratio (SLR)/Cash Reserve Ratio (CRR) requirements.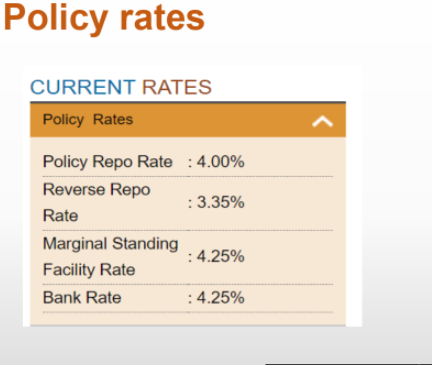 Variable rate reverse repo Or VRRR – RBI with the intention to "restore normal liquidity management operations in a phased manner announced in April 2021 that it would start resumption of longer-term variable rate reverse repo (VRRR) auctions with a tenor of 14 days.
Long term Repo Operations or LTRO- LTRO was introduced by RBI from February 15, 2020 to inject liquidity in the banking system. This policy tool comes due to RBI's limitations in cutting policy rate and to enhance liquidity of the banking system thus promoting lending activities of banks. Funds through LTRO will be provided at the repo rate i.e. the banks can avail one year and three-year loans at the same interest rate of one day repo. LTRO will also ease the pressure on short term lending rates. LTRO will be conducted on the Core Banking Solution (E-KUBER) platform. e-Kuber is the RBI Core Banking Solution introduced in 2012.
NOTE – Core Banking Solutions (CBS) enables banks to offer a multitude of customer-centric services on a 24×7 basis from a single location, supporting retail and corporate banking activities.
Targeted Long term Repo Operations or TLTRO – TLTRO are Long term repo operations of up to 3 years to boost provision of immediate liquidity to certain 'targeted' sectors. Through TLTRO, banks can invest in any specific sector through debt instruments like corporate bonds, commercial papers, and non-convertible debentures to push the credit flow in the economy. This helps banks to get funds for a longer duration as compared to the short-term liquidity provided by the RBI through tools like LAF and MSF. It is available to 5 sectors identified by RBI + 26 stressed sectors by KV Kamath committee – Agriculture, Agri infrastructure, Secured Retail, MSME, Drugs/Pharmacy/healthcare Auto, aviation, hotels, logistics, real estate, construction, cement, power, roads, sugar, textiles.
Special Long term Repo Operations or SLTRO – The RBI conducted its first auction for SLTRO for Small Finance Banks to provide enhanced support to small business units, micro and small industries and unorganised sector entities that are adversely affected due to COVID-19 pandemic. This facility will be available till October 31, 2021 and the minimum bidding amount is Rs 1 crore
For more details you can check out the video below.
Do check out ixamBee online courses for various competitive exams like RBI Grade B, SEBI Grade A or combo packages to stay ahead in the race. If you have cleared RBI Grade B Phase 2 and are preparing for Interview guidance, you can enrol in the RBI Grade B interview course to know the strategy of handling the interview stress and how to maintain your poise in front of the interview panel.
Also Read:
CLAT UG Legal Reasoning Preparation
Get Free Online Test Series, GK updates in form of Beepedia, as well as latest updates for Bank PO, Bank Clerk, SSC, RBI, NABARD, and Other Government Jobs