Course highlights
One-on-One Interaction with faculty
Exclusive Mock Tests
Interview Guidance
Study Plan
Chapter Tests
Online Live Classes
RBI Grade B + SEBI Grade A + NABARD Grade A EXCLUSIVE Online course
RBI, SEBI, AND NABARD are the apex institutions of our country offering people the best opportunities to work for the betterment of the country. Joining these organizations is an aspiration of many candidates preparing for government job exams and to your amazement 60% of the syllabus is common to RBI Grade B, SEBI Grade A, and NABARD Grade A exams. For the exclusive preparation of these exams you need an exclusive course with personalized preparation plan and strategy.
Welcome to RBI Grade B + SEBI Grade A + NABARD Grade A EXCLUSIVE Online course curated by our experts exclusively for you. Your search for preparation for these three exams simultaneously ends here. Our RBI Grade B + SEBI Grade A + NABARD Grade A EXCLUSIVE Online coachinge will be the road map for your preparation that will guide you to reach your goal with ease.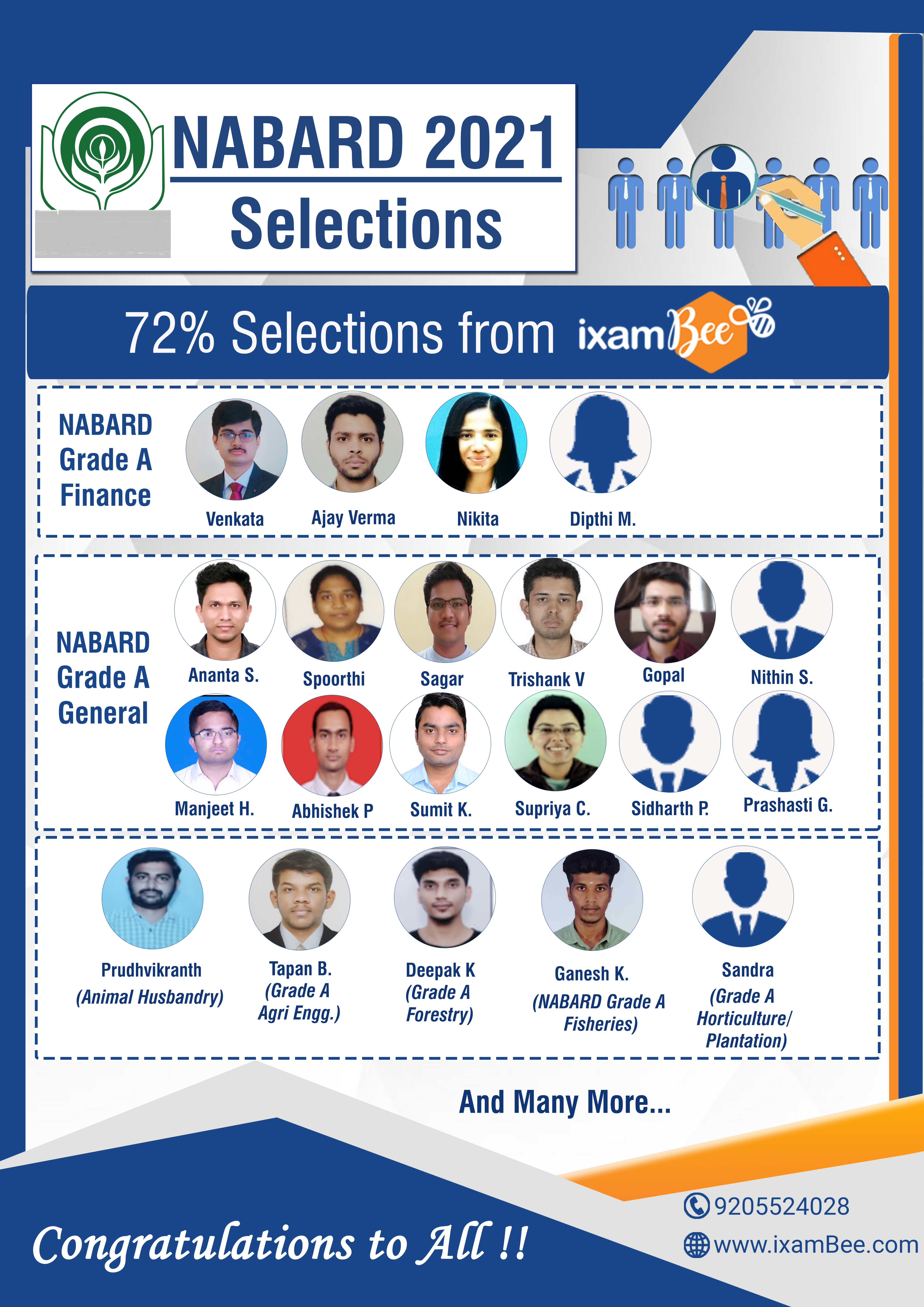 RBI Grade B + SEBI Grade A + NABARD Grade A EXCLUSIVE Online course Consists of
Video Lessons:

Short & crisp videos for concepts, covering all important topics for all the subjects of Phase 1 and Phase 2.

Study Notes:

Detailed notes as PDFs for the ease of learning and building fundamentals.

Practice Questions:

Get access to 17000+ questions for learning reinforcement at various stages of learning:

Concept Checking Questions:

To check your learning after each concept in videos.

Chapter Tests:

To check your understanding of a chapter.

Sections Tests:

To check your level of preparedness.

Mock Tests:

To help you practice full-length practice tests just like the real exam.

Descriptive English:

This can be a real game-changer. Get access to video lessons and study notes on writing skills, sample essays, suggested topics and Descriptive English Mock Tests with individual Performance Feedback.

Online Live Classes:

Study at your own pace and time and get your doubts clarified by the experts through these live sessions. These experts have cleared RBI Grade B, NABARD Grade A, SEBI Grade A, Bank PO, SIDBI, and other competitive exams.

Interview Guidance:

Our experts (ex-RBI, ex-NABARD, ex-SEBI, ex-NHB, ex-SBI, and many more) will provide interview guidance in the form of Mock Interviews and personal feedback on your performance.

Study plan:

To guide you on how to go forward in your preparation.

One-on-One Meetings with Faculty:

This is a unique program started by ixamBee where you get to speak to faculty of your choice one-on-one and get all your queries answered by them personally. You will get 24 one on one sessions in this combo Exclusive Online Course.
Why RBI Grade B + SEBI Grade A + NABARD Grade A EXCLUSIVE Online course?
If all these courses are already provided by us individually then why are we offering the exclusive course? You might be thinking about this question. The reason for RBI Grade B + SEBI Grade A + NABARD Grade A EXCLUSIVE Online course is creating more advancement in your preparation.
Here are the reasons why you should not miss this exclusive opportunity:
Faculty Quality
Your faculty is your mentor, 50% of your success will depend on how good your mentor is as he/she will be the one to guide you throughout your preparations. For exams such as RBI Grade B, SEBI Grade A, and NABARD Grade B, it is always recommended to have a faculty who has a relevant background such as someone who has already worked in banks/someone who has already coached many students. Such faculties can share their own experiences, they will well understand the problems you are facing and can give you instant solutions. Our faculties' vast and past experience speaks for itself.
One-on-One Interaction with faculty
You can connect one on one with ixamBee Experts and get guidance from them at each step of Preparation. Through one-on-one session you get personalized attention from faculty and get guided by them to reach your goal.
Exclusive Mock Tests
Exclusive Mock Tests assess your current level of preparation to properly identify your weak and strong areas by a thorough analysis of your performance in the tests These tests are exclusively designed by ixamBee experts to gauge the level of preparation so that further guidance can be provided in the most effective way.
Mock Test Analysis by ixamBee Experts
ixamBee expert faculty will analyze your performance in the Exclusive Mock Tests for RBI Grade B, SEBI Grade A, NABARD Grade A exams in detail. This will help you identify the areas which you need to focus on to give pace to your Preparation. ixamBee mentor/faculty will analyze your performance and discuss it with you. Your personalized study plan will be based on your exclusive mock test performance and analysis.
Exclusive Study Plan
We have the exact customized solution for you in the form of a Personalized Study Plan. As part of the ixamBee Exclusive Online Course, a day-wise personalized study plan is provided
Descriptive Papers: Special classes & Evaluation
Learn the skill of answering Descriptive answers and also get your answers corrected and analyzed by ixamBee Experts. This will prepare you to answer descriptive questions from any subject or topic ixamBee experts help you prepare for both subjective & descriptive exams.
Interview Preparation guidance & classes
Interview preparation is not something that can be done in a few days. The knowledge and skills required for acing any interview need to be acquired regularly. Regular classes on interview preparation will be conducted on how you can start preparing for interviews from the beginning by providing guidance & effective tips for interview preparation
Regular Mentorship & Guidance
Mentor will keep a close eye on the performance of your performance by regularly monitoring progress, performance in Mock Tests, live class attendance, and appropriate guidance for improvement at each stage will be provided
Expert Bee: Ask Your Doubt Directly!
Now ask your queries directly to our subject matter experts anytime. You can go to your dashboard and use this feature to clear your doubts without waiting for the live classes or interaction with the faculty.
Friends are always there to listen to you when you are in a difficult situation, this feature is your friend and it has answers to all your doubts.
Faculty and Course Coordinator
---
---
---
---
---
---
---
---
---
---
Recommended Courses for you
FAQs
ixamBee designs its courses with accurate, relevant, and to the point quality content to students. This RBI Grade B + SEBI Grade A + NABARD Grade A EXCLUSIVE Online course is curated on the latest exam pattern by faculties with more than a decade experience in the banking/insurance sector. The course will give you an opportunity to have a one-on-one discussion with faculty regarding every doubt in your preparation. You will be provided with a personalized study plan after taking in consideration your strong and weak areas. Our faculty with their enlightening experience and knowledge have designed this exclusive online course in a way that all the syllabus is covered with all the latest updates and you do not have to search for any material outside.
ixamBee has subject matter experts with more than a decade of experience. Your descriptive papers will be evaluated by these subject matter experts and the report of analysis will be sent to you through an email. In case of any doubt, you can contact your mentor once the evaluation is done. Your mentor will be available for you always and will assist you in your further preparation once the evaluation is done.
We encourage all participants to attend Live Online Classes for RBI Grade B, SEBI Grade A and NABARD Grade A. These live classes are very beneficial in clearing one's doubts. Even if they don't have any doubt themselves, the discussion that happens over doubts of others' is also very enriching and helpful in exam preparation. Sometimes very important points are discussed as part of these discussions. However, in case of genuine reasons for not being able to attend a class, we may decide to share the recording of the class, on a case to case basis.
Click Here
to subscribe to RBI Grade B + SEBI Grade A + NABARD Grade A EXCLUSIVE Online course. In case any more clarification/assistance is required, please call at 92055 24028 or send an email to
hello@ixamBee.com
.
Yes, you will get Interview guidance in the form of regular Live classes with experts. In these sessions, our experts will guide on how you can start preparing for interviews from the beginning by providing guidance & effective tips for interview preparation.