The eagerly anticipated State Bank of India (SBI) Clerk 2023-24 recruitment notification was released recently, heralding the commencement of a crucial phase for aspiring candidates. The SBI Clerk 2023-24 exam, designed to select candidates for the coveted positions of Clerk or Junior Associate, serves as a gateway to a rewarding career in banking. The upcoming examination demands strategic and timely preparation, urging aspirants to embark on their study journey without delay.
As the notification unfolds, candidates will face a limited timeframe to gear up for the challenging SBI Clerk Prelims 2023-24 exam. The preliminary stage of the recruitment process is known for its rigorous testing of candidates' aptitude in numerical ability, reasoning ability, and English language proficiency. Consequently, early initiation of the preparation process becomes imperative to build a solid foundation and enhance performance in each section.
Prospective candidates are urged to leverage available study resources, including official syllabi, previous years' question papers, and reputable study materials. Additionally, considering the competitive nature of the SBI Clerk exam, aspirants are encouraged to adopt a comprehensive study plan that encompasses regular practice, mock tests, and self-assessment. With the clock ticking, the proactive approach of initiating preparation promptly will undoubtedly empower candidates to navigate the challenges and enhance their chances of success in the SBI Clerk 2023-24 examination. This blog will help you to strategize your preparation for the SBI Clerk 2023-24 exam and assist you with your exam preparations by suggesting some valuable tips and tricks.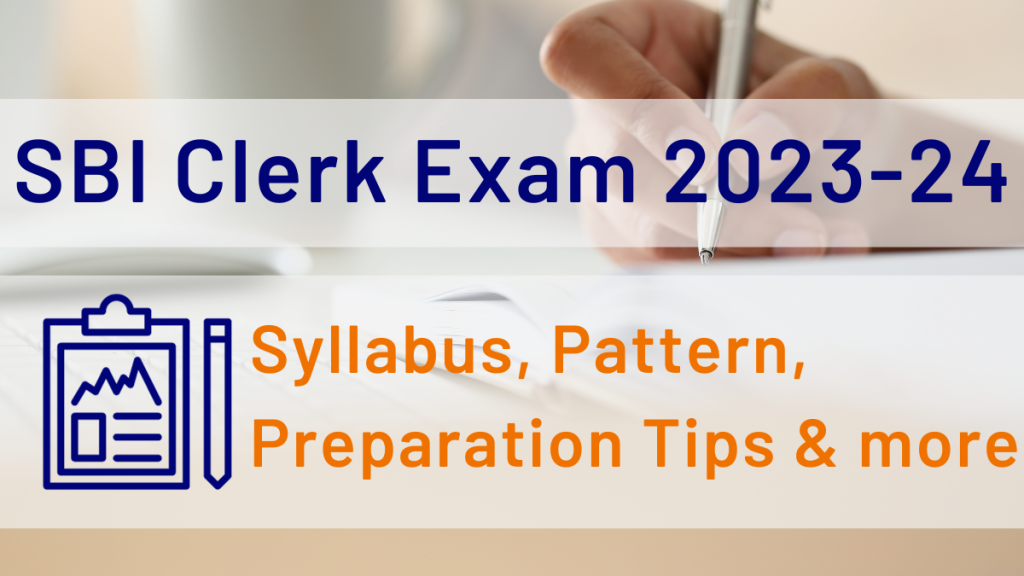 SBI Clerk Recruitment 2023-24
The State Bank of India (SBI), a stalwart in the Indian financial landscape, stands as one of the largest and most influential banking institutions, not only within the country but also on the global stage. With an extensive network of branches domestically and abroad, SBI has established itself as a key player in the financial sector. This banking giant is a beacon for ambitious graduates, offering unparalleled career prospects that transcend geographical boundaries. For eligible candidates, a career with SBI represents more than just a job; it's an opportunity to contribute to the nation's economic growth and secure a stable and promising future.
SBI, as part of its commitment to nurturing talent, consistently releases recruitment notifications for coveted positions such as Probationary Officers and Junior Associates. The much-anticipated SBI Clerk recruitment 2023 is now officially underway. The online registration window opens on November 17, 2023, and aspiring candidates have until December 07, 2023, to seize this opportunity. In the dynamic realm of banking careers, SBI remains a pioneer, providing a platform for aspiring individuals to impact the financial sector significantly. Prospective candidates are encouraged to delve into the SBI Clerk notification 2023, marking the initiation of a journey towards a fulfilling and prestigious career with the State Bank of India. Early preparation is critical, and as the registration window opens, candidates are advised to commence their study regimen promptly to navigate the competitive landscape successfully.
SBI Clerk Prelims Exam Pattern 2023-24
The SBI Clerk recruitment notification was released on November 16, 2023. The SBI Clerk preliminary examination is tentatively scheduled for January 2024, followed by the SBI Clerk Mains examination in February 2024. Understanding the SBI Clerk exam pattern is crucial to navigate the selection process successfully. This foundational knowledge aids in effective strategizing, enhancing the chances of progressing smoothly through each stage of the recruitment process.
The SBI Clerk 2023-24 recruitment procedure comprises three stages: Prelims, Mains, and the Language Proficiency Test. Aspirants must have a comprehensive grasp of the evaluation areas. This begins with a thorough understanding of the SBI Clerk exam pattern, which streamlines preparation efforts and improves overall readiness for the examination. The absence of an interview for this clerical-level post simplifies the process, emphasizing the importance of mastering the exam pattern and syllabus details outlined in the SBI Clerk notification.
The Prelims' exam pattern includes three sections – English Language, Numerical Ability, and Reasoning Ability, with separate marks and sectional timings. Success in the Prelims leads to the Mains exam, another online test covering General/Financial Awareness, General English, Quantitative Aptitude, Reasoning Ability, and Computer Aptitude. As the time gap between Prelims and Mains is limited, sustained preparation from the outset is advised for a competitive edge.
SBI Clerk Prelims Exam Pattern
Test Name
Questions
Marks
Time Allotted
English Language
30
30
20 Minutes
Numerical Ability
35
35
20 Minutes
Reasoning Ability
35
35
20 Minutes
Total
100
100
1 hour
SBI Clerk Mains Exam Pattern
General/Financial Awareness
50
50
35 Minutes
General English
40
40
35 Minutes
Quantitative Aptitude
50
50
45 Minutes
Reasoning Ability & Computer Aptitude
50
60
45 Minutes
Total
190
200
2 hours 40 minutes
SBI Clerk 2023 Syllabus
In preparation for the SBI Clerk 2023 exams, it is crucial to understand the structure of both the Prelims and Mains. The SBI Clerk Prelims 2023 exam features 100 questions, equally distributed across English Language, Numerical Ability, and Reasoning Ability sections, each carrying one mark. Equally important is a comprehensive study of the complete Prelims syllabus to ensure thorough preparation for each segment.
Moving on to the SBI Clerk Mains syllabus 2023, this phase consists of four objective-type subjects: English Language, Numerical Ability, Reasoning Ability and Computer Aptitude, and General Awareness. The Mains exam includes 190 questions, contributing to 200 marks. Success in the Mains examination hinges on a focused study of the detailed syllabus, enabling candidates to tackle diverse subjects effectively. The table below explains the SBI Clerk 2023-24 Exam Syllabus more clearly for candidates' understanding.
| | |
| --- | --- |
| Section | Topics |
| Quantitative Aptitude | Simplification and approximation, Number Series, Quadratic Equation, Number System / HCF & LCM, Ratio and Proportion, Average, Partnership, Ages, Percentage, Profit & Loss, Time, Speed & Distance, Problems on Trains, Boat and Stream, Time & Work / Pipes and Cisterns, Simple and Compound Interest, Mixture & Allegations, Permutation and Combination, Probability, Data Interpretation (DI), Caselet DI and Data Sufficiency |
| English | Grammar, Vocabulary, Reading Comprehension, Passage Making, Error Spotting, Jumble Words, Sentence Framing, Fill in the blanks |
| Reasoning | Puzzles, Seating Arrangement- Circular, Square & Linear, Data Sufficiency, Directions and Distance, Coding Decoding, Blood relations, Inequality, Syllogism, Machine input and output, Verbal Reasoning, Ordering and Ranking, Arrangement and Pattern, Scheduling, Distance and Direction, Ranking |
| General Awareness | Monetary Policies, Beepedia, Banking and Financial Awareness, Economic Terms, Current Affairs, Static GK, Financial and Economic News, Government Schemes. Agreement & Deals, Banking Terms- rates & processes, National Institutions |
| Computer Aptitude | Internet, Memory, Keyboard Shortcuts, Computer Abbreviation, Microsoft Office, Computer Hardware, Computer Software, Operating System, Networking, Computer Fundamentals /Terminologies, Security tools and viruses |
SBI Clerk Exam 2023-24: Language Proficiency Test
After successfully clearing the SBI Clerk Mains examination, the Language Proficiency Test (LPT) is the subsequent stage. This assessment centers on the local language candidates select during the application process. Proficiency in this language is paramount, as it is a prerequisite for finalizing the appointment. Demonstrating fluency is essential, as failure may result in disqualification. The emphasis on regional language proficiency highlights its critical role in ensuring effective customer communication and seamless bank operations. Hence, competence in the chosen local language is pivotal in determining eligibility for the SBI Clerk role.
SBI Clerk General Preparation Tips
Excelling in the competitive SBI Clerk exam demands a well-planned strategy, combining dedicated and intelligent efforts. Here are invaluable tips to aid your preparation.
Exam Pattern Awareness: Grasp the nuances of the SBI Clerk Prelims and Mains exam patterns. This awareness helps in effective time management, allowing you to strategize your approach for different sections and maximize your scoring potential. Seek assistance from online resources like ixambee for assistance in this regard.
Creating a Study Plan: A detailed study schedule is crucial for efficient preparation. Break down the syllabus into manageable daily tasks, ensuring a balanced time allocation to each subject. A well-structured plan contributes to consistent and organized learning.
Prioritizing Weak Areas: Identify your weaker subjects or sections early on and allocate additional time for focused preparation. Strengthening these areas boosts your confidence and contributes significantly to overall performance improvement. Practice regularly with ixambee's SBI Clerk Exam Previous Year Papers to strengthen the subjects you're not confident in.
Utilizing Quality Study Material: Rely on reputable study materials, including textbooks and ixambee's SBI Clerk Exam online course, to ensure comprehensive coverage of the SBI Clerk syllabus. Quality study materials enhance your understanding of concepts and provide diverse question formats for practice.
Mock Test Strategies: Regularly practice solving mock tests, sample papers, and previous years' question papers. Analyze your performance meticulously, identifying errors and areas needing improvement. Get assistance from ixambee's SBI Clerk Exam mock tests for better practice. They assess your readiness and help refine your problem-solving skills and time management.
Healthy Lifestyle and Stress Management: Maintain a balanced diet, stay hydrated, and ensure sufficient sleep for optimal cognitive function. A healthy lifestyle supports effective learning. Additionally, practice relaxation techniques to manage stress during the exam. Maintaining composure enhances your ability to perform well under pressure.
Subject wise SBI Clerk Preparation Strategy 2023
Tips for English Language
Comprehension Skills Enhancement: Improve your comprehension skills through regular practice with passages and related questions, a crucial aspect of the SBI Clerk Exam 2023-24. Work on extracting essential information, understanding context, and developing the ability to answer questions based on the given text.
Application of Language Skills: Learn new words in context and understand their usage in sentences, a skill essential for the SBI Clerk Exam 2023-24. Regularly practice with synonyms and antonyms to enhance word usage and grasp word relationships. Familiarize yourself with common phrasal verbs and idioms, understanding their meanings and applications in sentences.
Tips for Reasoning Ability
Efficient Problem-Solving Techniques and Practice: Familiarize yourself with mathematical shortcuts and tricks for quick calculations, saving precious time during the exam. Regular practice is critical; solve various numerical problems from different topics to enhance your problem-solving skills. Divide your preparation into different topics, focusing on one at a time and practicing easy and complex questions.
Reasoning Ability Syllabus and Logical Thinking: Comprehend the Reasoning Ability syllabus, covering topics like coding-decoding, puzzles, seating arrangement, syllogism, and logical reasoning. Familiarize yourself with reasoning concepts such as directions, blood relations, inequalities, and series. Enhance logical thinking skills through regular practice, especially with puzzles and questions requiring step-by-step reasoning. Regularly revisit previously solved problems, reinforce concepts, and utilize online resources for additional support in reasoning preparation.
Tips for Quantitative Aptitude
Mastering Arithmetic Concepts: Ensure a firm grasp of basic arithmetic concepts such as fractions, percentages, ratios, and proportions. These fundamentals form the bedrock of quantitative aptitude and are essential for tackling various problems. Regular practice with arithmetic problems, including solving word-based questions, will enhance your problem-solving skills and build confidence in this foundational area. Focus on accuracy in calculations to avoid common errors during the exam.

Data Interpretation Proficiency: Develop a keen ability to interpret data from charts, graphs, and tables, a crucial skill for the Data Interpretation section. Regularly practice solving data interpretation sets to improve your speed and accuracy in analyzing complex data. Familiarize yourself with charts and their representations, including line, bar, and pie charts. As you solve more DI problems, you'll learn to extract relevant information swiftly, a valuable asset in the time-sensitive SBI Clerk exam.
Tips for Computer Knowledge
Practical Application and Preparation: Solve computer aptitude mock tests to simulate exam conditions and gauge your preparedness. This practice helps familiarize you with the exam format and improves your time management skills. Practice using different software applications and tools to gain practical familiarity. Regularly revisit previously studied concepts to reinforce your learning.
Staying Updated with Technological Trends: Keep up with technology trends and new developments in computers and software. Continuous learning ensures that you know the latest advancements and are well-equipped for the evolving landscape. Stay updated with the latest news and developments in the world of technology. Being well-informed about current trends and emerging technologies enhances your understanding and knowledge.
Tips for General Awareness
Staying Informed about Current Events: Regularly read newspapers, magazines, and online news portals to stay informed about current events, especially in the banking and financial sectors. This habit ensures you know the latest developments, policies, and trends that might impact the economy and banking industry.

Understanding Financial Institutions and Terms: Familiarize yourself with financial institutions' structure, functions, and recent developments like RBI, SEBI, NABARD, etc. Learn important banking and financial terms, including loans, deposits, interest rates, and monetary policy concepts. Understanding these aspects provides a solid foundation for tackling questions related to financial awareness in the SBI Clerk exam.
Summing Up
Preparing for the SBI Clerk exam demands a holistic approach. Consistent practice, accuracy, and familiarity with diverse problem-solving strategies are essential. Utilizing online resources, taking mock tests, and staying updated on syllabus changes contribute to a comprehensive preparation strategy. By diligently honing these skills, candidates can confidently face the SBI Clerk exam, increasing their chances of success and ensuring they are well-equipped for the challenges ahead.
To help you prepare 50% faster for competitive exams, ixamBee provides a free Mock Test Series and all the Current Affairs in English and Current Affairs in Hindi in the BeePedia capsules for GA Preparation. You can also get the latest updates for Bank PO, Bank Clerk, SSC, RBI Grade B, NABARD, and Other Government Jobs.
Also Read
SBI Clerk+LIC Assistant Exam Preparations
Puzzle Reasoning Questions in RBI Grade B Exam