The RBI Grade B 2021 final results were announced on September 11, 2021. The exams were conducted for the General, DSIM and DEPR streams. If you are also planning to take the RBI Grade B exam in 2022, this article will be very helpful for you.
In this article, we will talk about about Niraj Patil's journey to clearing the RBI Grade B 2021 exam. We will learn about his strategies, challenges and plan of action that will help us understand how we should approach our preparation.
We hope Niraj's story will inspire you.
Shortlisted Candidates List
You can take a look at the list of candidates finally selected to fill the 322 vacancies released this year.
RBI Grade 'B' (General) Final Result Out [PDF}
RBI Grade 'B' (DSIM) Final Result Out [PDF}
RBI Grade 'B' (DEPR) Final Result Out [PDF}
Meet Niraj Patil
Niraj earned his graduation in B.Tech in Electrical Engineering in 2017. As it turns out Niraj has been sitting for competitive examinations since his school days now. Moreover, Niraj was not even planning on working with the Reserve Bank of India. He was more inclined toward clearing the civil service examinations and serving as a civil servant.
However, life had some different plans for him. When the opportunity to appear for the RBI exam came along, Niraj grabbed it at the earliest. And the rest as they say, is history.
Tips from Niraj's Experience
We have put together a list of actions and activities that you can also follow, like Niraj did, when you are preparing for the RBI exam.
Niraj's Quantitative Aptitude and Reasoning preparation was solid. It helped him perform well in the Prelims. Niraj identified that he was lacking in Finance Management preparation, so he devoted more time to it. Thus, the basic learnings that you can get from Neeraj's experience are:

Focus on both the conceptual and factual questions for your interview.
Repeatedly take RBI Grade B mock tests and mock interviews.
It is okay to feel a little anxious before every exam, particularly before the interview, but it is completely okay.
Learn from your past experiences. Niraj used his answer-writing skills from his UPSC preparation to answer the English and Economic & Social Issues descriptive questions.
Work on your typing skills. Even though you may know the answer, you can fall behind if you are not able to write with proper speed. Especially for those aspirants who do not work with a keyboard regularly need to focus on their typing more. You must be able to express your opinions clearly and articulately.
6 months preparation for the Current Affairs sections (from the exam) is important. If you begin your preparation early, say 12 months in advance, you should also keep up-to-date with the GA information. You can always expect static GK questions in the Prelims exam.
Strategy and hard-work are the two most important components of your exam.
Take a look at the RBI Grade B Previous Years' Papers
Learn More from Niraj
We're sure that you have plenty of questions to ask Niraj that will aid you in your preparation. For example;
What challenges did he face in his preparation journey?
How did Niraj learn from his failures?
How much time is needed to prepare and successfully clear the exam?
Can I do it while I work?
Which resources are the best?
Is it important to take RBI Grade B mock tests?
If you'd also like to know the answers to these pressing questions and more, take a look at Niraj's interview video below. We hope Niraj's success story will inspire you to begin preparing for the RBI Grade B exam as well.
Key Takeaways
Be prepared for every opportunity that comes your way.
Do not put all your eggs in one basket. Prepare for more than 1 exam at a time.
RBI Grade B + SEBI Grade A + NABARD Grade A Combo Course
Use your failures and past experiences to achieve success in the future.
Identify your strengths and shortcomings early on so as to work on them accordingly.
A fraction of a mark can make or break your overall result.
Take several mock tests and mock interviews. The performance analyses will help you during your actual exam.
Do not give up!!
RBI Grade B Online Exclusive Course
Now that you have heard Niraj's testimony, would you also like to know how you too can clear the RBI Grade B 2022 exam?
The first thing to do is to allow ixamBee to walk with you through this journey. Year after year we review and revise our courses to accommodate the dynamic exam trends as well as the needs of our students. This, coupled with dedicated faculty guidance is the main reason why so many of our students are able to crack the RBI Grade B exam every year.
Would you like to know what the RBI Grade B Exclusive Course includes?
More than 700 video lessons covering the entire syllabus for both phases of the written examination
350 study notes in PDF format
More than 17,000 practice questions for you to check your preparation at every step. These questions are assessed as:
Concept Checking Questions
Chapter Tests
Sections Tests
Mock Tests
20 mock tests for Phase 1
15 mock tests for Phase 2 (15 Tests for FM and 15 MTs for ESI)
5 Descriptive English mock tests
Live online classes for doubt clarification with experts directly
Interview guidance with mock interviews and personal feedback on your performance
Personalized study plan
All-time/anytime access to your mentor
One-on-one meetings with faculty: This is a unique program started by ixamBee where you get to speak to faculty of your choice one-on-one and get all your queries answered by them personally

For those of you who were unable to clear the exam this year, there is no reason to worry. As we have learnt from Niraj's story, he too faced several failures in his life but rather than fretting over it, he decided to use his experience and clear the RBI Grade B exam. Maybe things did not work out perfectly as he had planned, but, c'est la vie.
We will leave you with Arunima ma'am's inspiring story hoping that you will continue your RBI Grade B preparation with greater fervour this time around. We hope to share your success story next year.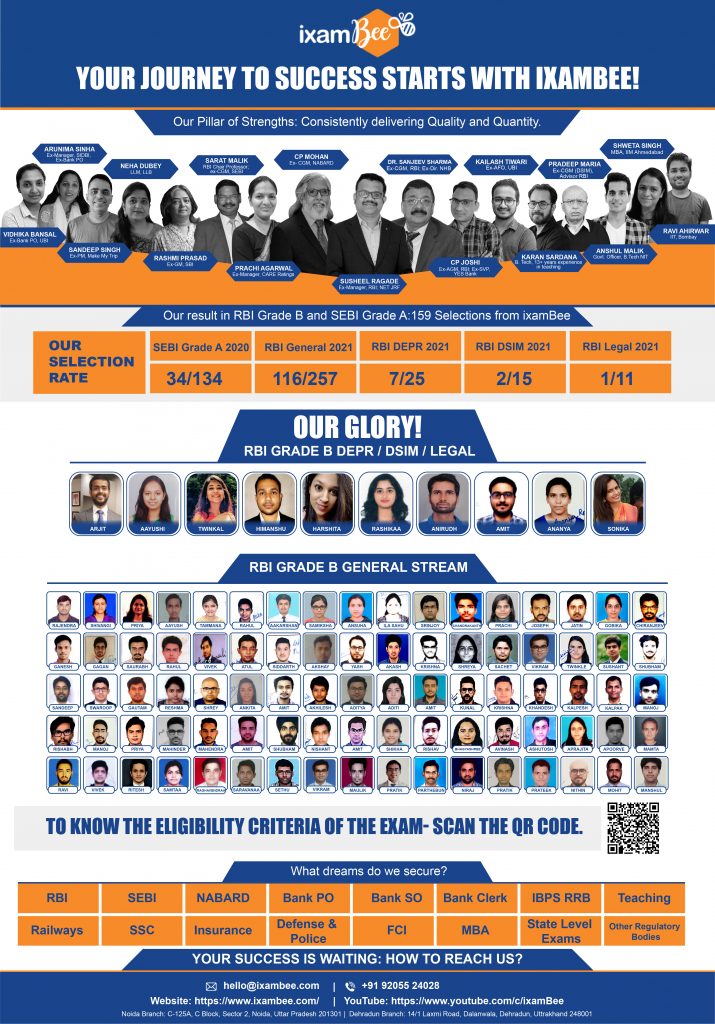 At ixamBee, you can find a number of Online Test Series, GK updates in the form of BeePedia, as well as latest updates for Bank PO, Bank Clerk, SSC, RBI, NABARD and Other Government Jobs.
Also read
RBI Grade B 2021: An Insight into RBI Grade B Salary and Perks
LIFE OF AN RBI GRADE B OFFICER!
Ace RBI Grade B Interview – Part 1
Ace RBI Grade B Interview – Part 2