In today's world, when there are a plethora of opportunities, one field that still holds significance and popularity is 'management'. There is a strong possibility that half of you reading this must be management degree holders! Though there is a large scope of choosing various fields as a career prospect these days with certain non-conventional fields gaining popularity, few fields still retain their value and preference. Management is one of them. You will always be in demand being a management degree holder! If you are someone who takes quick, logical decisions while keeping in mind all the pros and cons of a situation, 'management' is for you!
Those were some good words about 'management', that probably you already know, if you have studied or are studying it. Don't feel bored yet, because what's in store for you is some amazing information regarding the numerous opportunities, (probably golden) that may come your way if you wish to take a leap and move out of the regular private jobs space. Keep reading.
Management: Relevance & Presence
Management has its way anywhere that you mention, at any workplace, any organization, small or big. Even a tiny task can not be accomplished without proper management and guidance. It opens a wide arena of opportunities waiting to be explored. One simple reason behind preferring management over other fields is the exposure it provides or the value addition that it does to one's profile.
For anyone who is planning to go for it, read on to get a basic idea regarding the choices you will probably be given as subjects of study in management.
Management: Fields of Study
International Business
Nonprofit Management
Operations Management
Public Administration
Supply Chain Management
Sales Management
Hospitality Management
Advertising
Information Systems Management
Entrepreneurship
The number of these fields of study positively indicates a large number of career options available in each of them. Hopefully, this justifies the claim that management is actually an advantageous preference. Although, there is a common notion that management degree holders usually enter into big MNCs, private firms or start their own businesses, mostly venturing into startups these days. But is that the only path that should probably be taken by a management graduate? Probably not. Let's find out why!
Management: Analysing the Career Options
There are three major sectors/organizations that exist, and most of the jobs can be included under them. These are:
Private Sector- run by either private companies or individuals- works for profit.
Public Sector- run by the government.
Non-Government Organization (NGOs)- non-profit groups that work independently.
Career in Management: Opportunities in the Public Sector (PSUs)
Though, working in the private sector does not necessarily make it a wrong choice. It has its own perks and advantages. It can make you feel quite competitive, but we should rather not keep a blind eye towards plenty of opportunities that are available in the public or government sector. Some of them are as follows:
1. Finance– Under the finance department you can get into:
Banking
Investment management
Insurance & Actuarial
Regulatory Bodies
Some of the organizations that can take you in if you are a management graduate are:
2. Information Technology– If you have the requisite knowledge, under the IT department you can get into:
IT Services
IT networks
IT Cybersecurity
IT Hardware
Some of the organizations that can take you in if you are a management graduate with IT as one of your fields of study, are as follows:
3. Agriculture & Allied Fields – This can prove to be another amazing career option if you possess the required eligibility. Some common organizations which can take you in are:
4. Other Options – Apart from these regular fields, you can enter the government organizations by applying for various job posts that are announced annually:
SSC CGL posts
Coal India Ltd.
GAIL India Ltd.
Air India Ltd.
HPCL
Why choose a Government Job?
Job Security – You do not have to constantly worry about your earning source. Once you enter a government organization, you can leave your worries behind. Unless you commit a crime, you are safe!
Pay Scale – Money will not be your concern anymore, once you enter the government sector. All the government employees receive their salaries on the basis of a certain pay scale category. Jobs like RBI Grade B officer, NABARD Grade B, and SEBI Grade A can pay as high as 20 LPA. This pay scale varies based on the rank you hold. The government ensures you are rewarded well for your work. (Do go through the 7th Pay Commission).
Perks & Benefits – A government employee is entitled to receive a number of perks & allowances like travel allowance, newspaper allowance, medical allowance etc.
Holidays – You may get tired of so many holidays that you will be entitled to while working in the government sector. Apart from the holidays, you are also entitled to certain leaves in case of emergency.
Life Balance – After receiving so many off days, you probably will not face any difficulty in maintaining your work-life balance.
Career Growth – A government job not only provides you with all the required perks & benefits but also gives you ample opportunities to grow while staying in the job by providing study leaves and also conducting promotional exams which give you a fair chance to move higher in the heirarchy.
Post – Retirement Benefits – You are not only going to stay happy while 'in' the job, but also maintain the status quo 'after' you are free from the job. Once you retire, you can stay relieved while you receive your PF, Gratuity and salary arrears!
Wow! Isn't it quite refreshing to know that you could be much happier choosing a government job when you were probably going to choose something else?
Job Guidance
Talking about the current scenario, more and more job aspirants are getting inclined towards opportunities in the government sector. Banking and Insurance are among the topmost preferences today. Are you a management graduate or even a working professional planning to change your field of work and don't know how to go about it? We at ixamBee have got you covered. We provide guidance related to all the banking exams, SSC exams and many more.
Why should you choose ixamBee?
We provide free mock tests for all the competitive exams
We provide online courses for all major exams
We provide interview guidance too
We also provide previous year papers for most of the exams
We have a blog page that will take you through the most credible, crisp and important information while modestly increasing your General Knowledge too.
ixamBee Online Courses:
IBPS RRB PO & Clerk Online Course
IBPS RRB Scale II & III Online Course
Practice ixamBee free mock tests here:
IBPS PO Prelims free mock test
IBPS SO (Rajbhasha Adhikari & Law Officer) free mock test
IBPS SO (IT/HR/AFO) free mock test
IBPS RRB Officer Scale 1 Prelims free mock test
IBPS RRB Office Assistant free mock test
& many more.
Anything else? Yes, of course!
Keeping in mind the ongoing pandemic and to spread some positivity, we at ixamBee are quite elated to share that we have just launched a 'Get Vaccinated, Get Rewarded' offer to provide a flat 35% off to candidates who are preparing for competitive examinations and would like to buy any of our courses. To avail this offer, all you have to do is upload a picture of yourself getting vaccinated. Even if you don't have a picture, you can just upload your certificate to our website and you can avail 35% discount.
Even if you haven't got yourself vaccinated, but registered yourself, we at ixamBee appreciate your responsible attitude toward getting vaccinated and you are still eligible for a 30% discount on any of the courses that we offer. Just send us the picture of your registration SMS for vaccination.
If you do have queries, click here.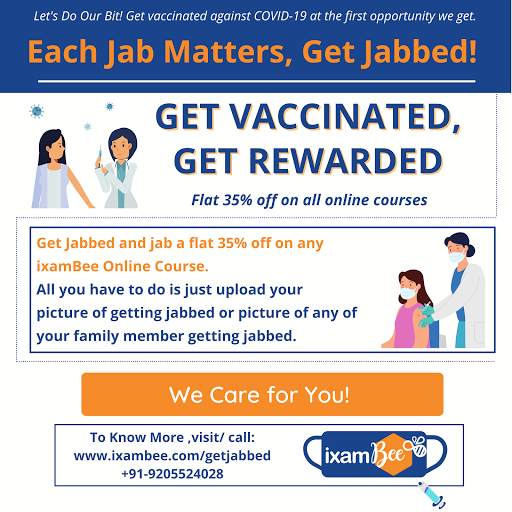 Also Read:
Management & Ethics: Leadership Styles
Managament & Ethics: Barriers to Communication
Management & Organizational Behaviour: Important Topic in Bank Exams
Get Free Online Test Series, GK updates in the form of Beepedia, as well as latest updates for Bank PO, Bank Clerk, SSC, RBI, NABARD, and Other Government Jobs.