About

Faculty

Syllabus

FAQs
Course highlights
Video Lessons
Difficulty Based Chapter Tests
Full Length Practice Tests
Live Classes
Practice Questions
Expert Faculty
IBPS SO Prelims Comprehensive Online Course (IT / AFO / Marketing / HR-Personnel)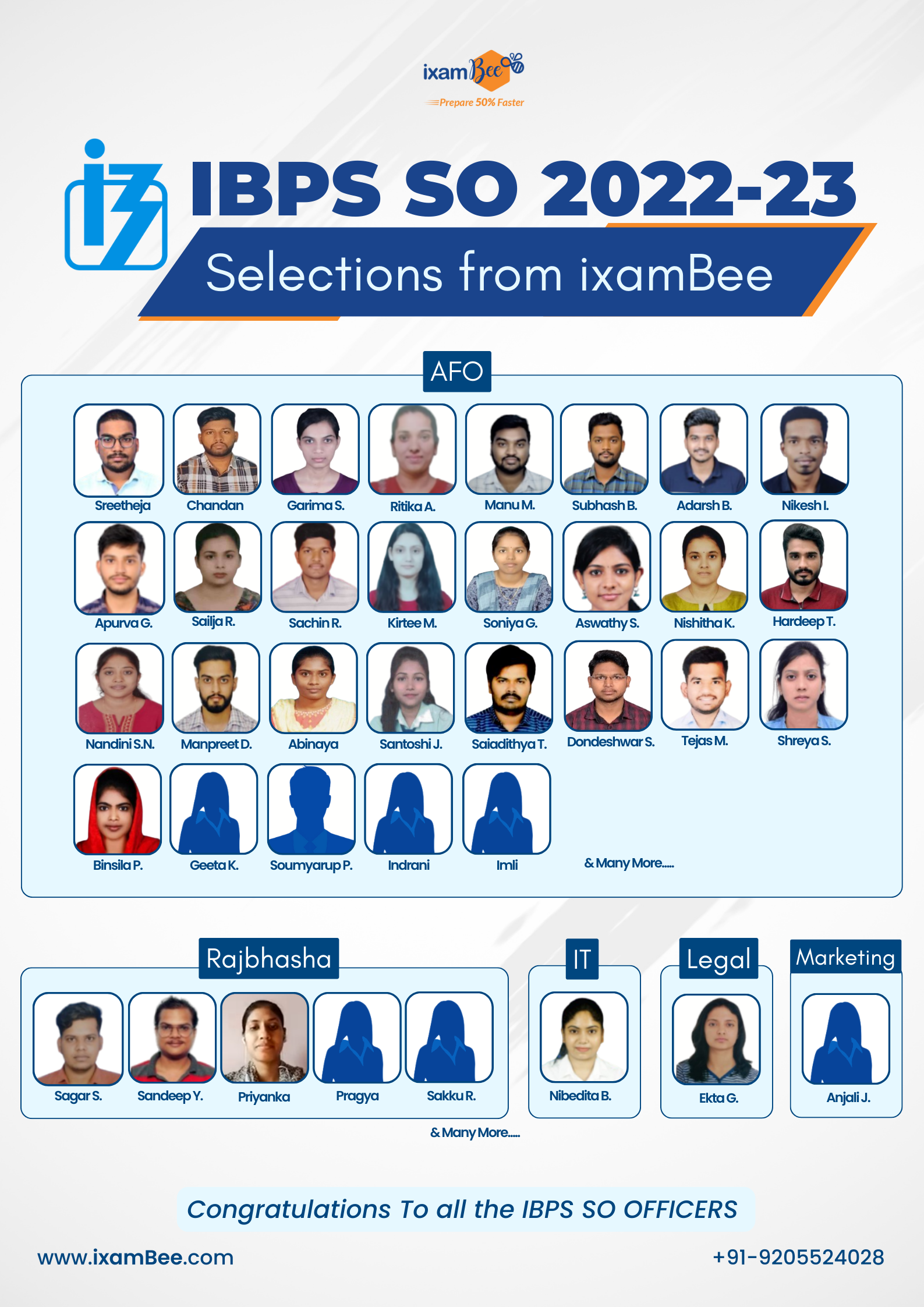 ixamBee IBPS SO Prelims online course for IT / AFO / Marketing / HR-Personnel streams will pave your exam preparation in the right direction. IBPS SO comprehensive Prelims Online course has been prepared by ixamBee experts after a thorough and detailed analysis of the exam syllabus and previous year question papers to provide proper guidance and crisp study material for the IBPS SO Prelims exam at one platform.
Additionally, we also provide the previous year question papers of various state government exams as well. So, along with IBPS SO, you can also prepare for state government exams side by side.
IBPS SO Prelims Course Highlight
Eager to know what all you will receive once you get enrolled in the IBPS SO Prelims course for IT / AFO / Marketing / HR-Personnel streams is as follows
250+ Short & concise videos for concepts clarity, covering the entire syllabus of IBPS SO Prelims exam for IT/ AFO/ Marketing/ HR-Personnel streams
Get access to Study notes, emphasizing more on IT subjects, in PDF format
Unlock practice questions with solutions and proper explanations to reinforce learning at various stages
8000+ Concept Checking Questions: To check your learning after each concept in videos.

Chapter Tests: Difficulty Based Chapter Tests for IBPS SO Prelims (IT / AFO / Marketing / HR-Personnel) exam comprising of Questions divided into Easy, Moderate and High Levels. This will help you prepare for the IBPS SO exam in a systematic way
Sections Tests: To check your level of preparedness
Mock Tests: To help you practice full-length practice tests just like the real exam.

10+ Full-length practice tests for IBPS SO various streams like IT / AFO / Marketing / HR-Personnel
Online Live Classes for doubt clarification with the subject experts.
Why Choose IBPS SO Prelims (IT / AFO / Marketing / HR-Personnel) Online Course
Once you are aware of all the offerings of the IBPS SO Prelims course, now the question that arises in your mind is - Why choose ixamBee IBPS SO online course for IT / AFO / Marketing / HR-Personnel streams? What will I gain as a student by enrolling in this course?
Exhaustive yet crisp study material to lay down a strong learning foundation
User-friendly and unique portal to achieve your target score
One on one sessions with experienced faculties to meet your doubts and provide solutions to them
Subject matter expertise with hands-on experience
Augment your conceptual learning by attempting practice tests, sectional tests
Also, a demo version is available to help you come to a conclusion about the quality of our course content
How to Enrol for IBPS SO (IT / AFO / Marketing / HR-Personnel) Online Course?
Visit our official website
Go to the ' Online Courses' section available on the header
A drop down menu list for all the online courses will be available
Click on the IBPS SO section and purchase the course you want to
If you encounter any problem click on 'request a call back'
Faculty and Course Coordinator
---
---
---
---
---
---
Study Materials Information
Commonsense Reasoning
Coding Decoding
Coded Inequalities
Syllogism
Seating Arrangement
Puzzles
Coded Blood Relationship
Input Output
Direction and Distance
Data Sufficiency
Ranking
Analytical Reasoning
Section Test Reasoning
No. System
Percentage
Profit and loss
Ratio and proportion
Partnership
Average
Alligation
Simple and compound interest
Time and distance
Trains
Boats and streams
Permutation and combination
Probability
Quadratic equation
Series
Mensuration
DI
Age
HCF and LCM
Simplification
Approximation
Time and work and Pipe and Cisterns
Short Cut Tricks
Section Test Quant
Caselet DI
Venn diagram
Tense
Parts of Speech
Direct Indirect Speech
Active passive voice
Articles and Determiners
Cloze Passage
Fillers
Reading Comprehension
Sentence Rearrangement / Parajumbles
Spotting Errors
Idioms and Phrases
Sentence Improvement
Coherent paragraph
Vocabulary
Section Test English Language
Sentence Connectors
Match the column
Subject Verb Agreement
Phrasal Verbs
Recommended Courses for you
FAQs
IBPS SO (IT/AFO/MARKETING/HR-PERSONAL) Video Lessons are available for viewing on ixamBee Website/Dashboard. You need to login to www.ixamBee.com > Dashboard > Online Class Material >IBPS SO (IT/AFO/MARKETING/HR-PERSONAL) 2022 Online Course > Select the subject and click on the Video Lesson you want to watch from the list.
Almost all IBPS SO (IT/AFO/MARKETING/HR-PERSONAL) video lessons for fundamental learning are available as soon as you enroll for the course. We regularly keep on adding videos and improving the content therefore further Video Lessons will be made available in a sequential manner to maintain proper flow and help in the ease of understanding of concepts. New Video Lesson upload will be informed through email.
Yes, any IBPS SO (IT/AFO/MARKETING/HR-PERSONAL) Video Lesson uploaded once can be viewed anytime/ multiple times on ixamBee Website.
We encourage all participants to attend Live Online Classes. Even if they don't have any doubt themselves, the discussion that happens over doubts of others is also very enriching and helpful in exam preparation. Sometimes very important points are discussed as part of these discussions. However, in case of genuine reasons for not being able to attend a class, we may decide to share the recording of the class, on the case to case basis.
Once you enrol yourself in ixamBee's IBPS SO Online Course for Prelims exam, you don't need to search around anymore as we provide a comprehensive course which will prove to be a complete package for all your requirements.
Watch Demo
Need Any assistance?