Aazadi ka Amrit Mahotsav: Experience free courses from Aug 8 to Aug 15
Course highlights
250 +
Video Lessons
120 +
Difficulty Based Chapter Tests
10 Full Length
Practice Tests
Live
Classes
8000 +
Practice Questions
Expert Faculty
IBPS SO Prelims Online Course (IT / AFO / Marketing / HR-Personnel)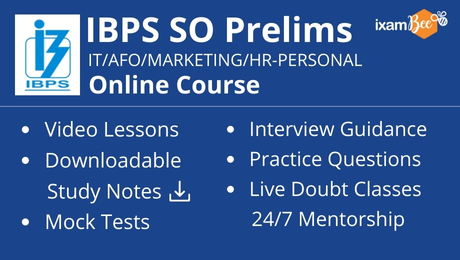 ixamBee has launched IBPS SO Prelims (IT / AFO / Marketing / HR-Personnel) online course to pave your IBPS SO prelims preparation in right direction. IBPS SO comprehensive Prelims Online course has been prepared by ixamBee experts after thorough and detailed analysis (as per the previous and the expected exam pattern), so as to provide proper guidance and the relevant study material required for IBPS SO prelims exam preparation at one platform.
IBPS SO Prelims (IT / AFO / Marketing / HR-Personnel) Online Course By ixamBee Consists Of:
Video Lessons

: Short & crisp videos for concepts, covering all important syllabus topics for Prelims. There are 250 + Video Lessons covering the entire syllabus of IBPS SO IT/ AFO/ Marketing/ HR-Personnel Officer Exams.

Study Notes

: Exhaustive yet crisp study material is important to lay down a strong learning foundation. Get access to 125+ Study notes, emphasizing more on IT subjects, in PDF format for easy learning and quick revision.

Practice Questions

: Unlock the question bank comprising 8,000 + practice questions with solutions and proper explanations to reinforce learning at various stages.

Concept Checking Questions:

To check your learning after each concept in videos.

Chapter Tests:

120+ Difficulty Based Chapter Tests for IBPS SO prelims (IT / AFO / Marketing / HR-Personnel) exam comprising of Questions divided into Easy, Moderate, and High Levels. This will help you prepare for IBPS SO Prelims exam in a systematic way.

Sections Tests:

To check your level of preparedness.

Mock Tests:

To help you practice full-length practice tests just like the real exam.

Mock Tests:

10 full-length practice tests for IBPS SO IT / AFO / Marketing / HR-Personnel posts.

Online Live Classes

: Live Classes for doubt clarification with the subject experts.
IBPS SO (IT / AFO / Marketing / HR-Personnel) Prelims Online Course Features
Accessible anywhere, anytime

Subject matter expertise with hands-on experience
Complete study materials to learn in your comfortable environment
User-friendly and unique portal with all that you need to achieve your target score
Live sessions to clear all your queries
Study Materials Information
Commonsense Reasoning
Coding Decoding
Coded Inequalities
Syllogism
Seating Arrangement
Puzzles
Coded Blood Relationship
Input Output
Direction and Distance
Data Sufficiency
Ranking
Analytical Reasoning
Section Test Reasoning
No. System
Percentage
Profit and loss
Ratio and proportion
Partnership
Average
Alligation
Simple and compound interest
Time and distance
Trains
Boats and streams
Permutation and combination
Probability
Surds and indices
Quadratic equation
Series
Mensuration
DI
Age
HCF and LCM
Simplification
Approximation
Time and work and Pipe and Cisterns
Short Cut Tricks
Section Test Quant
Caselet DI
Venn diagram
Tense
Parts of Speech
Direct Indirect Speech
Active passive voice
Articles and Determiners
Cloze Passage
Fillers
Reading Comprehension
Sentence Rearrangement / Parajumbles
Spotting Errors
Idioms and Phrases
Sentence Improvement
Coherent paragraph
Vocabulary
Section Test English Language
Sentence Connectors
Match the column
Subject Verb Agreement
Phrasal Verbs
Recommended Courses for you