NABARD Grade A is a highly competitive examination, conducted by the National Bank for Agriculture and Rural Development and attempted by thousands of aspirants every year. What follows after a grueling assessment is a job at a premier regulatory institution. The perks and remunerations offered are at par with RBI. NABARD has not yet released an official notification concerning the NABARD Grade A exam for 2021. However, it is expected to be announced soon. To keep up with the latest updates on all competitive examinations, visit our website. If you want to learn more about NABARD Grade A 2021, NABARD Grade A syllabus, NABARD Grade A salary and the like, you can find all the information here.
NABARD Grade A – Exam Pattern
In this article, we learn about how to prepare Quant for NABARD Grade A. We will analyze the exam pattern, time given and the syllabi for Quant. We will also learn how to manage our time efficiently and some other tricks to ace the examination.
Time
The total time given to candidates is 2 hours. In these 2 hours or 120 minutes, candidates have to attempt a total of 200 questions. These 120 minutes are not divided section-wise. There is no sectional timing for the NABARD Grade A examination. Candidates must ensure that they manage their time well. It is always advisable that the candidates first attempt the section(s) they feel most confident about.
NABARD Grade A Prelims question paper
The prelims question paper has 7 sections. Of these 7, 4 sections are evaluated for 20 marks each. The remaining 3 sections are evaluated for 40 marks each. The division has been illustrated below. Some questions carry 1 mark each while some carry 2. As for negative marking, questions for 1 mark have a negative marking of 0.25 whereas questions carrying 2 marks have a negative marking of 0.50. There is no negative marking for questions that are not attempted at all.
| | |
| --- | --- |
| TEST NAME | MARKS |
| QUANT | 20 |
| REASONING ABILITY | 20 |
| GENERAL AWARENESS | 20 |
| Computer Awareness | 20 |
| English Language | 40 |
| Agriculture and Rural Development (with focus on Rural India) | 40 |
| Economic and Social Issues (with focus on Rural India) | 40 |
NABARD Grade A cut-offs
Always remember, the cut-off is an indicative measure of the difficulty level of the examination. It has no relevance with the upcoming year's cut-off. Your NABARD Grade A preparation should not revolve around the cut-off criteria.
| | |
| --- | --- |
| YEAR | CUT-OFF |
| 2020 | 118.5 |
| 2019 | 129 |
| 2018 | 116.5 |
As we can see, the cut-off for the past few years has been around 120. Cut-off may increase as competition is also increasing. When the paper is relatively easy, the cut-off marks are higher and vice-versa.Subject wise cut-off: Candidates must ensure that they obtain cut-off marks for all sections of the paper. Given below is a sectional cut-off table for NABARD Grade A 2020 Preliminary examination.
| | | | | | | | |
| --- | --- | --- | --- | --- | --- | --- | --- |
| CATEGORY | RE(20) | CK(20) | GA(20) | QA(20) | ESI(40) | ARD(40) | EL(40) |
| RESERVED | 1.00 | 1.50 | 1.00 | 1.00 | 1.00 | 1.00 | 3.50 |
| UNRESERVED (GENERAL) | 2.25 | 3.25 | 1.75 | 1.25 | 2.00 | 1.00 | 8.50 |
Like the overall cut-offs, sectional cut-offs are also raised or lowered depending on the level of assessment. For example, the cut-offs were higher in 2019 as the paper was easy. If you want to know more about the cut-off marks for 2020 and 2019 you can find them here.
Syllabus for NABARD Grade A: Quantitative Aptitude
Quantitative Aptitude is an essential part of all government competitive examinations in India. Through these questions, examiners gauge a candidate's ability to think analytically and logically. Quant questions may be assessed in several ways. Given below are some of the important topics that candidates should focus on as a part of their Quantitative Aptitude preparation for NABARD Grade A preparation.
Number series
Quadratic equations
Simplifications/ approximation
Surds and indices
Di- with graphs
Caselet DI- presented as passages
Arithmetic
From Arithmetic the following topics are important:
Time & Distance
Train/boat
Time and work
Ages
Pipes and cisterns
Percentage
Profit and loss
Simple and compound interest
Allegation
Average
Ratio
Partnership
Probability
Mensuration
HCF/LCM & Number System- least important
NABARD Grade A/B Quant Breakup in past years
Study the table given below to understand how many questions are generally asked from which topic.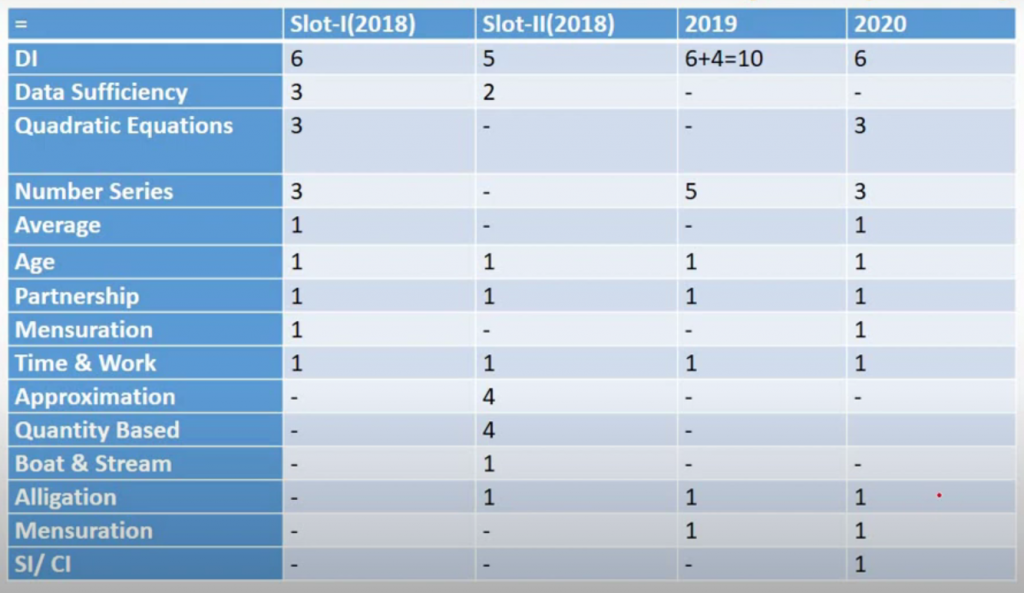 As we can analyze from the aforementioned table, on average most questions are asked from Data Interpretation. Questions on Age, Time & Work, Partnership and Allegation. Although no topic is to be ignored altogether, you must dedicate more time to practicing these topics that are tested every year.
Important Tips
Data Interpretation is an important topic that is being assessed every year. Candidates must take a cue from this pattern and devote special attention to practicing DI questions
Memorize multiplication tables up to 20
Memorize squares of numbers up to 40 and cubes up to 20.
Understand and memorize tricks to calculate, multiply and add quickly to solve simplification questions swiftly and correctly.
Questions for 6-7 marks can be expected from Simplification, Series and Quadratic Equations. Devote 3-4 days to practicing each topic.
Arithmetic chapters are the most important here. Candidates stand the chance to one-up themselves against other candidates by scoring well on the arithmetic questions. Generally, examinees focus on the other subjects which are sure to be tested and do not devote enough time to arithmetic. If candidates want to truly stand out, they must devote adequate time to practicing arithmetic as it is a scoring topic and every mark makes a difference.
Also, the assessment level for arithmetic will be easy to moderate. So, candidates must touch upon all topics so that they can at least attempt it if an easy question is asked from one or more topics.
As mentioned before, candidates are given a total time of 120 minutes with no section-wise dedication. This is why speed matters the most.
Of the 7 sections of the NABARD Grade A Prelims paper, the candidates should attempt the GA, CA, ESI and ARD sections first as they can be solved quickly. Then attempt the section on English.
Lastly, attempt the questions on Quant and Reasoning as they are the most difficult and require the most amount of time. Candidates must save time on the other sections to use that time to solve Quant and Reasoning questions.
Candidates must ideally complete 1 QA or Reasoning question within 1 minute.
Following speed, accuracy is the next most important criterion to ace any examination. Answering quickly is important but answering correctly is more important. Marks are awarded based on the accuracy of your answer and not the speed at which you completed the same.
No guesswork should be done while answering MCQ questions.
To ensure the accuracy of your answers, you must analyze your work as you practice for your examinations.
Practice is the only way to go for all the sections assessed in the NABARD Grade A Prelims. The more you practice, the more edge you will gain over other candidates.
Remember, practice makes a man perfect.
Our new batch for NABARD Grade A preparation is starting as of June 1, 2021. If you are preparing to clear the NABARD Grade A examination, there is no time to lose! Visit our website to join our new batch. You can also attempt our free mock tests here.
ixamBee has just launched a 'Get Vaccinated, Get Rewarded' offer to provide flat 35% off to candidates who are preparing for competitive examinations and would like to buy any of our courses. To avail of this offer, all you have to do is upload a picture of yourself getting jabbed. Already been jabbed but no picture to show for it? Or haven't taken the vaccine yet? Worry not! You can also upload a picture of any member from your family taking the vaccine to avail of the 35% discount.
So, hurry up and start sending us your pictures and get a flat 35% off on the course of your choice. Stay Home, Stay Safe!
Got queries? Check out the details here.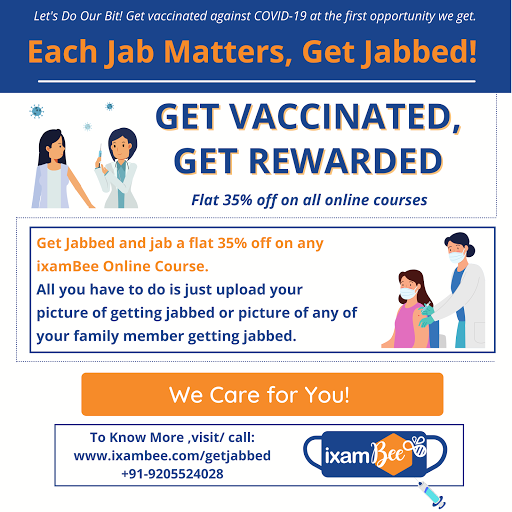 Also read:
What to Prepare Current Agriculture for NABARD Grade A, FCI AGM Exam.
Introduction to Seed Science: Important Topic for NABARD Grade A and B, FCI AGM.
Get Free Online Test Series, GK updates in form of Beepedia, as well as latest updates for Bank PO, Bank Clerk, SSC, RBI, NABARD, and Other Government Jobs.