The RBI Grade B 2022 notification is eagerly awaited. Instead of waiting and worrying about the official announcement, what we can do instead is begin our RBI Grade B preparation subject-by-subject.
In case you are not aware of the RBI Grade B exam pattern, we encourage you to take a look and then revisit our preparation strategy to develop a better picture.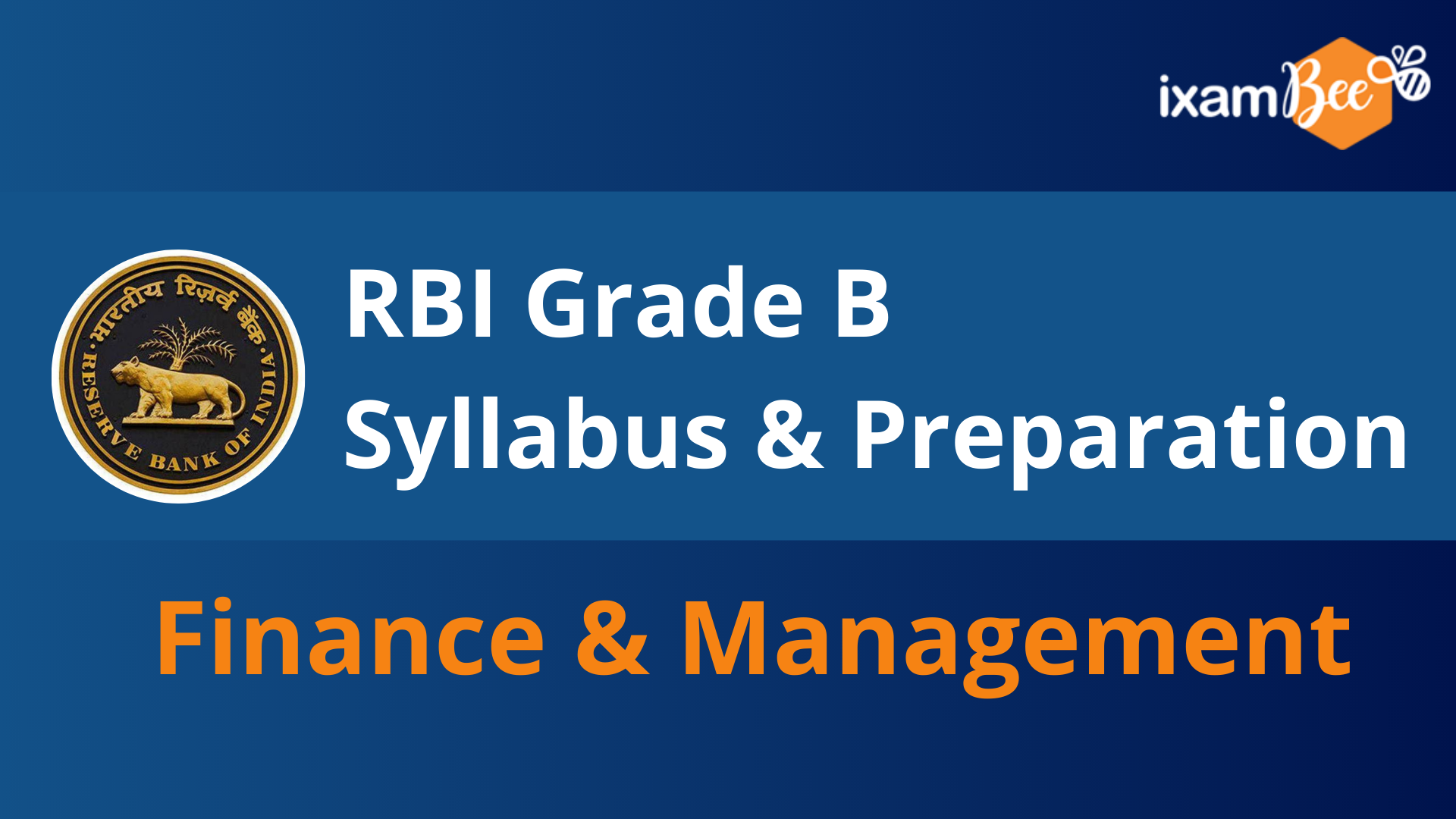 In the RBI Grade B exam, Finance and Management is a subject that is tested in Phase 2 of the selection process. While some students find it really interesting, some who do not have a background in Finance & Management may find it daunting. Either way, we are here to tell you that this is a very scoring section, if you prepare for it properly.
RBI Grade B Finance & Management General Tips
Start preparing for the exam well in advance.
To have a thorough understanding about the syllabus
80% of the questions will be from current affairs which can be about RBI circulars, financial markets, financial institutions like NPCI, NETC, NACH, Banks, SEBI, RBI, happening related to syllabus topics.
Be sure to take a look at the RBI Grade B previous year papers to cognize the latest exam trends.
Please eliminate the myth that you have any Management background to score well in this exam from your minds. This is not true.
Some subjects like Numericals, Time-Value of Money and Bond Valuation are not directly mentioned in the syllabus. However, it would be wise to touch upon these topics to help your overall preparation by understanding the important related terms.
Follow one finance newspaper for latest updates as it will be useful.
Budget and economic survey is very important.
Read RBI Circulars from time to time.
Solve mock tests and practice MCQs rigorously all through your preparation.
RBI Grade B Finance & Management Syllabus
Topic
Sub-topics
Financial System
Regulators of Banks and Financial Institutions
Reserve Bank of India- functions and conduct of monetary policy
Banking System in India– Structure and concerns
Financial Institutions – SIDBI, EXIM, NABARD, NHB
Changing landscape of banking sector
Impact of the Global Financial Crisis of 2007-08 and the Indian response
Financial Markets
Primary and Secondary Markets (Forex, Money, Bond, Equity,etc.), functions, instruments, recent developments.
General Topics
Risk Management in Banking Sector
Basics of Derivatives: Financial Inclusion
Alternate source of finance, private and social cost-benefit
Public-Private Partnership
Corporate Governance in Banking Sector,
Role of e-governance in addressing the issues of corruption and inefficiency in the government sector
The Union Budget –Concepts, approach and broad trends
Inflation Definition, trends, estimates, consequences, and remedies (control): WPI, CPI – components and trends; striking a balance between inflation and growth through monetary and fiscal policies,
FinTech
Management
Fundamentals of Management & Organizational Behaviour: Introduction to management; Evolution of management thought: Scientific, Administrative, Human Relations and Systems approach to management
Management functions and Managerial roles
Nudge theory Meaning & concept of organizational behaviour
Personality: meaning, factors affecting personality
Big five model of personality; concept of reinforcement
Perception: concept, perceptual errors. Motivation: Concept, importance
Content theories (Maslow's need theory, Alderfers' ERG theory, McCllelands' theory of needs, Herzberg's two factor theory)
Process theories (Adams equity theory, Vroom's expectancy theory)

Leadership: Concept, Theories (Trait, Behavioural, Contingency, Charismatic, Transactional and Transformational Leadership
Emotional Intelligence: Concept, Importance, Dimensions. Analysis of Interpersonal Relationship
Transactional Analysis, Johari Window; Conflict: Concept, Sources, Types, Management of Conflict; Organizational Change: Concept, Kurt Lewin Theory of Change
Organizational Development (OD): Organizational Change, Strategies for Change,
Theories of Planned Change (Lewin's change model, Action research model, Positive model).
Ethics
Meaning of ethics, why ethical problems occur in business
Theories of ethics: Utilitarianism: weighing social cost and benefits, Rights and duties, Justice and fairness, ethics of care, integrating utility, rights, justice and caring
An alternative to moral principles: virtue ethics, teleological theories, egoism theory, relativism theory,
Moral issues in business: Ethics in Compliance, Finance, Human Resources, Marketing
Ethical Principles in Business: introduction, Organization Structure and Ethics
Role of Board of Directors
Best Practices in Ethics Programme
Code of Ethics, Code of Conduct
Corporate Governance: Factors affecting Corporate Governance
Mechanisms of Corporate Governance Communication: Steps in the Communication Process
Communication Channels
Oral versus Written Communication
Verbal versus non-verbal Communication; upward, downward and lateral communication
Barriers to Communication
Role of Information Technology.
RBI Grade B Finance & Management Books
We have compiled a list of books that will help you prepare for the exam.
| | |
| --- | --- |
| Book | Author |
| Financial management | I M Pandey |
| Financial management: Theory and Practice | Prasanna Chandra |
| Cost accounting | Grewal and Gupta |
| Management Accounting | R.S.N. Pillai and V. Bagavathi |
| Management Accounting | Khan & Jain |
| Monetary Theory & Public Policy | Kenneth Kurihara |
Some Other Resources
You should also take a look at some of these other resources as you prepare for your exam.
Check the ICAI website regularly for updates
Financial dailies like Business Standard, The Economic Times, Financial Express and the like.
Magazines like Business Today and Outlook Business
ixamBee's BeePedia for latest current affairs
RBI Grade B Finance & Management Preparation
At ixamBee, you will find several resources that will help with your preparation. Some of these have been listed below.
RBI Grade B Course
ixamBee's RBI Grade B Exclusive Online Course is your one-stop solution. Needless to say, aside from Finance & Management, you will also receive guidance and tutelage to cover all the other subjects effectively as well. Take a look at what we offer:
480+ video lessons for phase 1 and 220+ video lessons for phase 2
340+ Study notes
17000+ questions practice questions
20 Full-length Mock tests for Phase 1 and
15 full-length Mock Tests the Phase 2 exam
5 Descriptive English Mock Tests with feedback
Online Live Classes
Interview Guidance and personal feedback on your performance.
Study plan
One-on-One Meetings with Faculty
Mock Tests
Before you go, be sure to analyze your overall preparation with ixamBee's RBI Grade B Phase 2 mock tests. These practice tests are available free and can be taken and re-taken as many times as you like.
Also read
RBI Grade B 2021 Success Stories: A Tale of Rising above Odds
How To Crack RBI Grade B in maiden attempt
RBI Grade B 2021: An Insight into RBI Grade B Salary and Perks
At ixamBee you can find free Online Test Series, GK updates in the form of BeePedia, as well as latest updates for Bank PO, Bank Clerk, SSC, RBI, NABARD and Other Government Jobs.