The year 2021 has been a tumultuous one for India. The year 2020 was about coming to terms with the pandemic whereas 2021 has been about living and coping with this new normal. Apart from the second wave of the Covid-19 pandemic, there have been many major events like the farmer protests, the omicron variant, crashes in the stock market etc.
In this article, we will be discussing the most important events that happened throughout the course of the year 2021.
If you are preparing for any government exam, we recommend you to go through this article carefully.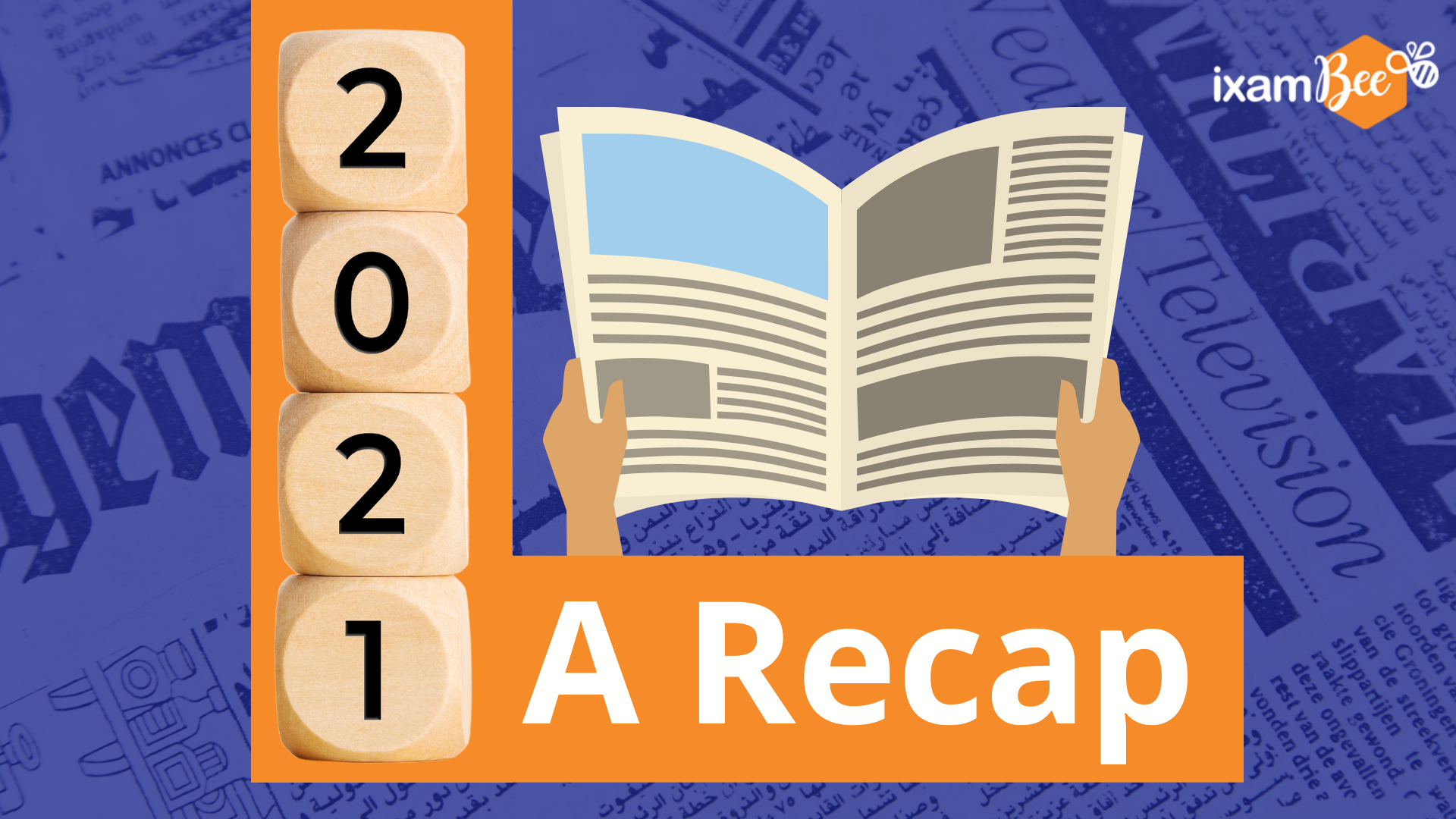 Let's start from the beginning!
India's term as a non-permanent member of UN Security Council
The year started with India beginning its two year term as a non-permanent member of the UN Security Council on January 01, 2021. This is India's eighth time as a non-permanent member.
Covid 19 Vaccination Program
Prime Minister Narendra Modi initiated the Covid-19 vaccination drive on January 16, 2021. It was the largest vaccination drive in the world. The same month, the Central government and the Drugs Standard Control Organisation approved the coronavirus vaccine developed by University of Oxford and AstraZeneca called 'Covershield' and locally developed 'Covaxin vaccine' developed by Bharat Biotech. On May 01, 2021, everyone above the age of 18 years became eligible to get vaccinated.
46th President of the USA: Joe Biden
Joe Biden became the 46th President of the United States on January 20, 2021. He is 78 years old and is the oldest President in American history.
First Female Vice President of the USA: Kamala Harris
Kamala Harris became the first female, black and Asian-American Vice President of the United States.
Sardar Patel Cricket Stadium Renamed
The Sardar Patel Cricket Stadium in Motera, Ahmedabad was renamed as the Narendra Modi Cricket Stadium on February 24, 2021. It is the world's largest cricket stadium with a capacity to accommodate 1.32 lakh spectators. President Ram Nath Kovind inaugurated it.
Cyclone Tauktae
A tropical cyclone called Cyclone Tauktae hit Gujarat on May 17, 2021. It was the strongest tropical cyclone to make landfall in the state since 1998. The cyclone killed over 174 people and displaced around 200,000 people. It caused flash floods in Lakshadweep and Kerala. Goa, Karnataka and Maharashtra also received heavy rainfall.
Sunderlal Bahuguna, Chipko movement pioneer dies of Covid-19
The pioneer of the Chipko movement, Sunderlal Bahuguna passed away on May 21, 2021. He played an important role in saving the Himalayan forests. Bahuguna also opposed the Tehri dam as it displaced many people. He is a recipient of the Padma Vibhushan and many other honours for his work in the field of environment protection.
Cyclone Yaas
Cyclone Yaas is a tropical cyclone that hit northern Odisha and parts of West Bengal in May. It affected around 10 million people. West Bengal suffered maximum damage from this cyclone which is estimated to be around 20 thousand crore. It also impacted Jharkhand, Bihar and Uttar Pradesh. The cyclone also affected Bangladesh and Nepal.
The Cyclone 'Yaas' got its unusual name from Oman. The name has a Persian origin which in English means Jasmine or the tree of fragrance.
Milkha Singh passes away due to Covid-19
Milkha Singh passed away after a month-long battle with Covid-19. He was a four-time Asian Games gold medalist and a champion of the Commonwealth Games held in 1958. He set a record of 45.6 seconds in the Rome Olympics in 1960 which remained the national record for 38 years. Paramjeet Singh broke this record in 1998. He won the Padma Shri in 1959.
New Uttarakhand CM- Pushkar Singh Dhami
Pushkar Singh Dhami was appointed as the 11th Chief Minister of Uttarakhand on July 04, 2021. This is the third change within a period of four months. He is the youngest Chief Minister of the state.
Activist Stan Swamy passes away
Activist Stan Swamy passed away while waiting for interim bail on medical grounds. He worked for the upliftment and welfare of the Adivasi community by taking up issues such as- land rights, constitutional rights, labour rights etc. In 2020, he was arrested from his home in Ranchi under the Unlawful Activities (Prevention) Act for having links to the Elgar Parishad-Maoist case.
Actor Dilip Kumar passes away
Actor Dilip Kumar passed away on July 07, 2021. He was 98 years old. He was born as Yousuf Khan in Peshawar (now in Pakistan) and migrated to India after the partition.
Photojournalist Danish Siddiqui killed in Afghanistan clashes
Danish Siddiqui, the Pulitzer Prize winning photojournalist died on an assignment in Afghanistan. He was covering the clashes between the Afghan troops and the Taliban in Kandahar city. Siddiqui won the Pulitzer Prize in 2018 for covering the Rohingya crisis. He also covered the Hong Kong protests and other major events in Asia, Middle-East and Europe.
Danish Siddiqui was posthumously awarded the 'Journalist of the Year' award at the Red Ink Awards for Excellence in Indian Journalism. Hon'ble Chief Justice of India N V Ramana presented the award. The ceremony was held virtually on December 29, 2021. Mumbai Press Club presents these awards annually.
Zomato IPO: India's first Unicorn IPO
Zomato made history by becoming India's first unicorn to debut on the stock exchange. A Unicorn company refers to a startup company which has reached the value of $1 billion. Zomato's IPO opened the gates for other IPO filings from Nykaa, Paytm, Pharmeasy, Byju's etc.
Tokyo Olympics 2021
The year 2021 was a great year for sportspersons. Let us look at some of their achievements in the Tokyo Olympics-
Weightlifting- Mirabai Chanu became the first Indian weightlifter to win a silver medal in women's 49kg category.
Badminton- PV Sindhu won a bronze medal in the women's singles in badminton after defeating China's He Bing Jiao.
Boxing- Lovlina Borgohain won a bronze medal in boxing. She went against Turkish boxer Busenaz Surmeneli who is the reigning world champion.
Hockey- The men's hockey team won a bronze medal after 41 years by beating Germany. Their last win was in 1980 at the Moscow Olympics.
Javelin Throw- Neeraj Chopra became the first Indian to win a gold medal in track and field at the Olympics. After Abhinav Bindra, he is the second Indian to win a gold medal in individual events.
Rajiv Gandhi Khel Ratna Award renamed
The Rajiv Gandhi Khel Ratna Award has been renamed the Major Dhyan Chand Sport Jewel Award in honour of the magician of hockey Dhyan Chand. This was done in response to the performance of both men's and women's hockey teams in the Olympics. The Khel Ratna award is India's highest honour in the field of sports.
127th Constitutional Amendment Bill
Lok Sabha passed the 127th Constitutional Amendment Bill to clarify some provisions of the 102nd Constitutional Amendment act of 2018 which inserted Articles 338B and 342A. The Bill clarifies that states can maintain a "state list" of OBCs.
Germany gets a new Chancellor
Olaf Scholz was elected as the new Chancellor of Germany. He succeeded Angela Merkel who was in power since 2005.
Tata Group acquires Air India
On October 08, 2021, Tata Sons won the bid for re-acquiring stakes in the national carrier Air India. They offered Rs. 18,000 crores for acquiring 100 percent shareholding. JRD Tata is the founder of this airline.
100 crore Covid vaccine milestone
On October 21, 2021, India accomplished a major milestone in its fight against coronavirus as the total vaccinations in the country surpassed the 100 crore mark. India is the second country after China to reach that milestone.
Adi Shankaracharya's statue unveiled in Kedarnath
On November 05, 2021, PM Modi unveiled the statue of Adi Shankaracharya in Kedarnath. The height of the statue is 12 feet and is made of chlorite schist.
Repeal of Farm Laws
November 19, 2021, was a significant win for the farmers of Punjab and Haryana as the farm laws were scrapped through a voice vote in Lok Sabha. These laws had sparked a year-long protest against the government. The farmers ended their protest on December 08, 2021 after the Parliament officially repealed them.
You can read more about the revokement of the three farm bills here.
Jack Dorsey resigns as Twitter CEO
On November 29, 2021, Jack Dorsey resigned as the CEO of Twitter. Parag Agarwal, former Chief Technology Officer (CTO) was appointed as the new CEO. He is an alumnus of IIT Bombay.
Vinod Dua passes away
On December 04, 2021, veteran journalist Vinod Dua passed away. He was a pioneer of Hindi broadcast journalism.
CDS Bipin Rawat and others killed in a helicopter crash
December 08, 2021 was a sorrowful day for India as Chief of Defence Staff (CDS) Bipin Rawat died in a helicopter crash near Coonoor, Tamil Nadu. There were 14 people onboard and only one person survived.
Miss India bags the Miss Universe title
Miss India Harnaz Sandhu won the Miss Universe title on December 12, 2021. Port of Eilat, Israel. This is the third Miss Universe title for India. The previous ones being, Sushmita Sen (1994) and Lara Dutta (2000).
General Awareness Resources
It is evident from the above mentioned events that 2021 has been an event-filled year. In sort, all the events discussed above become very important from an exam point of view.
Government exams like SSC CGL, IBPS SO, IBPS PO, SBI CBO, SBI PO, RBI Grade B and many others test the General Awareness of the candidates. To help you with your GA preparation ixamBee is providing requisite resources on its BeePedia page. These updates are free and available in Hindi as well.
Get Free Online Test Series, GK updates in the form of BeePedia as well as latest updates for Bank PO, Bank Clerk, SSC, RBI, NABARD and Other Government Jobs.
Also Read
Omicron Variant: Impact on the Indian Stock Market