Introduction
In India, Engineering is a popular choice for students after completing school. However, selecting the right career can be confusing due to the vast array of opportunities available. Many of these opportunities remain unfamiliar to you. Awareness of the full spectrum of career options after engineering is crucial for making an informed decision.
Our world has been shaped by engineers who have unveiled marvels and solved challenges, showcasing the boundless potential of human ingenuity. With their ability to apply scientific knowledge to simple and intricate tasks, engineers have revolutionized our way of life and perception of the world. Therefore, an engineering career naturally commands respect.
This trend is particularly pronounced in India. Across the nation, families often encourage their children to explore engineering options, considering India's prestigious and globally recognized engineering institutions. This is evident from India producing a staggering number of engineering graduates each year, approximately 1.5 million.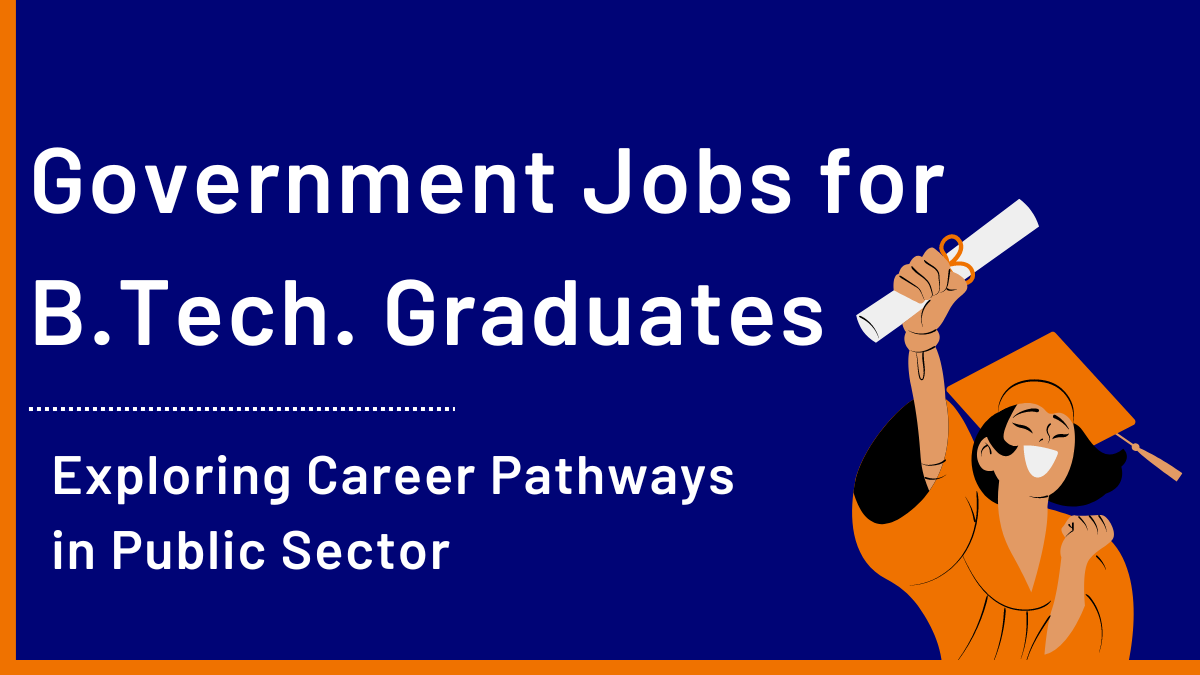 What's even more captivating is the extensive range of specializations within the field, reflecting its diversification. The possibilities are limitless – from traditional civil and mechanical engineering to cutting-edge domains like robotics and aerospace engineering. Moreover, numerous competitive exams after B.Tech are available across various sectors for those interested in pursuing higher education or entering the engineering workforce immediately.
Whether you pursue advanced studies through exams after engineering or enter the engineering workforce after completing B.Tech, there is ample space to apply your engineering skills across various sectors. The options are as extensive as the array of specializations available. For many engineers and their families, an engineering career is a lifelong aspiration. Yet, you might be curious: What lies ahead after completing B.Tech courses?
Upon successfully completing the B.Tech program, individuals can either further their education (with the GATE examination being a commonly chosen path) or embark on a career journey in their chosen field. While pursuing an M.Tech is a conventional progression post-B.Tech, an increasing number of students are now steering towards pursuing an MBA upon the completion of their B.Tech degree.
Furthermore, aspirants can explore other avenues, such as securing positions within Public Sector Undertakings (PSUs), venturing into Civil Services through relevant entrance examinations, or proceeding into private enterprises. We offer a list of excellent career options for students wondering what to do after engineering. If you're seeking guidance for your post-engineering path, explore the details we provide. In the following discussion, we will explain each of these options thoroughly.
Job Opportunities for B.Tech Graduates
B.Tech graduates in India have various job opportunities across multiple industries. The job options can vary based on the specialization or branch of engineering they have pursued. Here are some standard job options for B.Tech graduates in India: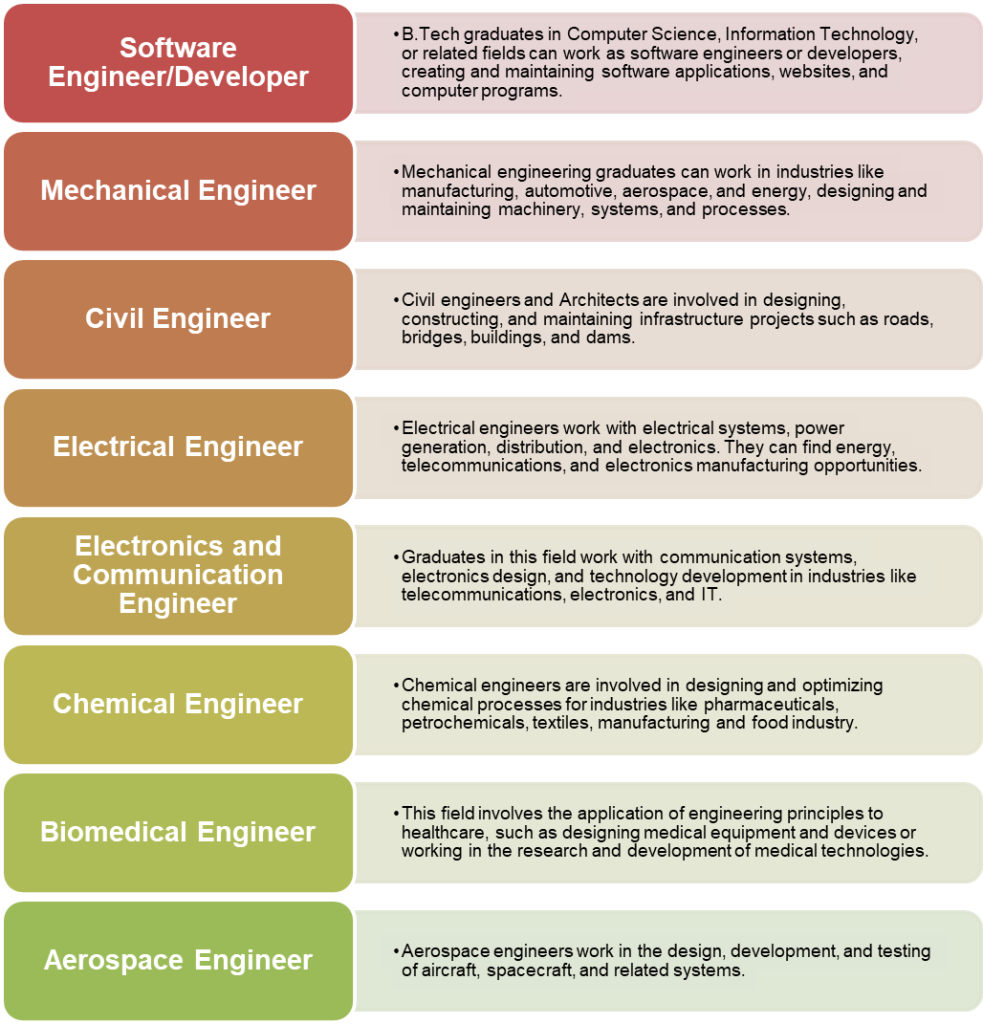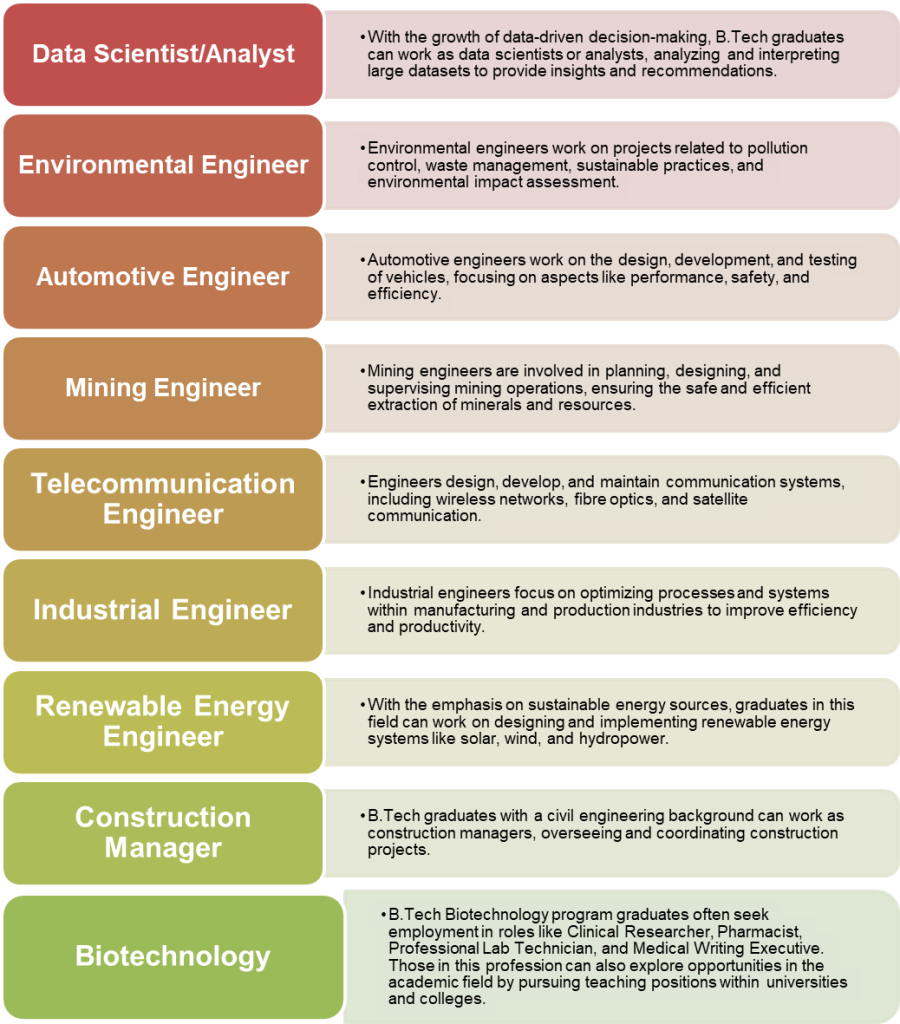 Government Job Opportunities for B.Tech Engineers
Engineers with a B.Tech degree have various opportunities to secure government jobs in India. Government organizations and Public Sector Units (PSUs) regularly recruit engineers from different disciplines for positions such as Assistant Engineer, Technical Officer or Scientific Assistant. Here are some Government Job opportunities for B.Tech graduates.
1. Public Sector Units (PSUs): Many PSUs in India hire engineers through the Graduate Aptitude Test in Engineering (GATE) exam. Some well-known PSUs that recruit B.Tech graduates include:
– Oil and Natural Gas Corporation (ONGC)
– Bharat Heavy Electricals Limited (BHEL)
– Steel Authority of India Limited (SAIL)
– National Thermal Power Corporation (NTPC)
– Indian Oil Corporation Limited (IOCL)
– Bhabha Atomic Research Centre (BARC)
– Hindustan Petroleum Corporation Limited (HPCL)
– Power Grid Corporation of India Limited (PGCIL)
– Bharat Petroleum Corporation Limited (BPCL)
2. Engineering Services Examination (ESE): Conducted by the Union Public Service Commission (UPSC), ESE is a prestigious exam that recruits engineers for various technical positions in government departments such as Railways, Defense, Central Engineering Services, and more.
3. Staff Selection Commission (SSC): SSC conducts exams for various technical and non-technical positions, including SSC JE Exam for junior engineers across multiple government departments.
4. Defence Services: Engineers can join the Indian Army, Navy, or Air Force through recruitment exams like Technical Entry Scheme (TES), Short Service Commission (SSC), Technical Officers, etc.
5. State Public Service Commissions (PSCs): Each state in India has its public service commission that conducts exams for various engineering positions in state government departments.
6. Railways: Indian Railways offers engineering positions for B.Tech graduates in areas such as Civil, Mechanical, Electrical, Electronics, Instrumentation and Telecommunications.
7. Public Works Departments (PWD): State and Central PWDs hire engineers to plan, design, and maintain infrastructure projects.
8. Telecom Regulatory Authority of India (TRAI): TRAI recruits engineers for technical and regulatory roles in the telecommunications sector.
9. National Highways Authority of India (NHAI): NHAI recruits engineers to develop and maintain national highways.
10. Department of Space (ISRO): The Indian Space Research Organisation (ISRO) hires engineers for various space research and technology development roles, such as Scientist/Engineer, Technical/Scientific Assistant and others.
11. Bureau of Indian Standards (BIS): BIS recruits engineers for standardization and quality control roles.
12. Central Water Commission (CWC): Engineers can work on water resource management, flood control, and irrigation projects.
13. Central Public Works Department (CPWD): Engineers in CPWD work on the planning, design, and execution of government construction projects.
14. National Hydroelectric Power Corporation (NHPC): NHPC offers opportunities for engineers in the hydroelectric power sector.
15.  Central Pollution Control Board (CPCB): Engineers can contribute to environmental protection and pollution control efforts.
16. Indian Council of Agricultural Research (ICAR): Various technical positions for B.Tech and Agricultural Engineering vacancies for B.Tech (Agricultural Engineering) graduates are invited regularly. These positions offer placement opportunities within numerous ICAR institutes located throughout India.
List of some Upcoming Government Jobs for B.Tech Graduates
Conclusion
Individuals need to consider their interests, strengths, and current trends in the job market while choosing a career path. Significantly, pursuing higher education, such as a master's degree or specialized certifications, can further enhance job prospects in specific fields. Here we have discussed a few examples of the government job opportunities available for B.Tech graduates in India. Remember that each organisation's recruitment process, eligibility criteria, and job roles may vary. It's recommended to regularly check the official websites and government job portals of the organizations discussed here for updates on job vacancies and recruitment processes as Junior Engineers, Graduate Apprentices / Graduate Engineering Trainees (GET), Senior Engineers, Executive Trainees and Managers.
Wishing you Good Luck!
Be sure to tap into the wealth of informative updates available on ixamBee, as you gear up for any Upcoming Government Exam
Current Affairs carries a good weightage in many of the government exams mentioned above. Therefore, it becomes all the more essential that you do not take this section lightly as it can make or break your selection. So, if you're searching for concise and precise updates on current events, you'll find ixamBee's BeePedia invaluable. BeePedia presents a comprehensive compilation of monthly and weekly current affairs updates, conveniently accessible in English and Hindi, enriching your General Awareness preparation. Covering a wide array of subjects, expanding to General Knowledge, Banking Awareness, and Economic and Financial News. ixamBee offers the perfect supplement to your preparation for major competitive exams such as Bank PO, Bank Clerk, SSC CGL, RBI, NABARD, SEBI, and other government job assessments. Exploring ixamBee's Online Courses ensures that you're armed with the requisite knowledge to excel in your Government Exam preparation, given its meticulous alignment with the exam's perspective.
Also Read
Government Job Prospects in India after 25 Years: Challenges and Opportunities
How to Prepare for IBPS SO Exam?
Step-by-Step Guide: Becoming an Assistant Section Officer in MEA
Why Online Marketing and Business Development Course is 'The Ultimate' Career Path