A good news for the aspirants who appeared for NABARD Grade A Mains 2021 before the year ends: The NABARD Grade A Mains result is out. We extend our heartiest congratulations to the successful candidates.
Now that you have successfully cleared the NABARD GRADE A Phase 2 exam, we urge you to start your NABARD Grade A interview preparation right away.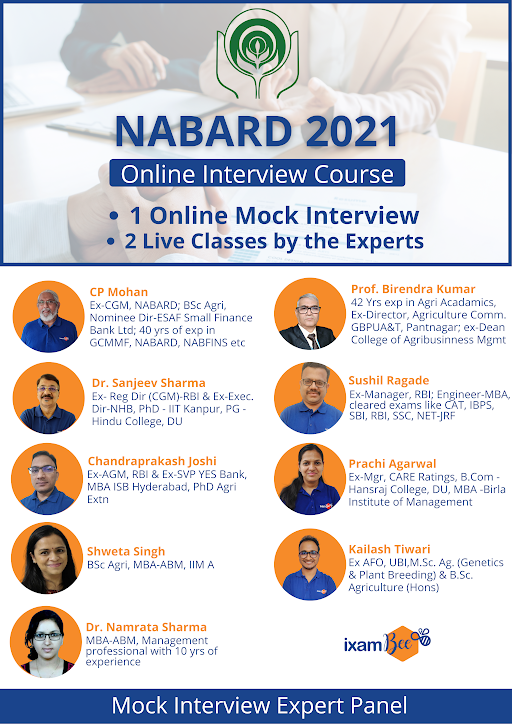 NABARD 2021: Interview Preparation Tips
Why prepare for an Interview?
Interview is the most important stage in the selection process of any organisation. Therefore, it is imperative that you don't take this opportunity lightly.
Given below are some tips that will help you in your interview preparation-
First and foremost, you must read about the organisation, its role and objectives.
Secondly, be prepared with the basic interview questions like-

Why do you want to work in NABARD?
Why should we select you?
Questions about last job/gap years in profile
Miscellaneous questions related to your CV.

It would be a mistake to assume that you could crack the interview of a government organisation by preparing overnight. Therefore, you must start your interview preparation beforehand.
During your interview, there may come a point where you are asked a question to which you don't know the answer, politely tell the panel that. We advise you to not make up answers as the interviewers are experts in their fields.
Practice with mock interviews to understand where you are at with your preparation. Mock Interviews will also help you in reducing your pre-interview anxiety and boost your confidence.
Develop a sound knowledge about the recent issues related to Agriculture and Economy.
Study with ixamBee for NABARD Grade A Interview
The NABARD interview is of 50 marks for Grade A and 75 marks for Grade B. Therefore, it is essential that you prepare well for the interview. The marks obtained in the interview will make or break your final selection. Thus, to make your interview preparation smooth-sailing, you can refer to ixamBee's NABARD Grade A Interview Course.
Features of the Interview Guidance Course-
One on one Mock Interview with the experts
Detailed feedback on the performance in the Mock Interview
Suggestions for preparing for the real NABARD Grade A/B interview
Discussion of preparation strategies and doubt clarification
The candidates who were unable to clear the exam in this attempt, we implore you to try again next year. We do understand that this setback is discouraging. However, we encourage you to not lose hope and use the experience of this attempt and try again next year.
At ixamBee, you can find free Online Test Series, GK updates in the form of BeePedia, as well as latest updates for SBI PO, Bank Clerk, SSC, RBI, NABARD and Other Government Jobs
Also Read
NABARD Grade A Result 2021: Mains Result Out! Direct Link and PDF
NABARD Grade A 2021: Agriculture and Rural Development
NABARD Grade A Exam 2021: Mains Syllabus for Finance Stream