PFRDA Assistant Manager Result 2021
The PFRDA Assistant Manager Result 2021 for Grade 'A' Officers has been released on January 13, 2022. Please note, the result has not been announced publicly. Instead, all candidates who appeared for the exam have been emailed individually. Kindly check your registered email to check your result.
Now that you have cleared both phases of the online exam successfully, it is time to turn to your Interview preparation. Take a look at ixamBee's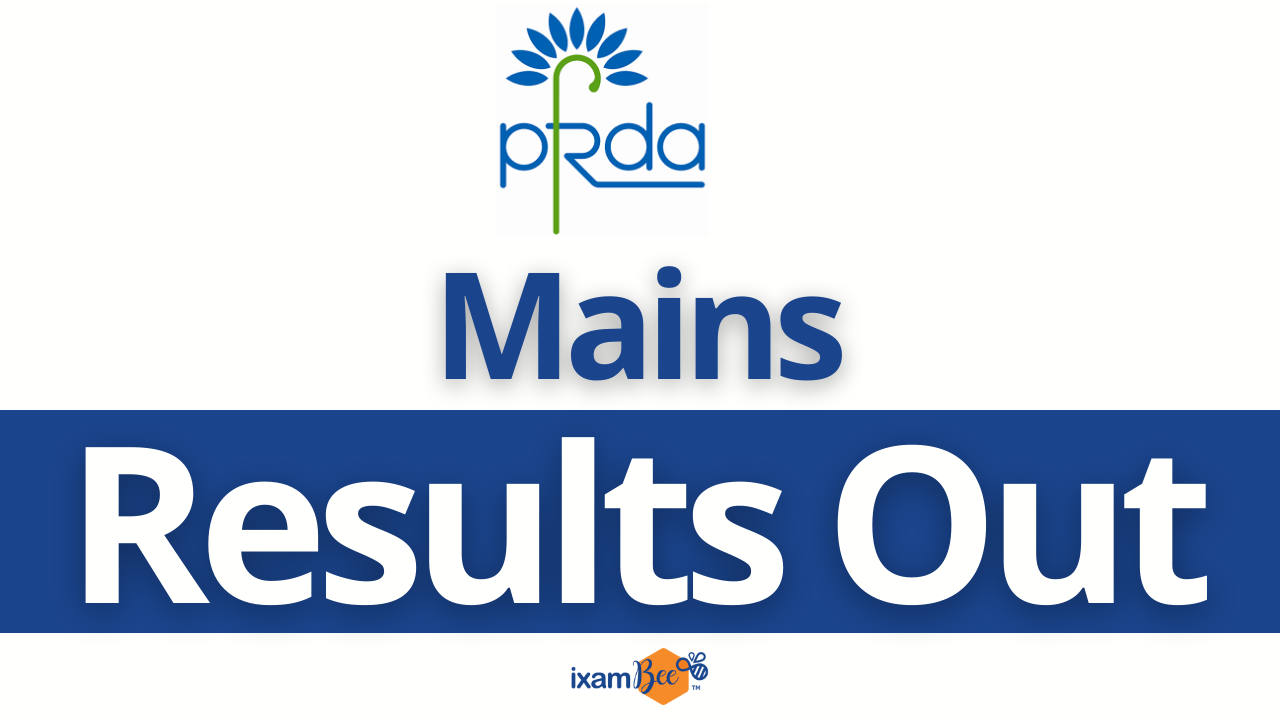 PFRDA Recruitment 2021 Interview
The PFRDA Grade A Interview will be held on February 1, 2022, tentatively. Take a look at how ixamBee can help you through the PFRDA Grade A Officer (All Streams) Interview Guidance Course.
If you need any other clarification about the PFRDA Assistant Manager Result 2021 and upcoming Interview, please take a look at the video below.
PFRDA Recruitment 2021 Exam Date Announced
On October 4, 2021, the PFRDA recruitment 2021 exam date was announced. The PFRDA Officer Grade A (Assistant Manager) Phase 1 exam was held on October 17, 2021. Further, PFRDA Officer Grade A (Assistant Manager)
Phase 2 Online Examination was held on December 19, 2021.
PFRDA Recruitment 2021
The Pension Fund Regulatory and Development Authority or PFRDA released an official notification on August 12, 2021, for the recruitment of officers in Grade 'A'. They announced 14 vacancies in all, 5 for the Generalist post and 9 for Specialist Officers. 
Take a look at all the PFRDA vacancies for 2021.
PFRDA Recruitment Exam Pattern
The exam pattern comprises three stages:
Phase 1- (Online screening-qualifying in nature)
Phase 2- (Online examination) (MCQ + Descriptive)
Interview
Phase 1
This phase consists of two papers. The first paper is common for all the streams. Paper 2 will be assessed on stream-specific subjects.
Paper 1
| | | | | |
| --- | --- | --- | --- | --- |
| | Subject | Type | Maximum Marks | Maximum No. of Questions |
| 1 | English Language | MCQ | 25 | 20 |
| 2 | Quantitative Aptitude | MCQ | 25 | 20 |
| 3 | Reasoning | MCQ | 25 | 20 |
| 4 | General Awareness (including some questions related to financial sector) | MCQ | 25 | 20 |
| | Total | | 100 | 80 |
Phase 2
Paper 1
Paper 1 for Phase 2 is common for all streams. The total time allotted is 1 hour.
| | | | | |
| --- | --- | --- | --- | --- |
| | Subject | Type | Maximum Marks | Maximum No. of Questions |
| 1 | All Streams (Descriptive English) | Descriptive | 100 | 3 |
Please note: Paper 2 for both phases 1 & 2 is stream-specific.
Interview
Candidates will be invited for the Interview based on their performance in Phase 2. The final merit is announced based on 85% marks obtained in the PFRDA Exam Phase 2 and 15% of marks earned in the Interview.
PFRDA 2021 Syllabus
Let us look at the common subjects that will be assessed in all the exams.
Phase 1: Paper 1
There are 4 subjects assessed in this paper. They are:
English Language
Quantitative Aptitude
Reasoning
General Awareness
Phase 2: Paper 1
This paper is on Descriptive English.
Take a look at the detailed PFRDA syllabus before you begin your preparation or make your study plan.
PFRDA 2021 Important Books
Now that we have outlined the common parts for the different streams of the PFRDA exams for you, we have listed some books below that you can refer to as you prepare.
Quantitative Aptitude
Quicker Mathematics by BSC Publications
Quantitative Aptitude by R.S. Aggarwal
Fast Track Objective Arithmetic by Rajesh Verma
Reasoning
A Modern Approach to Verbal & Non-Verbal Reasoning by R.S. Aggarwal
How to Crack Test of Reasoning by Jaikishan and Premkishan
Analytical Reasoning by M.K. Pandey
English
Descriptive General English by SP Bakshi
English Grammar by Wren & Martin
Word Power Made Easy by Norman Lewis
General Awareness
Lucent's General Knowledge with General Knowledge 2021 Edition by Lucent Arihant Experts
PFRDA 2021 Tips to Prepare for All Streams
The Prelims (Paper 1) syllabus is quite simple and basic. It is more or less the same for any competitive exam.
Dedicate time to practicing your mathematics.
Quants and Reasoning are the subjects that candidates generally find more challenging. So, right from the initial stage, it will be advantageous for you to dedicate more time to it.
For your Descriptive English paper, you can read some sample essays and letters that will help you understand how you should frame your answers.
Use ixamBee's BeePedia to prepare for General Awareness. We provide succinct capsules on all matters of current affairs that you can read anytime you like.
Most importantly, you have time on your side. So, if you do wish to appear for more than one stream, you can absolutely do it!
Important Points to Remember
Unlike earlier, the selection process has been divided into 3 phases. The first two phases are written whereas the third is an interview and group discussion round. Earlier there were only 2 phases in the selection process.
2 out of 4 papers are common for all these exams. So that's half the battle won.
3 out of 4 papers will have MCQ-type questions. Only one paper (Phase 2, Paper 1) will be of Descriptive nature.
You can take our PFRDA free mock tests to gauge your preparation.
If you are planning to take this exam, the last day to send in your application is September 16, 2021.
Why ixamBee?
ixamBee is your one-stop solution for all competitive exam needs. For the PFRDA exam, our PFRDA Online Course will provide you with all the study material you need to clear this exam with flying colours. Moreover, our courses also offer interview guidance and practice questions that will ensure you make it through till the end.
We also have exclusive courses on the separate Specialist Officer openings as well that are at your disposal. For your convenience we have listed our specialist courses for you below.
Finance Online Course for PFRDA
Additionally, we also offer PFRDA previous years' papers that you can utilize at any stage of your preparation.
At ixamBee you can find a number of Online Courses, GK updates in the form of BeePedia, as well as latest updates for Bank PO, Bank Clerk, SSC, RBI, NABARD and Other Government Jobs.
Also read
Full Form of PFRDA with All Details