PFRDA Grade A Exam Dates 2022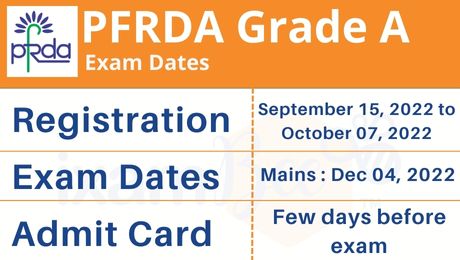 The PFRDA Grade A official notification 2022 includes all important dates related to the PFRDA Grade A application dates, exam dates, admit card release dates and other related information. The PFRDA Grade A online application 2022 will commence on September 15, 2022 and conclude on October 7, 2022.
PFRDA Officer Grade A (Assistant Manager) Important Exam Dates 2022
Events
Important Exam Dates
Online Registration and Payment of Online
Fees/Intimation Charges 2022

September 15, 2022 to October 07, 2022

Phase 1 Online Exam Dates 2022
November 05, 2022
PFRDA Grade A Phase 1 Online Exam Result 2022
Click Here
Phase 2 Online Examination 2022
December 04, 2022
Phase 2 Online Exam Result 2022 (Candidates with roll numbers have qualified in the Phase 2)
[Click Here]
Phase 3 Interview Dates 2022
January 30, 2023 to February 14, 2023 (Tentative)
PFRDA Grade A Final Result
Click Here
PFRDA Grade A Exam Centres
While filling in the application form, you will be asked for your choice of PFRDA Grade A exam centres 2021. You can choose up to three centres for the Phase 1 exam and only one centre for the Phase 2 exam. The choice of centres for the PFRDA Grade A exam for Phase 1 and Phase 2 can be different. Be selective in choosing your venue, since no request to change the exam centre shall be entertained later. If you are applying to two streams, then you need to choose the same centres for Phase 1 and Phase 2 exams.
The PFRDA will try to allot the preferred test centre to you. However, in case of low popularity or high popularity, the PFRDA may allot another centre for you. You are supposed to take care of your expenses incurred to reach the exam venue. PFRDA reserves the right to change the exam centres at its behest.
PFRDA Grade A Phase 1 Exam Centres
| East Zone | West Zone | North Zone | South Zone | Central Zone |
| --- | --- | --- | --- | --- |
| Patna | Mumbai Metropolitan Region | Delhi / NCR | Hyderabad | Nagpur |
| Guwahati | Sural | Lucknow | Trivandrum | Raipur |
| Bhubaneshwar | Ahmedabad / Gandhinagar | Jammu | Bangalore | Indore |
| Ranchi | Jaipur | Dehradun | Visakhapatnam | Prayagraj |
| Imphal | Pune | Meerut | Kochi/ Ernakulam | Prayagraj |
| Siliguri | Hubli/ Dharwad | Haldwani | Madurai | |
| Agartala | Aurangabad (MH) | | Coimbatore | |
| Muzaffarpur | Nasik | | Vijaywada | |
| | Panaji | | | |
PFRDA Grade A Phase 2 Exam Centres
| East Zone | West Zone | North Zone | South Zone | Central Zone |
| --- | --- | --- | --- | --- |
| Kolkata | Mumbai / Navi Mumbai / Thane/ Mumbai Metropolitan Region | Chandigarh / Mohali | Chennai | Bhopal |
| Patna | Ahmedabad / Gandhinagar | Delhi / NCR | Hyderabad | Nagpur |
| Guwahati | Jaipur | Lucknow | Trivandrum | Raipur |
| Bhubaneshwar | | | Bangalore | |
| Ranchi | | | | |
Recommended Courses for you