"10th ke baad Science stream lo, bahot scope hai, Commerce to easy hoti hai or Arts mei to kuch karna hi nahi hota."
Every Student has grown up listening to these stereotypical and illogical statements in Indian households. This has influenced the career decisions of thousands of students. As a result, due to the lack of awareness and social pressure, many students ended up taking irrelevant and wrong decisions. It makes them witness the journey of regret and self-doubts and suffer for a lifetime.
Primarily, we should understand that every subject stream has different career paths, and we can't compare different subjects with each other. No matter whether it is the private sector or the public, opportunities are available for everyone in every field. In this blog, we are going to discuss the Government Job opportunities after B com (Bachelor in Commerce) graduates.
India possesses the largest number of youth in the world. This means we live in a land full of the most meaningful and ambitious minds. Every student, when completing their school, expects to opt for a course that opens the gate of numerous attractive opportunities. But most of the time, they often get confused among the various career options available in our country.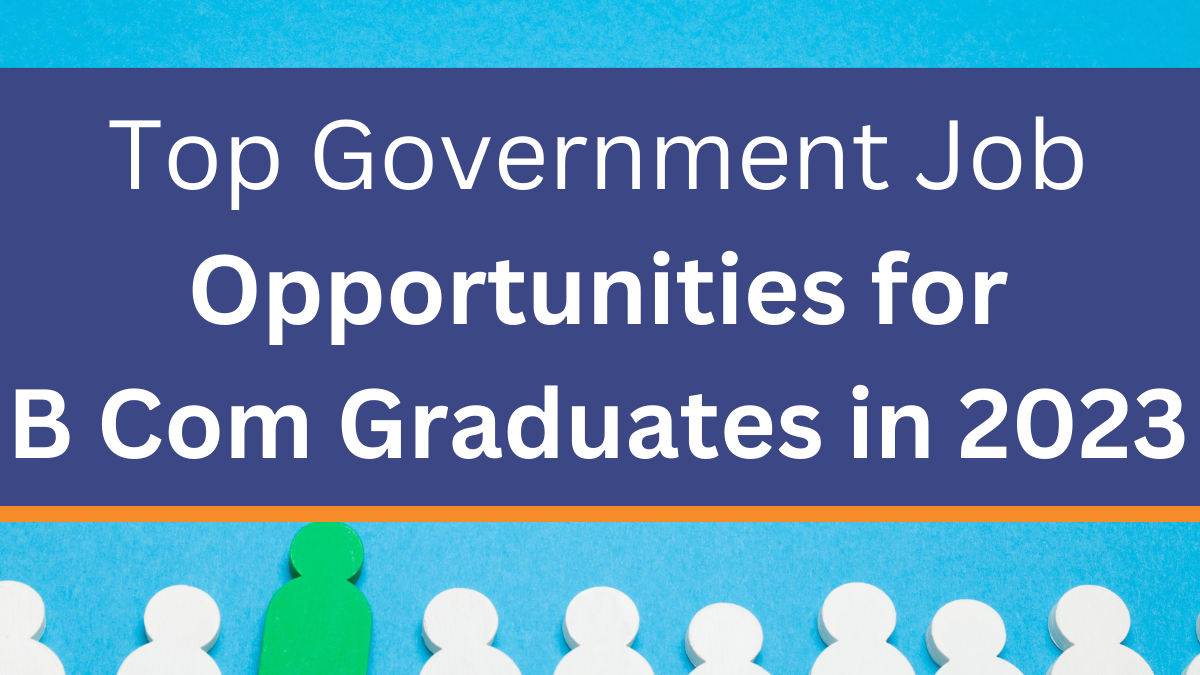 But we, the Team ixamBee, is here at your rescue to clear every doubt related to your career. So if you or someone you know is a B com graduate looking for career opportunities in the public sector, then read this blog till the end.
Career Options for Bcom
Government Job, what a feeling of pride it gives in every heart. Most of the time, students struggle to find the right gateway to become successful in their careers. The right way, the right guidance and the right mentor, but we provide it all. There are many fields where you can build your career in general after Bcom in general. Below is the list of career opportunities you will get access to after Bcom Graduation: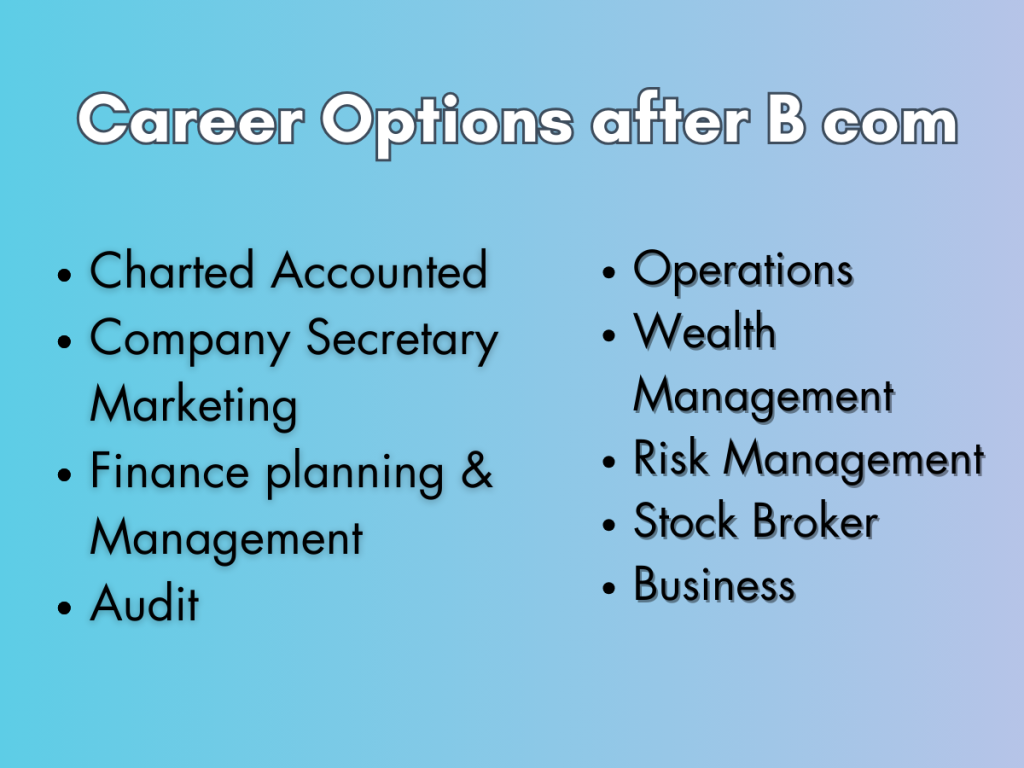 Above career opportunities are for any commerce graduate or post Graduate. We'll discuss the government job opportunities in these fields later in this blog. For now, let's move toward general after Bcom Government job opportunities.
List of General Government Job Opportunities after Bcom
IBPS PO
IBPS PO is one of the most prominent and prestigious Government Job options among every graduate. It is an exam conducting organisation for public sector banks, and various banks participate under it. The selected candidates get allocated to any public sector bank participating under IBPS. The best part is the IBPS PO notification recently got published for 3049 vacancies in various public sector banks, and you can apply for it till 21st August 2023.
Also, don't forget to check the Exam pattern and syllabus of the IBPS PO Exam before starting to prepare for it. The eligibility criteria for IBPS PO is that a candidate must be graduated from a recognised university or equivalent organisation. Also, the age should be at least 20 and at most 30 years. So if you are a commerce graduate and above 20 years, then you are eligible for the IBPS PO exam.
IBPS Clerk
IBPS clerk is yet another career option to initiate a career in the banking sector for a fresh B Com Graduate. The IBPS Clerk Notification 2023 got released in July 2023. The IBPS Clerk exam is likely to be held in September 2023. Students are all set with their preparation to ace the IBPS Clerk Exam 2023. Every year the IBPS conducts the exam for clerk posts for various public sector banks. Therefore, don't dishearten if you couldn't apply for the IBPS clerk Exam. You just need to stay updated with the IBPS Clerk Exam notification from the authentic resources.
The eligibility criteria for IBPS Clerk Exam is you need to be graduated from a recognised university or equivalent institute. Your age must be between 20 and 28 years. Also, computer knowledge is mandatory here. You should have a computer language degree, diploma or certificate from a recognised institution. So if you meet all the mentioned criteria, then you are eligible to apply for the IBPS clerk Exam next year.
RBI Grade B Officer
RBI Grade B officer is yet another promising career option for fresh graduates looking to embark on a successful journey in the banking sector. The RBI Grade B officer notification for the year 2023 was released in May for the 291 vacancies. The phase 1 exam was held on the first week of July 2023, and phase 2 in July last week. Shortlisted candidates are diligently preparing to excel in the RBI Grade B officer Exam interview 2023. Each year, the Reserve Bank of India (RBI) conducts this prestigious exam to select candidates for the Grade B officer positions, which are crucial roles in the central banking system of India. If you missed applying for this year's exam, do not worry. Keep an eye out for the RBI Grade B officer Exam notification from reliable and authentic sources to be prepared for the next opportunity.
UPSC Exams
UPSC exams are the most promising and prestigious avenue for fresh graduates aspiring to embark on a rewarding and successful career in the government sector. The UPSC (Union Public Service Commission) conducts various exams throughout the year to recruit candidates for prestigious positions in civil services, including IAS, IPS, IFS, and other central government services. Its exam notifications for the year 2023 were released in March, offering candidates a chance to compete for a range of vacancies across different government departments and services. The UPSC exams are conducted in multiple stages, with the preliminary exam usually held in June and the main exam in September. Aspirants who qualify in the main exam are then called for the interview round, which is the final stage of selection.
The list of government exams that demands the eligibility criteria to be a graduate is enormous. If you have graduated with a minimum of 50% marks, then you are eligible for many such government exams like NABARD, LIC, NIACL, SSC, SBI etc.
But this blog is specifically about Bcom Graduates, so now we will talk specifically about the government organisations or the fields that demand Bcom or commerce graduates.
List of specific Government Job opportunities after Bcom
There are many job roles that demand specifically only Bcom or any other equivalent commerce graduate. Below are some job roles that require b com or anyone who graduated from the commerce field:
Charted Accountant
A Chartered Accountant is a financial professional with expertise in accounting, auditing, taxation, and financial management. They analyse financial data, prepare reports, ensure compliance with regulations, and offer strategic financial advice to businesses and individuals, contributing to sound financial decision-making and overall financial health. There are many Government Organisation that hires Charted Accountants. Below is a list of some of them:
Public Sector banks like Punjab National Bank, State Bank of India (SBI), Reserve Bank of India (RBI) etc.
National Rural Health Mission (NRHM)
Gas Authority of India Limited (GAIL)
Metro Rail Corporation Limited
UPSC (Union Public Service Commission)
LIC (Life Insurance Corporation)
You just need to keep an eye on the respective websites to stay updated about the opening, if any. All you have to do is to meet the relevant eligibility criteria and follow the instructions mentioned in their notification.
Company Secretary
The Company Secretary is responsible for ensuring compliance with legal and regulatory requirements, managing board meetings, maintaining corporate records, and providing expert advice on corporate governance. They play a crucial role in facilitating effective communication between the board, management, and stakeholders. The role involves drafting reports, managing documentation, and ensuring adherence to relevant laws and policies. The Company Secretary is a key figure in promoting transparency, accountability, and ethical practices within the organization, contributing to its smooth operation within the framework of government guidelines. Below is the list of Government organisations that hires Company secretaries for relevant job roles:
Public Sector Undertakings (PSUs)
Banks and Financial Institutions
Securities and Exchange Board of India (SEBI)
National Stock Exchange (NSE)
Bombay Stock Exchange (BSE)
Insurance Regulatory and Development Authority of India (IRDAI)
Central Public Sector Enterprises (CPSEs)
Ministry of Corporate Affairs (MCA)
Various Government Ministries and Departments
Every organisation has some corporate dealings that need supervision in a suitable professional manner. Company Secretary is a long process that takes years to be completed. There are two stages which you need to qualify. One is the Foundation programme, and the other is the executive. The ICSI (Institute of Company Secretaries of India) conducts these programmes twice a year. The applications for the foundation program gets called in the month of March and September in order to conduct exam in December and June, respectively. Similarly, for the executive program, applicants are called in the month of February, May, August and November to conduct two exams in December and two in June. You can get more information information about it on the official website of the ICSI.
Marketer
A government sector marketer develops and implements strategic marketing plans to promote government programs, services, or initiatives. They analyze target audiences, conduct research, create engaging content, manage communication channels, and monitor campaign effectiveness. Their goal is to increase public awareness and engagement with government services and policies. There are many government organisations hiring for vacancies in the marketing department. There are various job roles for a marketing professional, such as; Marketing Assistant, Sales in charge etc. Below is the list of organisation that hires for the Marketer role:
Cotton Corporation of India
My Gov.in
Election Commission of India
Various Political Parties
Indian Institute of Management
Life Insurance Corporation (LIC)
There are many more government organisations that hire in the various roles of the marketing department. You just need to keep a check on the respective websites to get updated with the current vacancies in the respective organisations. If you are a b com or commerce graduate and possess excellent marketing skills, then nothing can stop from get your career started in these prestigious Government organisations.
Stock Broker
A government stock broker facilitates the purchase and sale of securities for government entities. They analyze market trends, advise on investment strategies, execute trades, and manage portfolios to achieve financial goals. They ensure compliance with regulations, optimize investments and contribute to the government's financial stability and growth. If the stock operations excites you, then this is a perfect role for you to be fit in.
Here is a list of Government organisations below that hires stock brokers.
Bombay Stock Exchange (BSE)
Stock Exchange Beaureu of India (SEBI)
National Stock Exchange (NSE)
The fore mentioned organisations are some of the prominent and reputed government organisations having a monopoly in the stock market of India. Every year all of them release their notification for various roles, including stockbroker. Hence, if you are interested in building your career in the Trading or Stock field, then you are made for this job role.
Human Resource Department
A government HR professional manages employee recruitment, training, benefits, and performance evaluations. They interpret and enforce government HR policies, ensure fair labour practices, and handle personnel matters. They contribute to a productive and diverse workforce, promoting efficiency, compliance, and a positive work environment within the government organization. Below is the list of some government organisations that hires HR Professionals:
Union Public Service Commission (UPSC)
Department of Personnel and Training (DoPT)
State Bank of India (SBI)
Indian Railways
National Thermal Power Corporation (NTPC)
You must have heard about the aforementioned organisations. They all need no introduction, and the best part is HR professional is one of the most vital job profiles required by these organisations. So if you are interested in manpower management or any other HR Role, then this post is for you.
Operations Professional
An operations professional in a government organization manages the day-to-day activities, coordinates processes, and ensures the efficient execution of government programs. They oversee resource allocation, monitor project timelines, analyze operational data, and streamline workflows. Their role involves optimizing service delivery, maintaining compliance with regulations, and contributing to effective governance. Below is the list of some Government organisation that hires operations professional for the organisation's smooth functioning:
National Health Mission (NHM)
Reserve Bank of India (RBI)
Indian Railways
Central Public Works Department (CPWD)
Food Corporation of India (FCI)
The above mentioned government organisations offer lucrative salaries along with numerous perks and benefits. All these organisations are one of the most potent and major pillars of strength of the Indian infrastructural and overall development. Hence, contributing to their daily operations is something that can provide you with a sheer sense of self-satisfaction and social reputation. Hence, keep an eye on the website of all these organisations in order to stay updated with the relevant vacant roles.
Conclusion
It's crucial to dispel the stereotypes that often influence students' career choices based on their chosen educational streams. Every subject, including Science, Commerce, and Arts, offers distinct career paths with unique opportunities in both the private and public sectors. For BCom graduates, there's a diverse array of government job opportunities, including roles such as Chartered Accountants, Marketers, Stock Brokers, HR Professionals, and Operations Professionals. Various esteemed government organizations like UPSC, RBI, Indian Railways, and more provide openings in these fields. Staying informed about eligibility criteria and keeping an eye on official notifications is essential to make the most of these rewarding career avenues. By embracing the possibilities offered by government jobs, BCom graduates can contribute significantly to the development of our nation while enjoying fulfilling and successful careers.