IBPS Clerk Notification
This Diwali, burst crackers and get upto 38% off on all ixamBee courses;
Click here to Burst !!!
Notification 2021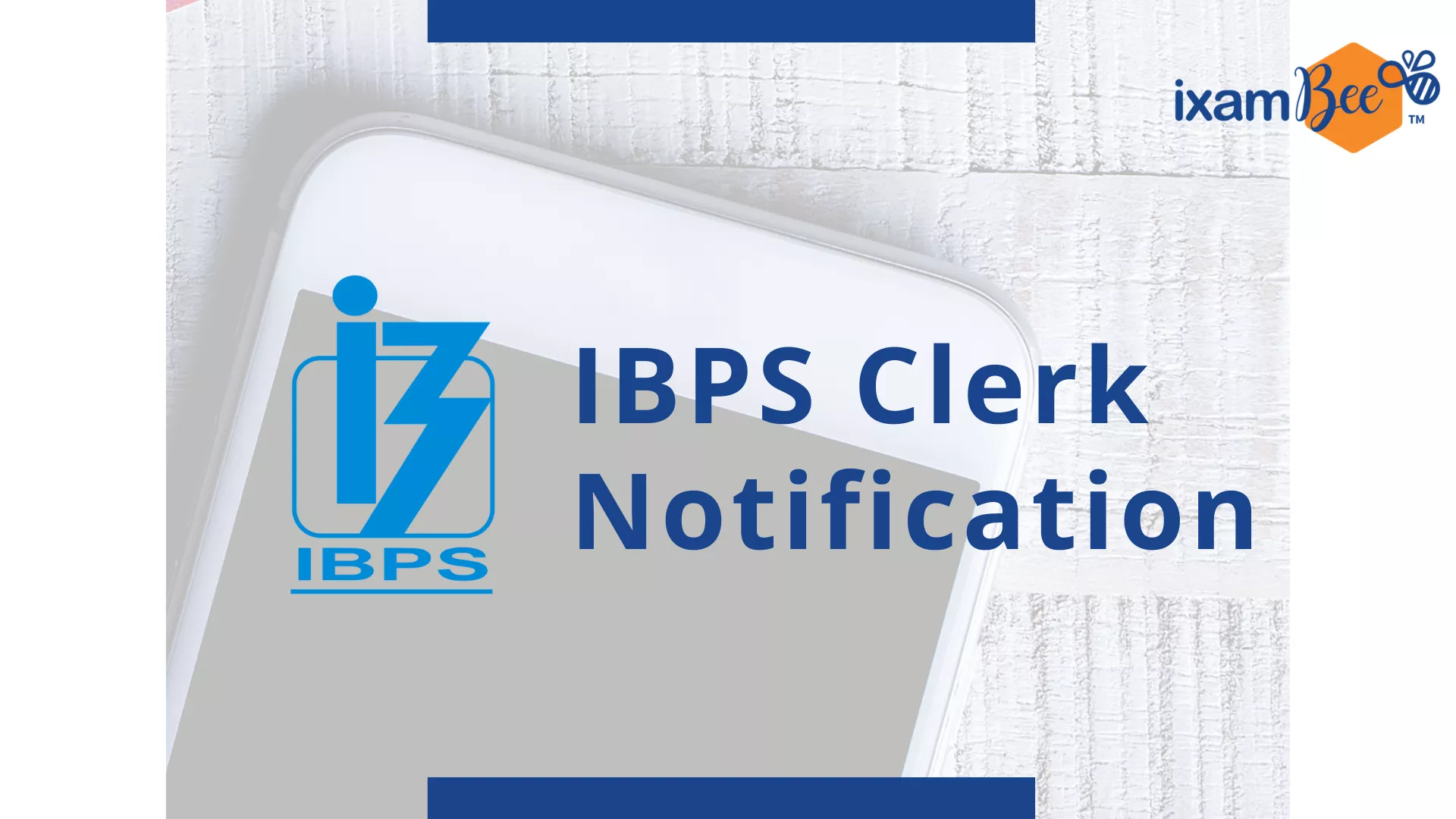 Finally, the wait is over. Revised official notification of IBPS Clerk exam 2021 has now been released. All the exams conducted by IBPS hold utmost importance as they give a golden chance to make your place in one of the best banks. The online registration window for the IBPS Clerk exam 2021 is now open. IBPS Clerk Prelims is scheduled to take place in the month of December 2021.
How to Apply Online
IBPS Clerk official notification 2021 has been released and the application process has also been started. Before you start applying, you should be completely aware of the complete application process and also check and keep all your details ready along with the documents that will be required while filling the application form for IBPS Clerk. You cannot miss any detail in the application form, otherwise, your application will not be considered complete and you will not be able to move ahead in the process. You can apply for the IBPS Clerk exam 2021 till October 27, 2021. Please note that those who have already registered successfully, during July 12-14, 2021, need not apply again. Their earlier application will be considered for further process. There is nothing much complicated about the IBPS Clerk application process and can be divided into a few simple steps as follows:
Visit the official website of IBPS and register yourself by clicking on the 'New Registration' tab.
Enter all the basic details that will be asked which will lead to successful registration. A provisional registration number and password will be generated and you can save it for further use.
The next step will be uploading your scanned photograph, handwritten declaration, and signature according to the mentioned specifications.
After successful upload, you will be directed to another form where you will have to fill in your other details including education, experience, marks, etc.
You need to click on 'Save & Next' every time you fill in your details after verifying the details.
You will be shown a preview of your application form and you can check and edit if you find any error. Once you finally submit the form, you will not be able to make any changes.
The final step would be payment of the application fee which will also be done through online mode.
Click on the 'Submit' button to finally complete the application.
The text for the Handwritten declaration must be in running letters. The text for Handwritten declaration is as follows: "I, _______ (Name of the candidate), hereby declare that all the information submitted by me in the application form is correct, true and valid. I will present the supporting documents as and when required."
Guidelines for Uploading Photograph, Signature & Handwritten Declaration

Dimensions of the photograph should be 4.5*3.5 cm and the photograph should be clear and passport size.
The size of the photograph must be between 20kb-50kb.
The signature of the applicant should be clear and legible. The signature should be done with blue or black ink.
The size of the file should be between 10kb-20kb.
The handwritten declaration should be in the candidate's handwriting and only in English.
The signature / handwritten declaration should not be in capital letters.
Application Fee
Once all the details of the IBPS Clerk recruitment have been entered, the next and final step will be to pay the online application fee. You will be given online payment options. You can pay the fees through credit card/debit card/net banking etc. The fee amount will be different according to the category you belong to. The details of the IBPS Clerk application fee are given below:
| Category | Application Fee |
| --- | --- |
| SC/ST/PWBD/EXSM candidates | Rs. 175 (inclusive of GST) |
| Others | Rs. 850 (inclusive of GST) |
Admit Card 2021
After the application process of IBPS Clerk is completed, the admit card of IBPS Clerk Prelims will be released on its official website. It is extremely important to keep a check on IBPS official website to stay updated about the release date of the IBPS Clerk admit card. You need to download the IBPS Clerk admit card from the official website and get a print. This copy along with valid identity proof will have to be brought to the exam venue. All the details of the exam venue, timing, date, etc will be printed on the admit card of the IBPS Clerk.
Important details regarding the Call letter of IBPS Clerk exam 2021:
Your IBPS Clerk Prelims exam admit card will not be collected at the time of the exam as it used to be earlier, however, it will be duly stamped by the exam centre staff.
You have to bring this call letter with you to the Mains exam centre along with the IBPS Clerk Mains exam admit card. Besides this, you have to bring all the other required documents as per the information provided in the "information handout" such as photographs, Valid ID Proof (Orginal as well as photocopy).
Your call letter must have a photograph pasted on the call letter with one additional photograph (same as pasted on the call letter). Without this, you will not be allowed to appear for the exam.
Your IBPS Clerk Mains admit card along with the preliminary admit card will be collected at the time of Mains examination.
Also Note:
In case you fail to bring the authenticated/ stamped call letter of prelim exam and authenticated/stamped photocopy of ID proof at the time of the main exam, you will not be allowed to appear for the exam.
Number of Attempts
There is no restriction on the number of attempts as long as you fall under the age limit prescribed by IBPS. The age limit for the IBPS Clerk exam is 21-28 years.
IBPS Clerk Pre-exam Training
IBPS provides the facility of Pre-exam Training for some categories. This Pre-exam Training is held in various centres across the country. This training is held to give all exam-related information that helps you in appearing for the exam in a smooth manner. The training will have to be undertaken at your own cost and you have to give your preference while filling the IBPS Clerk application form.
Please note that this time the pre-exam training for IBPS Clerk exam 2021 may not be held due to the ongoing pandemic COVID-19. However, the date for Pre-exam training is scheduled to be in November 2021. Any update regarding this will be informed by IBPS in due course.
Pre-Examination Training Centres
Agartala
Agra
Ahmedabad
Amritsar
Aurangabad (Maharashtra)
Balasore
Behrampur (Ganjam)
Bengaluru
Bhopal
Bhubaneshwar
Chandigarh
Chennai
Coimbatore
Dehradun
Dhanbad
Gorakhpur
Gulbarga
Guwahati
Hubli
Hyderabad
Indore
Jabalpur
Jaipur
Jammu
Jodhpur
Karnal
Kavaratti
Kochi
Kolkata
Lucknow
Ludhiana
Madurai
Mangalore
Mumbai
Muzaffarpur
Mysore
Nagpur
New Delhi
Panaji (Goa)
Patiala
Patna
Port Blair
Prayagraj (Allahabad)
Pune
Raipur
Rajkot
Ranchi
Sambalpur
Shimla
Shillong
Siliguri
Thiruchirapalli
Thiruvananthapuram
Tirupati
Vadodara
Varanasi
Vijaywada
Vishakhapatnam
IBPS Clerk Notification Related Quick Links
---
Boost your preparation with Beepedia
---
High Quality Mock Test for you
---
Free Important Video Lectures
Frequently Asked Questions
Q1:
Has the online application process for IBPS Clerk 2021 commenced?
A:
Yes, the IBPS Clerk online application process has commenced already and the last date to apply is October 27, 2021.
Q2:
How many vacancies have been announced this year by IBPS for the post of Clerk?
A:
IBPS has announced a total of 7855 vacancies for the post of Clerk in the revised notification.
Q3:
Are there any useful videos available on IBPS Clerk 2021?
A:
Yes, you can find many useful videos available on ixamBee related to IBPS Clerk notification.
Q4:
Will there be any interview in IBPS Clerk recruitment process?
A:
No, there will not be any interview in IBPS Clerk recruitment process.
Q5:
Will there be any sectional timings in IBPS Clerk 2021 exam?
A:
Yes. There will be separate timings allotted to each section in the IBPS Clerk Prelims as well as Mains examination.
Q6:
Is there any limit on the number of attempts for IBPS Clerk 2021?
A:
No, there is no such limit on the number of attempts for IBPS Clerk exam 202. A candidate can apply for the exam until he reaches the maximum age limit.
Q7:
What is the minimum educational qualification required to apply for IBPS Clerk 2021 Examination?
A:
The minimum qualification required to apply for IBPS Clerk 2021 will be a 'graduate' degree in any discipline from a recognized university.
Would you like to rate us 5 star.
Search