IBPS Clerk Final Result 2021 OUT!!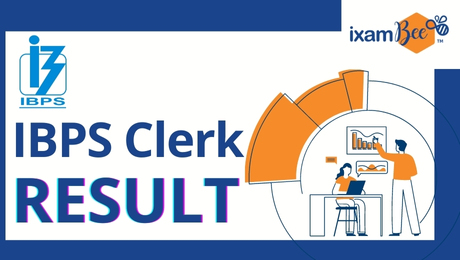 The IBPS Clerk Mains results are out on April 01, 2021!! Candidates can check their IBPS Clerk results for the online Main exam from April 01 till April 30, 2021. So aspirants can follow this page to download IBPS Clerk 2021-22 results on time as ixamBee is a perfect platform to check IBPS Clerk results.
Candidates who appeared for the IBPS Clerk Mains 2021 can check the result by using the direct result link given below. The scorecard of an individual for IBPS Clerk 2021 will also be released. The cutoff merit will also be available so that all those who fail to make it to the final IBPS Clerk result 2021 can gauge where they lacked.
How to Check IBPS Clerk Final (Mains) Result 2021?
To check the IBPS Clerk result 2021, follow the simple steps mentioned below.
Visit the official website of IBPS
After visiting the IBPS Website, Click on " Check your IBPS Clerk result 2021"
Enter your registration/roll number and password/ date of birth
Your IBPS Clerk 2021 result will be available along with marks and cutoff merit list
IBPS Clerk Prelims Result 2021
IBPS Clerk 2021-22 Preliminary examination was conducted on December 12, 18 and 19, 2021 at various examination centres across India. If you cleared the IBPS Clerk overall and sectional cutoff, you will be called for IBPS Clerk Mains. You can check your IBPS Clerk Prelims 2021-22 result Score Card from the link provided below so that you do not repeat the same mistakes in the upcoming IBPS Clerk 2021-23 exam.
Have a success story? Share with us at hello@ixambee.com
(If we have contributed to your selection through our Mock Tests/ PYP/ Online Course or Youtube, you can share your success story with us. This will help aspirants prepare for IBPS Clerk 2022-2023 and other upcoming banking exams.
What Next after the IBPS Clerk result 2021
If you got Selected
First of all heartiest congratulation to all the candidates who make to the final IBPS Clerk 2021 result merit list. After you join any nationalized bank through IBPS, you will be on a probation period for certain months depending upon the bank that has been allotted to you. After those rigorous probation periods, you will become a full-fledged Clerk in any nationalized bank. Some of the duties and responsibilities that you will perform as a Clerk in any nationalized bank include:
Document Verification
Maintaining the ledger, data entry, ESI stamps
Issue Cash Receipts and Cheque books
Government Treasury Work
Handling withdrawals, deposits, demand drafts, etc.
A Clerk is also called a Single Window Operator who handles the cash counters and also interacts with the customers and resolves their issues.
Also, you have ample opportunity to rank higher in the hierarchy as your experience in the banking sector increases.
| Post | Scale | Grade |
| --- | --- | --- |
| Clerk | - | - |
| PO | Scale I | Junior Management Grade |
| Manager | Scale II | Middle Management Grade |
| Senior Manager | Scale III | Middle Management Grade |
| Chief Manager | Scale IV | Senior Management Grade |
| Assistant General Manager | Scale V | Senior Management Grade |
| Deputy General Manager | Scale VI | Top Management Grade |
| General Manager | Scale VII | Top Management Grade |
| Executive Director (ED) | - | - |
| Chairman and Managing Director (CMD) | - | - |
If you missed the IBPS Clerk merit list
"Failure is an inescapable part of life and a critically important part of any successful life."
Hard luck! That you missed making it into the final IBPS Clerk result 2021-22 merit list. But it's never too late to get up and start fresh. Yes, it feels painful to miss the IBPS Clerk result list 2021 but learn from your mistakes and not repeat them for the upcoming IBPS Clerk 2021-23 exam so that next time you too have a story and journey to share. Some of the points that you should consider from your IBPS Clerk 2021 failure-
Check out the IBPS Clerk result 2021 cutoff for each section and overall so that you know by how many marks you have missed the merit list.
Get aware of whether it is a particular section or overall score that has hindered your success.
Now start attempting sections as well as IBPS Clerk exam 2021-23 online mocks to gain speed and accuracy.
Along with attempting IBPS Clerk free mocks, work on your concepts and some short tricks that will save your valuable time in the exam.
If a bit confused about how and from where to start your IBPS Clerk 2021-23 exam preparation, take help from trustworthy and experienced people.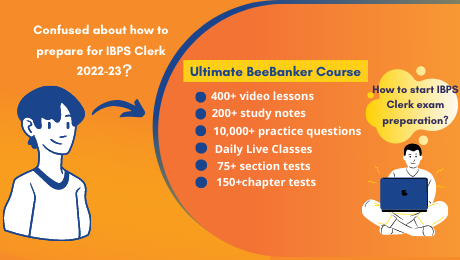 Recommended Courses for you