Salary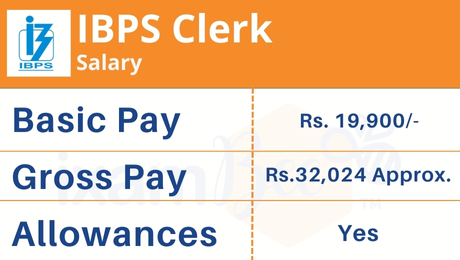 IBPS conducts exams to recruit staff in various banking organizations in the country. It is the dream of every job aspirant to get a job that is secure and also provides benefits along with a good salary. This is why jobs in the banking sector are preferred. IBPS Clerk exam is one of the most popular jobs as it gives a good opportunity to enter the banking sector and let one grow gradually while learning all smaller and bigger tasks in a bank and understand its working.
Given below are the details for the IBPS Clerk 2022 salary.
Salary
Basic Pay
Rs.19,900/-
Dearness Allowance
Rs.5209.82/-
Special Allowance
Rs.4118/-
Transport Allowance
Rs.757.08/-
House Rent Allowance(HRA)
Rs.2039.75/-
Gross Pay
Rs.32,024.65/-
Deduction (NPS Fund, Union Fee)
Rs.2570.98/-
Net Pay
Rs.29453.67/-
If there is any change in the IBPS Clerk 2022 salary, we will update it. Keep visiting this page for any new updates.
Job Profile
IBPS conducts an online exam for the post of Clerk in various Banks. A Bank Clerk has a very essential and vital role in the banking industry. A Clerk is the face of the Bank directly dealing with the customers. A Clerk handles a variety of tasks in a Bank. Some of the basic responsibilities are as follows.
Document Verification
Maintaining the ledger, data entry, ESI stamps
Issue Cash Receipts and Cheque books
Government Treasury Work
A Bank Clerk is also responsible for marketing financial products of the Bank such as deposits, loans, and schemes.
A Clerk will also have to handle withdrawals, deposits, demand drafts etc.
A Clerk is also called a Single Window Operator who handles the cash counters and also interacts with the customers and resolves their issues.
Recommended Courses for you