IBPS PO Exam Syllabus
Thanksgiving gift with 38% Off on all Courses
Use Code: THANKS38
Syllabus 2021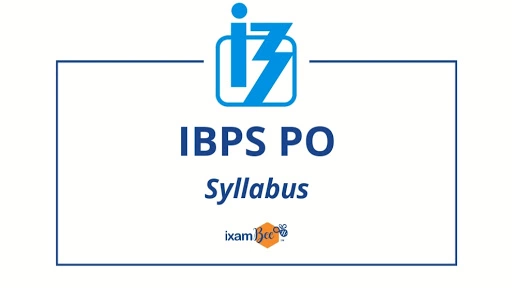 You should be well aware of the IBPS PO syllabus 2021 in order to avoid missing out on any important details which might be helpful in cracking the IBPS PO exam 2021. You should know 'what' to prepare before you know 'how' to prepare. As the IBPS PO exam is conducted in three phases, which include two online tests (objective + descriptive) and the last is Interview, therefore, you should take note of the IBPS PO exam syllabus for the first two phases: Prelims and Mains. You should know 'what' to prepare before you know 'how to prepare'. Acquainting yourself with the syllabus will help you in getting hold of the real exam pattern of IBPS PO and you can start preparing accordingly.
IBPS PO Prelims Syllabus 2021
The syllabus is an important part of exam preparation. As the official notification has been released now, it will be better to have a thorough look over the IBPS PO syllabus 2021. You must be aware of the complete syllabus in order to avoid missing any important details which might be helpful in cracking the exam. IBPS PO Prelims consists of three sections Reasoning, English Language, and Quantitative Aptitude. You can find the IBPS Probationary Officer syllabus for Prelims below.
| Section | Topics |
| --- | --- |
| Quantitative Aptitude | Simplification and approximation, Number Series, Quadratic Equation, Number System / HCF & LCM, Ratio and Proportion, Average, Partnership, Ages, Percentage, Profit & Loss, Time, Speed & Distance, Problems on Trains, Boat and Stream, Time & Work / Pipes and Cisterns, Simple and Compound Interest, Mixture & Allegations, Permutation and Combination, Probability, Data Interpretation (DI), Caselet DI and Data Sufficiency |
| English Language | Grammar, Vocabulary, Reading Comprehension, Passage Making, Error Spotting, Jumble Words, Sentence Framing, Fill in the blanks |
| Reasoning Ability | Puzzles, Seating Arrangement- Circular, Square & Linear, Data Sufficiency, Directions and Distance, Coding Decoding, Blood relations, Inequality, Syllogism, Machine input and output, Verbal Reasoning, Ordering and Ranking, Arrangement and Pattern, Scheduling, Distance and Direction, Ranking |
IBPS PO Mains Syllabus 2021
In the IBPS PO exam 2021, the main difference between both phases is the level of the questions, the number of sections & questions, and the marks allotted to them. The IBPS PO Mains exam contains two additional sections - 'General Awareness' and 'Computer Aptitude'. The complete details of the topic-wise IBPS PO exam syllabus for Mains can be gathered from the table below. Also, you can refer BeePedia to prepare for the General Awareness section.
Section
Topics
Data Analysis & Interpretation
Tabular Graph, Line Graph, Pie Chart, Bar Graph, Radar Graph, Missing Case DI, Caselet DI, Data Sufficiency, Probability, Permutation and Combination
Reasoning & Computer Aptitude

Reasoning:

Verbal Reasoning, Syllogism, Circular Seating Arrangement, Linear Seating Arrangement, Caselet Double Lineup, DI Scheduling, Input Output, Blood Relations, Directions and Distances, Ordering and Ranking, Data Sufficiency, Coding and Decoding, Code Inequalities, Course of Action, Critical Reasoning, Analytical and Decision Making

Computer:

Internet, Memory, Keyboard Shortcuts, Computer Abbreviation, Microsoft Office, Computer Hardware, Computer Software, Computer Fundamentals /Terminologies, Networking, Number System, Operating System, Basic of Logic Gates

English Language
Reading Comprehension, Grammar, Vocabulary, Verbal Ability, Word Association, Sentence Improvement, Para Jumbles, Cloze Test, Error Spotting, Fill in the blanks
General / Economy / Banking Awareness
Banking terms, Abbreviations and Economic terminologies, Overview of Indian Financial System, History of Indian Banking System, Recent Credit and Monetary Policies, Important Government Schemes on capital and money market, Introduction to national financial institutions like RBI, SEBI, IRDA, FSDC etc, Introduction to International organisations like IMF, World Bank, ADB, UN etc, Current affairs related to national and international issues of last 6 months
Books 2021
IBPS lists a specific syllabus on the basis of which it tests your skills in the examination. There is a large pool of books available in the market (online + offline), so it is necessary to pick the right ones and cancel out the unnecessary ones to avoid wastage of time. We have listed down some IBPS PO books 2021 which will prove beneficial in the preparation process.
IBPS PO Subjects
Useful Books for IBPS PO
IBPS PO Exam Book's Author
Quantitative Aptitude
Quantum CAT
Sarvesh Kumar Verma
Data Interpretation for CAT
Arun Sharma
Magical book on Quicker Maths
M Tyra
Fast Track Objective Arithmetic
Rajesh Verma
Quantitative Aptitude for Competitive Exams
RS Aggarwal
Reasoning Ability
A New Approach to Reasoning Verbal and Non-Verbal
B.S. Sijwali and Indu Sijwali
Analytical Reasoning
MK Pandey (For the chapters required for analytical reasoning)
A Modern Approach to Verbal & Non-Verbal Reasoning
R.S. Aggarwal
English Language
Objective General English
SP Bakshi
Descriptive General English
SP Bakshi and Richa Sharma
High School English Grammar and Composition
Wren and Martin
Word Power Made Easy
Normal Lewis
General/Economy/Banking Awareness
Banking Awareness Handbook of Banking Information
N.S.Toor
Banking Awareness
Arihant Publication
Static GK General Knowledge
Arihant
Lucent General Knowledge
-
Pratiyogita Darpan
SQ Sachdeva Mahendra Jain
Current Affairs
BeePedia
Data Analysis & Interpretation
Data Interpretation and Data Sufficiency
Ananta Ashisha (Arihant)
Data Interpretation
BSC Publication
Data Interpretation
Magical Book Series
Computer Awareness
Objective Computer Awareness for General Competitive Exams
Arihant Publishers
Online Course 2021
ixamBee has come up with IBPS PO online course that is designed by our expert faculty after a thorough research and analysis of previous years' papers, exam pattern, and syllabus. Prepare for IBPS PO 2021 exam with us to achieve your dream of joining a public sector bank as a Probationary Officer. Enroll in the IBPS PO Exclusive Online Course to get guidance from our expert faculty and achieve your goal.
IBPS PO Exam Syllabus Related Quick Links
---
Boost your preparation with Beepedia
---
High Quality Mock Test for you
---
Free Important Video Lectures
Frequently Asked Questions
Q1:
What kind of questions will be there in the IBPS PO Prelims 2021?
A:
IBPS PO Prelims will have questions from three subjects /sections:
Quantitative Aptitude, Reasoning Ability & English Language.
The level of the questions can be expected to be within easy-moderate.
Q2:
Is there any source available for the preparation of IBPS PO Prelims Quant questions?
A:
You can practice IBPS PO Prelims mock tests that are available for free at ixamBee. You can practice the Quantitative Aptitude questions available there and improve your score and accuracy as well.
Q3:
What source should I rely on for the General Awareness section?
A:
For general awareness, you can refer to ixamBee Beepedia which is a comprehensive document to address the General Awareness (GA) section for various competitive exams.
Would you like to rate us 5 star.
Search