IBPS PO Eligibility Criteria
IBPS PO Eligibility Criteria 2021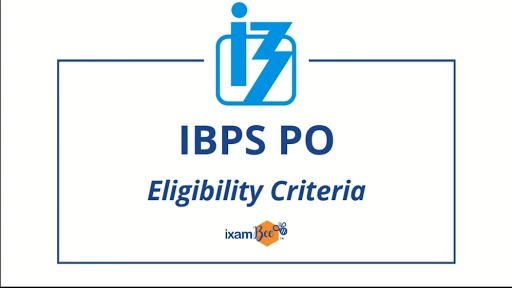 IBPS follows specific eligibility criteria that you need to follow if you do not want to be rejected further in the process. You will not be allowed to fill the application if you do not conform to the IBPS PO eligibility 2021 mentioned in the official notification. For the successful application of any examination, you need to follow certain guidelines that are mentioned in the official notification, failing which your candidature will be canceled. This exam is one of the most important exams and thus needs complete attention. Know the complete eligibility of IBPS PO before applying.
IBPS PO Educational Criteria
The most important part of the 'eligibility criteria' is confirming that if you are eligible enough to appear for the exam or not. IBPS specifies a fixed educational criterion that needs to be strictly followed by you if you want to be selected as a PO (Probationary Officer). Given below is the IBPS eligibility for PO education-wise.
| Post | Educational Criteria |
| --- | --- |
| IBPS Probationary Officer(PO) | A Degree (Graduation) in any discipline from a University recognised by the Govt. Of India or any equivalent qualification recognized as such by the Central Government. The candidate must possess valid Mark-sheet / Degree Certificate that he/ she is a graduate on the day he / she registers and indicate the percentage of marks obtained in Graduation while registering online. |
IBPS PO Age criteria
You must not have exceeded the age of 30 years as on the mentioned date in the official IBPS PO notification 2021. Further details can be inferred from the table below-
| Post | Age Creteria |
| --- | --- |
| IBPS Probationary Officer(PO) | Min- 20 Years / Max-30 Years |
IBPS PO Age Relaxation
IBPS gives relaxation with respect to age, to certain categories, to facilitate them in the recruitment process. Refer to the table given below to get the required details regarding the age relaxation in IBPS PO exam 2021:
| Category | Age relaxation |
| --- | --- |
| Scheduled Caste/Scheduled Tribe | 5 Years |
| Other Backward Classes (Non-Creamy Layer) | 3 Years |
| Persons with Benchmark Disability as defined under "The Rights of Persons With Disabilities Act, 2016" | 10 Years |
| Ex-Servicemen, Commissioned Officers including Emergency Commissioned Officers (ECOs)/ Short Service Commissioned Officers (SSCOs) who have rendered at least 5 years military service and have been released on completion of assignment (including those whose assignment is due to be completed within one year from the last date of receipt of application) otherwise than by way of dismissal or discharge on account of misconduct or inefficiency or physical disability attributable to military service or invalidment | 5 Years |
| Persons affected by 1984 riots | 5 Years |
IBPS PO Eligibility Criteria Related Quick Links
---
Boost your preparation with Beepedia
---
High Quality Mock Test for you
---
Free Important Video Lectures
Frequently Asked Questions
Q1:
Can those students who are appearing in final year of Graduation apply for any post in IBPS PO 2021 recruitment?
A:
Yes. The candidates who have appeared for the final examinations and waiting for the results are eligible to appear in the IBPS PO selection process.
Q2:
In IBPS PO 2021 Exam, can I choose Hindi language as the exam language?
A:
Yes, IBPS PO 2021 Exam is bilingual (i.e, Hindi & English). You can choose your preferred language accordingly.
Q3:
Is the IBPS PO 2021 Examination in ONLINE or OFFLINE mode?
A:
IBPS PO 2021 Exam will be in online mode.
Q4:
Is there any sectional CUT-OFF in IBPS PO 2021 Exam ?
A:
Yes, IBPS PO 2021 Exam will have sectional cut-off along with the overall cut-off.
Q5:
Is IBPS PO 2021 Job transferable?
A:
Yes, IBPS PO is liable to be posted anywhere in India, also depending on the job profile and department being served.
Q6:
How many attempts are there in IBPS PO 2021 Exam ?
A:
There is no such limit on the number of attempts for IBPS PO 2021 Exam. You can appear for this exam till the time you are eligible according to the eligibility criteria provided by IBPS in its notification.