IBPS PO Exam Dates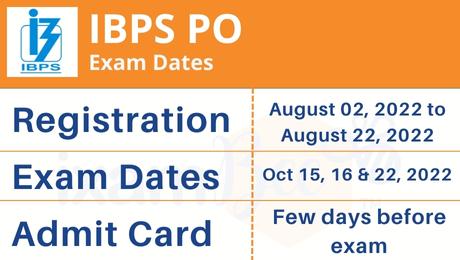 IBPS PO 2022 exam calendar has been released along with its recruitment notification. The IBPS PO Prelims 2022 will be held in October 2022. The Mains of IBPS PO 2022 will be held in November 2022. The IBPS PO 2022 registration link is active from August 2, 2022 and closes on August 22, 2022. You should register yourself as soon as the online application for IBPS PO 2022 starts so as to avoid any last-minute errors. Refer to the table below for complete details on the IBPS PO exam dates 2022.
IBPS PO 2022 Exam Dates
IBPS PO Activity
IBPS PO Tentative Dates
Online registration for IBPS PO 2022-23 including Edit
/Modification of Application by candidates
August 02, 2022 to August 22, 2022
Payment of Application Fees/Intimation Charges (Online) 2022-23
August 02, 2022 to August 22, 2022
Download of call letters for Pre- Exam Training 2022-23
September / October 2022
Conduct of Pre-Exam Training 2022-23
September / October 2022
IBPS PO Admit Card Phase 1 2022-23
October 2022

IBPS PO Preliminary Exam

2022-23
October 15, 16 & 22, 2022
IBPS PO Preliminary Exam Result 2022-23
To be notified later
Download of Call letter IBPS PO Mains Exam 2022-23
November 2022

IBPS PO Mains Exam

2022-23
November 26, 2022
IBPS PO Exam Centres
Every year IBPS allots various exam centres all over India to conduct the IBPS PO exam. You are given the choice of exam centre while filling out the application form where you can choose your state and city for the IBPS PO 2022 exam. You are not allowed to request any change in the IBPS PO exam centre that is allotted to you. IBPS reserves the right to change or modify the exam centres list anytime, before the IBPS PO exam 2022. The tentative list of IBPS PO 2022 exam centre is given below.
| State Code | State / UT / NCR | Preliminary Examination Centre | Main Examination Center |
| --- | --- | --- | --- |
| 11 | Andaman & Nicobar | Port Blair | Port Blair |
| 12 | Andhra Pradesh | Chirala, Chittoor, Eluru, Guntur, Kadapa, Kakinada, Kurnool, Nellore, Ongole, Rajahmundry, Srikakulam, Tirupati, Vijaywada, Vishakhapatnam, Vizianagaram | Guntur, Kurnool, Vijaywada, Vishakhapatnam |
| 13 | Arunachal Pradesh | Naharlagun | Naharlagun |
| 14 | Assam | Dibrugarh, Guwahati, Jorhat, Silchar, Tezpur | Guwahati, Silchar |
| 15 | Bihar | Arrah, Aurangabad, Bhagalpur, Darbhanga, Gaya, Muzaffarpur, Patna, Purnea | Bhagalpur, Darbhanga, Muzzafarpur, Patna |
| 16 | Chandigarh | Chandigarh/Mohali | Chandigarh/Mohali |
| 17 | Chhattisgarh | Bhilai Nagar, Bilaspur, Raipur | Raipur |
| 18 | Dadra & Nagar Haveli | Surat, Jamnagar | Surat |
| 19 | Daman & Diu | Surat, Jamnagar | Surat |
| 20 | Delhi | Delhi/New Delhi, Faridabad, Ghaziabad, Greater Noida, Gurugram | Delhi/New Delhi, Faridabad, Ghaziabad, Greater Noida, Gurugram |
| 21 | Goa | Panaji | Panji |
| 22 | Gujarat | Ahmedabad, Anand, Gandhinagar, Himatnagar, Jamnagar, Mehsana, Rajkot, Surat, Vadodara | Ahmedabad, Vadodra |
| 23 | Haryana | Ambala, Faridabad, Gurugram, Hissar, Karnal, Kurukshetra, Panipat, Yamuna Nagar | Ambala, Hissar |
| 24 | Himachal Pradesh | Bilaspur, Hamirpur, Kangra, Kullu, Mandi, Shimla, Solan, Una | Hamirpur, Shimla |
| 25 | Jammu & Kashmir | Jammu, Samba, Srinagar | Jammu, Srinagar |
| 26 | Jharkhand | Bokaro Steel City, Dhanbad, Hazaribagh, Jamshedpur, Ranchi | Dhanbad, Jamshedpur, Ranchi |
| 27 | Karnataka | Bengaluru, Belgaum, Bidar, Davangere, Dharwad, Gulbarga, Hassan, Hubli, Mandya, Mangalore, Mysore, Shimoga, Udupi | Bengaluru, Hubli, Mangalore |
| 28 | Kerala | Alappuzha, Kannur, Kochi, Kollam, Kottayam, Kozhikode, Malappuram, Palakkad, Thiruvananthapuram, Thrichur | Kochi, Thiruvananthapuram |
| 29 | Lakshadweep | Kavarrati | Kavaratti |
| 30 | Madhya Pradesh | Bhopal, Gwalior, Indore, Jabalpur, Sagar, Satna, Ujjain | Bhopal, Indore |
| 31 | Maharashtra | Amravati, Aurangabad, Chandrapur, Dhule, Jalgaon, Kolhapur, Latur, Mumbai/ Thane/ Navi Mumbai, Nagpur, Nanded, Nashik, Pune, Ratnagiri, Solapur | Aurangabad, Mumbai/ Thane/ Navi Mumbai, Nagpur, Pune |
| 32 | Manipur | Imphal | Imphal |
| 33 | Meghalaya | Shillong | Shillong |
| 34 | Mizoram | Aizawl | Aizawl |
| 35 | Nagaland | Kohima | Kohima |
| 36 | Odisha | Balasore, Berhampur(Ganjam), Bhubaneshwar, Cuttack, Dhenkanal, Rourkela, Sambalpur | Bhubaneshwar |
| 37 | Puducherry | Puducherry | Puducherry |
| 38 | Punjab | Amritsar, Bhatinda, Fategarh Sahib, Jalandhar, Ludhiana, Mohali, Pathankot, Patiala, Sangrur | Jalandhar, Ludhiana, Mohali, Patiala |
| 39 | Rajasthan | Ajmer, Alwar, Bikaner, Jaipur, Jodhpur, Kota, Sikar, Udaipur | Jaipur, Udaipur |
| 40 | Sikkim | Bardang/ Gangtok | Bardang/ Gangtok |
| 41 | Tamil Nadu | Chennai, Coimbatore, Erode, Madurai, Nagercoil, Salem, Thanjavur, Thiruchirapalli, Tirunelvelli, Vellore, Virudhunagar | Chennai, Madurai, Tirunelveli |
| 42 | Telangana | Hyderabad, Karimnagar, Khammam, Warangal | Hyderabad |
| 43 | Tripura | Agartala | Agartala |
| 44 | Uttar Pradesh | Agra, Aligarh, Allahabad, Banda, Bareilly, Faizabad, Ghaziabad, Gonda, Gorakhpur, Jhansi, Kanpur, Lucknow, Mathura, Meerut, Moradabad, Muzaffarnagar, Noida/ Greater Noida, Sitapur, Varanasi | Allahabad, Kanpur, Lucknow, Meerut, Varanasi |
| 45 | Uttarakhand | Dehradun, Haldwani, Roorkee | Dehradun |
| 46 | West Bengal | Asansol, Durgapur, Greater Kolkata, Hooghly, Kalyani, Siliguri | Asansol, Greater Kolkata, Kalyani, Siliguri |
Recommended Courses for you