IBPS PO Salary
IBPS PO Salary 2021
Once you are fully aware of all the details, one important aspect still remains to be known which is the IBPS PO salary. It is extremely necessary to know about the salary/pay scale in the job you are aiming to get for yourself.It is always good to know each and every detail of a job you are aiming for as your future depends on it. Salary of IBPS PO can be expected to be on similar lines with what it was the previous year. We can not completely predict the IBPS PO salary in hand but you can surely get a clear idea of what to expect.
An IBPS PO or Probationary Officer is entitled to receive a starting basic salary of Rs 23,700 / month.
IBPS PO salary structure also includes a 'Dearness Allowance' of Rs. 13,000 (around 55% of the basic salary).
An IBPS PO will also be entitled to various other allowances and perks such as House Rent Allowance, City Compensatory Allowance along with some annual increments.
Post
Salary
IBPS Probationary Officer(PO)

Basic Salary-Rs. 23,700/- per month.
Dearness Allowance-Rs. 13,000 (around 55% of the basic salary)
IBPS PO Job Profile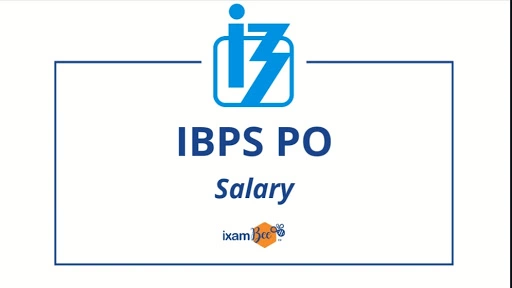 Once you cross all the stages and finally reach the phase of being an IBPS PO ( Probationary Officer), you are designated as an Assistant Manager (AM) and is supposed to be on a probation period of two years. In some of the banks, this period may be of just 1 year. It is referred to as Junior Management Grade Scale - I, thus giving the designation of Scale - I Officer. You will have to go through an induction program held by the banks, which usually lasts for 10-20 days. Once this program is over, the Scale-I Officers are liable to get posted anywhere across India. An IBPS PO is practically expected to be a multi-tasking person who is also responsible for :
Loan processing
Supervision of the clerical tasks
Maintaining business of the branch
Customer Interaction
Frequently Asked Questions
Q1:
Can those students who are appearing in final year of Graduation apply for any post in IBPS PO 2021 recruitment?
A:
Yes. The candidates who have appeared for the final examinations and waiting for the results are eligible to appear in the IBPS PO selection process.
Q2:
In IBPS PO 2021 Exam, can I choose Hindi language as the exam language?
A:
Yes, IBPS PO 2021 Exam is bilingual (i.e, Hindi & English). You can choose your preferred language accordingly.
Q3:
Is the IBPS PO 2021 Examination in ONLINE or OFFLINE mode?
A:
IBPS PO 2021 Exam will be in online mode.
Q4:
Is there any sectional CUT-OFF in IBPS PO 2021 Exam ?
A:
Yes, IBPS PO 2021 Exam will have sectional cut-off along with the overall cut-off.
Q5:
Is IBPS PO 2021 Job transferable?
A:
Yes, IBPS PO is liable to be posted anywhere in India, also depending on the job profile and department being served.
Q6:
How many attempts are there in IBPS PO 2021 Exam ?
A:
There is no such limit on the number of attempts for IBPS PO 2021 Exam. You can appear for this exam till the time you are eligible according to the eligibility criteria provided by IBPS in its notification.