MONTH END DHAMAKA SALE IS Here
IBPS PO Salary 2022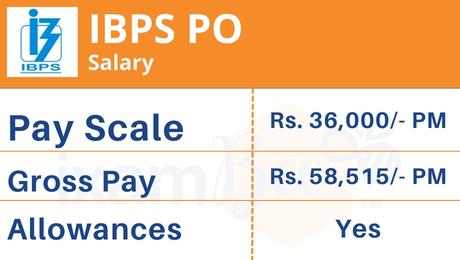 Once you are fully aware of all the details, one important aspect still remains to be known which is the IBPS PO salary. It is always good to know each and every detail of a job you are aiming for as your future depends on it. Please take a look at the IBPS PO salary details below.
IBPS PO Salary Details 2022
An IBPS PO 2022 is entitled to receive a starting basic salary of Rs 36,000 / month excluding allowances. IBPS PO salary structure also includes a 'Dearness Allowance'. The gross salary of an IBPS PO is around Rs 63,116 /month. The IBPS PO in hand salary in any bank is around Rs 58,515 / month. More details on the IBPS PO salary can be inferred from the table below.
Salary
Basic Pay
Rs. 36,000/- per month.
City Compensatory Allowance
1,400.00/-
Dearness Allowance
Rs. 10,004.40
House rent Allowance
3,240.00/-
Learning Allowance
766.74/-
Retro CCA
1,280.00/-
Retro HRA
2,880.00/-
Special Allowance
7,545.00/-
Gross Pay
63,116.14/-
Net Pay
58,515.70/-
Perks & Additional Benefits
Besides the above mentioned salary, an IBPS PO is entitled to receive many perks and allowances. Some of the benefits that a PO in any bank receive is as follows-
House Rent Allowance
DA
SA
CCA
Medical Benefit
Travel Allowance
Pension Scheme
IBPS PO Probation Period
Once you cross all the stages and finally reach the phase of being an IBPS PO, you will be on a probation period of two years. This may differ depending upon the organization you joined.
Job Profile
After crossing all the stages successfully, you are designated as an Assistant Manager (AM). PO is referred to as Junior Management Grade Scale - I, thus giving the designation of Scale - I Officer. You will have to go through an induction program held by the banks, which usually lasts for 10-20 days. Once this program is over, the Scale-I Officers are liable to get posted anywhere across India. An IBPS PO is practically expected to be a multitasking person who is also responsible for the following tasks as mentioned below.
Loan processing
Supervision of the clerical tasks
Maintaining business of the branch
Customer Interaction
Recommended Courses for you