With the Release of SEBI Grade A notification 2020, you must be excited and concerned at the same time. Excited, because SEBI has finally released the notification for Grade A this year that too with 147 vacancies and concerned because with merely four weeks in hands, the notification has come with a changed exam pattern (Paper 2 of Phase 1).
Phase 1 of SEBI Grade A is scheduled to be held on January 17, 2021. The Phase 2 exam of the same is going to be held on February 27, 2021. Keeping the syllabus of the new exam pattern in mind, it's quite a work to prepare for the exam. As new subjects have been introduced in Paper 2 of Phase 1, you don't need to panic. Take this exam as an opportunity to fulfill your dream of becoming a SEBI Grade A officer in this esteemed organization. Do remember that the Exam pattern has changed for all the aspirants and how you strategize and prepare in the time available will make all the difference. In today's article, I am going to share some valuable strategy & preparation tips that will definitely help you to sail through SEBI Grade A 2020 exam.
Before jumping into the preparation strategy, let's understand the SEBI Grade A exam pattern. If you are preparing for this exam for a year or two, you don't need to make your mind a clean slate because of the changed exam pattern, as some of the syllabus is common in both the Phases (Paper 2). Try to understand the pattern and prepare accordingly for the exam. The SEBI exam pattern consists of a total of three phases; Phase 1, Phase 2 and Personal Interview.

SEBI Grade A Phase 1 Examination Pattern:
Few Important points about SEBI Grade A Phase 1 Exam Pattern
The phase 1 or Prelims exam pattern of SEBI Grade A consists of two papers (Paper 1 and Paper 2) where Paper 1 remains unchanged.
It consists of 100 marks multiple choice questions paper of 60 minutes duration.
Subjects included in the SEBI Grade A Phase 1 -Paper 1 are Quantitative Aptitude, Logical Reasoning, English Language, General Awareness, and a section related to the finance sector.
Paper 2 of Phase 1 has changed, and in the place of the security market, new subjects like Cost Accountancy, Commerce, Micro & Macro Economics, and Companies Act, etc have been introduced.
With the introduction of some new subjects, this exam has a total duration of 40 minutes, and MCQs consists of 100 marks. Please note that Phase 1 is of qualifying nature hence, the marks obtained in this section are not going to be counted while making the final merit list. The examination pattern of SEBI Grade A Phase 1 is provided in the table below:
Paper

Name of Stream/Subjects

Time Limit

Total Marks

Minimum Cut off

Paper 1

Common for all streams: Multiple choice questions on Quantitative Aptitude, General Awareness (including questions related to Financial Sector from easy, moderate to difficult level), Reasoning and English Language.

 60 min

 100

  30%

Paper 2

General Stream: Multiple choice questions on Accountancy, Costing, Commerce, Finance Management, Economics and Companies Act

40 min

 

   100

   40%

Research Stream: Multiple choice questions on Statistics, Economics, Econometrics, Commerce and Finance

40 min

 

   100

   40%

Specialized Stream: Legal, IT, Official Language, Engineering Stream (Civil and Electrical): Multiple choice questions related to respective subject. 

 

Minimum Aggregate Cut Off

 

40%
Preparation Strategy for SEBI Grade A Phase 1: Paper 1
If you are preparing for bank exams for some time now this may work as an advantage for you. You don't need to go through the basics as not much time is left for the SEBI Grade A phase 1.
As we know that the paper consists of five sections namely Quantitative Aptitude, Logical Reasoning, English Language, General Awareness, and the section related to the finance sector. All you need is to concentrate on attempting mock tests as much as you can. Make it a ritual to attempt at least 1 mock test a day in order to improve your speed and score in the examination. Attempting mock is not enough, make sure you also analyze your performance in each mock you attempt. Note down your weak and strong areas and start working on that. The distribution of marks is not conveyed in the notification or there is no information handout available as of now through which this can be inferred. So, you need to make sure that you give equal priority to each section.
To cover the General awareness and Banking Awareness section you can refer to our Weekly and Monthly Compilation of BeePedia -the General Awareness Digest for Regulatory Body Exams- RBI Grade B, SEBI Grade A, NABARD Grade A/B. For Banking Awareness, you can also refer to Banking Awareness articles in our blog, it will surely help you get that extra edge over others.
General knowledge articles can be found in our blog section, this will help you boost your overall score in the general awareness section and assist you in scoring big in the overall examination.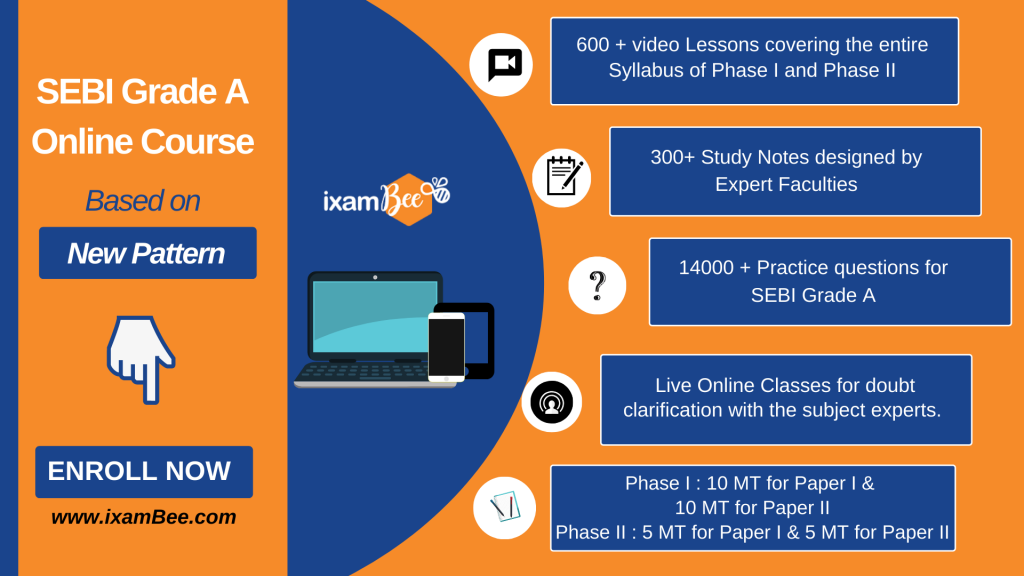 Preparation Strategy for SEBI Grade A Phase 1: Paper 2
Paper 2 of phase 1 consists of Commerce & Accounting, Companies Act, and Finance & Management & Economics (For General Stream). The exam duration for the paper is 40 minutes. For Paper 2 of Phase 2, you don't need to master each and every section. Just go through the basics and make the concept clarity the priority while preparing for this paper.
As the time duration is 40 minutes for paper 2, you should focus more on the theoretical part and less concerned about the numerical questions (even if numerical are there, they will be of basic level). As the subjects in paper 2 consists of Commerce & Accounting and Finance & Management, Companies Act, questions can be asked from the current affairs related to Finance. You can refer to the Weekly or Monthly BeePedia for this.
Online Course for SEBI Grade A 2020 exam:
If you are overwhelmed with the new examination pattern of SEBI Grade A exam 2020 and need assistance on the preparation part, we have got you covered. We are providing an Online course for SEBI Grade A which has been specially crafted as per the new module. We are providing courses for General (Assistant Manager) as well as IT officer stream. There is a demo video available in the Online course section to help you decide in buying the course. The content of the course has been made by our experts.
Some of the unique features of the SEBI Grade A Online course are provided below:
600 + Video Lessons covering the entire Syllabus for all Papers of SEBI Grade A Phase I and SEBI Grade A Phase II
300+ Study Notes designed by expert faculty covering SEBI Grade A syllabus for all Papers of Phase I and SEBI Grade A Phase II
20 full-length Mock Tests for SEBI Grade A Phase I (10 for Paper 1 and 10 for Paper 2) and 5 Full-Length Mock Tests for SEBI Grade A Phase II Paper 2, adhering to SEBI Grade A 2020 new exam pattern
5 Descriptive English Mock Tests with individual performance feedback
14,000+ Practice questions apart from mock tests covering all the new subjects/topics
Daily Live Online Classes for doubt clarification with the subject matter experts
All video lessons are self-explanatory and accessible to the students to prepare at a convenient time
The various tests in the form of concept questions, chapter tests, section tests, and mock tests provide a wide and targeted coverage of the syllabus
Our experts will provide Guidance, Tips and Preparation Strategy at each stage of preparation
SEBI Grade A 2020 Online Course includes guidance to Interview Round as well
Live classes by the expert faculty helps in doubt clarification and up-to-date exam-relevant topic discussions. Our Faculty is highly experienced and specialized for each subject. You can have a look at their individual profiles below.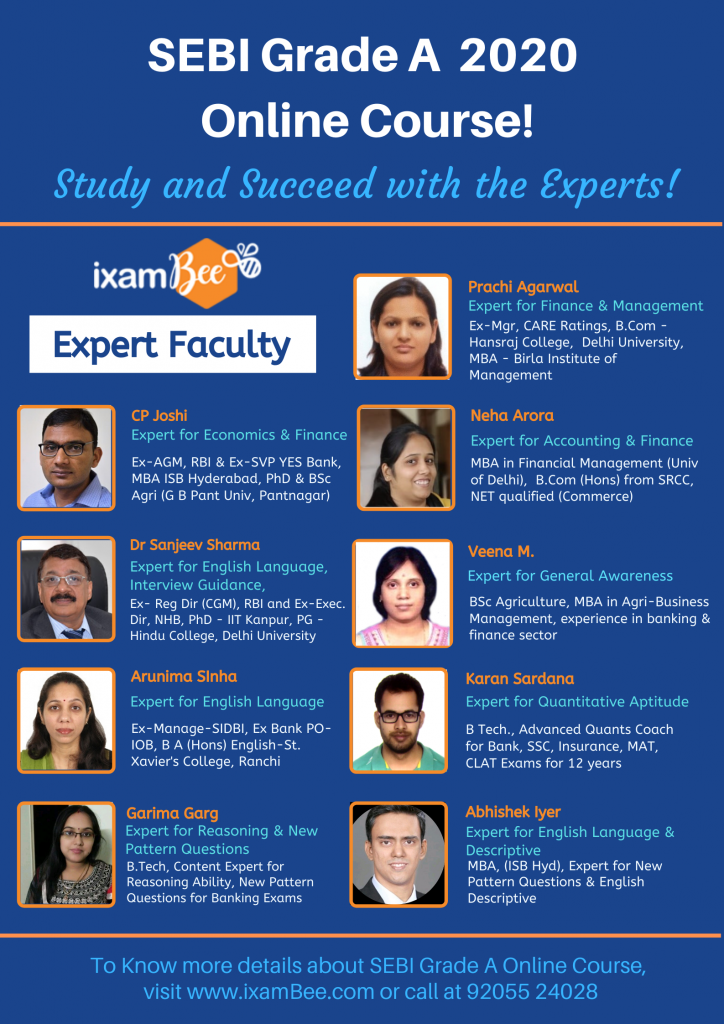 Do not forget to attempt Mock tests in order to analyze your performance as well as the preparation level. ixamBee is providing Free full-length Mock tests for SEBI Grade A Phase 1 2020 exam.
Related Articles:
SEBI Grade A Final Result Out!
SEBI Grade A Previous Years Cut off
Indian Currency and Notes issuing policies
Get Free Online Test Series, GK updates in form of Beepedia, BeeBooster, as well as latest updates for Bank PO, Bank Clerk, SSC, RBI, NABARD and Other Government Jobs.
быстрый займ без отказа на картузайм по смс на картузайм под 0 процентов на карту