Read here best preparation strategy for SEBI Grade A exam 2022 for Phase 1 for Paper 1 and Paper 2.
With the Release of SEBI Grade A notification 2022, you must be excited and concerned at the same time. Excited, because SEBI has finally released the notification for Officers in Grade 'A' this year with 120 vacancies and concerned because you have a few days to go before the highly competitive SEBI Grade A exam 2022 that can change your life if you clear it successfully.
The SEBI Grade A Phase 1 exam 2022 is scheduled to be held on February 20, 2022. Take this exam as an opportunity to fulfill your dream of becoming a SEBI Grade A officer in this esteemed organization. Do remember that how you strategize and prepare for the SEBI exam 2022 in the time available will make all the difference.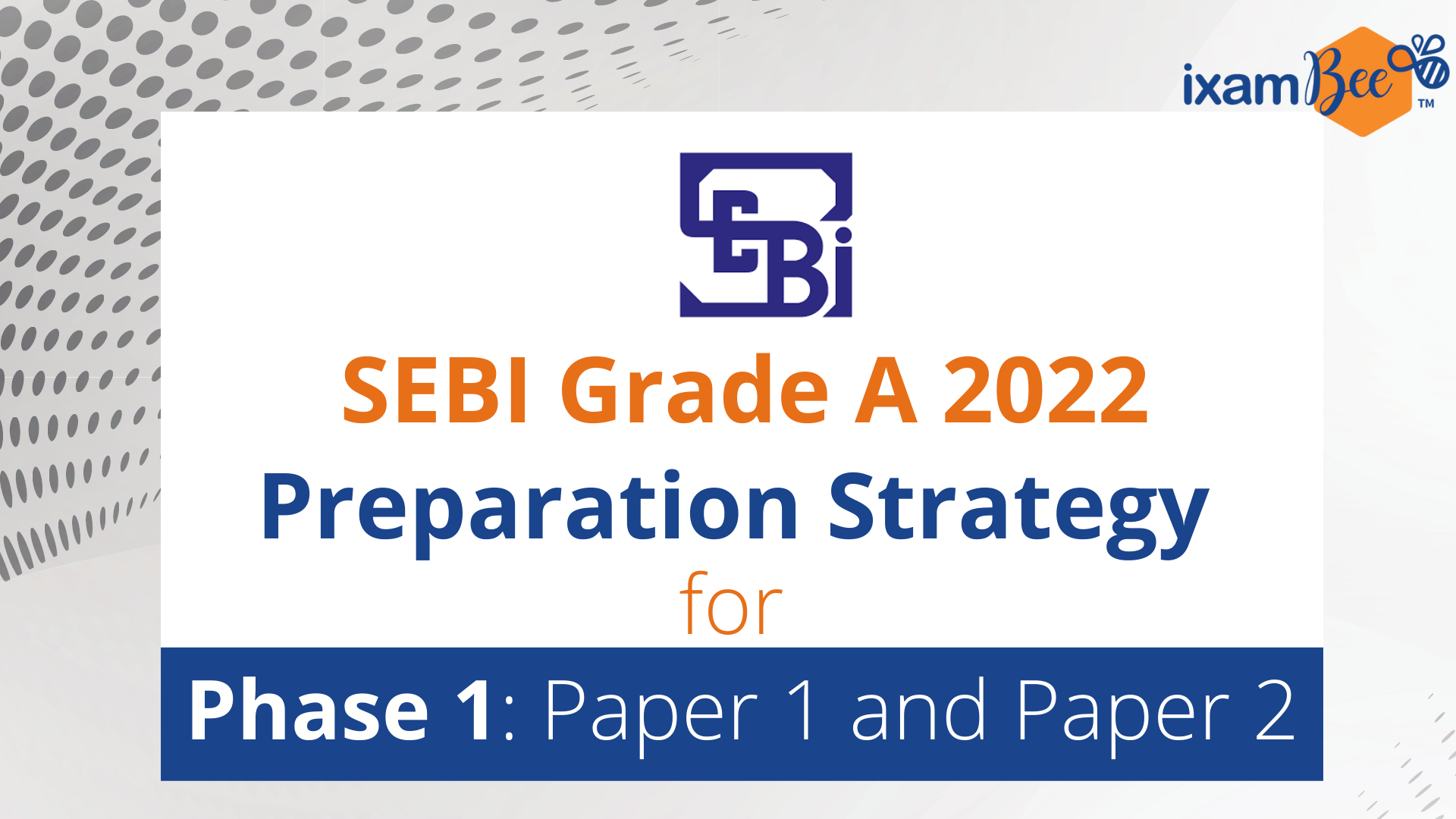 In today's article, we are going to share some valuable strategy & preparation tips that will definitely help you to sail through SEBI Grade A 2022 exam.
SEBI Grade A Exam Pattern 2022
The SEBI Grade A exam pattern 2022 consists of a total of three phases; Phase 1, Phase 2 and Personal Interview.

Important Points for Phase 1
Few Important points about SEBI Grade A Phase 1 recruitment procedure.
It consists of 100 marks multiple choice questions that need to be answered within 60 minutes.
Subjects included in the SEBI Grade A Phase 1, Paper 1 are; Quantitative Aptitude, Logical Reasoning, English Language, General Awareness, and a section related to the finance sector.
Paper 2 of Phase 1 subjects like Cost Accountancy, Commerce, Micro & Macro Economics, and Companies Act, etc will be tested.
Please note that Phase 1 is qualifying in nature hence, the marks obtained in this section are not going to be counted while making the final merit list.
The examination pattern of SEBI Grade A Phase 1 is provided in the table below:
Paper

Name of Stream/Subjects

Time Limit

Total Marks

Minimum Cut off

Paper 1

Common for all streams: Multiple choice questions on Quantitative Aptitude, General Awareness (including questions related to Financial Sector from easy, moderate to difficult level), Reasoning and English Language.

 60 minutes

 100

  30%

Paper 2

General Stream: Multiple choice questions on Accountancy, Costing, Commerce, Finance Management, Economics and Companies Act

40 minutes

 

   100

   40%

Research Stream: Multiple choice questions on Statistics, Economics, Econometrics, Commerce and Finance

40 min

 

   100

   40%

Specialized Stream: Legal, IT, Official Language, Engineering Stream (Civil and Electrical): Multiple choice questions related to respective subject. 

 

Minimum Aggregate Cut Off

 

40%
Download your SEBI Grade A Admit Card 2022 today!!
Preparation Strategy for SEBI Grade A Phase 1
Let us now look at the SEBI Grade A 2022 Phase 1 preparation strategy in detail.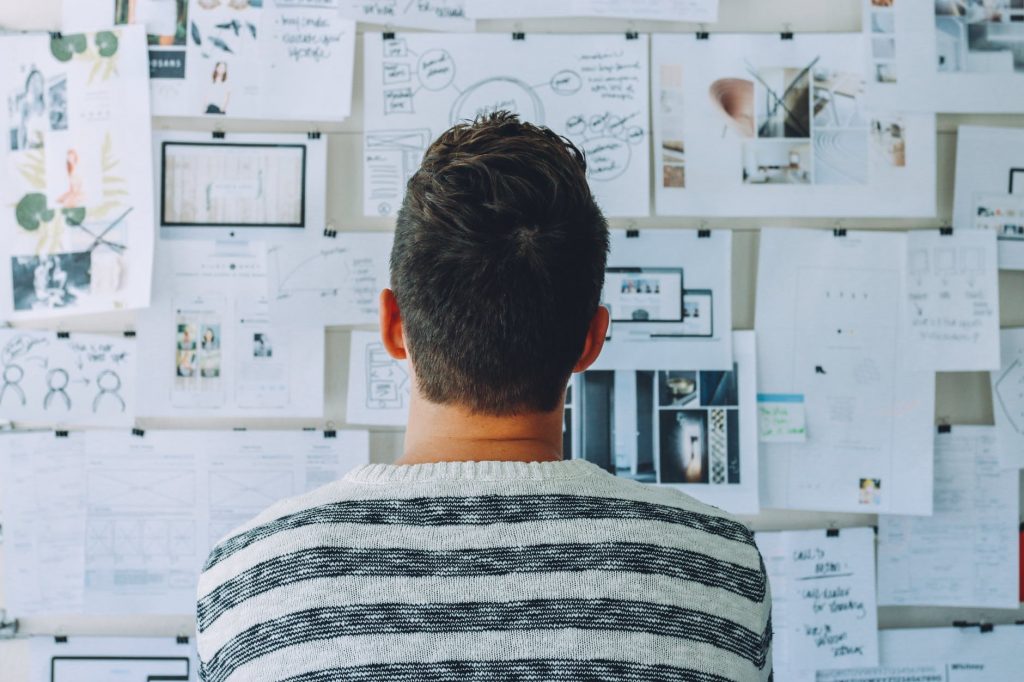 Paper 1
If you are preparing for bank exams for some time now this may work as an advantage for you. You don't need to go through the basics as not much time is left for the SEBI Grade A Phase 1 exam.
Right now, all you need is to concentrate on attempting Free Mock Test For SEBI Grade A Officer Phase 1 Exam as much as you can.
Make it a ritual to attempt at least 1 mock test a day in order to improve your speed and score in the examination.
However, taking practice tests is not enough, make sure you also analyze your performance in each mock you attempt.
Note down your weak and strong areas and start working on that.
To cover the General awareness and Banking Awareness section you can refer to our weekly and monthly BeePedia– the General Awareness Digest for Regulatory Body Exams. These updates will help you prepare for other exams like NABARD Grade A and RBI Grade B as well.
For Banking Awareness, you can also refer to Banking Awareness articles in our blog, it will surely help you get that extra edge over others.
General knowledge articles can be found in our blog section, this will help you boost your overall score in the general awareness section and assist you in scoring big in the overall examination.
Go through the details of the Union Budget 2022-2023 as well.
SEBI Grade A Mock Test 2022: Free Mock Test For SEBI Grade A Officer Phase 1 Exam
Paper 2
Paper 2 of Phase 1 consists of Commerce & Accounting, Companies Act, Finance & Management and Economics (For General Stream).
The duration of the paper is 40 minutes.
For Paper 2 of Phase 2, you don't need to master each and every section. Just go through the basics and get the concepts clear while preparing for this paper.
As the time duration is 40 minutes for paper 2, you should focus more on the theoretical part and less concerned about the numerical questions (even if numerical are there, they will be of basic level).
As the subjects in paper 2 consists of Commerce & Accounting and Finance & Management, Companies Act, questions can be asked from the current affairs related to Finance.
You can once again refer to ixamBee's Weekly or Monthly BeePedia for this.
Also read: 3 Realistic Tips to Avoid Burnout amid SEBI Grade A Preparation
SEBI Grade A 2022 Online Coaching
If you are overwhelmed with the new examination pattern of SEBI Grade A exam 2022 and need assistance on the preparation part, we have got you covered. Take a look at ixamBee's SEBI Grade A Online course for any preparation-related assistance.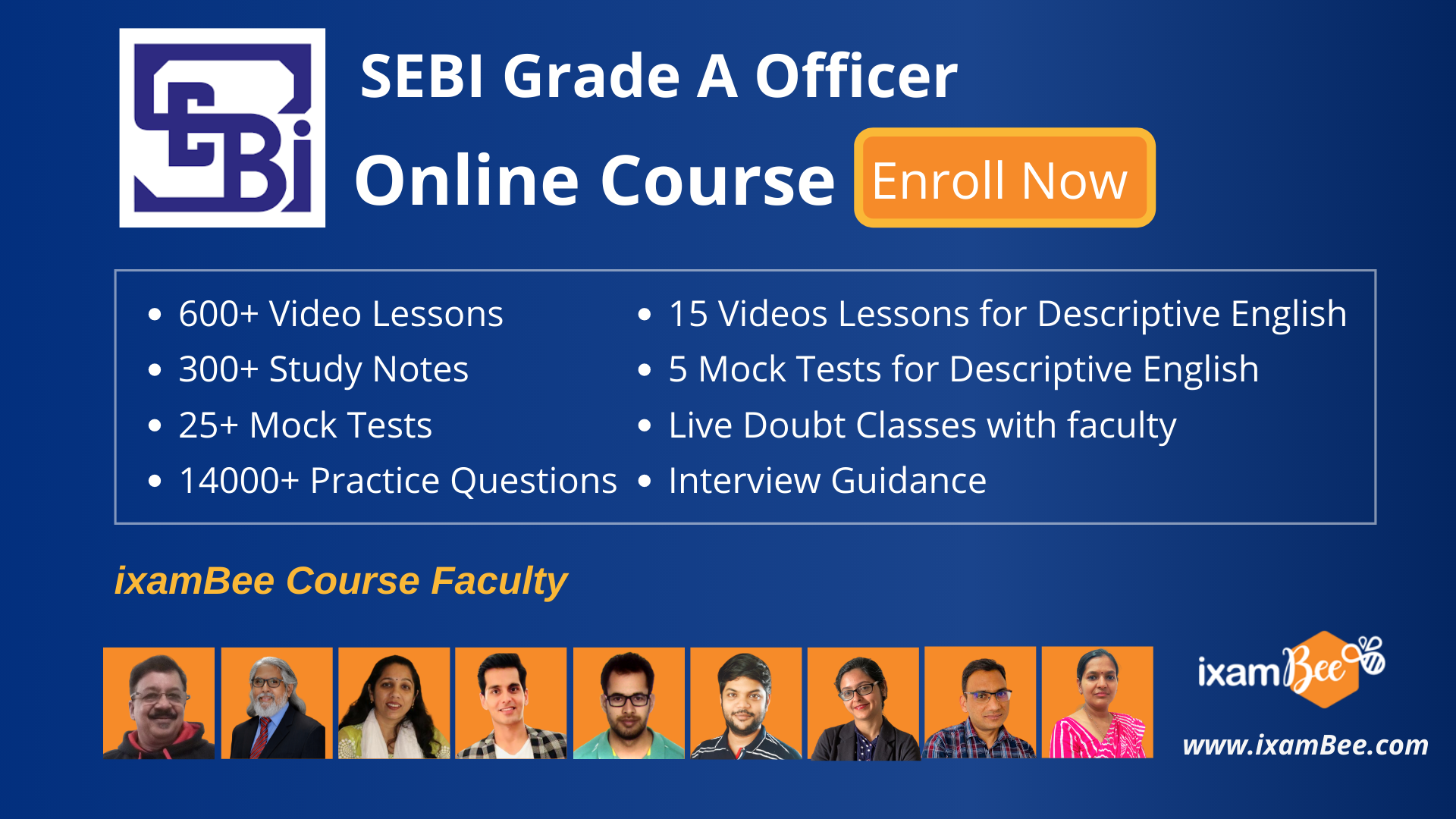 We wish you the very best.
At ixamBee, you can find free Online Test Series, GK updates in the form of BeePedia, as well as latest updates for SBI PO, Bank Clerk, SSC, RBI, NABARD, and Other Government Jobs.
Also Read
SEBI Grade A 2022: Expected Questions for Paper 2 (General Stream)
7 Mistakes to Avoid in Your Exam Preparation: SEBI Grade A 2022
SEBI Grade A 2022: Previous Year Papers and Sample Questions
Quantitative Aptitude Sample Questions: SEBI Grade A 2022
быстрый займ без отказа на картузайм по смс на картузайм под 0 процентов на карту