IBPS PO 2019
The job of an IBPS PO has been one of the most popular jobs for years now. The main reason behind it is the job security, dignity and moreover pay scale that one receives as an IBPS PO (Probationary Officer). Although, if you wish to take it as a long term goal and succeed in the respective job in the coming future, you should be well aware of the monetary benefit that you will receive in the coming years and get some clarity regarding your personal job trajectory. Having all information is beneficial in setting goals and getting a clear vision while you are preparing for an exam. Here we are going to discuss about the salary trend of an IBPS PO through all these years.
IBPS PO Salary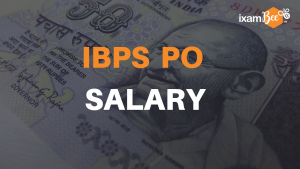 For those who joined as an IBPS PO around 2010 were getting a salary of approximately Rs 20,000 / month along with other benefits like medical, HRA, Leave Travel Concession (LTC), etc. In this span of 8-9 years, majority of the POs must have been promoted to Scale II Officers (Manager) and some of them must have been even promoted to Scale III (Senior Manager). Banks have a provision of wage settlement in every 5 years. The last wage settlement had been due from 2012 which was done in 2015 under which all employees get arrears for three years. (The term arrears refers to a payment that is supposed to be paid at the end of a period, rather than at the beginning). The next wage settlement (11th Bipartite Settlement) has been due from November 1, 2017 where the Indian Banking Association (IBA) has now raised its offer to a 10% hike which the banks are not willing to accept, therefore the talks have been stuck since. Every wage settlement results in a 25-35% hike in the salary. The Probationary Officers (POs) who were receiving 20K as salary in the year 2010, are now drawing around 60-65K per month, which implies that the salary has been increased 3 times. Following this trend, in the next 7 years, a Bank PO will come into the range of Rs 1.3 – 1.5 Lakh per month.
Public Sector Banks (PSBs) have been facing a tough competition from private banks and therefore they are facing challenges in attracting good talent. There has been a serious discussion regarding the system of 'variable pay' for the bank employees.
The salary of PSB employees has not been at par with that of Central Government. Thus, we can expect that there will be a significant hike in the salary of PSBs in the coming 5-10 years.
Also Read:
Get Free Online Test Series, Daily GK Update, PIB Current Affairs, Banking Awareness as well as latest updates for Bank PO, Bank Clerk, SSC, RBI, NABARD and Other Government Jobs. быстрый займ онлайн заявказайм без подтверждения доходакак взять займ на теле2