The Ministry of External Affairs or MEA is a government agency responsible for the conduct of relations between India and foreign countries. MEA is responsible for representing India in the United Nations and also for advising other ministries and the State Govt. when the latter is dealing with foreign governments or institutions (signing of MoUs etc).
The Staff Selection Commission offers young candidates a great opportunity to work with the central government's top organizations. One of the top positions under SSC CGL is assistant section officer (ASO) in MEA.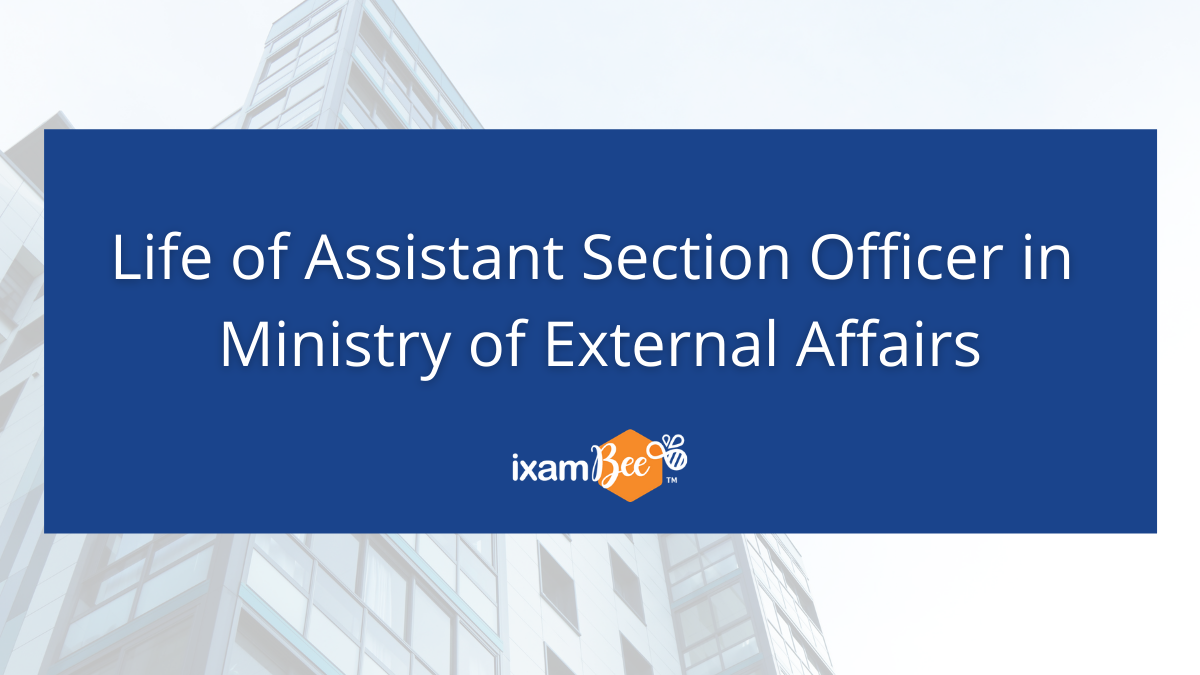 Life of SSC CGL Assistant Section Officer
Let us now learn more about the life of SSC CGL Assistant Section Officer working with the Ministry of External Affairs.
Joining
Joining formalities are almost the same as those of any other ministry assistant, except that the MEA assistant must also be verified by the IB (Intelligence Bureau) along with police verification. 
A joining letter is issued after IB and Police clearance and you are requested to report at Jawahar Lal Nehru Bhawan, New Delhi (opp. National Museum).
There is no immediate training on joining as compared to CSS. However, you have to undergo 30 days of training (spread over small modules) as well as a foreign language test before you receive a foreign post.
In order to get the foreign posting, the foreign language proficiency test is required. Training is hectic, with a lot to learn in a short time for efficient work.
Training takes place at the Foreign Service Institute (FSI), JNU, Delhi, the same place where the MEA department's IFS officers, UDC, LDC and Steno are trained.
Job Profile
An assistant's primary job is to assist IFS officers in their daily work. Assistants do the file work which includes noting and drafting any communication with the India headquarters.
An ASO performs four other roles.

First, he plans and reviews the documents to be signed between countries.
Second, the person is also responsible to file and perform other important work in relation to MoUs that are to be signed by ambassadors and ministers.
Third, coordinates between different consulate offices as well as HQ at Home Nation.
Finally, promotes friendly relations with the host state as well as its individuals, including NRI/PIOO.
Perks and Privileges
In India, all the advantages are the same as those of any other government servant at 7th pay commission grade pay. Flats in Chanakyapuri and Dwarka can be used for government accommodation. Since most MEA staff go every 3 years for a foreign posting, the flats are not blocked/occupied for long. However, you need to shift your entire setup with you with every posting.
You get the best facilities and amenities in foreign postings. Your kids go to the best American/British International Schools and get treated in the best hospital in that location (the school/medical fee is more than that of your entire monthly salary in a foreign posting).
Fully furnished accommodation is provided which is better than any group A service (IAS/IPS/IRS) official with Govt. accommodation. Formerly, Assistant's economy class air tickets were upgraded free of charge to 1st class. But, due to the government austerity measures, now Assistants in MEA are allowed free travel to a foreign location by economy class. An assistant is also allocated a full cargo container for goods so they can easily take their requirements with them.
Salary
While posted in India, the salary would be the same as any employee posted in Delhi.
Nevertheless, while posted abroad, you will get wages in dollars. Many parameters such as cost of living, price index, currency exchange rate, etc. are calculated on the foreign salary.
Basic Pay is ₹44,900 after 7 pay commission. In-Hand is around 58–60k (Delhi based ) but it will be the same all over in India.
When you're posted in foreign the salary varies from country to country estimated to be around  $1800–$2100  or Rs. 1 lac to 2 lacs. Besides you are also eligible for $400–$600 other allowances. 
Take a look at the SSC CGL Salary 2022 for all posts
Promotions
After clearing departmental exams, First Promotion from Assistant to Section Officer(SO) takes 4-5 years, otherwise, it may take 10-14 years on a seniority basis. Based on vacancies, SO to Under Secretary (US) generally takes a long period of 9-12 years. The promotions are time-based after the undersecretary level as with the IFS cadre. Most MEA Assistants get 3 career promotions and retire from the level of Deputy Secretary or at the maximum level of Director.
It is a hierarchy where one thing leads to another.
ASO in MEA – Initially
Section Officer(SO) – 6–8 years if you clear the departmental exam
Under Secretary
Deputy Secretary
Director
Transfers and Postings
The job of an MEA Assistant is not strictly a job only in Delhi. You can be posted to regional passport offices on a need-based basis, but there is usually a shortage of staff in Delhi, so it only occurs on a requirement-based basis.
For transfer, you must select 5-10 destinations from the list of 60 destinations provided to you by the Ministry for Foreign Postings. It would be the Ministry, however, who would decide which location to assign to you.
The allocated foreign destination can be denied, but then such denials do not go well with your seniors as it causes problems in the efficient operation.
The SSC CGL exam is conducted in English as well as Hindi, and for students who want to try the Hindi exam, ixamBee offers SSC CGL free mock tests not only in English but also in Hindi. Our experts also prepare SSC CGL free mock tests in Hindi with the preparation requirements of Hindi students in mind.
If you are preparing for SSC CGL 2022 exam, be sure to take a free attempt the SSC CGL Tier 1 free mock test at ixamBee
At ixamBee you can find a number of Online Courses, GK updates in the form of BeePedia, as well as latest updates for Bank PO, Bank Clerk, SSC, RBI, NABARD and Other Government Jobs.
Also Read
Life of SSC CGL Assistant Audit Officer (AAO)
SSC CGL 2021-22: Life of SSC CGL Assistant Enforcement Officer (AEO)
займ на карту всемзайм под залог авто краснодарэкспресс займ иркутск