The World has technically a total of 195 countries today out of which 193 are member states of the United Nations. The other two countries that are non-members are observer states i.e. Holy See and the State of Palestine. If you include dependent territories and self-declared nations, there are 249 countries. There are seven continents in the world, namely Asia, Africa, Europe, Australia, North America, South America and Antarctica.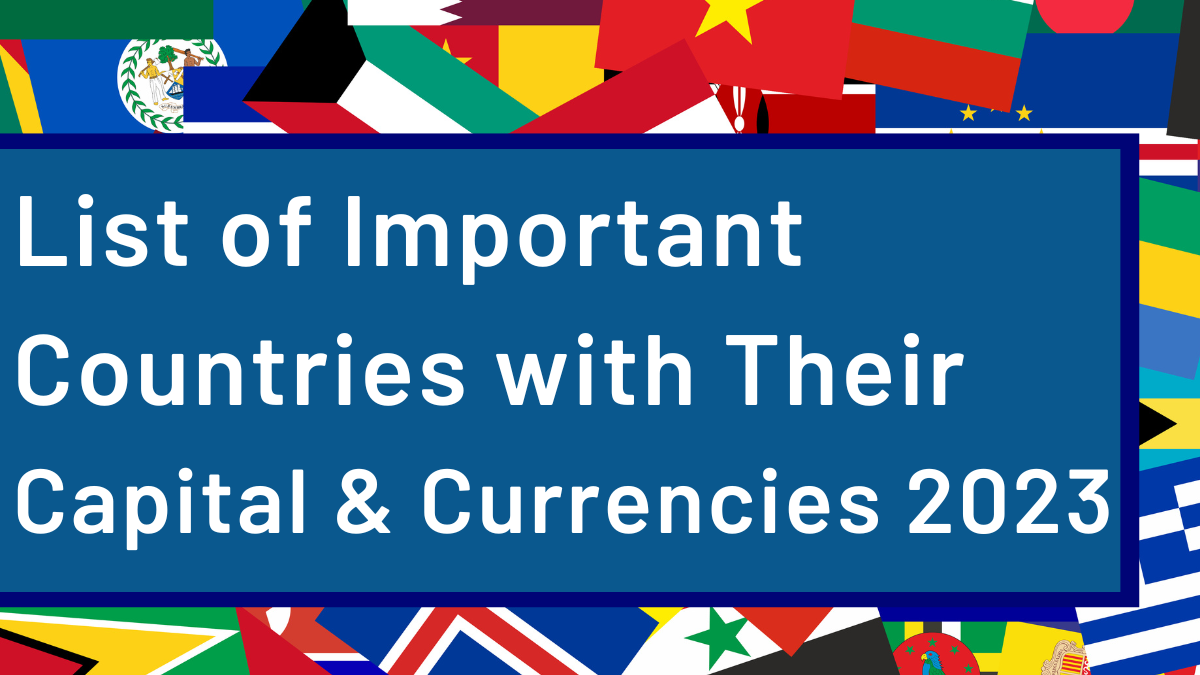 List of Important Countries with its Capitals and currencies is one of the important topics of General awareness that comes under the Static G.K section. Questions of around 2 to 3 marks are asked in the exam for SBI Clerk, SBI PO, IBPS Clerk, RBI Assistant and IBPS RRB Officer from this topic. In this era of competition, even 1 mark makes a huge difference. Usually, the capitals and currencies of those countries are asked in the exam that are in the news. Therefore, you just need to have a close watch on the current affairs section for this. It is ideal for learning all of them. However, you cannot learn all; at least try to memorize those which are essential and are in the news. This article is a continuity of the Static G.K series. In today's article, I have come up with the List of Important Countries, their Capitals and Currencies.
Latest Update!
Barbados has now become a Republic! Barbados transitioned from a parliamentary constitutional hereditary monarchy to a parliamentary republic on November 30, 2021. With this new change, a ceremonial and indirectly elected president will serve as the head of state.
List of Important Countries & Their Capitals With Currencies
Sr No.
COUNTRY
CAPITAL
CURRENCY
1
Afghanistan
Kabul
Afghani
2
Albania
Tirane
Lek
3
Algeria
Algiers
Algerian dinar
4
Andorra
Andorra la Vella
Euro
5
Angola
Luanda
Kwanza
6
Antigua & Barbuda
Saint John's
East Caribbean Dollar
7
Argentina
Buenos Aires
Argentine Peso
8
Armenia
Yerevan
Dram
9
Australia
Canberra
Australian dollar
10
Austria
Vienna
Euro
11
Azerbaijan
Baku
Manat
12
The Bahamas
Nassau
Bahamian Dollar
13
Bahrain
Manama
Bahraini dinar
14
Bangladesh
Dhaka
Taka
15
Barbados
Bridgetown
Barbadian Dollar
16
Belarus
Minsk
Belarusian ruble
17
Belgium
Brussels
Euro
18
Belize
Belmopan
Belize Dollar
19
Benin
Porto-Novo
West African CFA franc
20
Bhutan
Thimphu
Bhutanese ngultrum
21
Bolivia
Sucre (constitutional);
La Paz (administrative)
Boliviano
22
Bosnia& Herzegovina
Sarajevo
Convertible mark
23
Botswana
Gaborone
Pula
24
Brazil
Brasilia
Real
25
Brunei
Bandar Seri Begawan
Brunei dollar
26
Bulgaria
Sofia
Lev
27
Burkina Faso
Ouagadougou
West African CFA franc
28
Burundi
Bujumbura
Burundian franc
29
Cambodia
Phnom Penh
Riel
30
Cameroon
Yaounde
Central African CFA franc
31
Canada
Ottawa
Canadian Dollar
32
Cape Verde
Praia
Cape Verdean escudo
33
Central African Republic
Bangui
Central African CFA franc
34
Chad
N'Djamena
Central African CFA franc
35
Chile
Santiago
Peso
36
China
Beijing
Renminbi
37
Colombia
Bogota
Peso
38
Comoros
Moroni
Comorian franc
39
Congo (Congo-Brazzaville)
Brazzaville
Congolese Franc
40
Congo
Kinshasa
Congolese franc
41
Costa Rica
San Jose
Costa Rican colon
42
Cote d'Ivoire (Ivory Coast)
Yamoussoukro
West African CFA franc
43
Croatia
Zagreb
Kuna
44
Cuba
Havana
Cuban peso
45
Cyprus
Nicosia
Euro
46
Czech Republic
Prague
Czech koruna
47
Denmark
Copenhagen
Danish krone
48
Djibouti
Djibouti
Djiboutian franc
49
Dominica
Roseau
Dominican peso
50
Dominican Republic
Santo Domingo
Dominican peso
51
East Timor (Timor-Leste)
Dili
US Dollar
52
Ecuador
Quito
United States dollar
53
Egypt
Cairo
Egyptian pound
54
El Salvador
San Salvador
United States Dollar
55
Equatorial Guinea
Malabo
Equatorial Guinean peseta
56
Eritrea
Asmara
Tallero
57
Estonia
Tallinn
Euro
58
Ethiopia
Addis Ababa
Birr
59
Fiji
Suva
Fijian dollar
60
Finland
Helsinki
Euro
61
France
Paris
Euro
CFP franc
62
Gabon
Libreville
Central African franc
63
Gambia
Banjul
Gambian dalasi
64
Georgia
Tbilisi
Lari
65
Germany
Berlin
Euro
66
Ghana
Accra
Ghanaian cedi
67
Greece
Athens
Euro
68
Grenada
Saint George's
East Caribbean Dollar
69
Guatemala
Guatemala City
Guatemalan quetzal
70
Guinea
Conakry
Guinean franc
71
Guinea-Bissau
Bissau
West African CFA franc
72
Guyana
Georgetown
Guyanese dollar
73
Haiti
Port-au-Prince
Haitian gourde
74
Honduras
Tegucigalpa
Honduran lempira
75
Hungary
Budapest
Forint
76
Iceland
Reykjavik
Icelandic króna
77
India
New Delhi
Rupee
78
Indonesia
Jakarta
Rupiah
79
Iran
Tehran
Rial
80
Iraq
Baghdad
Iraqi dinar
81
Ireland
Dublin
Euro
82
Israel
Jerusalem
New Shekel
83
Italy
Rome
Euro
84
Jamaica
Kingston
Jamaican Dollar
85
Japan
Tokyo
Yen
86
Jordan
Amman
Jordanian dinar
87
Kazakhstan
Nur-Sultan
Tenge
88
Kenya
Nairobi
Kenyan shilling
89
North Korea
Pyongyang
North Korean won
90
South Korea
Seoul
South Korean won
91
Kosovo
Pristina
Euro
92
Kuwait
Kuwait City
Kuwaiti dinar
93
Kyrgyzstan
Bishkek
Som
94
Laos
Vientiane
Kip
95
Latvia
Riga
Euro
96
Lebanon
Beirut
Lebanese pound
97
Lesotho
Maseru
Lesotho loti
98
Liberia
Monrovia
Liberian dollar
99
Libya
Tripoli
Dinar
100
Liechtenstein
Vaduz
Swiss franc
101
Lithuania
Vilnius
Euro
102
Luxembourg
Luxembourg
Euro
103
Macedonia
Skopje
Macedonian denar
104
Madagascar
Antananarivo
Malagasy ariary
105
Malawi
Lilongwe
Kwacha
106
Malaysia
Kuala Lumpur
Ringgit
107
Maldives
Male
Maldivian rufiyaa
108
Mali
Bamako
West African CFA franc
109
Malta
Valletta
Euro
110
Mauritania
Nouakchott
Ouguiya
111
Mauritius
Port Louis
Mauritian rupee
112
Mexico
Mexico City
Mexican peso
113
Moldova
Chisinau
Moldovan leu
114
Monaco
Monaco
Euro
115
Mongolia
Ulaanbaatar
Tögrög
116
Montenegro
Podgorica
Euro
117
Morocco
Rabat
Moroccan dirham
118
Mozambique
Maputo
Mozambican metical
119
Myanmar (Burma)
Naypyidaw
Kyat
120
Namibia
Windhoek
Namibian dollar
121
Nepal
Kathmandu
Nepalese rupee
122
Netherlands (Holland)
Amsterdam
Euro
123
New Zealand
Wellington
New Zealand Dollar
124
Nicaragua
Managua
Nicaraguan cordoba
125
Niger
Niamey
West African CFA franc
126
Nigeria
Abuja
Naira
127
Norway
Oslo
Norwegian krone
128
Oman
Muscat
Omani Rial
129
Pakistan
Islamabad
Pakistani Rupee
130
Panama
Panama City
United States Dollar, balboa
131
Papua New Guinea
Port Moresby
Kina
132
Paraguay
Asuncion
Guaraní
133
Peru
Lima
Nuevo sol
134
Philippines
Manila
Philippine Peso
135
Poland
Warsaw
Złoty
136
Portugal
Lisbon
Euro
137
Qatar
Doha
Riyal
138
Romania
Bucharest
Romanian leu
139
Russia
Moscow
Russian ruble
140
Rwanda
Kigali
Rwandan franc
141
Saint Kitts& Nevis
Basseterre
East Caribbean Dollar
142
Saint Lucia
Castries
East Caribbean Dollar
143
Saint Vincent& Grenadines
Kingstown
East Caribbean Dollar
144
San Marino
San Marino
Euro
145
Sao Tome& Principe
Sao Tome
Dobra
146
Saudi Arabia
Riyadh
Saudi riyal
147
Senegal
Dakar
West African CFA franc
148
Serbia
Belgrade
Serbian dinar
149
Seychelles
Victoria
Seychellois rupee
150
Sierra Leone
Freetown
Leone
151
Singapore
Singapore
Singapore dollar
152
Slovakia
Bratislava
Euro
153
Slovenia
Ljubljana
Euro
154
Somalia
Mogadishu
Somali shilling
155
South Africa
Pretoria (administrative); Cape Town (legislative); Bloemfontein (judiciary)
South African rand
156
South Sudan
Juba
South Sudanese pound
157
Spain
Madrid
Euro
158
Sri Lanka
Sri Jayewardenepura Kotte (administrative); Colombo (trade)
Sri Lankan rupee
159
Sudan
Khartoum
Sudanese pound
160
Suriname
Paramaribo
Surinamese dollar
161
Swaziland
Mbabane(Administrative) / Lobamba (Royal and Legislative)
Lilangeni
162
Sweden
Stockholm
Swedish krona
163
Switzerland
Bern
Swiss franc
164
Syria
Damascus
Syrian pound
165
Taiwan
Taipei
New Taiwan dollar
166
Tajikistan
Dushanbe
Somoni
167
Tanzania
Dodoma (administrative); Dar es Salaam
Tanzanian shilling
168
Thailand
Bangkok
Baht
169
Togo
Lome
West African CFA franc
170
Tonga
Nuku'alofa
Pa'anga
171
Trinidad
Port-of-Spain
Trinidad and Dollar
172
Tobago
Port-of-Spain
Tobago Dollar
173
Tunisia
Tunis
Tunisian dinar
174
Turkey
Ankara
Turkish lira
175
Turkmenistan
Ashgabat
Turkmen new manat
176
Uganda
Kampala
Ugandan shilling
177
Ukraine
Kiev
Ukrainian hryvnia
178
United Arab Emirates
Abu Dhabi
UAE dirham
179
United Kingdom
London
Pound sterling
180
United States of America
Washington D.C.
United States Dollar
181
Uruguay
Montevideo
Uruguayan peso
182
Uzbekistan
Tashkent
Uzbekistan som (O'zbekiston so'mi)
183
Vanuatu
Port-Vila
Vanuatu vatu
184
Vatican City (Holy See)
Vatican City
Euro
185
Venezuela
Caracas
Bolivar Fuerte
186
Vietnam
Hanoi
Dong
187
Yemen
Sanaa
Yemeni Rial
188
Zambia
Lusaka
Zambian Kwacha
189
Zimbabwe
Harare
United States dollar
Interesting Trivia
The youngest country in the world is South Sudan. It was formed in 2011.
The Kuwaiti Dinar is the strongest currency in the world.
The Venezuelan Sovereign Bolívar is the weakest currency in the world today.
Several countries, like Sri Lanka, Malaysia and The Netherlands have 2 recognized capitals.
8 African nations have decided to rename their currency to 'Eco' from CFA Franc. These nations are- Niger, Senegal, Benin, Togo, Burkina Faso, Guinea-Bissau, Ivory Coast and Mali. This is yet to come into effect.
19 of 27 member European Union nations use the Euro (€)
As of 2019, 1 rupee coins are the lowest denomination in use in India.
The Rupee symbol (₹) was adopted by India on 15th July 2010.
Beijing (China) is the most populated capital city in the world.
Australia is the first country to start using polymer banknotes.
This article will definitely help you in the General Awareness section of SBI Clerk, RBI Assistant and NABARD Grade A exam and more. You can also take free Full-Length Mock tests of all the Banking, teaching and SSC-related exams.
Understandably, you cannot learn about all the countries, their capitals, and currencies all at once. This is why it would be prudent if you revisit this article from time to time and revise it. I hope you found the above article useful. There are more coming your way. For any suggestions, query please feel free to comment below.
Also Read:
2021 Padma Bhushan, Padma Vibhushan and Padma Shri Award Winners List
UNESCO World Heritage sites in India
RBI Governors List With Name And Tenure
To help you prepare 50% faster for competitive exams, ixamBee provides free Mock Test Series all the Current Affairs in English and Current Affairs in Hindi in the BeePedia capsules for GA Preparation. You can also get the latest updates for Bank PO, Bank Clerk, SSC, RBI NABARD and Other Government Jobs.
займ по паспортуэкспресс займ онлайнзайм срочно онлайн