RBI Grade B: Winning Strategy
This title is too enthusiastic, right? Because we know how much you need it this time. Everyone wants to win the battle they have chosen for themselves and your battle is to clear the RBI Grade B exam. This is because a winning strategy is what you need if you want to crack the RBI Grade B 2023 exam. The RBI Grade B notification 2023 has been released and it is now time to take to your books very seriously!
Who is a Winner?
Have you ever given a tiny little thought to this question? How do you define a winner? A person who has all the fruits in his/her basket or a person who fought every situation but was unable to grab any of the fruits in his/her basket? Well, both are! Yes, A winner is someone who accepts victory or defeats with the same equanimity.
Here's a quote from Steve Jobs: "Stay hungry, stay foolish." This simply means that you should never accept what you've been given. It doesn't matter if it's a win or a loss. If you win this time, you'll have a bigger responsibility to maintain the game going. Even better if you fail, because that's the lowest you can go. The following endeavor will undoubtedly be successful.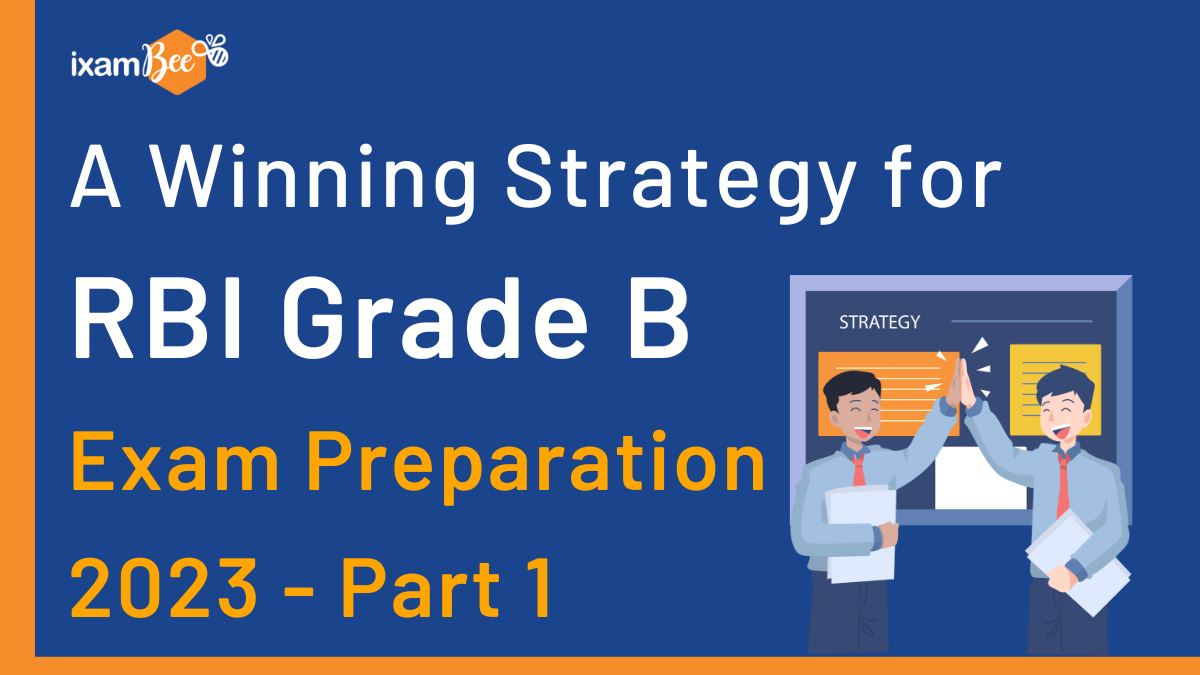 RBI Grade B: How to win the battle?
"Life is a race, if you don't run fast you will be like a broken anda"
Most of you have seen the movie 3 Idiots and will recall this scene in which the head of an institute tries to teach students a life lesson. True, and it is something from which one should learn.
Competition for the best government jobs is becoming increasingly fierce, and getting into them is no easy task. It necessitates a great deal of effort, dedication, and, most importantly consistency.
Approx 30 lac aspirants appear in the RBI Grade B exam every year and the percentage of selection is almost negligible to the strength of the aspirants appearing in the exam. This is the harsh reality of today. I have mentioned the data in the image below and you can see the rise in the number of aspirants every year. The data is from the year 2017-2021 and it will increase further. There is no decrease in the number of applications received by the RBI. This denotes fierce competition.
Before discussing the RBI Grade B preparation strategy I am telling you some important points that no one will ever tell you to focus upon. Let's begin.
Curious Question
We just witnessed the level of application that RBI receives and how fierce the competition is. But were you ever curious about how RBI selects a candidate? Here, I am not talking about the phases of the exam. We know that there are 3 phases of RBI Grade B: Phase 1, Phase 2, and the Interview and you have to prepare for all three with the same zeal and dedication. But the point here is that the aspirants who clear these phases are always greater than the number of vacancies announced by the RBI.
The curious question here is the actual selection process. For every vacancy, RBI is giving thousands of aspirants an opportunity to prove themselves.
RBI Grade B: Selection Ratio
What is this selection ratio and how RBI works? This is the right question to ask. Let me clarify this with an example. Supposedly, RBI has released a notification announcing 200 vacancies. This obviously states that more than 200 people will apply. The number of applications will be in lacs. Now, RBI conducts the RBI Grade B Phase 1 exam and shortlisting of the candidates begins.
This shortlisting will be according to the selection ratio of 1:15. For each vacancy 15 aspirants will be selected. So applying the simple mathematics here, for 200 vacancies approx 3000 aspirants will be selected for the Phase 2 examination.
This ratio of selection decrease in further phases. The aspirants appearing for the interview will be allotted in a ratio of 1:3.5, i.e., out of 3000 aspirants, only 700 will be selected for the interview.
Important Point to Consider: You have to mark your place in those RBI Grade B 700 aspirants. But how will you? How will you win this elimination round? You can't have a wild card entry here. It's just here or there.
The first step here is to figure out the cut-off trend and know what importance it has in your preparation.
RBI Grade B: Cut-Off trend
Cut-off just gives you an idea about the difficulty of the paper and the threshold of selection. It doesn't imply that the previous year's cut-off will have any relation with the coming year's cut-off. 
No, it has no relation and every year's cut-off is independent of the previous year's cut-off. For simplification see the table below.
Every year's cut-off is different from the previous year's. It all depends on the difficulty level of the question paper. It is advisable to not attempt questions based on previous years' cut-offs. Unnecessary attempting of the questions will lead you to the zone of negative marking and I am sure you don't want that. 
Along with the overall cut-off, RBI has announced the sectional cut-off too. Earlier for the years 2018 and 2019, the sectional cut-off was 25%. But this time as the paper was difficult so the sectional cut-off is decreased to 20%. For selection in RBI Grade B, you have to clear both the cut-offs, the sectional as well as the overall cut-off.
Trend Alert! Do you know what is #SRCP and why is trending? Well, if you you will know it now.
#SRCP: Your One-Stop Solution
The acronym #SRCP should not be confused with any economic jargon.
Susheel Ragade (SR) and Chandraprakash Joshi (CP) form SRCP, a lethal mix of wisdom, knowledge, and experience! What else will you require in order to crack the RBI Grade B exam?
And no one will be able to stop you if these genii personally guide you to your goal, joining RBI as a GRADE B officer. Your next step is to enroll in RBI Grade B Online Course and the rest leave it to us.
RBI Grade B: Winning Strategy for Phase 1
I will discuss the winning strategy for Phase 1 of RBI Grade B in the next article titled, "RBI Grade B: Winning Strategy Part 2". Be prepared to know the strategy designed by #SRCP in the next article. Stay tuned for the same.
Keep learning!
To help you prepare 50% faster for competitive exams, ixamBee provides free Mock Test Series all the Current Affairs in English and Current Affairs in Hindi in the BeePedia capsules for GA Preparation. You can also get the latest updates for Bank PO, Bank Clerk, SSC, RBI NABARD and Other Government Jobs.
Also Read
What is the Right Time to Start Preparing for RBI Grade B 2023?
Perks of being an RBI Grade B Officer
RBI Grade B 2023: All Sources for your Preparation (Free Mock Tests/ Previous Year Questions/Online Course)
A Complete Preparation Guide for RBI Grade B 2023
RBI Grade B 2023 Notification Out! 291 Vacancies, Eligibility & Exam Pattern