Read about Life of an RBI Grade B Officer and RBI Grade B Officer Lifestyle at ixamBee
Your career decision will impact a significant portion of your future life. After all, an individual spends a large part of his productive life at work. As a result, deciding upon a career path is often a difficult job. The RBI Grade B Officer is one of the most admired and pursued profiles for all banking aspirants, owing to the exuberant lifestyle and associated perks.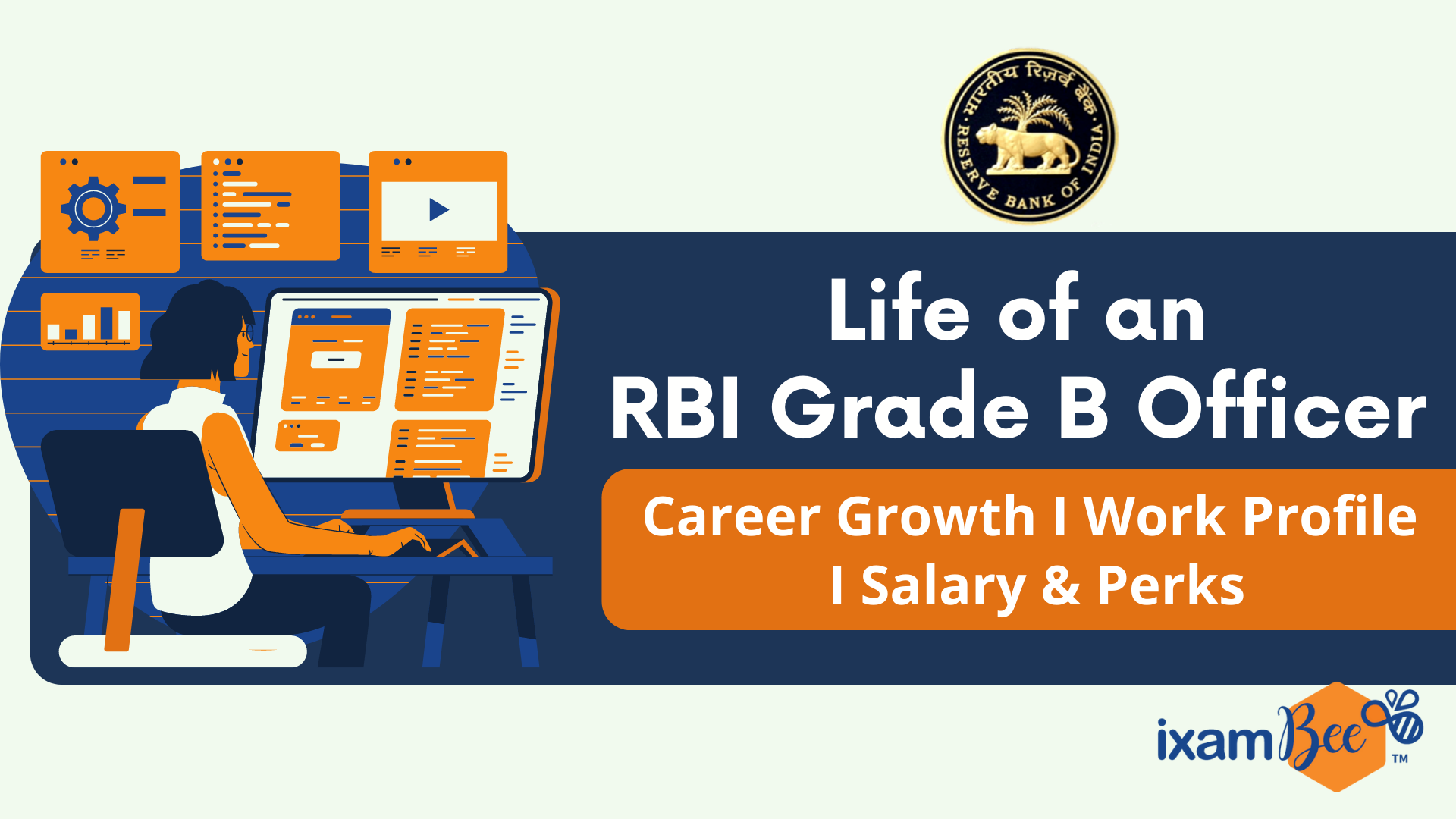 In this article, we will learn all about the life of an RBI Grade B Officer, lifestyle, RBI Grade B working hours, career, salary & benefits, and departments.
Life of an RBI Grade B Officer
RBI's career path begins with the support workers or Office Attendants, who are in charge of all clerical work at RBI. The organization's structure is given below:
RBI recruits for the post of Managers in Grade B, Assistant Managers in Grade A and Office Attendants on a regular basis. Specialized recruitment through exams occurs in RBI Grade B DEPR Department, RBI Grade B DSIM Department, RBI Legal Department and RBI Rajbhasha Department. In this article, we will discuss the job profile of RBI Grade B Officers.
RBI Grade B Working Hours
Now, let us look at what a regular day is like for employees at RBI. RBI Grade B Officers have a good work-life balance because they work in a stress-free environment. The office hours are 10 AM to 6 PM, with five days of work per week, making it an optimal working environment.
RBI Grade B Work Profile
Without a doubt, working at RBI as a manager is immensely rewarding because it provides many opportunities for career development as well as life stability. The benefits associated with the work profile of RBI Grade B officers are far superior to those associated with any other government or banking job. The following are some of the advantages of beginning your career as an RBI Grade B officer:
It will be simple for you to adjust to the work environment provided by RBI. It will always be a Tier 1 city in India in terms of workplace
You'll learn about the country's economic situation, including inflation, deflation, GDP growth, and GNP, among other things
You'll also be in charge of managing certain government and central bank accounts
RBI Grade B Career Growth
Managers are the most common position for RBI Grade B Officers, and they may even advance to Deputy Governor. The Governor is rarely chosen from within the internal workforce; instead, an eminent figure with a long list of accomplishments and impressive resume from outside the institution is favored.
And even if you resign as Chief General Managers then also it is a significant accomplishment. Just exceptional candidates make it to the top, where they are appointed as Executive Director or Deputy Governor. Most Grade B Officers, on the other hand, retire as Chief General Managers on average which is no small achievement.
There is a possibility of getting to know some of the world's most prominent organisations, such as the World Bank and the International Monetary Fund. Furthermore, investment banks are known to provide generous benefits and large payouts to the retired RBI Grade B officers.
Promotional Avenues For RBI Grade B Officer
Those who want to advance to Grade C officers later will have to take the departmental test after 5 years to be promoted.
If you are hired at a young age you will quickly rise through the ranks to deputy governor after passing Departmental exams.
In seven years, Grade B officers can advance to Grade C, and in another five years, they can advance to Grade D.
The length of your promotion period is also determined by the number of openings and your results.
The vast majority of those who start at Grade B advance to CGM (top management).
The Regional Director, who looks after the RBI's functions in a state or region, is also a CGM officer.
As stated earlier, just a few people will be chosen to be Executive Director and Deputy Governor level.
RBI Grade B Salary & Perks
Pay Scale: Rs.55200-2850(9)-80850-EB-2850(2)-86550-3300(4)-99750
Basic Pay: Rs 55,200
Gross Monthly Salary: Rs 1,16,684
Read more about RBI Officer Salary & Job Profile
Some perks received by RBI Grade B Officer are:
Dearness Allowance
House Rent Allowance
Family Allowance
Telephone Allowance
Conveyance Allowance
In- Hand Salary of an RBI Grade B Officer
Departments in RBI
There are over 30 departments in the Reserve Bank of India. Further, there are a few sections (4–5) in each department, and each section has 4–5 sub sections. So, if you look at the RBI's organisational structure, you'll note that there are over 400 work profiles. The Departments are listed below in alphabetical order.
Consumer Education and Protection Department
Corporate Strategy and Budget Department
Department of Banking Regulation
Department of Banking Supervision
Department of Communication
Department of Cooperative Bank Regulation
Department of Cooperative Bank Supervision
Department of Corporate Services
Department of Currency Management
Department of Economic and Policy Research
Department of External Investments and Operations
Department of Government and Bank Accounts
Department of Information Technology
Department of Non-Banking Regulation
Department of Non-Banking Supervision
Department of Payment and Settlement Systems
Department of Statistics and Information Management
Enforcement Department
Financial Inclusion and Development Department
Financial Markets Operation Department
Financial Markets Regulation Department
Financial Stability Unit
Foreign Exchange Department
Human Resource Management Department
Inspection Department
Internal Debt Management Department
International Department
Legal Department
Monetary Policy Department
Premises Department
Rajbhasha Department
Risk Monitoring Department
Secretary's Department
Central Vigilance Cell
What is it like to be an RBI Grade B Officer?
RBI Offices in India
In the RBI, there are two types of offices. The central office is in Mumbai, and the Regional Offices (RO) are mainly in state capitals, such as New Delhi, Kolkata, Chennai, Mumbai Regional Office (MRO), Hyderabad, and Bangalore. The full list is available on the RBI's website.
These two types of officers have very different types of employment. Central Office Departments are primarily responsible for the overall management of related functions, such as coordinating the activities of all regional offices' concerned departments. It's more a desk job with a lot of communication with state governments, federal departments, and numerous RBI regional offices.
The Principal Chief General Manager (PCGM) leads the Central Office Departments (COD), which are managed by 1 to 3 CGMs, based on the workload of the department. To be clear, all of these officers began their careers at some point with RBI as Grade B officers.
Regional Directors, who are PCGM/CGM level officers, lead the Regional Offices (RO). His role is similar to that of the State Government's Chief Secretary. This protocol is not specified anywhere, but it is followed at all functions and meetings of the State Government and the RBI.
Urban Banking Supervision Department
The role of the Urban Banking Supervision Department is to audit different banks that the General Manager has assigned to them. The Banking Regulation Act, 1949, and certain provisions of the Reserve Bank of India Act, 1934, are used to carry out this on-site inspection. Subsequently, officers must adhere to some of the Income Tax Act, FEMA's, and Money Laundering Act's rules.
The main goal of the inspection is to see whether the banks are operating in accordance with the Banking Regulation Act of 1949. Since banks handle public funds, it is the responsibility of RBI to protect depositors' interests.
The cash vault, KYC AML guidelines, the bank's credit appraisal system, its Information Technology Policy, the overall security of the branch, the functioning of the Board of Directors and intervention in the bank's day-to-day operations, and adherence to the RBI's various circulars are all important areas on which inspectors should concentrate during their inspection.
Officers must write inspection reports and prepare bank balance sheets in accordance with Reserve Bank format based on these criteria.
Further Opportunities
Officers in the RBI have a variety of options for further education at any university in the world
Officers may apply for a variety of scholarships that provide full or partial support for future studies as well as research leave
Many other career paths are also available after working for the RBI, including the World Bank, IMF, Bank of International Settlements in Switzerland, and the Ministry of Finance, Government of India
They are also eligible to serve on the boards of directors of top-tier commercial banks
Multiple post-RBI Consulting opportunities in Investment Banking are also an advantage availed by the Grade B officer
RBI Grade B Preparation
How to prepare for RBI Grade B Exam?
The first step to living the life of an RBI Grade B Officer is by preparing for this exam. There are many ways to prepare for the RBI Grade B exam 2022. However, the best way to prepare for the RBI exam 2022 is with XtremeBee. Therefore, if you want to learn all about how you can benefit from this program that offers a holistic 360 degree preparation approach, follow the link or watch the video below.
We wish you the best, always.
At ixamBee, you can find free Online Test Series, GK updates in the form of BeePedia, as well as latest updates for SBI PO, Bank Clerk, SSC, RBI, NABARD, and Other Government Jobs.
Also Read
RBI Grade B Interview 2021:Dress Code, Questions, Do and Don'ts
Success Stories: Meet RBI Grade B Officer Manoj (Neither an Engineer nor a UPSC dreamer)!
13 Mistakes to Avoid for RBI Grade B Officer Preparation (Part 1)