The SEBI Grade A 2022 Phase 1 exam was successfully conducted on February 20, 2022. The Phase 2 exam is scheduled to take place on March 20, 2022. With less than a month to go for the SEBI Grade A 2022 Phase 2 exam, we hope that you are utilising your time well and focusing on the next phase of the SEBI Grade A recruitment process.
In this article, we will discuss the cut-offs for Phase 2 of the SEBI Grade A paper for all the streams. We will conclude by discussing why it is necessary to know and examine previous years' cut-offs.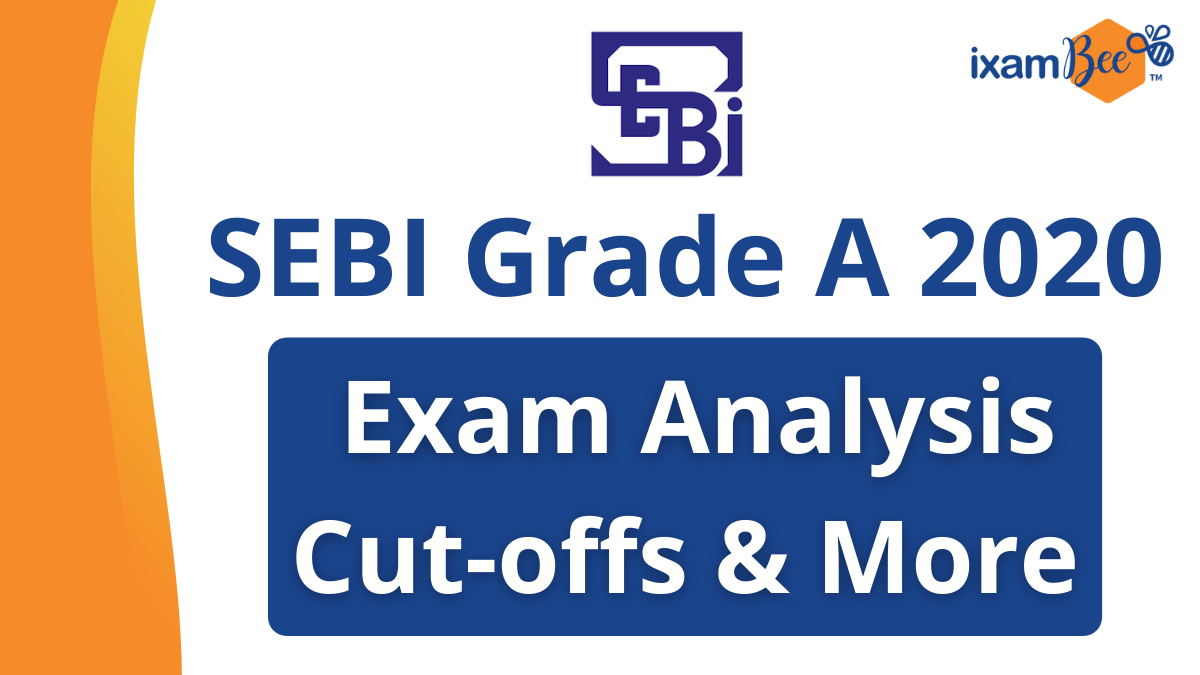 SEBI Grade A Exam Analysis 2020
The SEBI Grade A Exam 2020 cut-offs were announced on July 14, 2021. The results were announced in the first week of July.
When compared to previous years' examinations, we can see some major umbrella differences in the overall exam and result. These have caused and affected the overall performance of aspirants as well as the cut-offs for the exams. One reason for this change lies in the fact that a more detailed and exhaustive syllabus was provided to aspirants. In this way, students were able to plan better, study better and thereby, perform better. Similarly, the increased popularity of the SEBI Grade A exam has led to an increased interest among government job aspirants. Thus the increasing number of applicants has resulted in higher cut-off marks.
General Stream
| | | | | | | | |
| --- | --- | --- | --- | --- | --- | --- | --- |
| Unreserved | OBC (NCL) | EWS | SC | ST | PwBD (AU) | PwBD (VI) | PwBD (HI) |
| 69.24 | 62.26 | 59.58 | 59.58 | 54.88 | 52.65 | 61.13 | 52.05 |
In comparison to the cut-offs in 2017 and 2018, for the General stream, the marks for both Phase 2 and final cut-offs have remained the same. Irrespective of the fact that the exam pattern was different, the cut-offs have remained the same.
Legal Stream
| | | | | | |
| --- | --- | --- | --- | --- | --- |
| Unreserved | OBC (NCL) | EWS | SC | ST | PwBD (HI) |
| 71.07 | 59.80 | 61.79 | 58.07 | 43.10 | 59.48 |
In the Legal stream, there has been a sharp rise in the cut-off. In 2018, the cut-off mark for the unreserved category was 57.18. There can be several reasons for this rise. For example, the standard of assessment may have changed. In 2018, there was a new segment introduced in Phase 1 for Important Regulations for 40 marks.
Another probable reason is that in 2020, there was no sectional cut-off. This may have resulted in an overall rise of cut-off marks. Also, there was no separate paper on the Financial Sector in Phase 2 for specialized streams.
IT Stream
Take a look at the table below to know the cut-offs for the Information Technology stream for SEBI Grade A 2020.
| | | | | | | |
| --- | --- | --- | --- | --- | --- | --- |
| Unreserved | OBC (NCL) | EWS | SC | ST | PwBD (VI) | PwBD (HI) |
| 84.67 | 65.20 | 80.00 | 66.06 | No Candidate Qualified | No Candidate Qualified | No Candidate Qualified |
Last year, the cut-off was quite high. In comparison to previous years, there is a steep rise in the cut-off mark. This may be due to a more focused approach and less focus on Finance subjects. Aspirants were able to give more due to their focus on their specialized subjects.
Also, with the number of vacancies increasing and a greater number of applicants, the competition has increased leading to a higher cut-off.
Research Stream
The cut-offs for the Research Stream are more at par with General Stream. Since there were no vacancies in 2018, the last time the exam was held for this post was in 2017 (excluding exam 2020).
Last year there were only 5 vacancies for which only 4 students were finally selected. So, as you can see, this is a niche segment with a demanding job. A very knowledge-intensive segment for which only highly convincing candidates are considered.

| | | | | | |
| --- | --- | --- | --- | --- | --- |
| Unreserved | OBC (NCL) | EWS | SC | ST | PwBD (HI) |
| 69.67 | No Candidate Qualified | No Vacancy | No Vacancy | 52.76 | No Candidate Qualified |
Why Should You Review Cut-offs?
There are several benefits of analyzing previous year's cut-offs. These are applicable for both candidates who have previously taken the exam or have not. Either way, read below to learn about how you can shape your study plan to ensure you clear this exam with flying colours.
It helps you identify your strengths and weaknesses. This way, you can make a study plan that will help you work on your shortcomings.
For those who have given the exams before, you can compare the results/cut-offs with your own result to understand which section(s) were lacking.
It can help you understand the standard of assessment. This will help you understand what has changed and what has not.
Use this article, and video embedded below, to devise your preparation strategy.
If you have any other queries related to the SEBI Grade A Exam concerning exam pattern, preparation strategy and such, you can find all the important information at ixamBee.
If you are preparing for the SEBI Grade A 2022 Exam, ixamBee is the one-stop solution for all your study needs. We have online courses for all streams, General and otherwise. We also offer SEBI Grade A mock tests and SEBI Grade A previous years' question papers that you can take at a time of your convenience.
At ixamBee you can find free Online Test Series, GK updates in the form of BeePedia, as well as latest updates for Bank PO, Bank Clerk, SSC, RBI, NABARD, and Other Government Jobs.
Also Read
Free Mock Tests for SEBI Grade A Phase 2 Exam: SEBI Grade A 2022
SEBI Grade A 2022 Exam Analysis: Legal Stream (Phase 1)
Important Topics for IT Stream Phase 2: SEBI Grade A 2022
SEBI Grade A Exam Analysis 2022 Phase 1 (General): 20 February 2022