June 15, 16, 2019 are D days for aspirants who have been preparing for NABARD Grade A and Grade B 2019 exams. Being a NABARD Grade A and Grade B aspirant, you pretty well know the importance of social issues and schemes which come both in NABARD Grade A and Grade B Prelims and Mains Exam. Yojana magazine covers all social issues and schemes which are important from exam point of view. But given the time constraint, reading the entire magazine and making notes is very difficult. Therefore ixamBee has decided to bring to you notes on Yojana magazine.
In this blog, let us look at important notes on Yojana February 2019 magazine
The Prime Minister Shri Narendra Modi launched several development projects and laid foundation stone for various projects, during his visit to Solapur this January.
Addressing the gathering, the PM expressed satisfaction that various initiatives have been taken to improve the supply of electricity, roads and water. He said that speedy progress is being made, whether it be in Pradhan Mantri Gram Sadak Yojana or National Highways or Saubhagya Yojana. He complimented the state government for working in mission-mode towards the goal of universal electricity coverage.
The Prime Minister announced that the government has given approval to the Solapur-Osmanabad rail line via Tuljapur. The line will be constructed at a cost of approximately Rs. 1000 crore. The PM said this will make it convenient for people from not only the region but from all over India to visit Tuljapur on pilgrimage.
The PM dedicated to the nation the 58 km four-laned, Solapur – Tuljapur – Osmanabad section of NH-211 (New NH-52). The project is part of a larger project for four laning of 98.717 km Solapur – Yedashi section of NH-211, at a cost of Rs.972.50 crore. It will help improve the connectivity of Solapur with the important Marathwada region of Maharashtra and give a boost to the tourism and economy of the region. The foundation for this project was laid by the PM in 2014
The Prime Minister also laid the foundation Stone of 30,000 houses under Pradhan Mantri Awas Yojana. The PM said these will primarily benefit poor homeless people like rag pickers, rickshaw drivers, textile workers, beedi workers, etc. Very soon, the keys of the houses will be in their hands, the PM assured the beneficiaries.
The total cost of the project is Rs. 1,811.33 crore, out of which total 750 crores will be provided by Central & State Government as assistance.
The carpet area of each house will be 300 sqft. Ownership of house will be in the name of woman member of the house or jointly in the name of husband & wife. The construction of all 30,000 houses is targeted to be completed within four years. The houses will employ green technologies. On the occasion, the PM handed over cheques to two woman beneficiaries of the scheme.
In keeping with his vision of Swachh Bharat, the Prime Minister also dedicated to the nation, an Underground Sewerage System and three Sewage Treatment Plants (STPs) with a total capacity of 102.50 Million Litres per Day (MLD).
The underground sewerage system and three STPs (at Degaon, Kumthe and Pratapnagar) have been developed to address this need. The Degaon STP generates approx. 350 kWh Electricity generated through Anaerobic Digestion Process (Generation of Methane Gas), which is utilized to power pumping machinery in the same STP. The whole system is on Supervisory Control and Data Acquisition (SCADA). The parameters of treated sewage are much above requirement of MPCB norms.
The Prime Minister also laid the foundation stone of the Combined Project of Improvement in Water Supply and Sewerage System as part of Area Based Development in Solapur Smart City, Augmentation of Drinking Water Supply from Ujani Dam to Solapur City and Underground Sewerage System under AMRUT Mission. The sanctioned cost of the project is Rs. 244 Cr under Smart City Mission. This project is expected to bring significant improvement in service delivery and improve public health enabled by technology as a means to create smart outcomes for citizens. The Solapur ABD area water distribution system is unbalanced and needs revision in terms of capital works and better management of water supply and pressure in the system. The new system is being implemented, with an aim of increasing sewer coverage of the town and improving service level.
The Union Minister for Road Transport & Highways, Shipping and Water Resources, River Development & Ganga Rejuvenation, Shri Nitin Gadkari said that four bridge-cum-weirs will be constructed on Bhima and Sina rivers in the district, keeping in view the problem of water shortage.
He said that almost all projects in the district are making good progress. Shri Gadkari said that irrigation work which has been pending for 15 years got started because of PM's priority on the area, including Pradhan Mantri KrishiSinchayee Yojana. He said that around 1,200 crore rupees has been sanctioned for Tembhu lift irrigation for Solapur, Sangli and Satara districts.
Speaking on road construction, the Minister said that the construction of SantDnyaneshwarMaharajPalkhi route and SantTukaramMaharajPalkhi route, of around 3.75 thousand crore rupees will commence in February 2019.
He said that under Bharatmala project 75 km ring road has been sanctioned and work begun.
Shri Gadkari added that there are 38 sugar factories in Solapur district, and 2 more are being built. Noting that issues of sugarcane farmers are serious, he said this is because of the global economy, because sugar from Brazil is sold at Rs. 19. He said that the PM took a historic decision that sugar will be sold at a minimum price of Rs. 29 and made a policy for subsidy to sugar exporters; he said this is one of the best decisions taken by the PM, for the welfare of farmers suffering due to drought.
Few other important topics mentioned in Yojana February 2019 Magazine are as follows:
Transforming India through Infrastructure Development
Power for all
Energy Efficiency
A multi-pronged approach to Urban Transformation
Want to know all the topics of Yojana Magazine month wise, then you just have to enroll for ixamBee's very well appreciated NABARD Grade A and Grade B online course.
Click here for Free Demo of NABARD Grade A and Grade B online course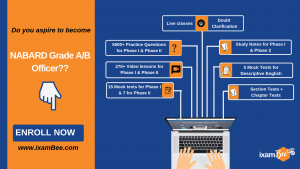 Get Free Online Test Series, Daily GK Update, PIB Current Affairs, Banking Awareness as well as latest updates for Bank PO, Bank Clerk, SSC, RBI, NABARD and Other Government Jobs. займ на катувзять займ 30000займ 500 рублей срочно