Attention NABARD Grade A, Grade B candidates, ixamBee is back with one more agriculture topic which is important from exam point of view. ixamBee aims at making your NABARD Grade A, Grade B exam preparation smooth and therefore have started this series wherein we will be providing important Agriculture topics which will help you on the day of the exam.
Let us look at Second Advance estimates for Crop Production in 2018 -19
The 2nd Advance Estimates of production of major crops for 2018-19 have been released by the Department of Agriculture, Cooperation and Farmers Welfare on 28th February, 2019. These estimations are made on the basis of climatic conditions (rainfall) and area sown. The cumulative rainfall in the country during the monsoon season (June to September, 2018) has been 9% lower than Long Period Average (LPA). Most of the major crops producing states have witnessed normal monsoon rainfall. Accordingly, the production of most of the crops for the agricultural year 2018-19 has been estimated higher than their normal production. These estimates are subject to revision on account of more precise information flowing over time.
As per 2nd Advance Estimates, the estimated production of major crops during 2018-19 is as under:
Foodgrains  –  281.37 million tonnes.

Rice  –  115.60  million tonnes. (record)
Nutri / Coarse Cereals – 42.64 million tonnes.
Maize  –  27.80 million tonnes.
Pulses  –  24.02 million tonnes.
Tur  –  3.68 million tonnes.
Gram – 10.32 million tonnes.
Oilseeds  –  31.50 million tonnes.

Soyabean  –  13.69 million tonnes
Rapeseed and Mustard  –  8.40 million tonnes
Groundnut  –  6.97 million tonnes
Cotton  –  30.09 million bales (of 170 kg each)
Jute  & Mesta -10.07 million bales (of 180 kg each)
Sugarcane – 380.83 million tonnes
Production of Wheat, estimated at 99.12 million tonnes, is higher by 2.01 million tonnes as compared to wheat production of 97.11 million tonnes in 2nd Advance Estimates of 2017-18. Further, the production of wheat during 2018-19 is higher by 4.51 million tonnes than the average wheat production of 94.61 million tonnes.
Source : pib.nic.in
Want to learn more such topics which are important for NABARD Grade A and Grade B exams, then enroll for ixamBee's NABARD Grade A, Grade B Online Course
Click here for Free Demo of NABARD Grade A, Grade B Online Course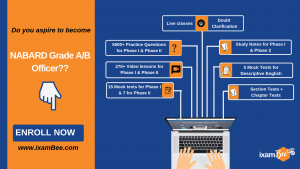 Get Free Online Test Series, Daily GK Update, PIB Current Affairs, Banking Awareness as well as latest updates for Bank PO, Bank Clerk, SSC, RBI, NABARD and Other Government Jobs. долгосрочный займзайм на киви кошелек мгновеннозайм под 0 процентов