Get the best NABARD 2022 90-Day Study Plan for NABARD Grade A & NABARD Grade B designed by experts at ixamBee!
The NABARD final result 2021 was announced on April 21, 2022. Thing brings us to the point where this year's aspirants must begin their NABARD 2022 exam preparation right away! As usual, you can expect high competition for which you must work hard to get ahead of your peers.
In this article, we will discuss the NABARD 2022 Study Plan designed by experts at ixamBee in order to help you achieve your goal successfully and comfortably.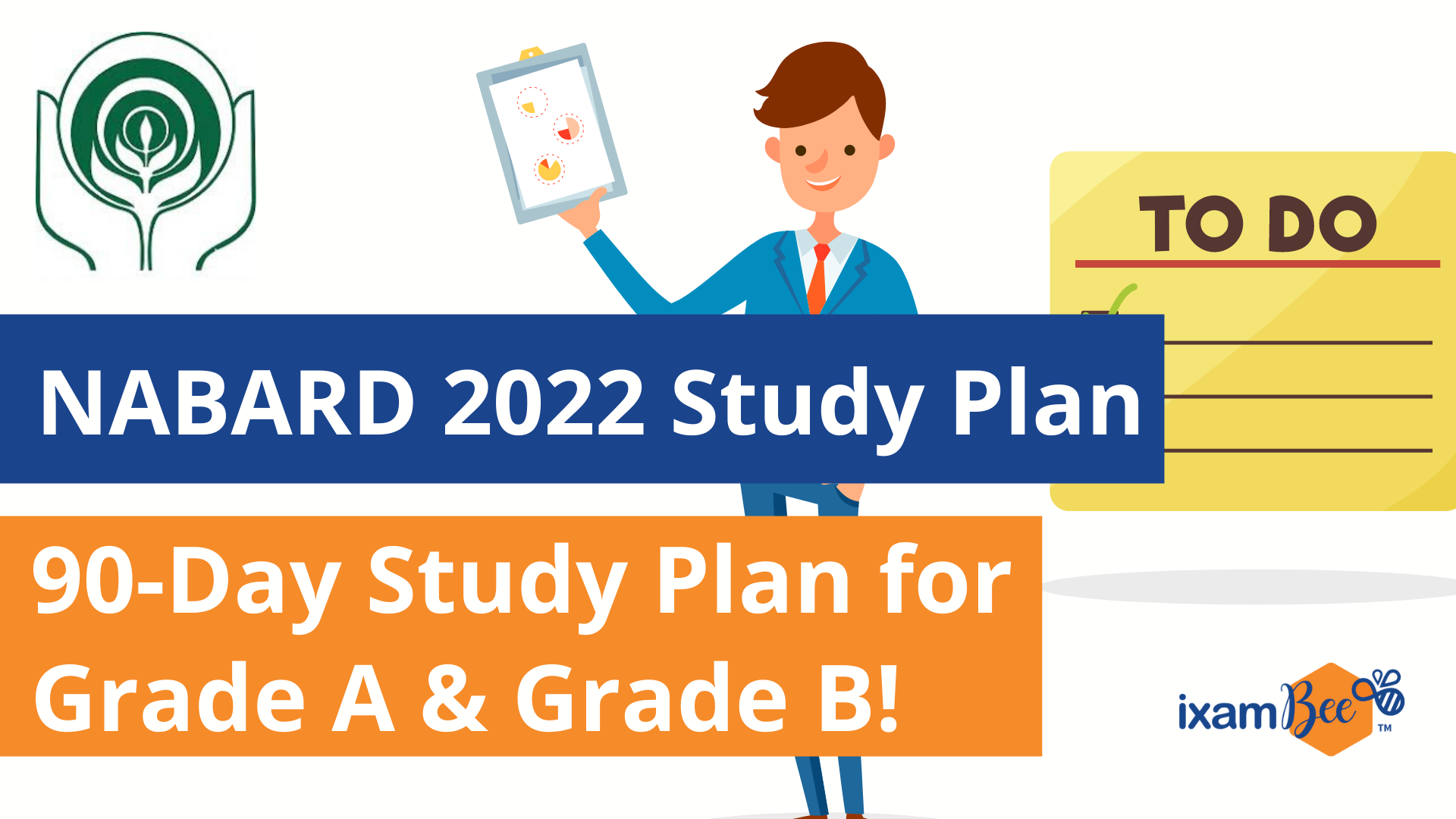 NABARD 2022 Notification Expected Date
The NABARD 2022 notification for Grade A and Grade B is expected to be out between May and July 2022. The NABARD Prelims Exam 2022 will be held around 45 days or so after the release of the notification. This leaves us with only limited time to prepare for such an important exam. Therefore, you must begin without further delay.
NABARD 2022 Study Plan
Do I need a study plan?
Yes, you absolutely do need a NABARD Study Plan 2022 for both Grade A and Grade B to help you get through your preparation phase. A study plan will help you in the following ways:
To divide your syllabus over the course of the next weeks/months.
Set small milestones that you can achieve daily
Understand how far along you have come if you meet your milestones daily
Ensure you do not miss any part of your syllabus
Divide topics from various subjects so your study does not feel monotonous
Save enough time for revision
Take mock tests as a part of your routine
Include routine breaks and time for rest and leisure
Also see: NABARD Grade A and Grade B Prelims Previous Year Papers
NABARD 2022 Exam Preparation
To help you prepare, experts at ixamBee have prepared a 90-day NABARD 2022 Study Plan for you. If you stick by this timetable, you will be able to cover all your syllabus well in time and find enough time for revision and mock tests as well.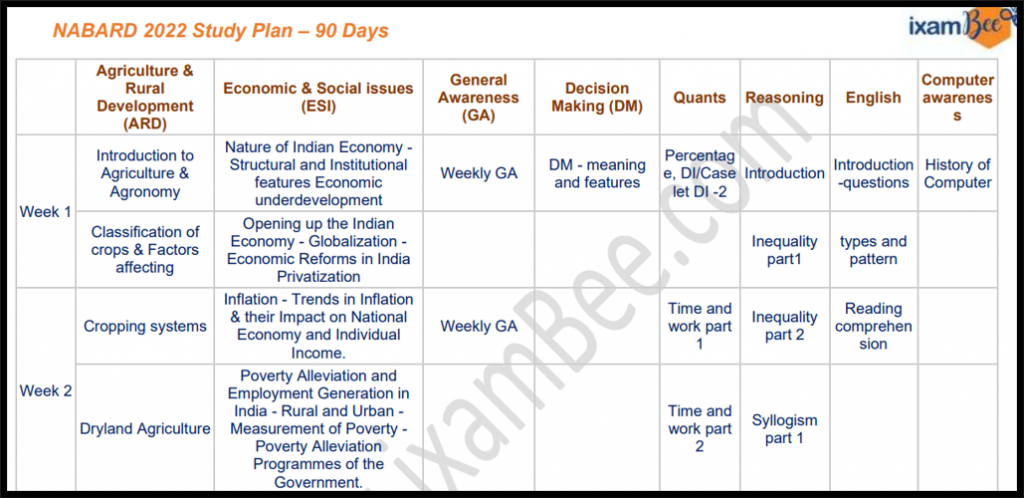 Want to read the complete NABARD Study Plan 2022? Follow the link below.
NABARD 2022 Study Plan PDF Download
NABARD Mock Tests
You can take NABARD mock tests for free at ixamBee! We recommend that you take these practice tests as many times as you like in order to improve your score.
NABARD Grade A Phase 1 Free Mock Test 2022
Free Mock Test For NABARD Grade B Prelims 2022
NABARD 2022 Online Preparation
ixamBee offers the best online coaching for NABARD Grade A and NABARD Grade B exams. You can prepare for either or both exams if you want to ensure that you reach your destination. Follow the links to learn more.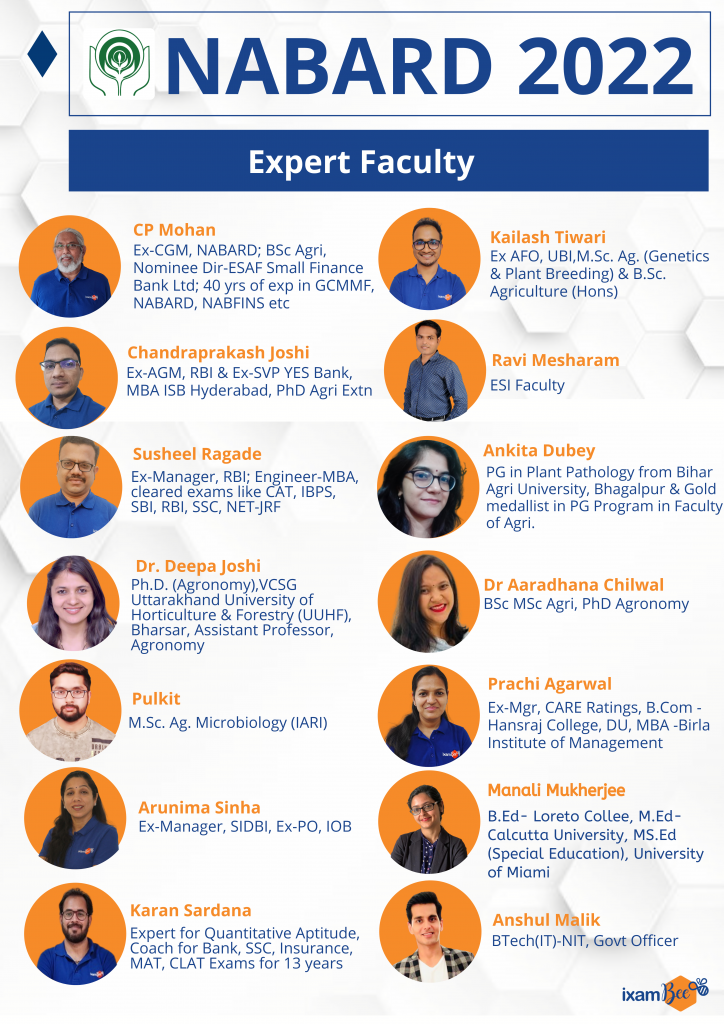 If you would like to know anything more about the NABARD Grade A or NABARD Grade B exam, you can find all the information on our website.
We wish you the very best!
At ixamBee you can find free Online Test Series, GK updates in the form of BeePedia, as well as latest updates for Bank PO, Bank Clerk, SSC, RBI, NABARD, and Other Government Jobs.
Also Read
Why Should You Prepare for RBI Grade B, NABARD Grade A and SEBI Grade A together?
NABARD Grade A and B 2022: Expected Date & Preparation Strategy
Agriculture Current Affairs for IBPS AFO, NABARD, FCI, UPSC
Reasoning Quiz (Puzzles): NABARD Grade A, SBI Clerk, RBI Assistant
English Preparation for Bank Exams: Syllabus & Best Tips for IBPS AFO & NABARD