Get Best Strategy to Prepare for RBI Grade B, NABARD Grade A and SEBI Grade A Together at ixamBee
How to Prepare for RBI, NABARD and SEBI Together?
SEBI Grade A recruitment 2022 has come as a New Year gift for the aspirants waiting for it for a long time. SEBI Grade A Phase 1 exam is expected to be held on February 20, 2022. If you have a dream of working in one of the esteemed organizations in India as an officer this year, we advise you to have a SMART approach and look beyond SEBI. Other than SEBI, RBI and NABARD also conduct Direct Recruitment for Grade B and Grade A posts. Now you might be thinking that preparing for these three together will require a good amount of time. To your amazement, 60% of the syllabus is common to RBI Grade B, SEBI Grade A, and NABARD Grade A exams. Stunned?
If this seems interesting to you, you should stick around because, in the following article, we are going to unravel how you can prepare for RBI Grade B, NABARD Grade A and SEBI Grade A simultaneously. We will also discuss all the key points like exam pattern, eligibility, work profile, salary, perks and benefits, career prospects and more.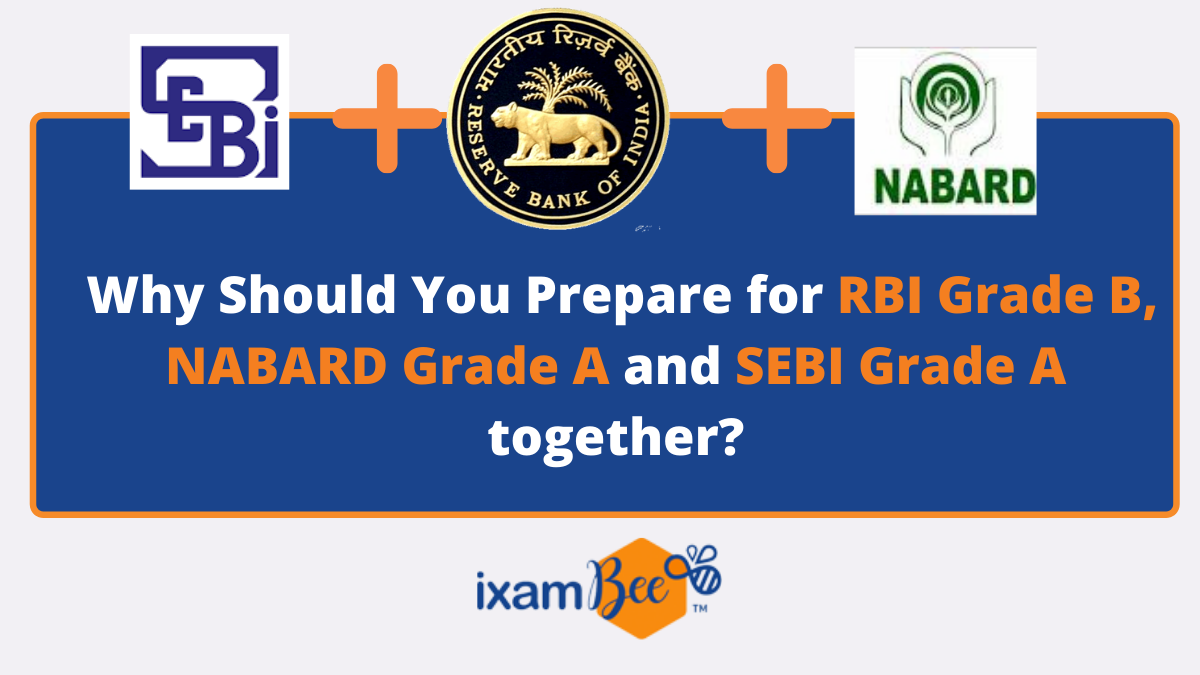 What is Better: RBI/ NABARD/ SEBI?
The answer lies in your area of interest. RBI and SEBI are financial sector regulators with a defined scope of regulation. NABARD is a specialized bank that has been established for the development of the Agriculture and Rural sector in India.
RBI Grade B, NABARD Grade A and SEBI Grade A Eligibility Criteria
If you are eligible for one of the exams, it is very likely that you are eligible for the other two as well because the eligibility is exactly the same. The only barrier you can face here is with respect to the minimum percentile criteria i.e. RBI and NABARD required a minimum of 60% marks in graduation whereas in SEBI there is no such restriction. To check eligibility for specialized posts, we encourage you to visit our exam page of NABARD Grade A Eligibility criteria, SEBI Grade A Eligibility criteria and RBI Grade B Eligibility criteria to read about it in detail.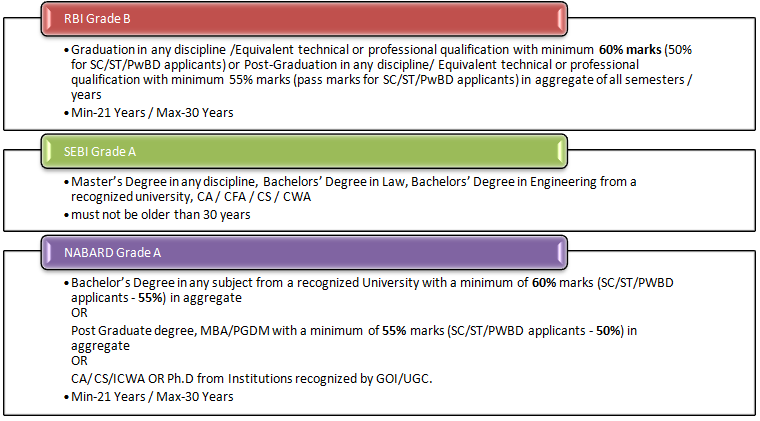 RBI Grade B, NABARD Grade A and SEBI Grade A Exam Pattern
Now when it comes to exam patterns, you should be aware of the sections that are common in all three exams so that you can do a cumulative study of those sections. In the following table, we have mentioned it in a detailed manner. For further details, you can visit the NABARD Grade A Exam Pattern, SEBI Grade A Exam Pattern and RBI Grade B Exam Pattern sections on our website.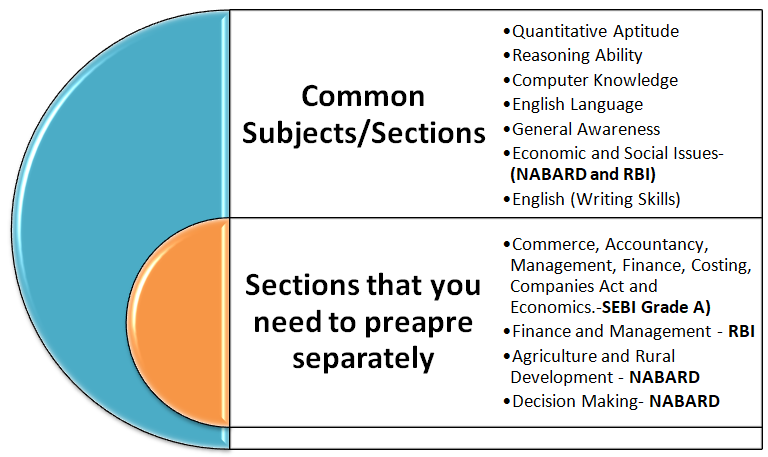 RBI Grade B, NABARD Grade A and SEBI Grade A Job Profile, and Salary comparison.
One of the key reasons why aspirants are inclined towards high-end exams like RBI Grade B, NABARD Grade A and SEBI Grade A is because along with a big brand name it also provides a handsome salary and brilliant work profile. You don't have to worry about the rural posting as well because the regional offices of both of them are either in Mumbai or in the state capitals only. To give you a clear idea about the salary, perks, career prospects, a detailed table is provided below.
Parameters
RBI Grade B
SEBI Grade A
NABARD Grade A
Salary
Basic ₹ 35,150 (pre-revised), ₹ 1.49 lakh (approx)
Basic ₹ 44,500 (revised), Rs. 1,35,000 per month (Approx.)
Basic Rs, 28,150 ₹ 70,000 (approx)
Perks and allowances
Dearness Allowance (DA)
House Rent Allowance (HRA)
Family Allowance
Telephone Allowance
Conveyance Allowance
Special Pay
Special Functional Pay
Dearness Allowance
Local Allowance
City Compensatory Allowance
Family Allowance
Special Compensatory Allowance
Grade Allowance
Learning Allowance
Personal Fixed Allowance
Dearness Allowance
Local Compensatory Allowance
House Rent Allowance, and
Grade Allowance as per the rules in force from time to time.
Posting
Mumbai, State Capitals
Mumbai, State Capitals
Mumbai, State Capitals
Work profile
Central Banking and regulatory & supervisory
Regulatory & supervisory
To deal with the matters related to policies of various central and state government programs related to Agriculture & Rural Development.
Career Prospects
The hierarchy of each institution is provided below: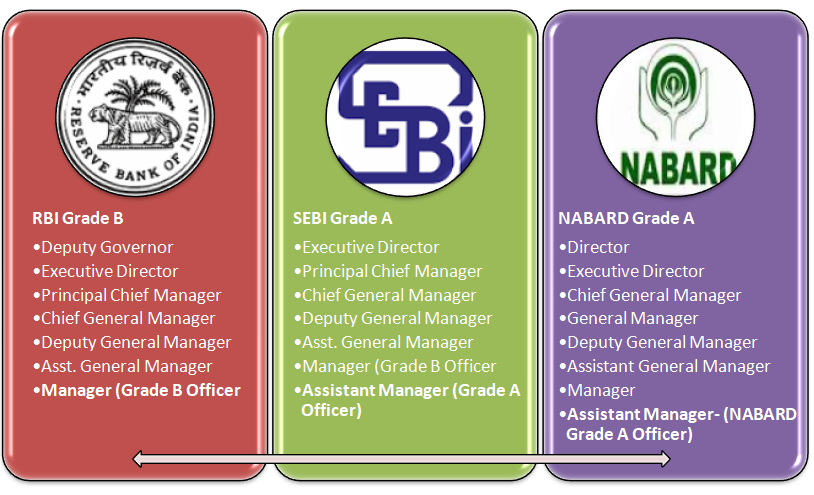 How you can prepare for RBI Grade B, NABARD Grade A and SEBI Grade A together?
More than 50% of SEBI Phase 2 syllabus is relevant for RBI Grade B which means while preparing for the SEBI Grade A Phase 2 exam, most of your syllabus for RBI Grade B will be covered automatically.
Also, your Descriptive English will be taken care of simultaneously for RBI Grade B Phase 2 and NABARD Grade A while preparing for SEBI Grade A exam.
NABARD Grade A Phase 1 aptitude section is also common to RBI Grade B and SEBI Grade A, we recommend you to visit the NABARD Grade A syllabus to check out it in detail. You will only need to work on ARD separately for NABARD, the rest is the same.
Lastly, we would like to reiterate that having so much in common, it will be a mistake not to apply for RBI Grade B 2022 and NABARD Grade A 2022 if you are writing SEBI Grade A exam 2022. A Day wise Study Plan for RBI Grade 2022 has been explained in the video by Mr. Susheel Ragade. You can check out other videos related to RBI and NABARD preparation provided on our YouTube channel.
If you aspire to prepare for all three but are overwhelmed, ixamBee can give you that competitive edge. You can check out our RBI Grade B+NABARD Grade A+SEBI Grade A Comprehensive Demo course, which is absolutely free of cost. Through the demo course, you would be able to check the quality of the content provided to you. Make sure you log in with a valid email I'd. You will get a window as shown below once you enroll in the demo course.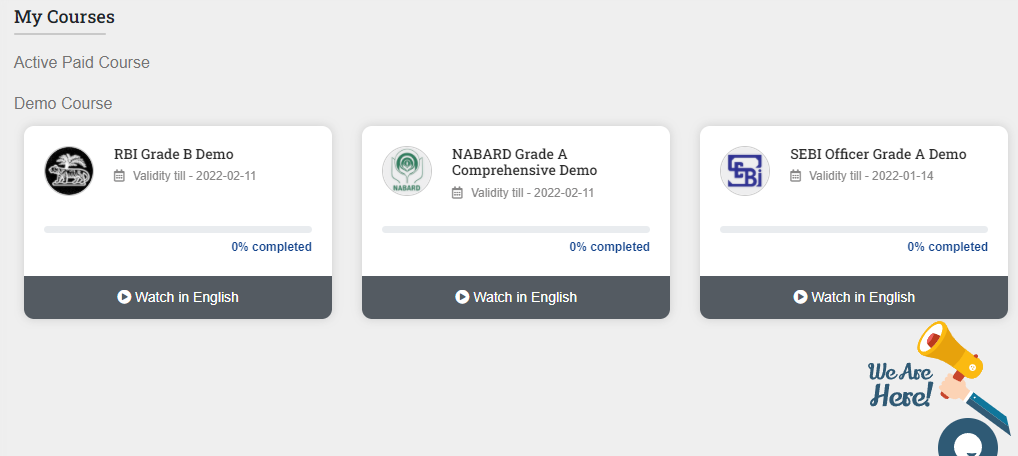 You will be able to decide whether you want to go further with the enrollment or not. This course has been curated to help you with RBI Grade B and NABARD Grade A alongside SEBI Grade A exam. You are advised to visit our website for further information.
You can attempt 1000+ Mock tests of various government exams absolutely free of cost. Attempt RBI Grade B Free mock tests here.
All the best for the future!!
At ixamBee you can find free Mock Test Series, GK updates in the form of BeePedia, as well as latest updates for Bank PO, Bank Clerk, SSC, RBI NABARD and Other Government Jobs.
Also Read
SEBI Grade A Legal Officer: Study Plan for SEBI law officer exam 2022
How to Crack SEBI Grade A 2022 Without Coaching?
SEBI Grade A Exam 2022: Phase 2 Descriptive English Paper
Perks of being an RBI Grade B Officer
займ с залогомбезпроцентный займ онлайноформить кредит займ