SSC CGL 2021-22 Notification Out! Apply for Assistant Audit Officer!
The Staff Selection Commission conducts the SSC CGL exam for various Group B and Group C posts out of which Assistant Audit Officer (AAO) is the topmost post. Now that the SSC CGL 2021-22 notification is out, we will look at all the important details associated with the SSC CGL AAO post.
Assistant Audit Officer comes under The India Audit & Accounts Department (IAAD). The India Audit & Accounts Department (IAAD) helps CAG fulfill its constitutional duties. The auditing of the accounts of the central/state government and public sector companies is the responsibility of this department.
SSC CGL 2021-22 Notification
On December 23, 2021, the SSC CGL notification 2021-22 was released. The application window will remain open till January 23, 2022.
Take a look at all the important SSC CGL 2021 exam dates as well.
SSC CGL 2021-22 Job Profile and Salary
Let us now look at what the Assistant Audit Officer's work entails:
Assist the audit officer or senior audit officer in performing different departmental audits of government organizations.
The audit includes aspects associated with financial performance or compliance. It is a gazetted post and decisions at the section level will need to be taken and reported to higher authorities.
Some work related to Audit Inspection is also done by the AAO's.
Candidates are always fascinated about the earnings and job profile of the Assistant Audit Officer (AAO). For many aspirants, it's a dream job as it is the highest level post in the CGL Exam (level 8). Let's begin how the life of AAO is, after joining the department.
Be sure to take a look at the SSC CGL Eligibility Criteria to check if you are eligible for this post before you apply.
Joining Day
Document verification and medical certificate are the first thing that are necessary for joining. For verification, you must show your original academic certificate and a medical certificate certified by the Government Hospital's CMO (Chief Medical Officer). If on the first day you don't have a Medical Certificate, you'll be given time to produce the same. You can visit nearby government hospitals and get a CMO-attested medical certificate. Ultimately, you must take an oath and join the service. Before joining the Service to Admin section, you must inform them about the Competitive Exams that you have already applied before. If you are unable to join on the stipulated date of membership, you must give valid reasons to the Admin Section of the Department and apply for an extension. The Admin Section will inform you about the next membership date.
Section Allotment
You will be posted after your joining in one of the sections, i.e. Admin Section, OAD Section (Audit Planning, Execution and Reporting), Report Section, Post Com (P&T Audit) Section. You must be wondering how you're going to work without any training. No need to worry, as under the In-charge section, you will be attached to one of your Seniors (AAO). The seniors make you familiar with the section-related work. In your first year, you most likely don't get any field work (Tour) and it is also feasible that you may not get any Touring Audit work for many years.
Training (SAS Exam – Subordinate Audit Services)
Training is essentially a mandatory and crucial part of the SAS Exam to familiarize you with the Department's work (PC6 to PC 9). In addition, the PC1 to PC5 Schedule of Classes for Papers at RTI (Regional Training Institute) and the rest of the PC6 to PC9 Schedule of Classes for Papers at your parent office.
There are 12 Regional Training Institutes in different cities i.e Allahabad, Chennai, Jaipur, Jammu, Mumbai, Ranchi, Bangalore, Hyderabad, New Delhi, Kolkata, Nagpur and Shillong. The training period is 3 months.
Until you pass the SAS Exam, you are appointed as AAO (Probationers). You retain your seniority as per SSC CGL if you pass the exam within 2 years. You can only take your Parent Department exam, i.e. if you are in P&T Audit, you can not apply for commercial audit, AG Audit, Railway Audit, etc. But for other departments, the Auditor, Clerk, Data Entry Operator and MTS (multi-tasking staff) also have the option of taking the SAS exam.
Job Profile
The job profile of Assistant Audit Officer (AAO) relies on the work of the section that he is posted on. A staff of 5 to 8 employees operates under an AAO. AAO's work in different sections is as follows:
Admin Section
Manage the employee payroll, including basic salary, DA, HRA, TA, deductions, i.e. income tax, CGHS, CGEGIS, CPF, etc.
Check the bills for Tour TA, LTC, Medical, RTF, Miscellaneous Expenses claims, etc.
Service Book, Library and Office Premises Maintenance.
Submission of multiple returns, applications for leave, leave/tour joint report, general provident fund claims, etc.
E-waste (computer and accessories) and Old Record of all sections disposal.
Implementing all of the Head of Office Department's guidelines and informing all employees on the same.
Proposal for nominations for audit tours and other training programs
Manage classes for in-house training on different topics
OAD Section (Audit Planning, Execution and Reporting)
To scrutinize and present the IR (Inspection Report) to the Director
Maintenance of all II-A (Major Irregularities) Paras and II-B (Non-Major Financial Irregularities) Paras in the Software records
Manage Ad-Hoc meetings for admission of II B Paras with Field Units
Audit planning work for different audit types, i.e. transaction, certification, etc., and annual tour program proposal
Report Section (Audit Reporting Work)
To convert the II-A paras (Major Irregularities) into a DAP (Draft Audit Paragraph) by examining all the facts and figures of the Paragraph in question
Contacting the field units and requesting insufficient DAP information from the KDs (Key Documents) of the units concerned
Post Com (P&T Audit) Section
To review the bills of Postal Units, i.e. LTC, TA, LTC, Medical, RTF, CGEGIS Miscellaneous Expenses, etc., and issue Memos on any Discrepancies.
Field/Tour work
The Audit Tour is divided into four quarters per year and in a quarter you stay outside for 45 to 60 days. You only have 10-15 days to get ready for the Audit Tour, and sometimes even fewer days.
SSC CGL 2021-22 Assistant Audit Officer (AAO) Salary
We will now discuss the SSC CGL salary in detail.
The SSC CGL in-hand salary will be around Rs 60000. You will also be eligible for the following government allowances.
HRA or House Rent Allowance, in case you are not provided an accommodation
TA or Transport Allowance
DA or Dearness Allowance on Total pay
Limited phone bills
Petrol Allowance
SSC CGL 2021-22 Career Growth/ Promotions
Everybody in their career wants to grow. As Assistant Audit Officer, SSC offers you opportunities to grow. Within a specific time interval, you'll get four promotions. The first SSC Assistant Audit Officer promotion is as an Audit Officer and the last is as Senior Deputy Accountant General.
Audit Officer (GP 5400, PS 9300-34800) 6-10 Years
Sr. Audit Officer (GP 5400, PS 15600-39100)2-4 Years
Deputy Accountant General (GP 6600)
Sr. Deputy Accountant General (GP-7600)
Pros & Cons
Pros: Job with the highest pay throughout SSC CGL. The only post that directly makes you a Gazetted Officer in SSC CGL.
Social Status: Your friends and family will respect you in your In daily life. Furthermore, you will also receive much respect when you go to an organisation as an Assistant Audit Officer.
Stability: Transfers are not so frequent and you enjoy a life that is stable.
Work-life balance: Working hours are from 9:30 AM to 6:00 PM. The workload is not much and you get enough time for family and to prepare for further exams.
Cons: SAS (Subordinate Audit/Accounts Service) Exam: This examination is relatively hard to crack. Begin your preparation by going through the SSC CGL exam pattern. Follow it up with reviewing the SSC CGL 2021-22 syllabus in detail.
Promotions are not that fast and for a Gross Pay 4800 Post, only 3-4 promotions can be managed, which is very small
SSC CGL 2021-22 Online Course
If you want to prepare for this exam, we suggest you take a look at ixamBee's SSC CGL Tier I Online Course. It is your one-stop solution to ace this exam. Don't believe us? Take a free trial and see for yourself.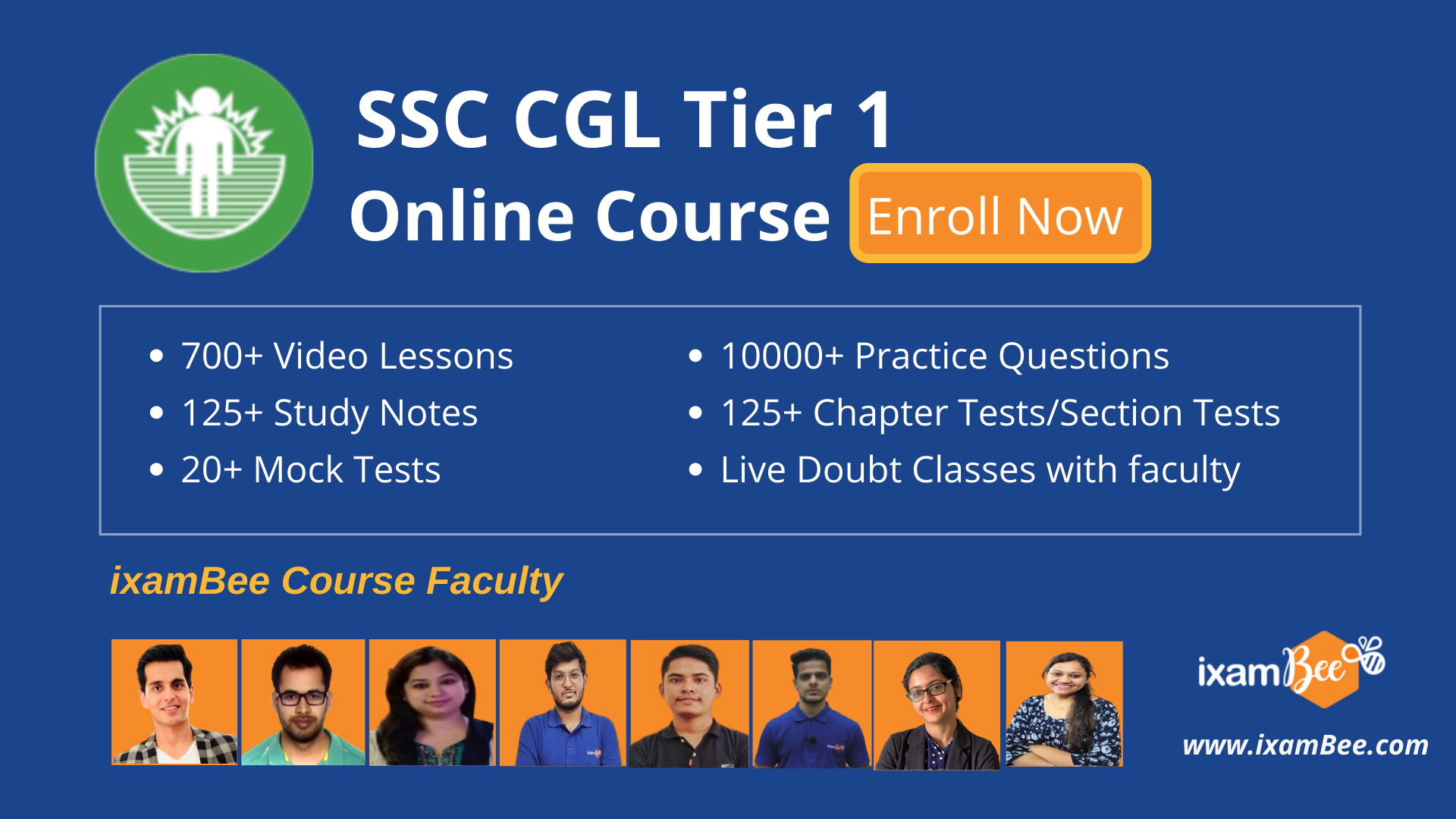 SSC CGL 2021-22 Mock Test
The SSC CGL exam 2021-22 will conducted in English as well as Hindi. For students who want to try the Hindi exam, ixamBee offers SSC CGL free mock tests not only in English and Hindi. Our experts also prepare SSC CGL free mock tests in Hindi with the preparation requirements of Hindi students in mind.
If you are planning to appear for SSC CGL exam, you can also check out SSC CGL exam dates as well.
To help you prepare 50% faster for competitive exams, ixamBee provides free Mock Test Series all the Current Affairs in English and Current Affairs in Hindi in the BeePedia capsules for GA Preparation. You can also get the latest updates for Bank PO, Bank Clerk, SSC, RBI  NABARD and Other Government Jobs.
Also read
Learn about SSC Career And Jobs Part 2
Career Path for SSC CGL Jobs- Part 3